Looking for a theme for a spring party?
With the weather warming up and the flowers starting to bloom, springtime parties are all a buzz! Planning a picture perfect party in the spring is simple with the right spring party themes!
From pastel goodness to the ultimate garden party, spring is in the air!
Let's take a look at the trendiest and most delicious springtime party themes and start planning a soiree…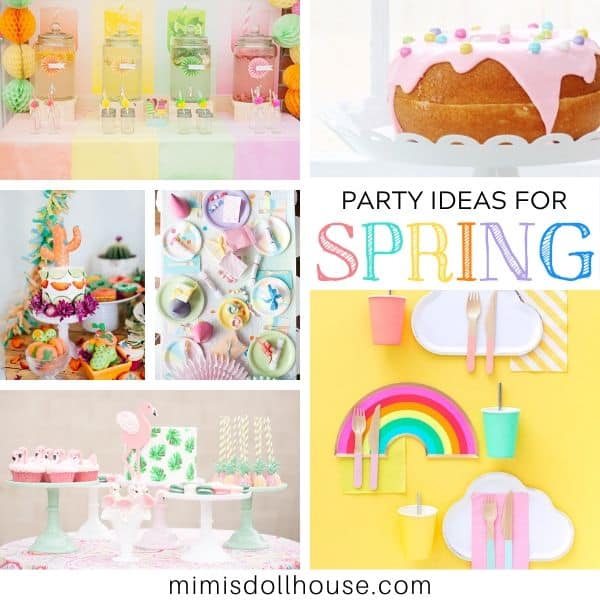 Spring is one of the best seasons for planning a party. It's a season full of wonderful colors and brimming with ideas. Spring is a fantastic season for taking parties outside and enjoying nature.
It's also the season of Easter, Cinco de Mayo and Mother's Day…which has possibilities galore!!
Spring Party Ideas
Let's talk about Spring party themes.
Planning a springtime party starts with the right theme. If you have an outside venue, a theme like a garden party or a luau would be such a great fit.
For children's parties, rainbow or fruit are great themes. Thinking adults only? Go for the fiesta theme and tasty margaritas!!
With so many options, you have plenty of inspiration to throwing an amazing party. Here are some of the trendiest and most amazing themes for a spring party…
Garden Party Ideas
There is something that is just magical about a garden party. Maybe its that mixture of warmer weather and fun finger sandwiches, but I just love having a party in a floral garden.
If you don't have an actual garden, don't fret…you can still make a beautiful garden theme indoors with fun greenery and flowers!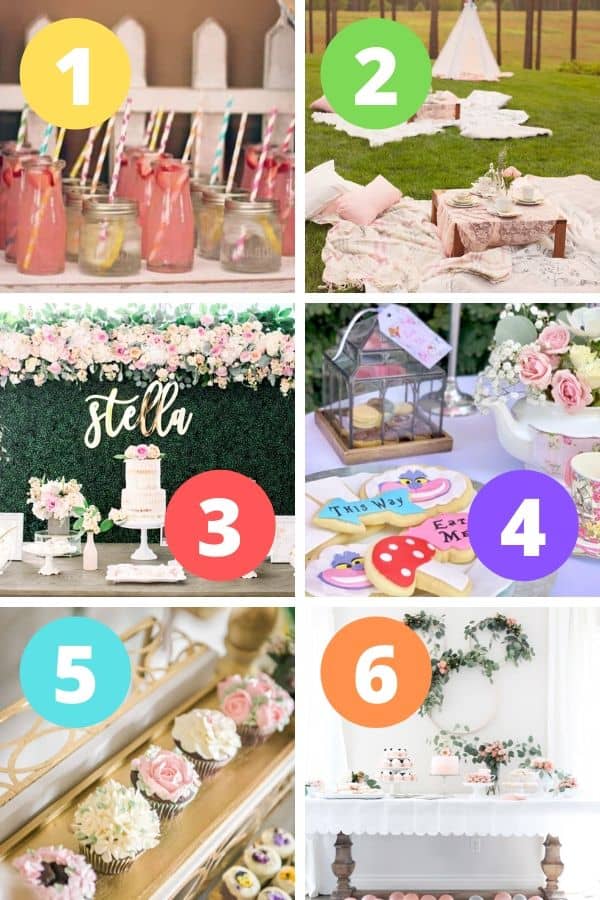 (1) Fresh fruit and beautiful flowers make this Garden Themed Baby Shower (Bridget Parry) perfect!
(2) Entice your guests with sweet teepees on the lawn for a Boho Chic Garden Party (Sweetwood Creative).
(3) Using a greenery wall as a backdrop is absolutely gorgeous way to set up a garden themed party. This Floral Boho Chic Baby Shower (Tinselbox) mixes greenery with beautiful flowers or a spectacular spring baby shower.
(4) Whimsical meets beautiful floral garden in this Alice in Wonderland Garden Party (Pop of Gold).
(5) Cupcakes become beautiful flowers to compliment a gorgeous spread at this Garden Themed 1st Birthday Party (Pretty My Party).
(6) Even Minnie Mouse gets into the spirit in this Garden Tea Party (12th and White). Isn't it lovely?
Looking for more garden party ideas and garden party supplies?
Fruit Party Ideas
Fruit themed parties are a great way to celebrate spring. From yummy popsicles to fruit kababs…the menu for a fruit themed party, almost plans itself, ya'll!
Not only is yummy fruit a fun and feisty theme…the colors just scream spring! Tutti Frutti is also such a fun theme for a toddler birthday or a baby shower.
(1) This fruit juice station at this Fruity Popsicle Themed Party (100 Layer Cakelet) is too adorable for words.
(2) This Watermelon Party (Project Nursery) is do fun and festive. It makes a perfect party theme for a cute little girl's springtime birthday.
(3) Delight your guests with these adorable DIY Fruity Balloon Straws (A Joyful Riot).
(4) Enjoy that warmer weather by planning a Tutti Frutti Pool Party (Kara's Party Ideas).
(5) This One in a Melon Party with free printable (Tell Love and Party) makes such a clever theme for a first birthday party. Plus…it's punny too!
Looking for more fruit party ideas and fruit party supplies?
Fiesta Party Ideas
May brings Cinco de Mayo. Whether you are looking for looking for a way to celebrate the holiday or just LOVE tacos…planning a fiesta is a great fun and crazy theme for a party.
Taco 'bout a great theme! From cacti to sombreros, there are so many amazing ways you can plan a great spring party, fiesta style!
Also…don't forget the sangria!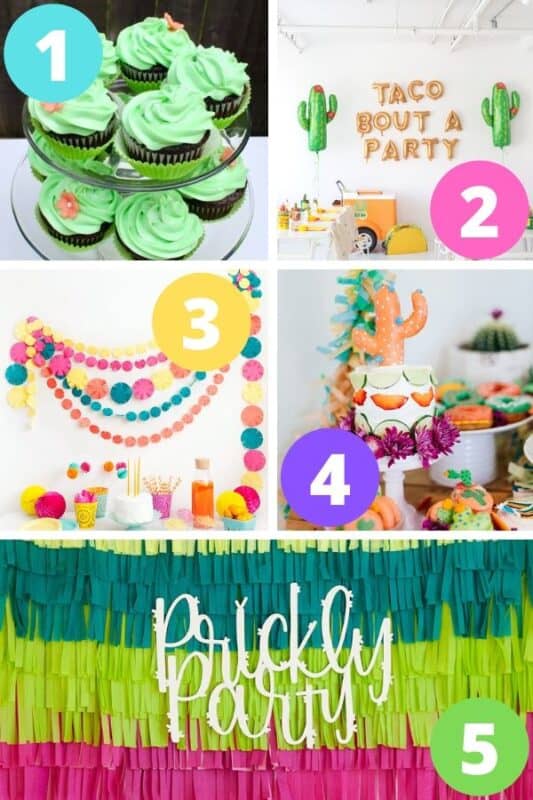 (1) If you want a simple and easy treat for a cactus themed party, try baking some Cactus Cupcakes. They are super easy to make and oh so fun.
(2) Taco Bout a Party (Studio DIY) with a taco truck and some yummy Mexican food. It's a delicious party idea!
(3) Making a cut DIY Fiesta Party Garland (Tell Love and Party) is a great way to accent a spring fiesta!
(4) The coral and green cacti in this Coral Green Fiesta Birthday Party (Inspired by This) are absolute perfection.
(5) Prickly Pears are all the rage at this DIY Cactus Party (Tell Love and Party). Feeling like a fun cactus theme is for you?
Looking for more fiesta party ideas and fiesta party supplies?
Rainbow Party Ideas
The pot of gold at the end of these rainbow parties is definitely the smile it will bring to your face when you plan one. Rainbows are bright and beautiful and as a spring theme, they definitely compliment all those April showers!
A Rainbow party is the perfect theme for a birthday party or for celebrating that little miracle baby on the way with a Rainbow baby shower!
(1) This Meri Meri Rainbow Tableware (Amazon) is absolutely perfection. It's bright and cheery and sure to compliment your party design!
(2) Simple felt balls make a glorious Rainbow Cake Topper (A Subtle Revelry) as well as garland for photo booths!
(3) This Colorful Rainbow Birthday Party (Project Nursery) is exquisite. The balloon backdrop is so fun and festive. Absolutely perfect for spring.
(4) DIY Rainbow Party Cups (Handmade Charlotte) are not only an adorable party treat, but these fun cups would be a great craft your kids can help with for setting up the party.
(5) Delicious Rainbow Cake Pops (Taste Made) are a fun surprise your guests will love. Who wouldn't want to bite into a little piece of rainbow magic?
Looking for more rainbow party ideas and rainbow party supplies?
Donut Party Ideas
Donuts are equal parts cute and yummy. With so many creative ways to display donuts and the endless possibilities for colors and flavors and decorating, it's no wonder donuts are such a popular theme.
From a kid friendly donut themed party to a grownup donut wall, donuts are just such a great way to celebrate an occasion. And don't even get me started on how delciious they are!!
(1) This Donut Wall (Target) is equal parts easy serving and super adorable decorations.
(2) Throwing a Donut Birthday Party (Bridget Parry) is a simple and inexpensive way to get all the kids excited for a party.
(3) Photo op time! This Sprinkle Wall (Tiffanie Anne) makes for the perfect smash cake photos!
(4) Whip up some DIY Donut Balloons (Studio DIY) to really make your donut party stand out from the crowd.
(5) Why stop at serving donuts, when you can also make a stunning and delicious Donut Cake (A Joyful Riot)?
(6) Get your guests into the donut decorating mood with a fun Baby Shower Sprinkle Bar (Bridget Parry).
Looking for more donut party ideas and donut party supplies?
Tropical Party Ideas
You might be thinking that luaus are just for summer, but these trending ideas are perfect for spring too. Start dreaming of vacay a little earlier this year with fun tropical party ideas.
From palm fronds to pineapples, there are so many ways you can get tropical with your party decor and embrace your inner Jimmy Buffet!
Let's check out the hibiscus love…
(1) Turn ordinary glazed donuts into Pineapple Donuts (Fun on Paper) with fun toppers.
(2) This Tropical Photo Backdrop (Brit &Co) is an easy way to get your guests lively and commemorate your party!
(3) Hawaiian Wedding (Spunky Sapphire) planning is simple with fun drape-y green walls and gorgeous tropical flowers.
(4) Get into the party spirit with a Tropical Bridal Shower Mimosa Bar (Lia Griffith) and get her dreaming of a tropical honeymoon.
(5) This beautiful and simple Hanging Tropical Door Decor (Bungalow Drift) is a great decorative accent to Hawaiian party!
(6) Simple leaves and pretty pinks make a great Palm Fronds Dinner Party (Studio DIY) that you will love sharing with your guests.
Looking for more tropical party ideas and tropical party supplies?
Flamingo Party Ideas
Let's flamingle with some fun and beautiful flamingo party ideas you won't soon forget. Flamingos can literally compliment everything from cupcakes to wall decor.
Plus…they are perfect for a pool party, if you are lucky enough to be able to swim in the spring in your neck of the woods.
(1) Delcious Pink Flamingo Punch Cocktails (Pizzazzerie) are a great way to treat your guests as you flamingle.
(2) Plan a pool party like this Let's Flamingle Pool Party (One Stylish Party) for a stylish and fun time.
(3) DIY Flamingo Straws (Fete Gazette) make a simple and adorable way to add a little pizzazz to your party punch.
(4) This Blush Pink Flamingo Cake (Juniper Cakes) is absolute perfection. It's the perfect mix of trendy blush pink and gorgeous edible bird feathers.
(5) Mix the tropical and fruit up with your lovely birds like this Flamingo Birthday Party (Style Me Pretty).
Looking for more flamingo party ideas and flamingo party supplies?
Flamingo LED String Lights
Pastel Party Ideas
If you think of things like Easter and tulips and pretty pastel dresses when you think of spring, then a pastel party theme might be just want you need. Soft colors and muted rainbows make for a brilliant party spread.
Choosing a color can be so hard sometimes…so why not use the whole rainbow for a fun and mix-matching pastel soiree?
(1) Pastel Party Supplies (Oh Happy Day) can take the pressure off of planning too many decorations and keep your party them on point.
(2) This Pastel Layer Cake (We Heart It) almost looks too good to eat. Well, ALMOST.
(3) Add some fun donuts to your party with some fantastic Pastel Icing Drip Donuts (A Subtle Revelry).
(4) Pastel Balloons (Ginger Ray) are a fun and subtle way to add pops of pastel color to your party. Little girls will LOVE these balloons too!
(5) This Sorbet Colored Dessert Table (100 Layer Cakelet) is a beautiful mix of pastel colored desserts and decor that just scream spring.
Looking for more pastel party ideas and pastel party supplies?
Here are some helpful links for planning a Spring party:
Conclusion for Springtime party themes:
Planning a springtime party is as easy as pick a beautiful theme and style it. With trending and amazing spring themes, we have all the inspiration you need to to pull off an amazing party.
From a trip to the tropics to a pastel wonderland, these themes will excite you and your guest. If you are feeling like it's spring party time, check out these wonderful ideas and get inspired.
If you love these ideas, please pin this image to your spring Pinterest board:
Related posts for Spring Baby showers and birthdays:
Thank you for reading our ideas for a spring party!