Fun Ideas for a Donut Party
Donut Birthday Party: It's Doughnut Time! Want a fun birthday party idea that your kids are going to go nuts over? Throw a donut birthday party. It's easy and fun and delicious! What more could you want in a dessert themed party?
There is just something amazing about a donut themed birthday party! Maybe it's the way a child's face lights up when they see a donut…maybe its the ooey gooey goodness that you know awaits you when you bite into that yummy donut.
Either way, a donut birthday party seems like my kind of perfect. And clearly, little Ashton agrees!
This adorable donut party was styled by the amazingly creative Bridget Parry for her son Ashton's fifth birthday. When your little guy asks for a donut party, you get out your party stuff and put together a fantastic donut themed party!
If you haven't checked out any of her parties…you must! They are to die for. Here are her mustache bash, star wars party, and rock-themed baby shower.
Donut Birthday Party Decorations
I love everything about this donut party. It is simple and bright and fun. Birthday parties do not have to be over the top to be fabulous. Sometimes all you need is a good theme (hello….donuts!!!!) and a few basic party supplies.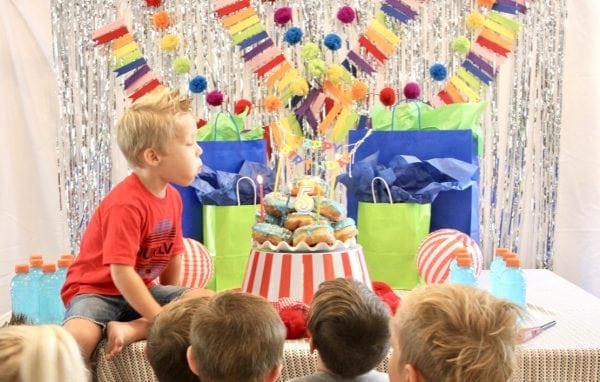 Use multi-colored washi tape to make a fun banner for the backdrop. Hang it with a honeycomb garland in front of a silver photo backdrop and you have instant party adorableness!
Bridget also used some gift bags and tissue paper to give some color to the party table. So much fun!!!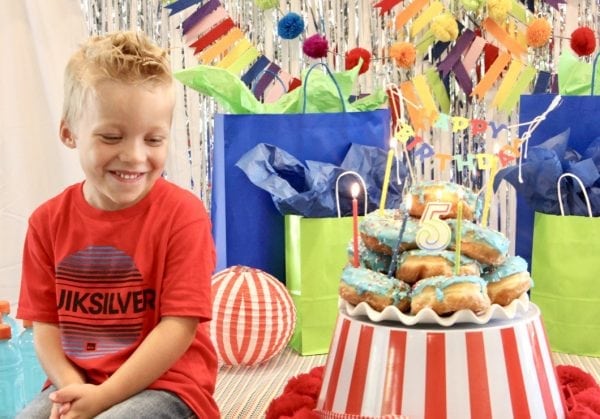 A donut birthday party is also such a great theme for either a boy or a girl. I love the play on words you can do with "Donut grow up" as well. It's very versatile. You could do a donut first birthday or tenth birthday and the kids would still love every minute.
Here are some helpful links for throwing a donut party:
Donut Birthday Party Games
Games and activities for a donut party can be simple and fun too! You can have a donut eating contest by stringing donuts onto strong and having the kids eat the donuts without using their hands.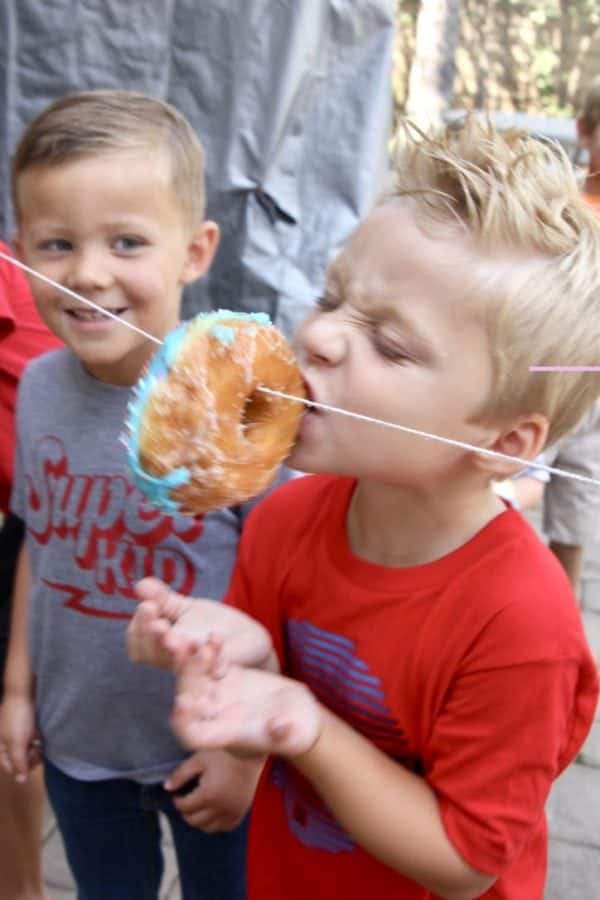 Lots of messy fun! You can also play pin the sprinkle on the donut! Grab a blindfold and start pinning!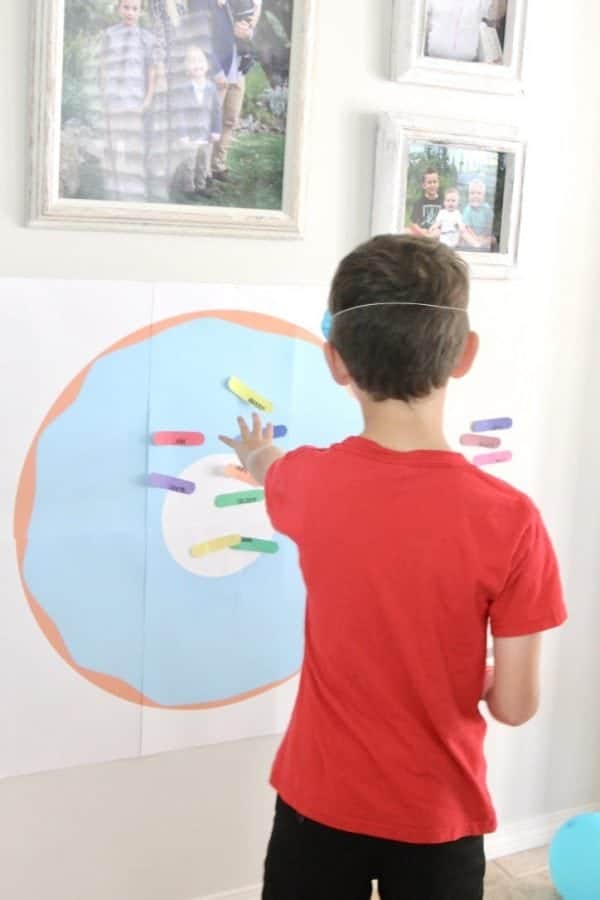 Decorating your own donut is a super fun idea. You can get plain glazed donuts and set out different colored frosting and sprinkles and let the little ones design their own donut to eat.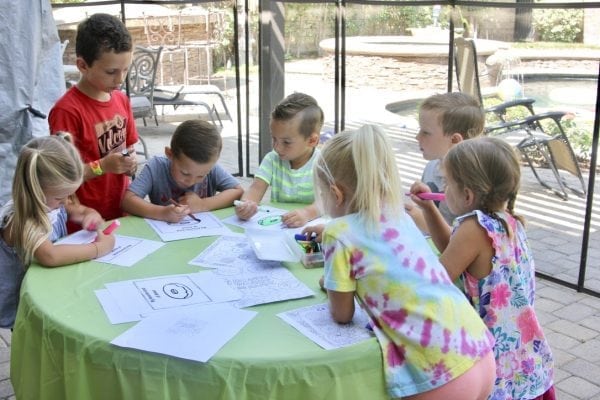 You can also have a donut coloring contest where they color in their donuts with markers or glue and sequins. There are so many fun donut party ideas!
A donut pool float makes a great photo prop and also can be turned into a game. You can set inflatable donuts on either side of the yard and play donut corn hole with beanbags.
That's the best part about themes like "donut"…let your imagination run wild. Any normal party game you can think of can be done with a donut birthday party twist!
Donut Birthday Party Food
Party food for a donut birthday party can be so simple, yet adorable. If you don't feel like making a donut cake…you can always frost up some donuts and make a "donut pile" cake, like Bridget did.
It's adorable and saves you from having to cut anything since the donuts are already portioned and ready to eat.
Another option would be to make a donut cake. You can bake a cake in the shape of a donut using a donut-shaped cake pan.
There are also smaller donut molds you can use to make donut shaped treats of different sizes. There are so many possibilities when it comes to a donut birthday party!!!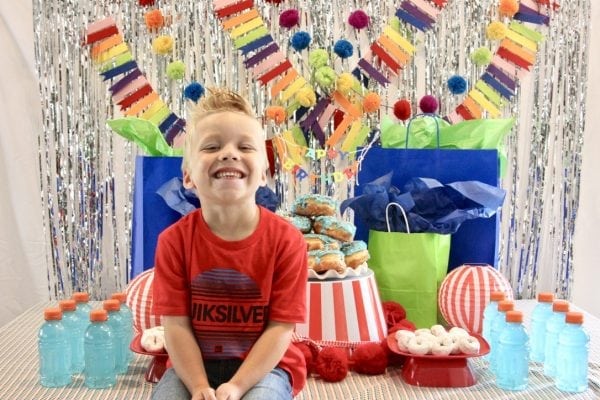 The Donut birthday party theme is seriously one of my favorites right now. It's so cute and simple, yet sure to be a crowd pleaser. Hopefully, you gained some inspiration from this party.
A special shout out to Bridget for sharing her creativity and her adorable kiddo with us today!!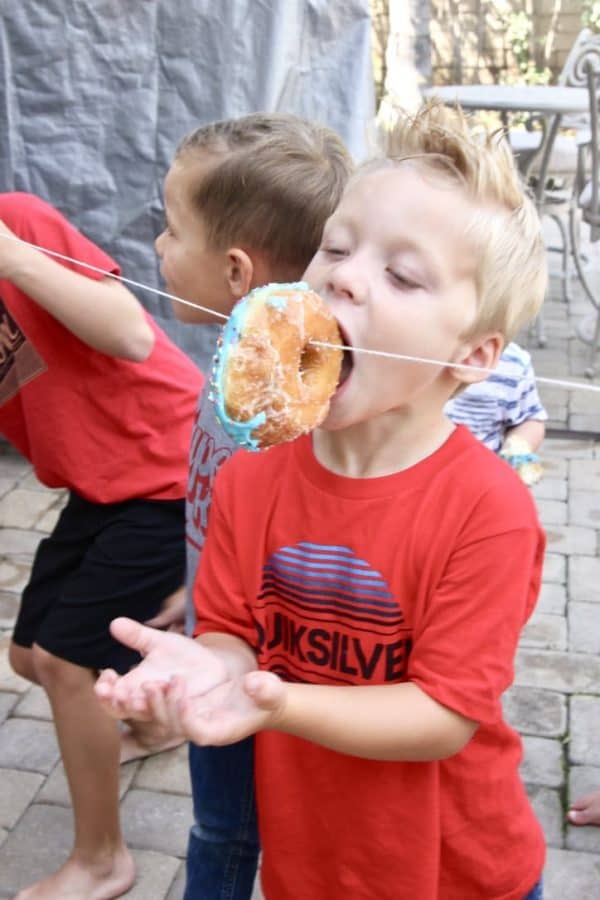 Looking for more donut party ideas? Be sure to also check out our wild one party ideas and our ice cream party ideas.
Conclusion for Donut Party Ideas:
If you love the idea planning a donut themed party, then you will love these ideas. Simple, easy to recreate and adorable is the way to go for a donut themed party.
Here are some helpful links for planning a Donut Party:
If you love these party ideas, please pin this image to your birthday Pinterest Board:
Related posts for Donut Grow Up:
Thanks for reading my ideas for a Donut themed party!