Tips and Ideas for throwing an ice cream party.
Looking for some ice cream birthday inspiration? I've got some amazing summer party ideas to share for throwing party with ice cream that is so cool you'll melt! Ice Cream parties are so much fun! Not only is it an amazing theme…but it's delicious.
Let's hear it for delicious ice cream!!!
It's summertime and a party is just not a party without ice cream right?? So if you are going to celebrate WITH ice cream….why not make the whole party ABOUT the ice cream. There are so many ice cream ideas that you can incorporate into an ah-maz-ing party!
You can't go wrong with an ice cream menu! If check this out if you want to make some amazing ice cream sandwiches.
Throwing an ICE CREAM THEMED PARTY?
☑️ This Ice Cream Party Kit is the perfect set to get your party planning headed in the right direction!
In this post we will take a look at the two most important focuses for party planning, namely…the decorations and the food. These ideas will help inspire your best party and give you easy ways to create something beautiful (and fun!)
There are so many fabulous ice cream themed ideas out there to give your party the cherry on top! Check out these awesome ice cream decorations and food ideas:
Decorations and Ice Cream Party Supplies:
Let's set the tone for this party with some gorgeous themed decorations and supplies. From DIY party garlands to ready to buy party tableware packages…this post will walk you through everything you need to throw an amazing summertime party!
Honeycomb Ice Cream Garland from Oh Happy Day
This is a super clever idea for a banner! All you need are some tissue honeycombs and card stock! Aren't they adorable?? This would be perfect hanging over a party table or as a photo booth. Love it!
Wooden Letters from Chalkboards of Atlanta
These adorable wooden letters would be the perfect centerpiece for a party table! I love the sprinkles on top and the waffle cone bottom. ADORABLE!
Ice Cream Tableware from Amazon
This ice cream themed party tableware is perfection. I love the soft colors and the sprinkle pattern. This would perfectly compliment so many ice cream scoop party designs.
I scream for this perfect for summer set!!
Ice Cream Supplies from Meri Meri
These gorgeous ice cream themed party supplies with ice cream cone shaped plates are perfection! You will love the creativity and your guests will be impressed with the adorable quality!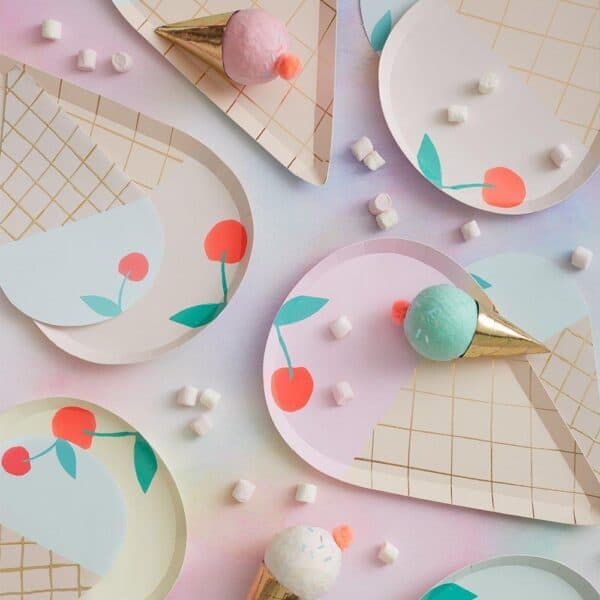 Ice Cream Shoppe Party Invitations from Mimi's Dollhouse
Do you love an old fashioned Ice Cream Shoppe? I am crazy about all things vintage, so this pastel design was super fun to design.
I also have matching printable ice cream decorations which make party set-up a snap and tie all your food and decorations together.
You can take a look at (and purchase) the printable package and printable invitation at the bottom of this post.
Popsicle Invites from So Festive
I am a huge sucker for paint chip crafts. I love the colors and they basically look good made into anything! These fun popsicle invites would also be good strung together as a banner or in centerpieces. So much fun!!!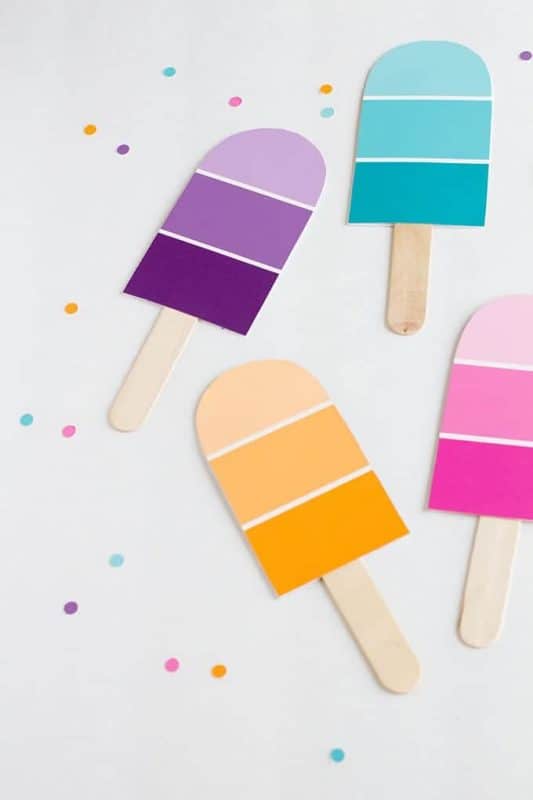 Banner for an Ice Cream Bash from Amazon
This banner is adorable. It would so nicely compliment a dessert table or photo backdrop. I love the cute little cones!!
Sometimes the simple, ready made options are the best bet for planning a busy party…especially when they are this cute!

Wooden Spoons from Sucre Shop
These stamped wooden spoons are the perfect utensils for actually enjoying the ice cream served. They are bright and playful! Of course, they are also oh so functional!!!
Food and Dessert Ideas:
Now that you have the food all ready to go, let's talk about party food. There are tons of delicious and creative ways to bake for your party and still keep everything on point with the theme.
Let's take a look at some of the amazing treats and awesome inspired desserts. Be sure to also check out these ice cream cakes for more inspiration.
Ice Cream Cupcakes from Home by Heidi
These cupcakes are absolutely adorable. I love the cute "cherries" on top. It's so much fun to make food look like other foods isn't it!!! This whole party is adorable…make sure you check it out!!
Popsicle Cookies from Bake at 350
This easy to follow DIY cookie tutorial makes some fantastic Ice Cream Pop Cookies! There are so many possibilities with this! Absolutely awesome!!
Ice Cream Cookies from Pastels by Jackie
How freaking adorable are these Kawaii style cookies? I love all the little faces and the bright colors. These make me want to start baking immediately!!!
Melted Ice Cream Cone Cupcakes from The Life Jolie
Why cry over spilled ice cream when you can make your ice cream melt on purpose with these adorable melted ice cream cupcakes?? How clever and adorable are these!?!?
I know I have two little ladies who would go nuts for this!!!
Ice Cream Scoop Sugar Cookies from Tikkido
These adorable Ice Cream Sugar Cookies are absolutely perfect for an ice cream themed party. I love how simple it is to make them look like ice cream scoops. Genius!!
More Ice Cream Themed Desserts to Try:
Ice Cream Cupcakes from The Food Hussy
Ice Cream Nachos from Crayons and Cravings
Ice Cream Cone Cupcakes from My Joy Filled Life
Brownie Cake Ice Cream Cones from Mommy Evolution
Aren't these just the sugary-sweetest party ideas for summer?? I'm gonna go dish myself up a bowl of mint chip!!
I know you will love these treats…I'm getting hungry just writing this post! Themed desserts are a great way to really set your party a part from the rest.
Trust me, your guest will be talking about this party for months!!
Want to throw an Ice Cream Party?
Check out the awesome party printable package here. You can also order just the invitation as an additional option.
The Printable Ice Cream Shoppe Party Decorations are available in my shop:
Here are some helpful links for an ice cream themed party:
If you love this ice cream theme, please pin this image to your birthday or summer Pinterest board:
Related posts for Summer Ice Cream Supplies:
Thank you for reading our Ice Cream Theme Party Ideas!