Trending Summer Party Ideas that you will love to use!
Keep Cool with these Hot Summer Party Themes. Want to throw the most talked about summer party this year? Whether you are celebrating a birthday or just getting together to enjoy some sunshine, these summer party themes are the hottest trends in parties!!
I have some AH-MAZ-ING summer party themes and trendy summer party ideas to share today.
Summer time is one of my favorite times for parties. If you have a pool or access to a beach, you are made in the shade…but even if you don't have access to water…we have fun summer party themes perfect for celebrating the warm weather!
Check out these hot summer parties:
Summer Pool Party from Crissy's Crafts
Have pool…will party! These party is fun with it's bright colors and adorable treats.
I love this party because it is bright and gender neutral, although I do sell these pool party printables in pink, if you want to girl it up! Printables are available at the bottom of this post.
This party features popsicles and flip flops and beach balls…throwing a pool party is as easy as buying the things you USE in a pool and they already coordinate with your decor…I call this winning!
Oriental Trading has some adorable pool party tableware that would pair so nicely with this design too…just saying:)
Flamingo Party on Kara's Party Ideas
So if flamingos weren't already cute enough…the play on words with "Let's Flamingle" makes my nerdy little party planning heart a flutter. So fun!
Flamingos are such beautiful, yet quirky birds which makes them uber fun as the centerpiece of a party. I love the modern, yet playful feel of this summer party theme.
If flamingos also make you happy, I have some printable flamingo party decorations available in my shop in fun mint and pink:)
If you are totally smitten with the Flamingo party idea…you can't beat the adorableness of this Flamingo Tableware set!
Tutti Fruiti Party on Pizzazzerie
Wanna know a secret? I think this might be my favorite trend this summer. I might just have to throw a tutti fruiti party this summer!
Anybody have a two year old I can borrow?
Seriously though…I love the bright colors and the fun fruit. A bonus with this theme is that the menu pretty much plans itself…be prepared for lots of fruit themes dishes.
After all…it is summer!! Here is some absolutely adorable Tutti Fruity Tableware that would be perfection for this theme!
Under the Sea Party from That Cute Little Cake
So darling it IS actually better under the sea! Want to transform your home or yard into an under the sea paradise?
This party is gorgeous and full of creative under the sea ideas and easy ways to us sea creatures to blow your guests minds. These printable under the sea decorations are available in bright red/blue/yellow or also in pink like this girly under the sea party
So many wonderful ideas! Also, check out these under the sea party ideas.
Watermelon Party from Jen T by Design
Whether you are "One in a Melon" or it's "Too Two Sweet"…water melon is a sugar sweet and feminine party idea for your little girl. I love all the pink polka dots and the fun bright colors.
There are so many options for throwing a watermelon party! If you want to go wild with watermelon, I have printable watermelon party decorations available for purchase in my shop!!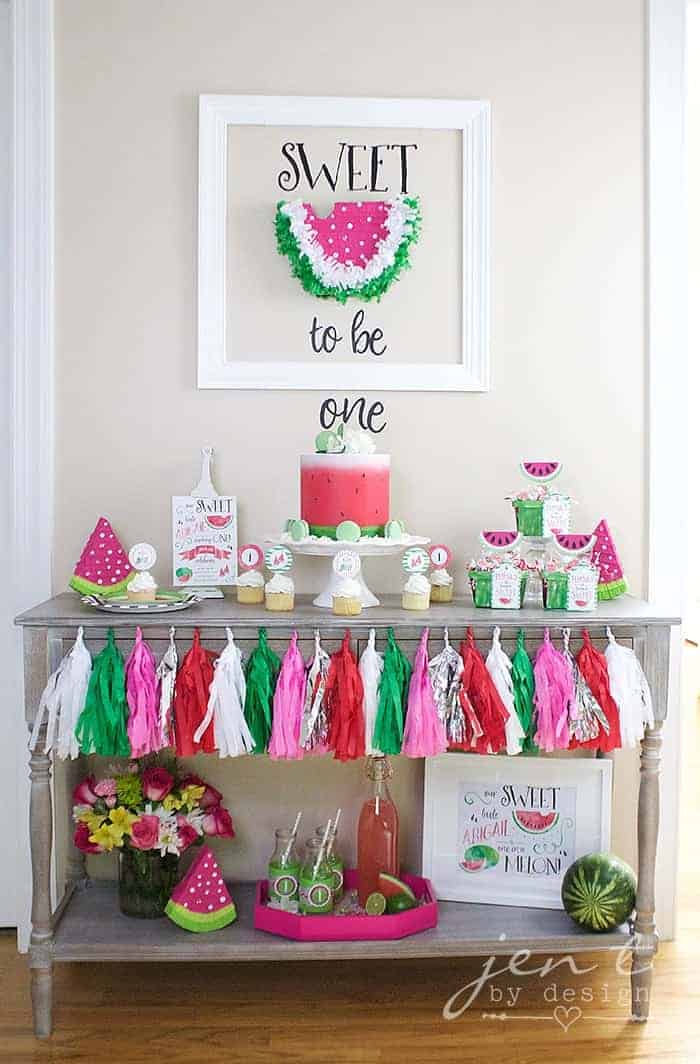 Strawberry Party from Mimi's Dollhouse
This fun little Berry First Birthday party is perfect for a summer party, whether you are celebrating a berry first birthday or just a sweet little one's big day.
You can also grab fun Strawberry Tableware and strawberry themed decorations. Be sure to check out the simple Strawberry cookie tutorial and the Strawberry cupcakes/cake recipe….it's delicious!!
The printable strawberry party decorations are available in my shop!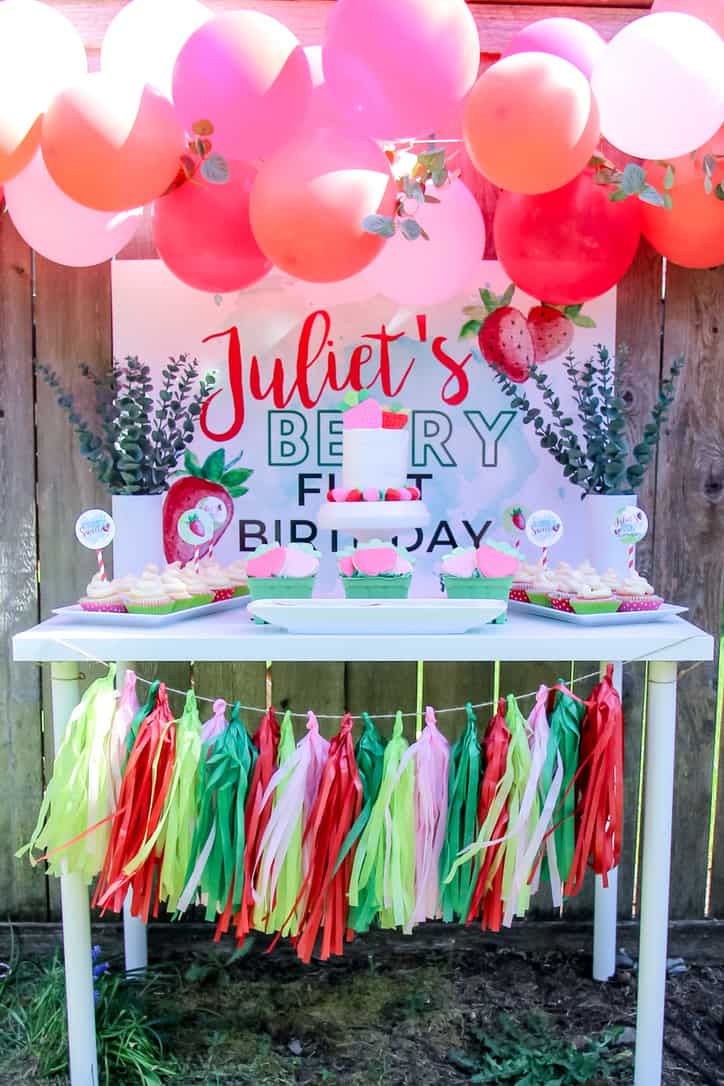 Moana Party from Lero Lerito
Find out how far you'll go with a Moana party! Is your little one obsessed with Hei Hei or searching for the heart of Te fiti? Turn a typical luau into a gorgeous Moana party.
This is one of my favorite summer party themes. Bright colors, Hawaiian greenery and adorable desserts. And of course…look at that cake!!! So cute and perfect for a little aspiring princess!
If you want to throw an amazing Moana party…you should definitely take a look at this adorable set of Moana tableware!
Mermaid Party from Mimi's Dollhouse
Ok…so a mermaid party is definitely a classic that never goes out of style. Mermaids are so fun and being able to play with those under the sea party ideas and incorporate mermaid party games into the party is just too much adorableness!
Mermaids can be done in any color, but I'll admit I'm partial to the purples in this design! Mermaid is a great summer party theme for incorporating in a pool or the beach!
Check out these mermaid party ideas. Also grab the printable mermaid party decorations from my shop!
Ice Cream Party from Fresh Mommy Blog
If summer doesn't scream ICE CREAM to you then you should just stop reading right now…we have nothing to talk about.
I kid, I kid…but seriously…you know your little guests will want some yummy ice cream, so why not make the whole party about the ice cream. There are so many amazing things you can do with balloons and now my party planning juices are flowing!!!
Want to plan an ice cream party? The printable ice cream party decorations are available in my shop. I also have a fun ice cream banner tutorial and ice cream cupcakes recipe!
Also…be sure to check out these ice cream cake recipes and homemade ice cream recipes!
Picnic Party from La Chica de la Casa de Caramelo
It's picnic time!!! This is an awesome theme if you don't have a pool or beach handy. All you need is a grassy area like a large yard or a park and you can throw an epic picnic party!
I love all the red checked details. Perfection!!! If you are looking for some printable picnic party decorations, I definitely have some in the shop!
Vintage Beach Party from Mimi's Dollhouse
Let's throw a beach party! Palm trees and SoCal and sunshine…my kind of party. This fun vintage beach party feels like a day on the beach (even if it was nowhere near the beach) which is my perfect day!
I love the idea of a beach party…there are so many creative food and dessert options and the colors are bright and summer friendly! Definitely one of my top summer party themes!!
Shark Party from The Love Nerds
Take a bite out of the party fun with some giant shark teeth!!! This party is adorable and super creative. Shark is like a boys mermaid party. If you want to have a pool party or a beach theme, but you want to take it to the next level…make is a SHARK party!!!
My favorite detail in this party is the giant shark head. LOVE. IT. If you want to throw a shark party, check out these printable shark party decorations.
Also…for some of the cutest Shark Tableware and Party Supplies E-V-E-R, check out this Under the Sea collection! You won't be disappointed and neither will your adorable little underwater adventurers!
Lemonade Party from Mimi's Dollhouse
Of course…what is summer without some lemonade? Throw a sweet lemonade themed party for your little one. Make some fun lemon desserts…squeeze some fresh lemonade and go crazy!!! Here are some awesome lemonade party dessert ideas.
Also, if you're like me and you really love strawberry lemonade…check out this strawberry lemonade stand party.
If you love these summer party ideas, please pin this image to your summer Pinterest board:
Conclusion for Hottest Summer Party Themes:
If you are planning a party this summer…you can't go wrong focusing on summer food or summer weather themes. These ideas are adorable and easy to DIY. Enjoy the summer time and party hardy!
Related posts for Summer Parties:
Thank you for reading our summer party ideas and themes for summer!