Mermaid Birthday Party: Mermaid Party Ideas. Styling a beautiful under the sea birthday or gorgeous mermaid birthday party? You need some easy and glorious mermaid party ideas and dessert inspiration!! Today I'm sharing some truly fantastic mermaid birthday party ideas! Looking for mermaid party activities? Also check out this mermaid party, this under the sea birthday party and these under the sea party ideas!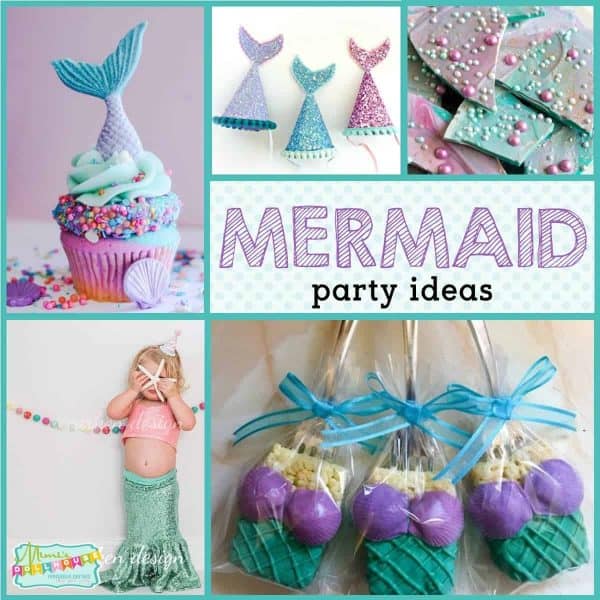 Does it feel like spring in your neck of the woods yet? It does in mine. I am super excited for the warmer weather. I LOVE spring and summer, sunshine and the warm air. There is just something about driving to the beach for the day. And, I LOVE Spring and Summer parties. Whether you are having your shindig at a local park, beach or pool or in your own backyard, there is just special about warm weather parties.
Throwing a MERMAID PARTY?
☑️ This Mermaid Party Kit is the perfect set to get your party planning headed in the right direction!
One of my favorite warm weather party has got to be Mermaids. There are sooo many things you can do with a Mermaid party. From seaweed streamers to shell shaped serving plates…the possibilities are endless!!!
Here are some of my favorite mermaid party ideas:
This. This mermaid cupcake is #goals!!! It's absolute perfection. Not only is is absolutely gorgeous, but it just looks like it tastes sooo amazing, right!!! I love the glitter and the chocolate shells…I love it ALL!! I need some of these cupcakes in my life right now!!
I love making bark…it's surprisingly easy, always tastes good and can dress up any dessert table. This bark is so pretty too. Apparently, most mermaid parties tend toward the Ariel birthday party colors of purple, green, teal. This bark could easily be done in pink or blue or whatever color your little mermaid prefers.
Oh, I love these cookies. In fact…these are the cookies I ordered for my daughter's mermaid party. The mermaids on these cookies are drawn to match my printable mermaid party decorations, so that is a definite bonus if you are considering splurging on these beauties. They taste amazing and they are gorgeous!!!!
Aren't custom letters awesome?? There is so much you can do with letters! Whether you are making them look like a character or decorating them with a theme, you can use your child's initials, name, age…so many options and this pretty letter would look so prefect on a mermaid birthday party table.
Mermaid Rice Krispies Treat on Crafty Morning
Dinglehoppers, anyone? These are so super cute. To make these mermaid rice krispies treats, dip a treat in green chocolate melts, add purple shells using purple chocolate melts and this mold, and top with mini silver plastic forks. Easy peasy and oh, so cute!!!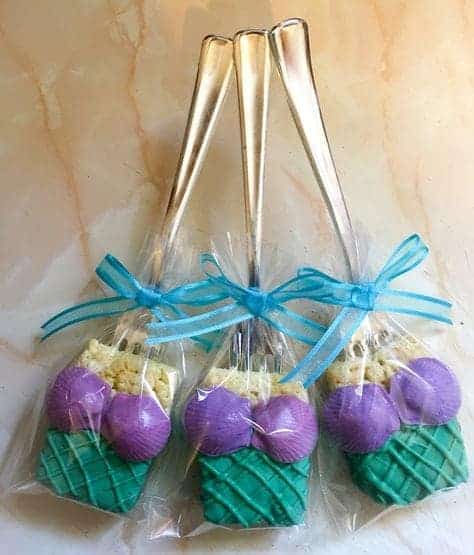 Looking for something to take your party from fun to fabulous? These glittery mermaid party hats are just the thing. They are so adorable…I just can't stand it. Little mermaids would be completely nuts for these and just think of the picture possibilities!!! So adorably cute!!!
These easy to make and super cute oyster cookies and fun and would definitely be a highlight of your mermaid party dessert table. They look so yummy and are oh so simple. I love simple desserts that look like they are so much more work than they really are!!!
How precious is this little mermaid costume? Let you little princess dress up like a real mermaid with this adorable and sparkly mermaid tail!!! Bonus…how awesome would this mermaid tail look with those sparkly hats???
Mermaid Table Skirt from Glitzy Decor
Why worry about your table top when you can use a fantastic mermaid table cloth to showcase all your mermaid party treats and decor? This table cloth is fun and flirty and would accent any little mermaid party spread as it looks like water and immediately gets you into the mermaid birthday planning mood!!
Another super simple mermaid treat idea. Make some fun and tasty starfish sandwiches. Whatever flavor is your little one's favorite…these sandwiches look great on a party table AND they help to offset the sugar in those gorgeous cupcakes!!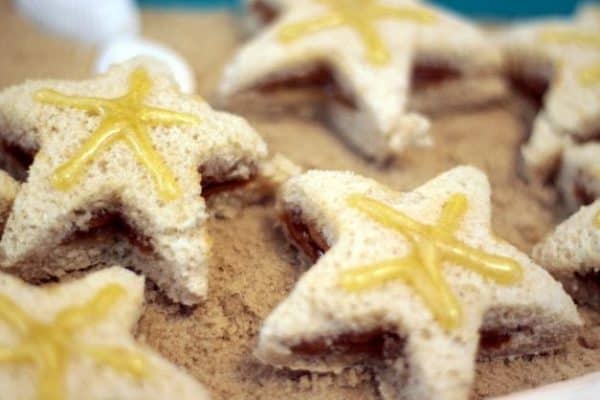 I hope these mermaid birthday party ideas have you ready to throw an epic mermaid party!!
Have I mentioned that I love getting party photo submissions? I love when people send party photos to me to share. Here are some cute mermaid pictures from some cute client parties as a matter of fact…that were made using my printable mermaid party decorations.
Both parties used balloons hanging and/or paper lanterns to give the effect you were under water and used hanging streamers to feel like seaweed.
The cupcakes frosted with blue frosting, topped with white chocolate star fish and various shells and then sprinkled some crushed up gram crackers to look like sand and topped with the printable mermaid cupcake toppers. All of the food was named to go along with the mermaid theme, including spinach dip (seaweed dip), carrots/celery/cucumbers (crab legs and sea cucumbers), peanut butter and jelly sushi rolls, rainbow goldfish (shark bait), chips and dip (sand dollars), slider hamburgers (crabby patties) and hot dogs cut and cooked to look like octopus. To drink, they served lemonade with a small amount of blue food coloring in to make it green with floating plastic kelp in it (kelp koolaide).
This mermaid towel wrap is one of my favorite ideas. So simple and soooo cute.
These party favors were beach towels with put adhesive velcro at the top to fasten around there waist and the bottoms were wrapped with rubber bands to make it look like a mermaid tail. Thanks for sharing your parties!!! Happy Birthday Kayden and Olivia!!
Here are some helpful links for throwing a mermaid birthday party:
The Printable Mermaid Party is available in my shop: