Amazing Ideas for a Beautiful Mermaid Birthday Party!
Styling a beautiful under the sea birthday or gorgeous mermaid birthday party? You need some easy and glorious mermaid party ideas and dessert inspiration!!
Today I'm sharing some truly fantastic mermaid birthday party ideas!
Looking for mermaid party activities? Also check out this mermaid party, this under the sea birthday party and these under the sea party ideas!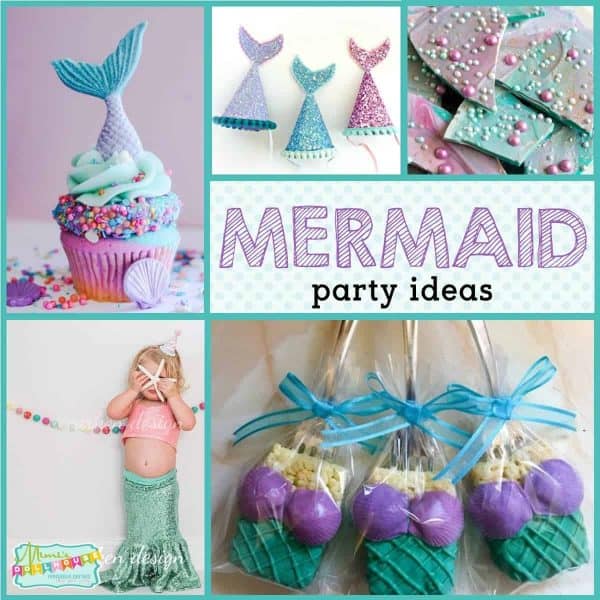 Does it feel like spring in your neck of the woods yet? It does in mine. I am super excited for the warmer weather. I LOVE spring and summer, sunshine and the warm air.
There is just something about driving to the beach for the day. And, I LOVE Spring and Summer parties.
Whether you are having your shindig at a local park, beach or pool or in your own backyard, there is just special about warm weather parties.
Throwing a MERMAID THEMED PARTY?
☑️ This
Mermaid Party Kit
is the perfect set to get your party planning headed in the right direction!
One of my favorite warm weather party has got to be Mermaids. There are sooo many things you can do with a Mermaid party.
From seaweed streamers to shell shaped serving plates…the possibilities are endless!!!
Mermaid Party Food Ideas
The Food you serve at your party is definitely an important detail. There are so many amazing and often super simple
Mermaid Cupcake from The Cake Mamas
This. This mermaid cupcake is #goals!!! It's absolute perfection. Not only is is absolutely gorgeous, but it just looks like it tastes sooo amazing, right!!!
I love the glitter and the chocolate shells…I love it ALL!! I need some of these cupcakes in my life right now!!
Mermaid Bark from Bread Booze Bacon
I love making bark…it's surprisingly easy, always tastes good and can dress up any dessert table. This bark is so pretty too.
Apparently, most mermaid parties tend toward the Ariel birthday party colors of purple, green, teal. This bark could easily be done in pink or blue or whatever color your little mermaid prefers.
Mermaid Cake from Elevate Everyday
This layer cake is perfect for a mermaid party. The bottom layer looks like a sandy beach and the top looks like fun waves. Loving this cake!!
No Churn Mermaid Ice Cream from Homemade Interest
Yummy! Who wouldn't want some delicious mermaid ice cream? This frozen treat is sure to be a hit with the little mermaids at your party!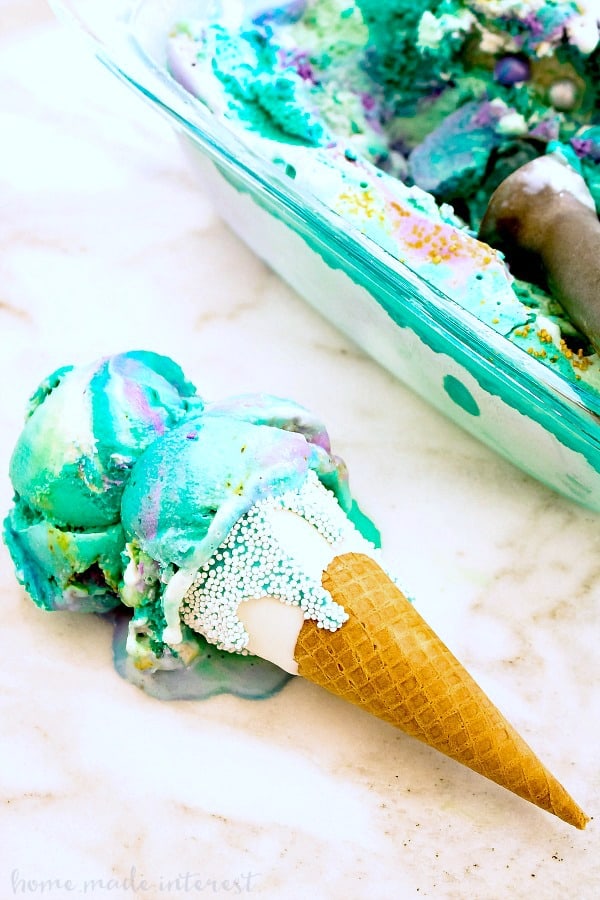 Mermaid Cookies from Mimi's Dollhouse
This simple and fun cookie tutorial is a great way to enhance your mermaid party. If you want to make your own gorgeous cookies…you will love these!
Mermaid Cookies from Sugared Hearts Bakery
Oh, I love these cookies. In fact…these are the cookies I ordered for my daughter's mermaid party.
The mermaids on these cookies are drawn to match my printable mermaid party decorations, so that is a definite bonus if you are considering splurging on these beauties.
They taste amazing and they are gorgeous!!!!
Mermaid Tail Cupcakes from Garvin and Co.
I love the simplicity and creativity of these cupcakes. These are perfect if you are crunched for time throwing a party or aren't super comfortable with baking.
All you need are ice cream cones and scrapbook paper! Easy peasy.
Mermaid Rice Krispies Treat on Crafty Morning
Dinglehoppers, anyone? These are so super cute.
To make these mermaid rice krispies treats, dip a treat in green chocolate melts, add purple shells using purple chocolate melts and this mold, and top with mini silver plastic forks.
Easy peasy and oh, so cute!!!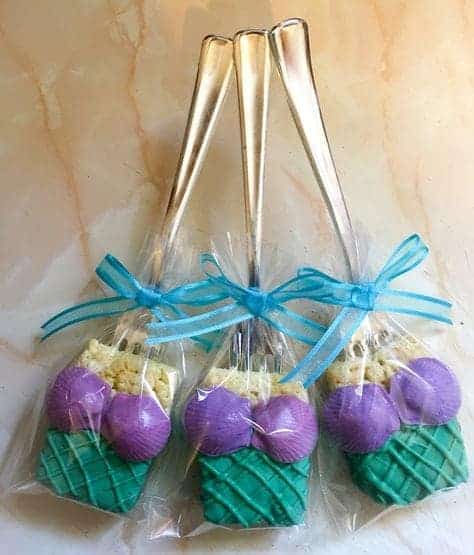 Mermaid Themed Food from Brie Brie Blooms
One of the best party food ideas is to serve regular food with clever themed names. Serve pretzels called "drift wood" and carrot "crab legs". Genius, right!!
Oyster Cookies from Karo's Fun Land
These easy to make and super cute oyster cookies and fun and would definitely be a highlight of your mermaid party dessert table.
They look so yummy and are oh so simple. I love simple desserts that look like they are so much more work than they really are!!!
Starfish Sandwiches from Mimi's Dollhouse
Another super simple mermaid treat idea. Make some fun and tasty starfish sandwiches.
Whatever flavor is your little one's favorite…these sandwiches look great on a party table AND they help to offset the sugar in those gorgeous cupcakes!!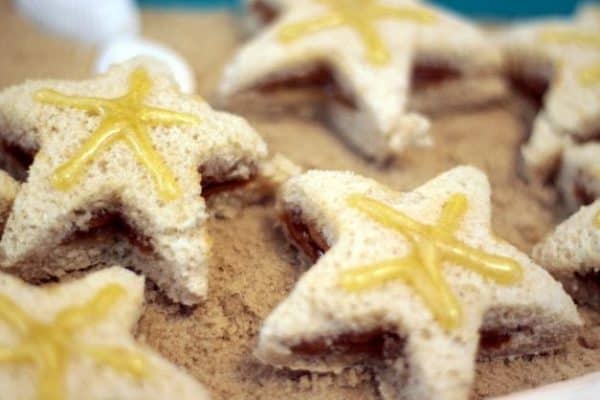 Mermaid Party Decorations
Set the "under the sea" mood with some themed party decorations. Using a few simple DIY ideas, you can turn your home, backyard or party room into an underwater paradise. Check it out…
Mermaid themed Balloon Garland from Happy Wish Company
Balloon garlands are amazing. They are such a fun way to jazz up a party table. These balloons really give the table that signature "under water" feel!
Truly beautiful!
Pastel Jellyfish Lanterns for a Mermaid party from Republic of Party
Jellyfish lanterns are such a cute way to decorate a mermaid party. They are fun and if you are in a backyard or park, they sway in the breeze so it looks like they are swimming.
We used jellyfish lanterns in our mermaid birthday party and LOVED them.
DIY Mermaid Sign from Elevate Everyday
Here is a simple and adorable sign that you can make for a mermaid party. I love tutorials like this because they are customizable.
The party this tutorial is used in is a super pretty mermaid party also!
DIY Jellyfish Hangers from The Suburban Mom
Here is another easy jellyfish hanger idea. This time with plastic bowls and streamers. So cute.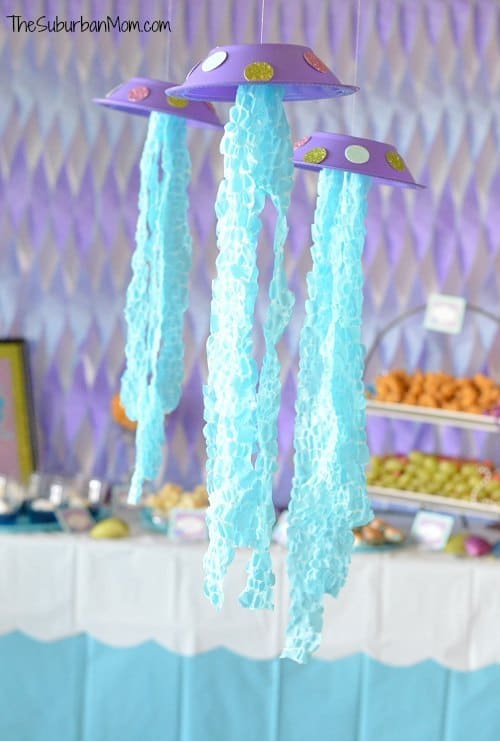 Giant Mermaid Letter from Poppies and Paper
Aren't custom letters awesome?? There is so much you can do with letters!
Whether you are making them look like a character or decorating them with a theme, you can use your child's initials, name, age…so many options and this pretty letter would look so prefect on a mermaid birthday party table.
Mermaid Table Skirt from Glitzy Decor
Why worry about your table top when you can use a fantastic mermaid table cloth to showcase all your mermaid party treats and decor?
This table cloth is fun and flirty and would accent any little mermaid party spread as it looks like water and immediately gets you into the mermaid birthday planning mood!!
Mermaid Tableware
Choosing the right tableware can also help to elevate your party planning.
Bedazzled Silverware from Clean Living Clean Eating
Why stick with plain silverware if you can bedazzle your silverware with simple jewels. This is clever and so fun.
Coordinating Mermaid Party Supplies
Choosing the right party supplies and tableware can also make a simple party into an extraordinary party!
Mermaid Party Supplies from Meri Meri
This set from Meri Meri is my favorite. It is fun and flirty and makes the PERFECT addition to any mermaid party!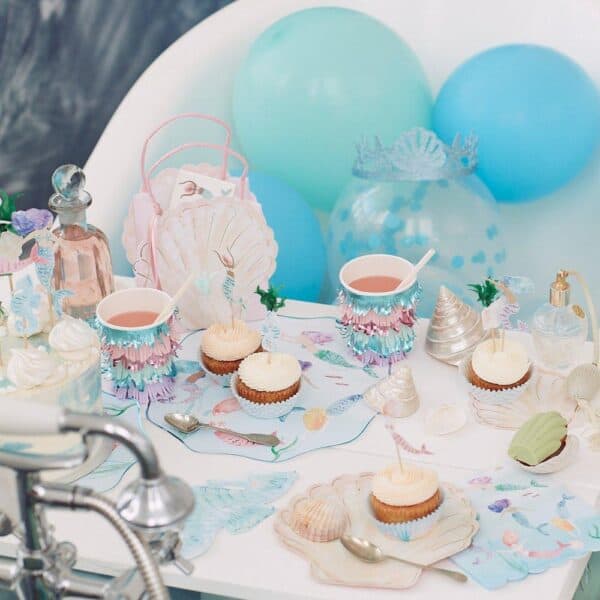 Mermaid Tableware from Oriental Trading
This gorgeous mermaid themed tableware is a great way to take the guess work out of decorating. It's themed and will match with most mermaid ideas.
It comes with lots of coordinating decorations, but items can also be purchased individually.
Mermaid Party Supplies from Target
This set is fun and playful. The colors are perfect for a little girls pool party!
Purple Mermaid Supplies from Target
Here is a fun iridescent Mermaid Party collection as well:
Mermaid Party Ideas
Mermaid parties are more than just food and decor. You also have to plan for the invitations, the party favors and the activities.
Mermaid Invitations
Before you can party, you have to invite your guests. When it comes to choosing the right invitations, there are three main options:
Option #1: Buy fill-in invitations. This is an easy option that only requires you to fill out the invites. If you are throwing a party for an older child, they can fill the invites out themselves.
Fortunately, you can purchase adorable mermaid invitations from Party City! They even match the tableware above, so if you are into coordination, that's a bonus.
Option #2: Have a custom invitation made that you can print and distribute. So I'm partial to this option, since I do in fact design printables for parties.
I think a custom invite is fun and saving time (although printing them can be more expensive than option 1). You can purchase my mermaid invites here:
Option #3: Send an Evite. Let's face it…we live in a digital world and sometimes, there isn't time to print something out.
Evite has some adorable cat themed birthday invitations (and they are animated too!!)
Mermaid Party Favors
Sending home party favors doesn't have to be stressful. There are lots of great ideas for mermaid favors.
If you are doing mermaid dress-up, the items they dress up in can double as favors if you plan to send them home. You can also use some of the food items you create as favors.
Of course, there is always the tried and true bag of mermaid goodies too…
Here are a couple of adorable options for sending home mermaid party favors:
Mermaid Favor Bags from Creative Party Studio
These little bags are adorable. I love the details. You can fill them with whatever items you desire and they will still look on point.
Mermaid Favor Buckets from Frosted Petticoat
Little beach buckets also make great favor bags. You can fill with beach related items or candy for a fun beach-y party favor.
Mermaid Dress-up
I love the idea of mermaid dress-up. There is basically nothing little girls love more than dressing up like their favorite character or magical being.
Here are some AH-MAZ-ING mermaid dress up ideas:
Mermaid Party Hats from Little Blue Olive
Looking for something to take your party from fun to fabulous? These glittery mermaid party hats are just the thing.
They are so adorable…I just can't stand it.
Little mermaids would be completely nuts for these and just think of the picture possibilities!!! So adorably cute!!!
Mermaid Costume from Carken Design
How precious is this little mermaid costume? Let you little princess dress up like a real mermaid with this adorable and sparkly mermaid tail!!!
Bonus…how awesome would this mermaid tail look with those sparkly hats???
Starfish Mermaid Wands from Sea Lane Studio
How about some fun mermaid sea star wands? Super adorable, right!!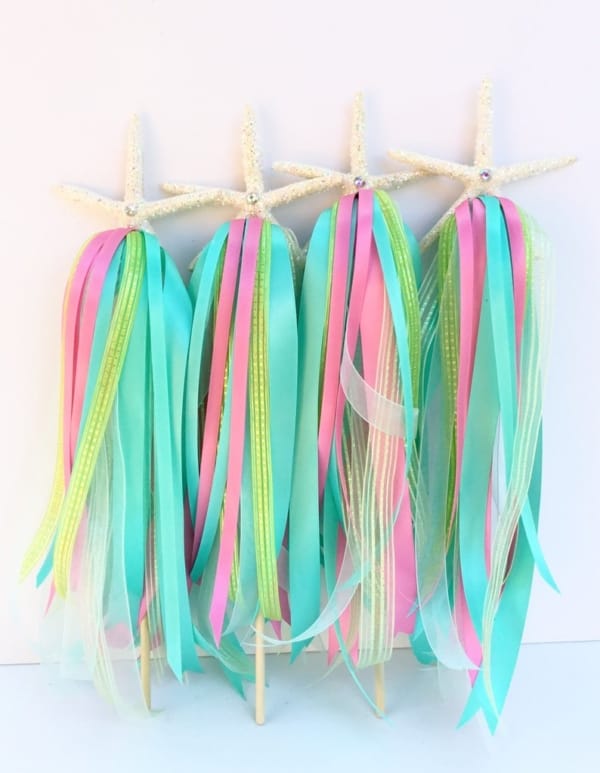 Mermaid Party Games
There are so many things you can plan for a mermaid party to keep your little guests entertained. Whether you are planning a swim party or plan to incorporate all sorts of mermaid themed crafts into the party plan, we have tons of mermaid party games and activities to share!
Mermaid Printables
Using mermaid party printables is a great way to personalize your mermaid themed birthday party
I hope these mermaid birthday party ideas have you ready to throw an epic mermaid party!!
The Printable Mermaid Party is available in my shop:
Have I mentioned that I love getting party photo submissions? I love when people send party photos to me to share. Here are some cute mermaid pictures from some cute client parties as a matter of fact…that were made using my printable mermaid party decorations.
Both parties used balloons hanging and/or paper lanterns to give the effect you were under water and used hanging streamers to feel like seaweed.
The cupcakes frosted with blue frosting, topped with white chocolate star fish and various shells and then sprinkled some crushed up gram crackers to look like sand and topped with the printable mermaid cupcake toppers.
All of the food was named to go along with the mermaid theme, including spinach dip (seaweed dip), carrots/celery/cucumbers (crab legs and sea cucumbers) and peanut butter and jelly sushi rolls.
There were also rainbow goldfish (shark bait), chips and dip (sand dollars), slider hamburgers (crabby patties) and hot dogs cut and cooked to look like octopus.
To drink, they served lemonade with a small amount of blue food coloring in to make it green with floating plastic kelp in it (kelp kool-aide).
This mermaid towel wrap is one of my favorite ideas. So simple and soooo cute.
These party favors were beach towels with put adhesive velcro at the top to fasten around there waist and the bottoms were wrapped with rubber bands to make it look like a mermaid tail.
Thanks for sharing your parties!!! Happy Birthday Kayden and Olivia!!
Here are some helpful links for throwing a mermaid birthday party:
If you love these mermaid party ideas, please pin this image to your birthday Pinterest board: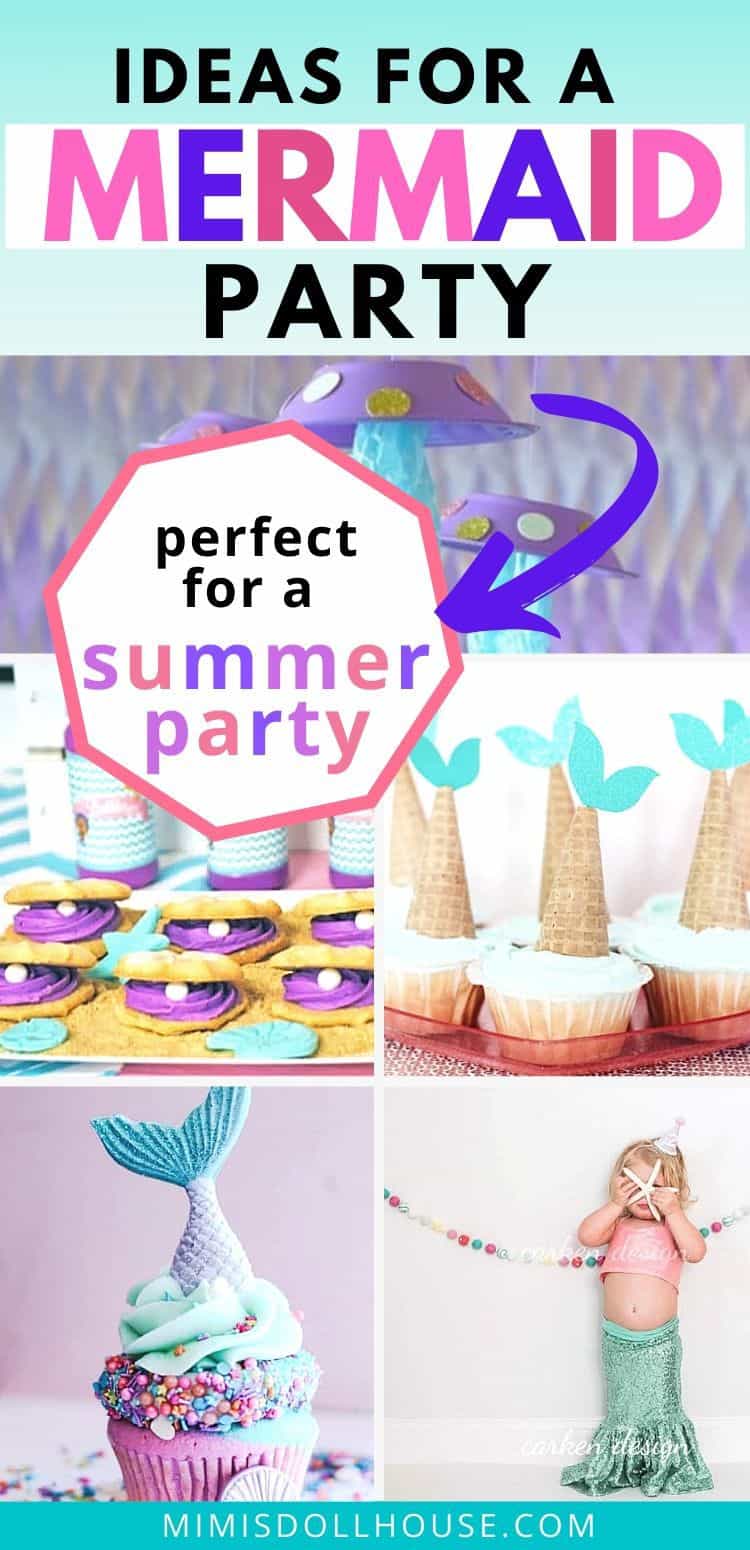 Conclusion for Fin-tastic Mermaid Party Ideas
The mermaid party theme is a great way to decorate for a summertime party. It's also a great theme for little girls who love Ariel, the ocean or glitter! These party ideas will help you to throw the most amazing mermaid party with ease.
Related posts for Mermaid Birthday Ideas:
Thank you for reading about our ideas for throwing a mermaid party!