Pool Party: Splish Splash School's Out Party. Dive into the fun with some Summer Pool Party ideas. Be sure to check out all of our Pool Party Ideas as well as all our Beach Party Ideas and Under the Sea Ideas.
In honor of back to school shopping and the beginning of the end of summer, I have an AMAZING School's Out Pool Party to share. (I know, I know School has been out for so long it is practically back IN. I'm a little late getting this party posted. My webpage has been going through a makeover and s finally ready to be updated…expect a LOT of catching up!!)
This adorable pool party was styled by the super duper duper (that extra duper really is necessary) talented, Cris from Crissy's Crafts. I was originally introduced to Cris' creatively unique party spreads in October when she styled this Gothic Halloween Party using my FREE Halloween Printables.
Here is what Cris had to say about the party: "The kids enjoyed a pool side lunch that included a whole wheat turkey sandwich, juice, chips and veggies. The dessert table included beach ball cake balls, flip flop cake pops, Popsicle pops, life savers, pool noodles(Twizzlers), rafters(wafers), inner tubes(gummy candy), beach balls(gum balls, snow cones cupcakes and fruity beach ball. We also had a snow cone station where the kids made their own snow cones. They played water balloon fight and find the prize ball where the kids had to find the lucky ball among 200 balls floating in the pool. The kids took home a beach bucket with flip flops, beach ball, funky sunglasses and a water gun. It was a hot and fun day!"
This is hands down, one of my favorite parties…check out the awesomeness:
These adorable cupcake toppers were made by the super nice Brittany from Edible Details.
Even the healthy snacks look perfect…
What a little cutie pie…and I love the Popsicle cake pops.
Check out more of the party photos here on Crissy's Crafts.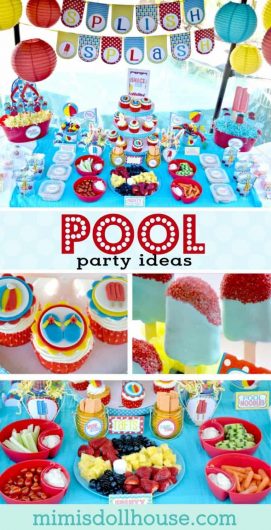 The Printable Pool Party Decoration Package is available for purchase in my shop.
Vendor Credits:
Here are some helpful links for throwing a pool party: