Throw an amazing Pool Party using fun pool party printables!
Let's jump in the deep end with some adorable pool party decorations and treats! Splish Splash School's Out Pool Party time. Want some Summer Pool Party ideas?
Ready to party all summer long, or at least until your hands get all prune-y from splashing in the pool? Here are some fabulous pool parties with some equally fabulous party ideas just in time for the warmer weather!
Looking for some Splish Splash party ideas?
Throwing a POOL THEMED PARTY?
☑️ This
Pool Party Kit
is the perfect set to get your party planning headed in the right direction!
I have not one, but THREE adorable pool parties to share today using my fun, brightly colored pool party decorations.
First up is an AMAZING School's Out Pool Party!
This adorable pool party was styled by the super duper duper (that extra duper really is necessary) talented, Cris from Crissy's Crafts.
I was originally introduced to Cris' creatively unique party spreads in October when she styled this Gothic Halloween Party using my FREE Halloween Printables.
Pool Party Ideas
Pool parties are a great way to celebrate summer. Not only is activity built into the party theme (hint: this makes planning a party EASIER!), but there are TONS of fun treat and decoration and pool party tableware you can use to throw a pool party that will have people talking until NEXT SUMMER!
Pool Party Games
Speaking of pool party activities…
This party had some awesome ones!!
There were water balloon fights and a hunt to find the prize ball where the kids had to find the lucky ball among 200 balls floating in the pool.
Pool Party Favors were also in full force. The kids took home a beach bucket with flip flops, beach ball, funky sunglasses and a water gun.
What a way to score!!
Summer Pool Party Food Ideas
The kids enjoyed a pool side lunch that included a whole wheat turkey sandwich, juice, chips and veggies.
Pool party sweets were also a focal point. The dessert table included beach ball cake balls, flip flop cake pops, Popsicle pops, life savers, pool noodles (Twizzlers), rafters (wafers), inner tubes (gummy candy), beach balls (gum balls, snow cones cupcakes and fruity beach ball.
Here are the adorable popsicle shaped cake pops. I LOVE these!!
They also had a snow cone station where the kids made their own snow cones.
This is hands down, one of my favorite parties!! Here are the adorable snow cone cupcakes:
These adorable cupcake toppers were made by the super nice Brittany from Edible Details.
Even the healthy snacks look perfect…
What a little cutie pie…and I love the Popsicle cake pops.
Check out more of the party photos here on Crissy's Crafts.
Here are some helpful links for throwing a pool party:
Pool Party Themes for Boys and Girls
Pool Party Tableware
There are two popular schools of thought on party tableware. One is to buy solid colored tableware to accent and coordinate with your party decorations. This is especially popular with using printables for a party, as the designs don't compete with one another.
Conversely, you can use patterned pool party themed tableware to coordinate with the printables. This set from Oriental Trading is super cute.
Alright…here's pool party number 2!!! This party is also styled using our adorable pool party printables. The printable party decorations are available in pink and red!
Swimming Pool Party
Is the weather hot where you are yet??
The nice thing about hot, however, is that it means swimming time. Since I'm craving the pool, I thought it was a great day to share another AMAZING pool party.
This summer pool party was styled by Marquita from Painted Cookies.
More Pool Party Food Ideas
Rice Krispies Ice Cream Cones
I absolutely love the Rice Krispies ice cream cones…adorable!! These are easy to recreate.
Easy peasy!!
Healthy Party Food Options
The food looks soo yummy!! I really love the incorporation of healthy snacks…
I think it's a common misconception that a party HAS to be full of sweets and unhealthy things to eat. I like to have a mixture of healthy and unhealthy food.
This gives guests options, opens up the menu for dietary restrictions and helps keep the kiddos eating healthy food. The "healthy" stuff does not need to be boring, though.
For example, by using a round sectional serving tray, you can arrange fruits or vegetables to look like a beach ball!
Another summer pool party idea, like the picture below, is to cut water melon into triangles and place on popsicle sticks…so they are fun to eat AND good for you!
Another fun sweet treat idea is the snow cone cupcake. These are super easy to make. Cake cupcakes as usual and place into nut cups.
I love the Sno-Cone cupcakes. These are easy to make and adorable.
Sno-Cone Cupcakes
To make the Sno-Cone cupcakes, you bake cupcakes in any flavor following the directions for your recipe or box. Place a thin layer of white frosting on top.
Tip: you are just making a thin flat layer to stick to the sanding sugar. It does NOT need to be thick or fluffy.
Hold the cupcake at an angle and lightly poor sanding sugar (red, teal, yellow) until it has completely covered the bottom half of the white frosting.
Turn the cupcake toward the other angle and using a piece of paper to block the sugar, repeat the light pouring with a different shade of sanding sugar. Complete the cupcakes with fun polka dot nut cups and ice cream sticks!
Lightly frost the top of the cupcakes with a later of white frosting and cover the frosting with colored sanding sugar. Add a straw and you are set!!
Oyster cookies, anyone?? Aren't these super cute???
What is a summer pool party without some water balloons? Need some water party game inspiration? Check out these under the sea party ideas!
Here are some helpful links for throwing a pool party:
Party Decorations using Printables
Looking for some fun in the sun, pool party birthday party inspiration? Check out pool party number three! If you are looking for pool party ideas for a 2nd birthday…this is the party for you!!
This cute party was styled using my printable pool party decorations. Check out the fun details!
Is there anything better for summer than a pool party? Ok…MAYBE the beach (and I have definitely turned a pool party into a beach party too!!)
However, if the beach is not in your grasp..a POOL party birthday party is perfect for summertime!
I love getting photos sent to me from happy customers that I can feature on my blog! Some of the best have definitely been from my printable pool party decorations!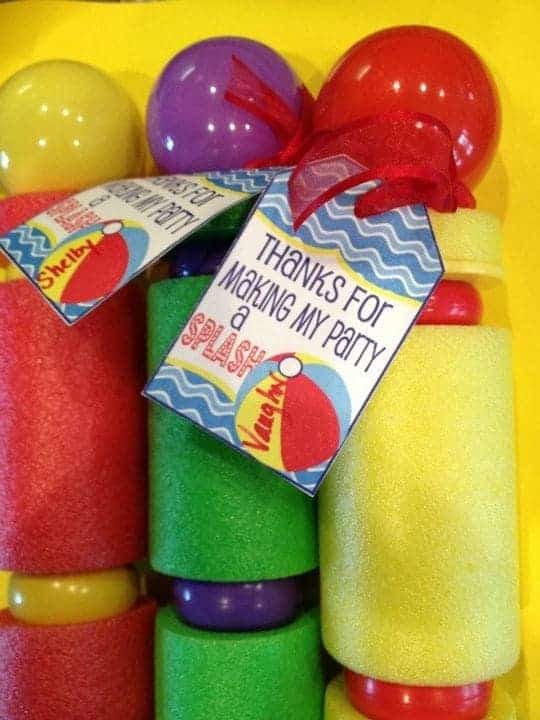 This party I'm featuring today is from Amy, who recently styled her son's 2nd birthday!
Amy had this to say about her party "It was Luke's 2nd Birthday Splash…we enjoyed food, drinks, cupcakes/cake & fun in the sun! Had pool toys, a bubble machine & a giant slide in the pool for the kiddies to go down :). It was a wonderful day!!!"
The party favors were fun foam water blasters! These are fun for the kids to play with and great to take home as favors.
I love the grass skirt table skirt. This is fun for a pool party or would also be fabulous for a luau. The printable banner is great across the table as well.
I love the cake…what a great touch!! There are so many fun ideas you can do with a cake to jazz up the dessert table too. The adorable cupcake toppers are so fun. I love the beach balls and the life preservers.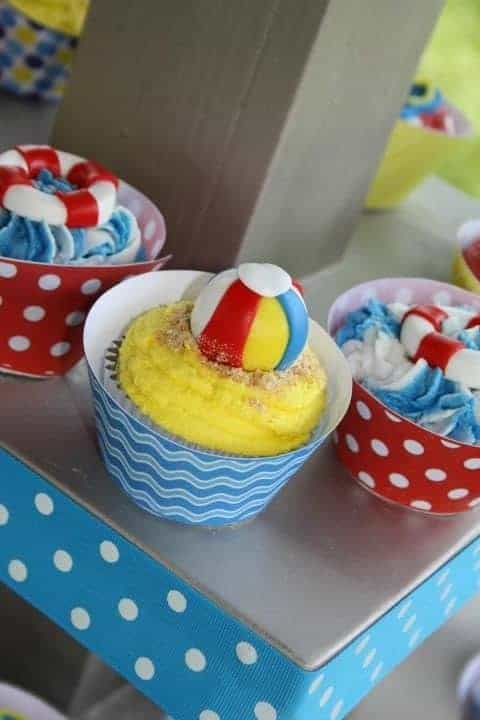 So fun! Here are some helpful links for throwing a pool party:
If you love these pool party ideas, pin this image to your Summer birthday Pinterest board: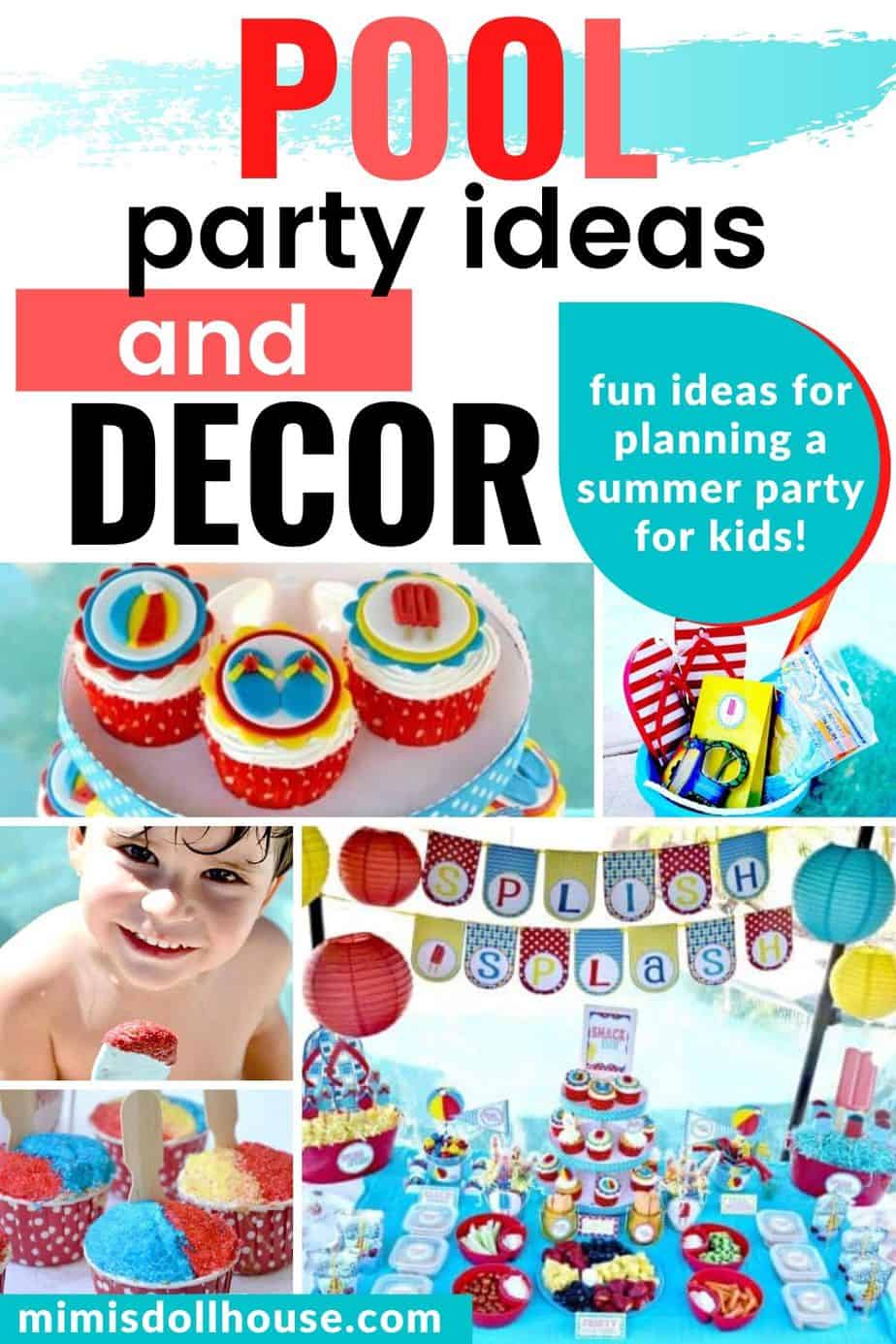 The Pool Party Printable Decorations are available for purchase in my shop.
RELATED POSTS FOR How to Plan the Perfect Pool Party:
Thank you for reading all of our Pool Party Ideas!