Ideas for a beach birthday party
Vintage Beach Party: Lil' Miss Aubrey's Surf Bash. Surf's up and the waves are calling. Beach party, pool party, luau, oh my…I'm sharing a totally rad vintage beach party. Be sure to check out all our dolphin party ideas, under the sea party ideas, pool party ideas and beach party ideas.
Also, check out the DIY palm tree tutorial and starfish sandwiches from this party!
This summer has been crazy in the Lasha household. With a cross country move and the upcoming first anniversary of Mimi's Dollhouse, I have been in a constant state of trying to catch up.
Throwing an BEACH THEMED PARTY?
☑️ This Beach Party Kit is the perfect set to get your party planning headed in the right direction!
So while I have been scrambling to plan the perfect party for my precocious little three year old, she has had a constant stream of birthday ideas. For weeks she has been telling strangers about her beach party. She has even invited a few of them to come.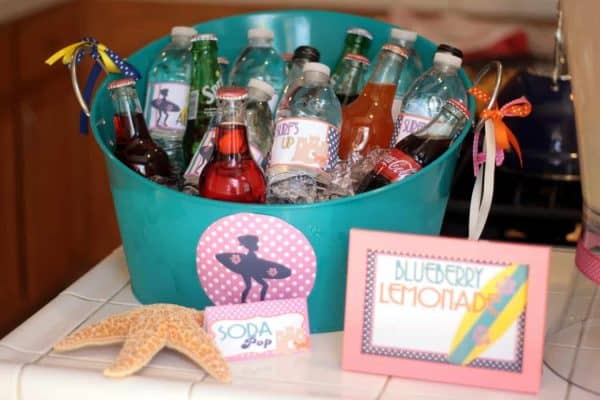 The inspiration for this party originally stems from my daughter's small stature. When she was born, she was just a tiny little thing and stayed under the growth chart for the first two years of her life (we are proudly sitting in the 10% percentile now).
I have affectionately called her my Gidget since birth. So when you have a little Gidget…a 1960s vintage surfer girl party, well that just comes with the territory.
In designing this party, I really wanted to play on the colors of the sand and surf and sunset, I drew a great deal of inspiration from the movie poster for the old Surfer Movie, The Endless Summer. (You can see that poster here).
I combined silhouettes of sandcastles, crabs and surfer girls with the polka dots and stripes in bright retro shades to create a throwback beach party. I even found these adorable vintage cut swimsuits with matching swim caps for the girls:)
I wanted the table to feel like you were looking out over the ocean. I found this awesome ruffled fabric for the waves and designed the backdrop to match the sun design from the invitation. Then made palm trees to frame the table. Here is the Palm Tree Tutorial!
One of my favorite treats for this party were the Peanut Butter and Honey Starfish Sandwiches. Here is a tutorial on how to make these super easy super yummy little treats.
Surfboard cupcake toppers and yummy cupcakes by Retro Bakery.
Crab cake pops…these adorable and super yummy cake pops were made by Autumn Lynn's Sins…
I had this sandcastle cake made to fit the sand section of my beach table.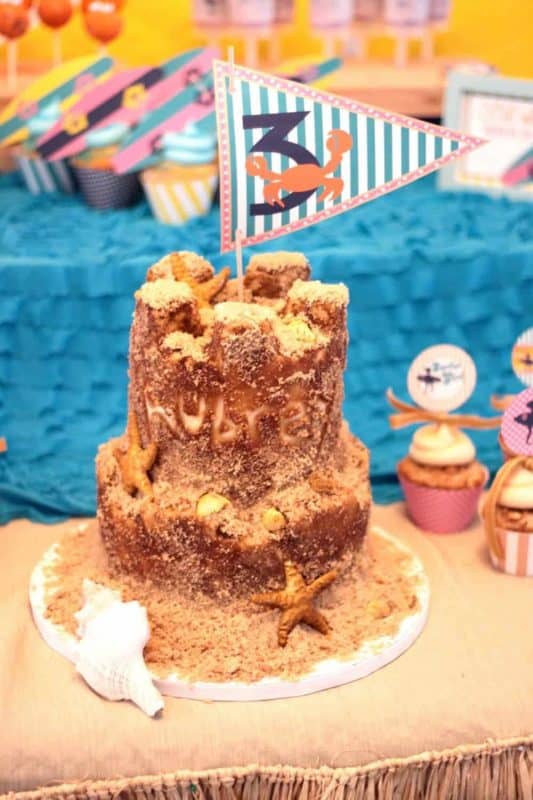 Star fish and Crab cookies…
The birthday girl enjoying her cupcake…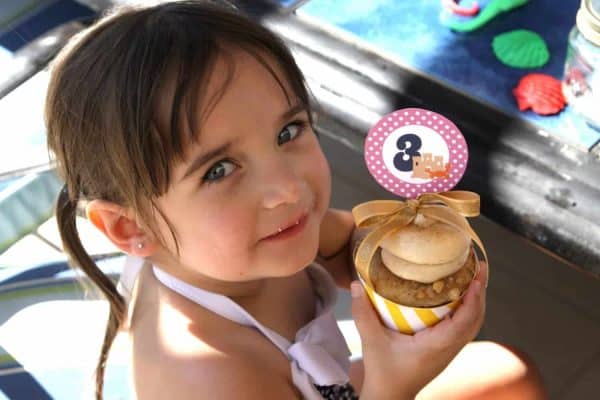 For party favors, I got beach buckets, flip flops, goggles, beach balls, and paired them with hand sown beach towel ponchos. I found the idea for these ponchos on Make it-Love it .
My little girls and their friends enjoyied the food from the "Surf Shack". We served Hamburgers, Hotdogs, Waffle Fries, and "Crab" (Crab shaped Watermelon).
Of course…the adorable surf board cookies!!!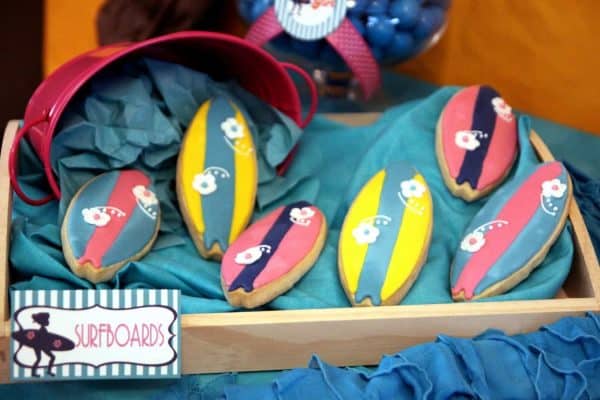 The party was a success and Aubrey is already talking about what she wants to do next year!!!
Be sure to check out all our under the sea party ideas, pool party ideas and beach party ideas.
Vendor Credits:
Coordinating Beach Party Supplies
Setting up a beach party is simple with the right tools. These fun beach party supplies will help get you going in the right direction:
Beach party Supplies from Oriental Trading
Tropical Party Supplies from Meri Meri
Here are some helpful links for throwing a beach party:
These Printable Vintage Beach Party Decorations are available for purchase in my shop.
Conclusion for Cute Vintage Beach Party:
If you are looking for a fun idea for a beach themed party for summer, this party is full of great ideas for a birthday. Lots of fun summer ideas and retro beach vibes!
RELATED POSTS FOR a beach BIRTHDAY IDEAS:
THANK YOU FOR READING ABOUT OUR IDEAS FOR THROWING A beach themed PARTY!