Ideas for Moana themed party food
If you are planning a Moana themed party, you definitely need to have a fabulous Moana Cake and some killer themed desserts! These amazing ideas will help you choose what to bake (and buy) for your Moana birthday!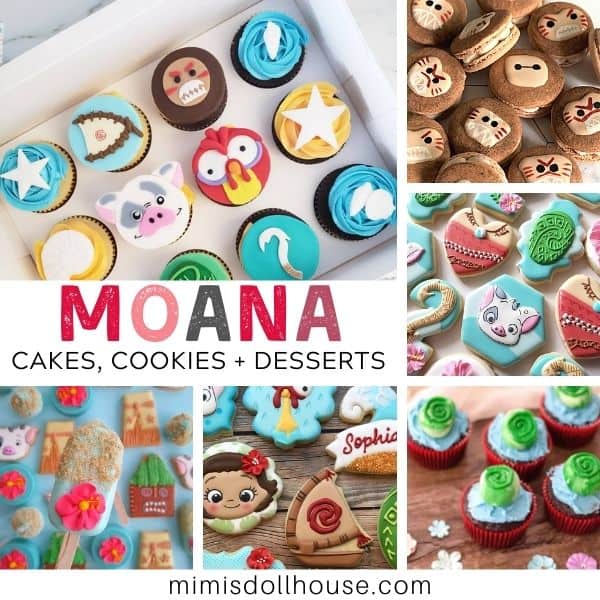 There is just something so perfect about an adorable assortment of themed goodies at a birthday party. There are so many amazing ways to DIY or purchase fantastic and fun Moana themed treats…you will definitely be able to find the options you love most from this list.
Throwing a MOANA THEMED PARTY?
☑️ This
Moana Party Kit
is the perfect set to get your party planning headed in the right direction!
One of the cutest and easiest ways to theme your treats is definitely to use the characters…and Moana has o shortage of amazing characters to pick from! So many cute ideas for inspiration!
Moana Party Ideas
If you are looking for some fun decoration ideas or Moana themed birthday supplies and decor, we have tons of those ideas to share too.
Check out this amazing post: Stunning Moana Party Supplies for a Birthday
It is full of gorgeous ideas for balloon garlands, favor bags, dessert table setups and more!
Ready to talk about Moana themed food ideas?
Moana Party Food
Ok…let's look first at some of the options for a party that are not sweets. Desserts are definitely always the easiest options, but it's important that we are giving out guests food that is not just dessert. Here are some adorable, easy and still totally on theme salty, healthy non-desserts for a Moana party:
Moana Lunches from A Crafted Lifestyle
These little packeted lunches are so perfect. They have some themed items included (like the little cookies, but also a meal that each guest can eat. Pre-packaging meals this way helps with mess and also ensures that each guest gets a serving of food.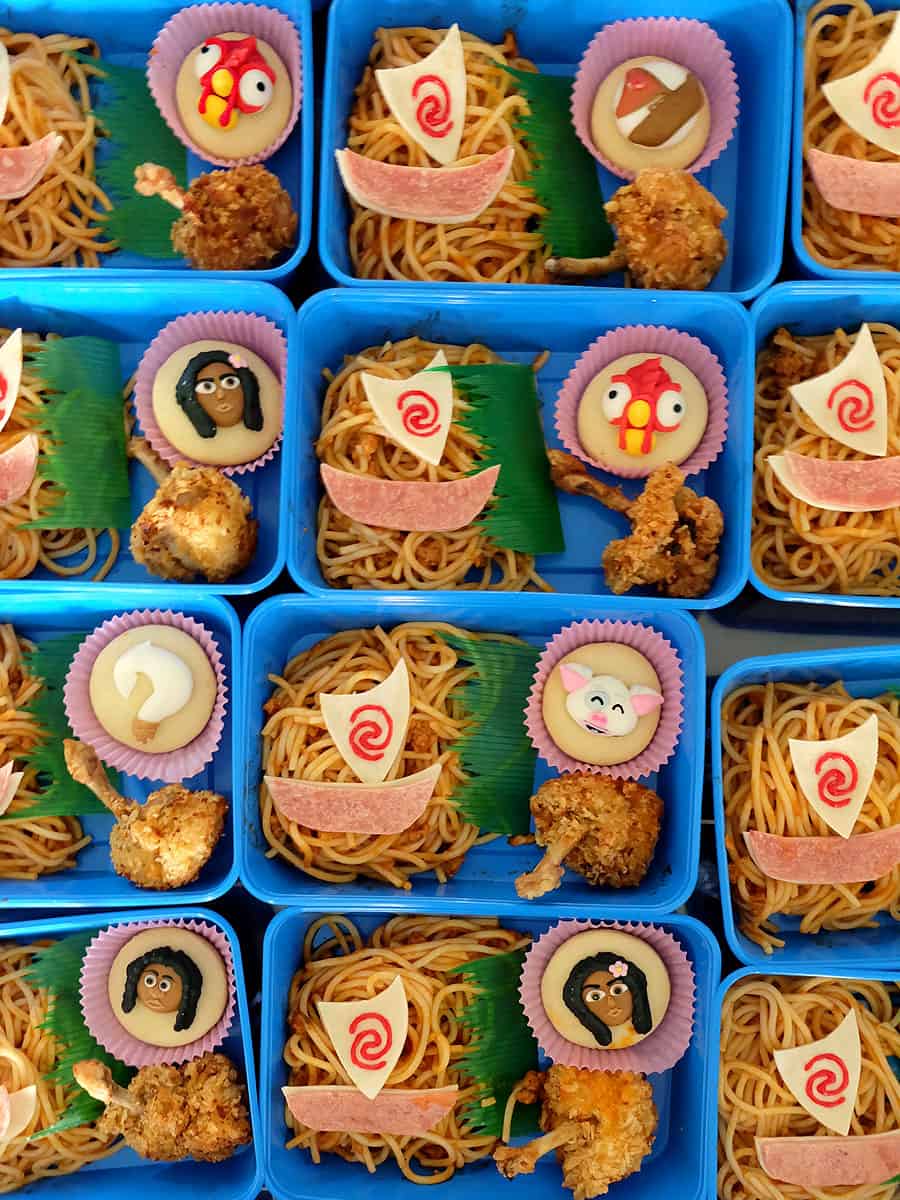 Another idea is to have different foods that either coordinate with a character's name, or personality trait or are Hawaiian and fit the environment of the movie.
Here is a list of non-dessert items you can serve at a Moana birthday:
Hei Hei Chicken Tenders
Pua Sandwiches (Pulled Pork on Hawaiian Rolls)
Driftwood (Pretzel Sticks)
Hearts of Te Fiti (Key Lime Salt Water Taffy)
Maui's Fish and Chips
Moana's Mango Slices
Wayfinder Wedges (wedges of fruit)
Pua's Pigs in a Blanket
Hei Hei Hotdogs
Te Fiti Tortilla Roll-ups
Kakamora Meatballs (You can add little faces on card stock topped toothpicks)
Te Fiti Rolls (Cresent Rolls made in a circle so they have the swirl pattern)
Tamatoa's Trinkets (mixture of goodies like trail mix, or Chex mix)
Coconut anything!
Coconut Water
Motunui Mac and Cheese
Moana Cakes
Once your guests have had an opportunity to treat themselves to all the non-dessert treats, they will definitely be ready for a delicious slice of cake.
Here are some of the most amazing Moana cake ideas:
Moana Cake from Dress Me Blonde
Add some flowers to a Heart of Te Fiti themed cake for a perfect treat!
Tamatoa Crab Cake via Kara's Party Ideas
This literally takes the cake! How amazing is this Tamatoa cake? So much detail!!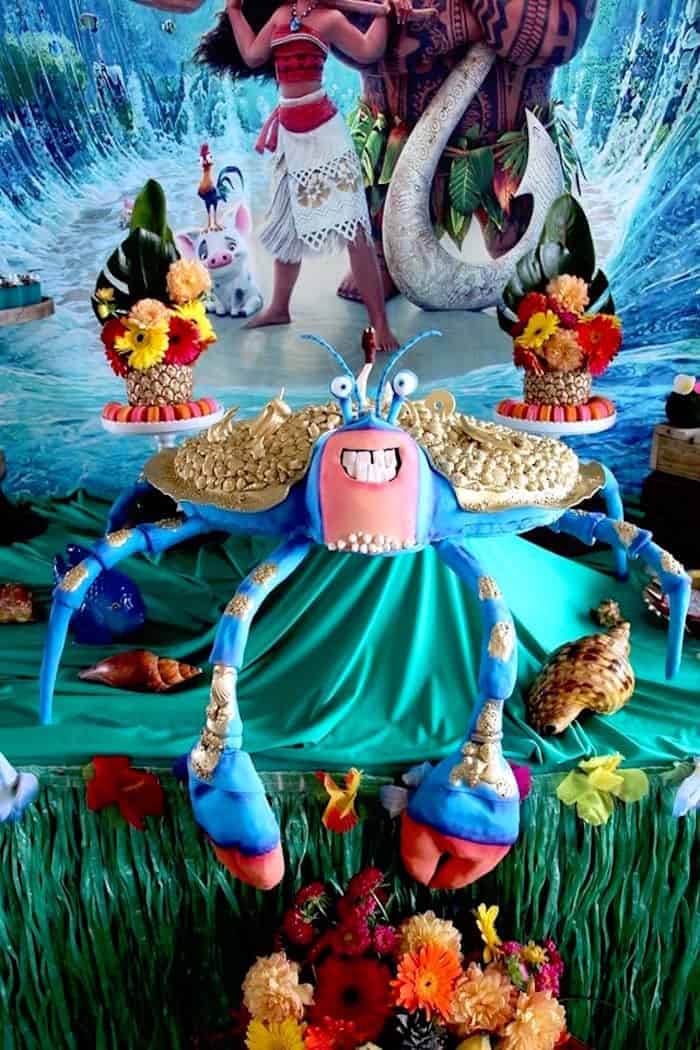 Fondant Moana and Pua Cake Topper from Cookies Express
Here is a cute little Baby Moana and Pua fondant set you can add to any cake. Whether you are baking on your own or buying from a local bakery, these little adorable toppers will take your cake to the next level!
Moana Cake from Craftiness is not Optional
Here is a great DIY cake option. With little toy toppers and some patience, you can recreate this adorable cake for your party!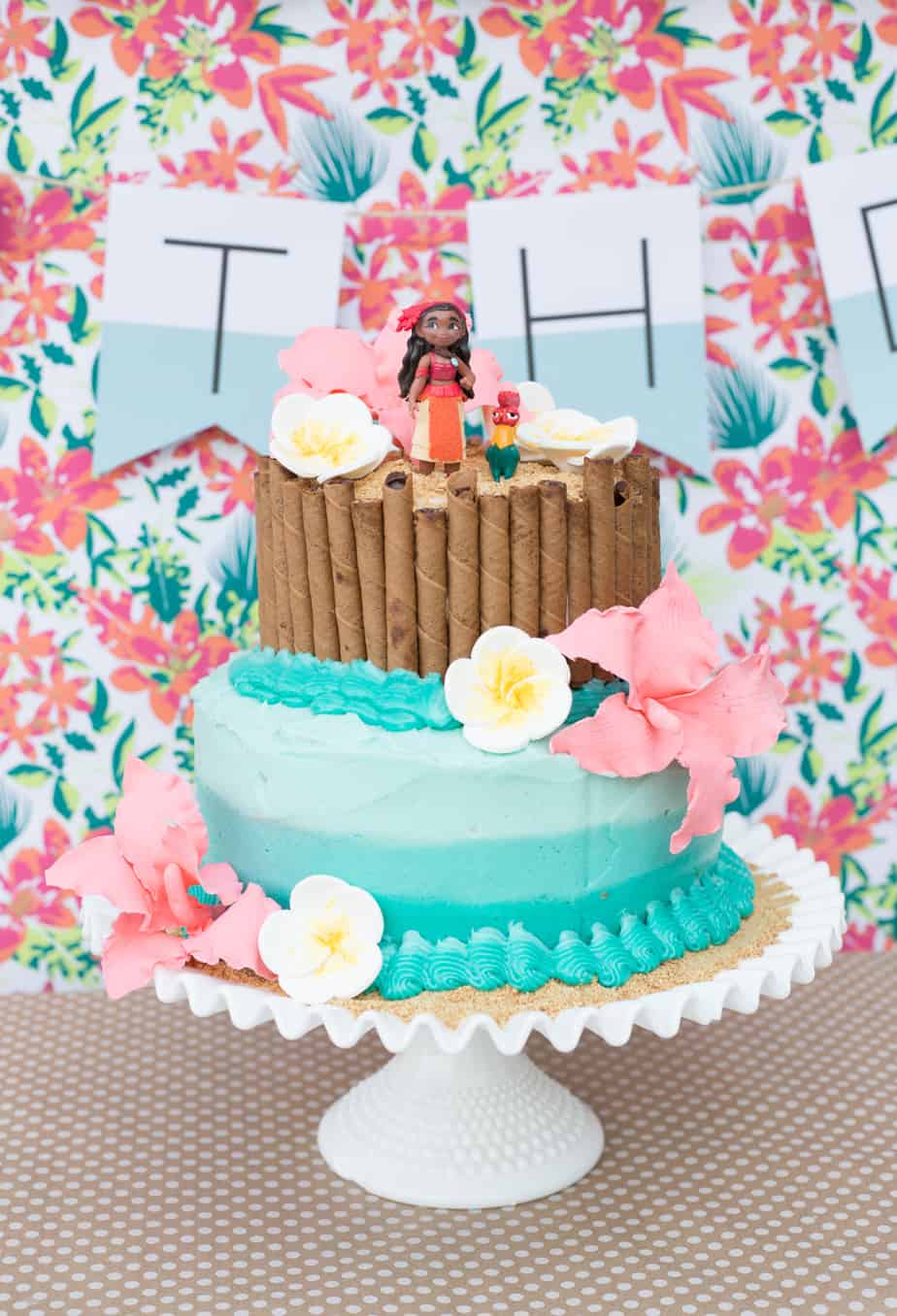 Moana Cake from Reddit
This cake also has an adorable wave design to it that makes it so much fun for a Moana party!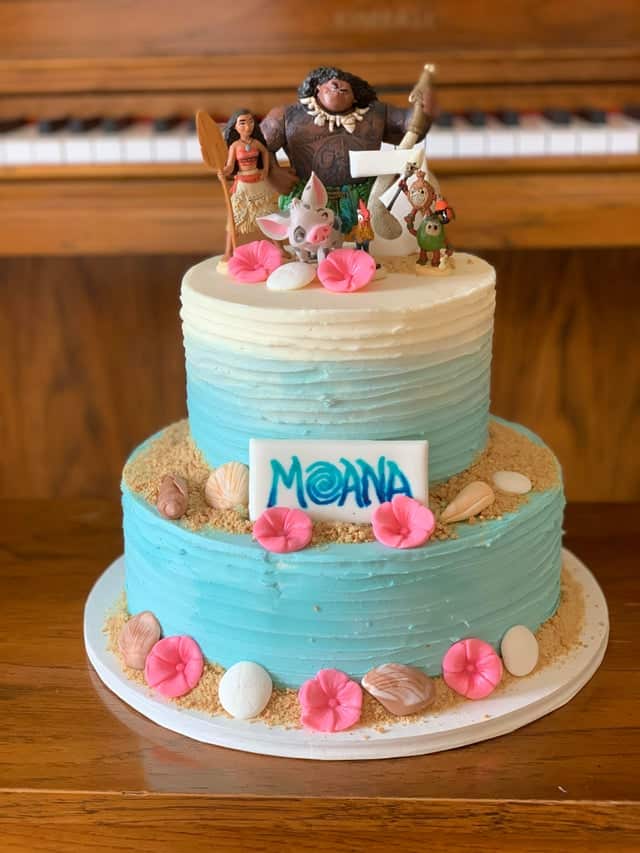 Volcano Mini Cakes via Kara's Party Ideas
These little volcano cakes are PERFECTION. These would be great for little treats or sharing with a small number of people.

Moana Cookies
My favorite part of any dessert table is ALWAYS the sugar cookies. You can honestly do so much with a sugar cookie! Whether you are a baker or what ideas to pay a baker to recreate…you are going to LOVE these cookies!
Moana Cookies from Luciana's Royal Cookies
These are so adorable cute. I love the Pua and the baby Moana and literally everything!
Hearts of Te Fiti Oreos from Craftiness if not Optional
Here is a simple DIY option you can completely make at home from your party!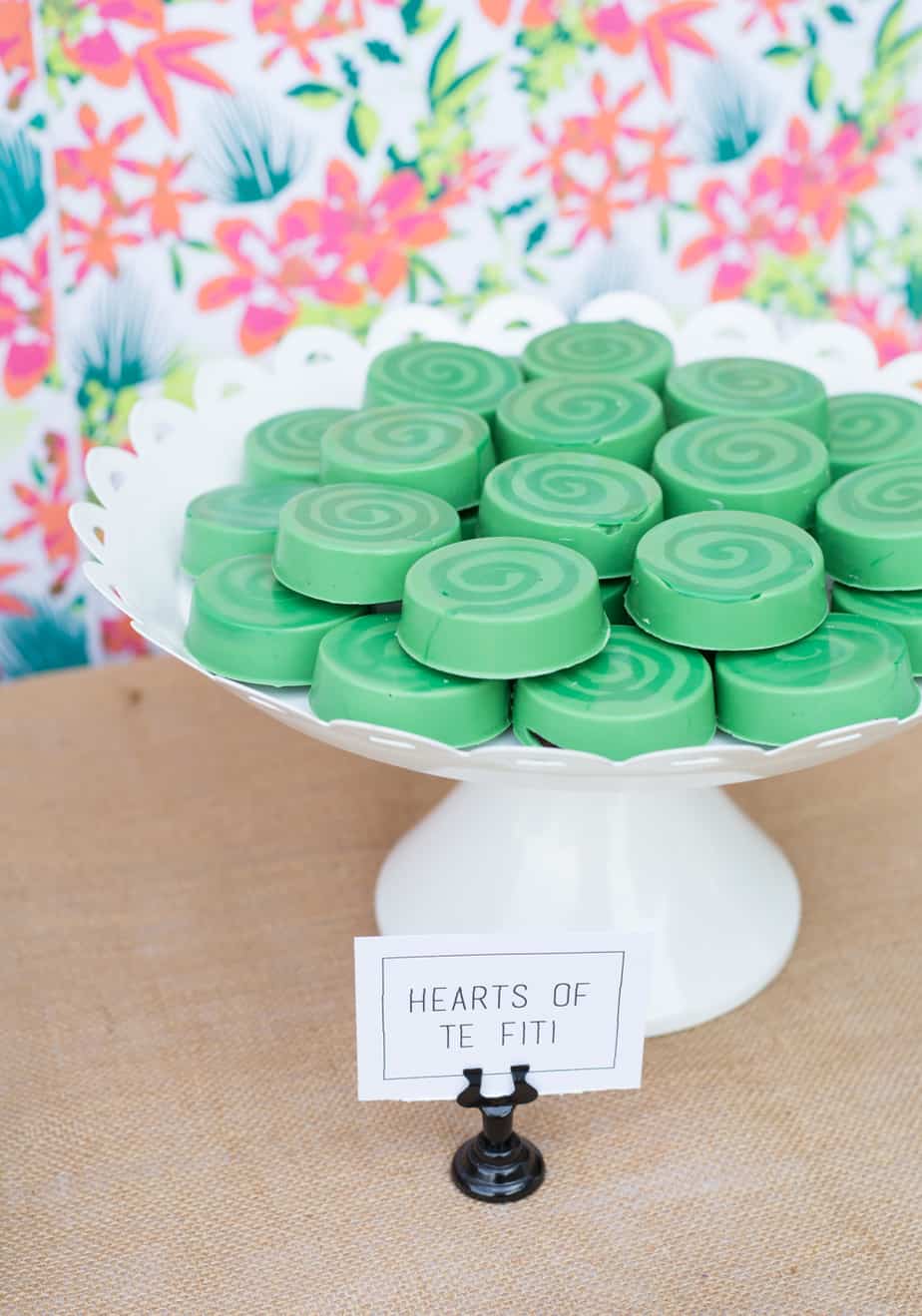 Giant Moana Cookie from Tree City Cookie
If this cookie doesn't blow you away…I have nothing else to show you (lol). How amazing would this be on top of a cake or as a special treat for a birthday girl?
Moana Sugar Cookies from Tiny Tudor Cookies
Here is another set of absolutely GOREGOUS Moana cookies!
Moana Cookies from Lisette Cookie Studio
Here is an adorable set of Moana cookies with cute Moana hearts and that Pua!!!
Moana Sugar Cookies from A Crafted Lifestyle
These little cookies are oh so clever! I Love the little faces!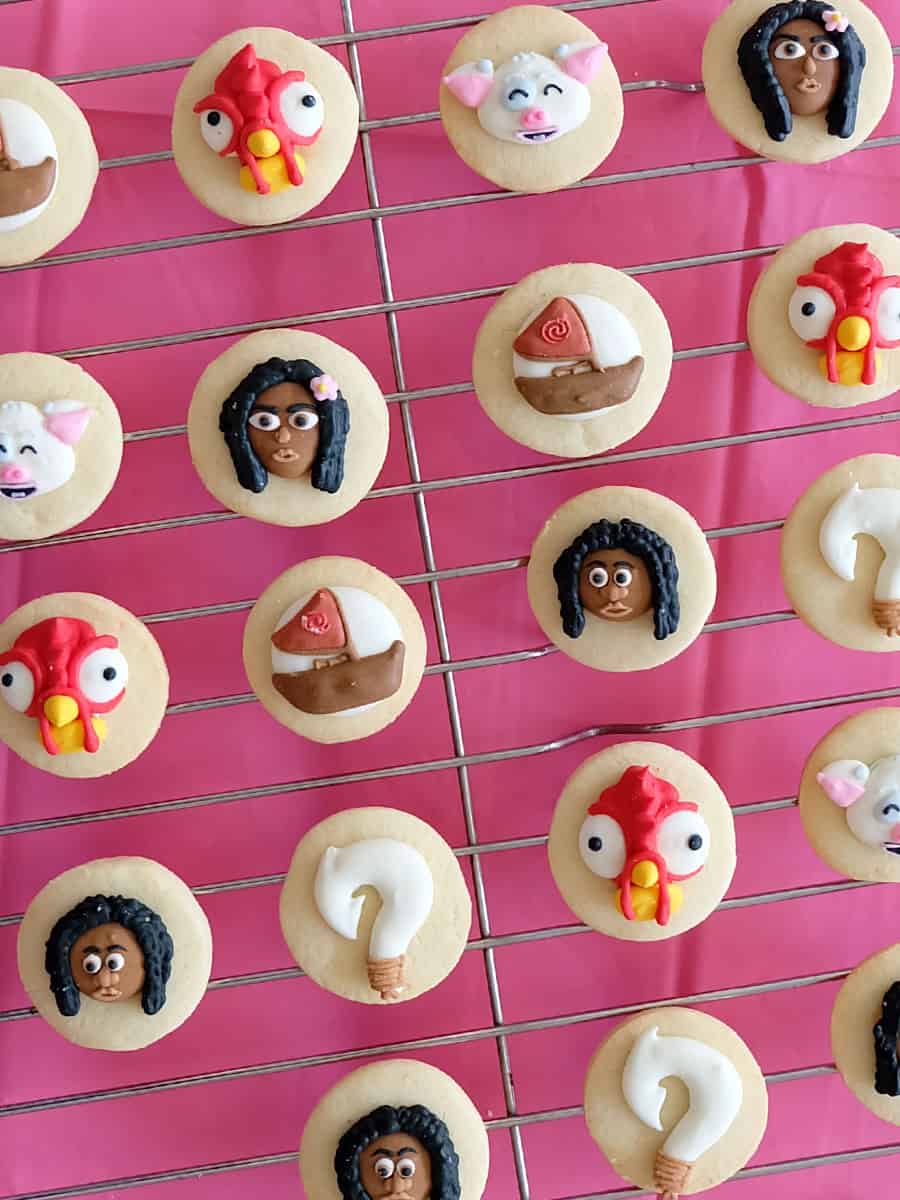 Hei Hei Cookies from Mimi's Dollhouse
Looking for a super simple DIT Hei Hei cookie? These are perfect for beginner bakers!
Moana Cookies from Let's Bake
I'm in love with these adorable cookies! Those baby Moana faces are so cute and Hei Hei is the best!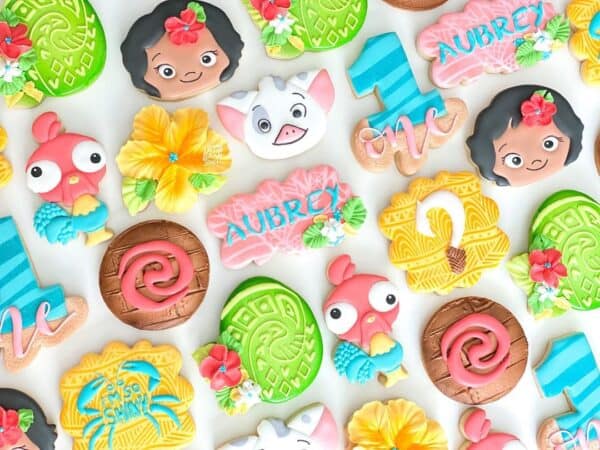 Pua Cookies from Vaide Cookies
Here is another adorable Pua Cookie Option! The little heart nose is the best.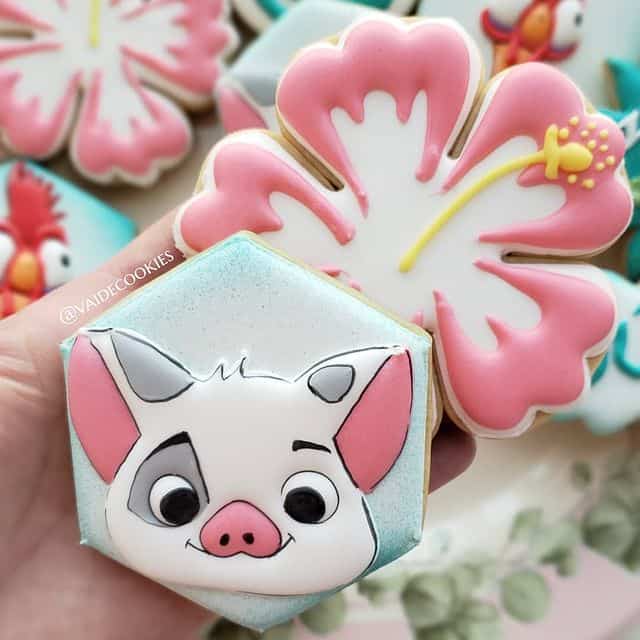 Pua Oreos from Catch My Party
Pua can also be made into some easy Oreo pops. How cute are these?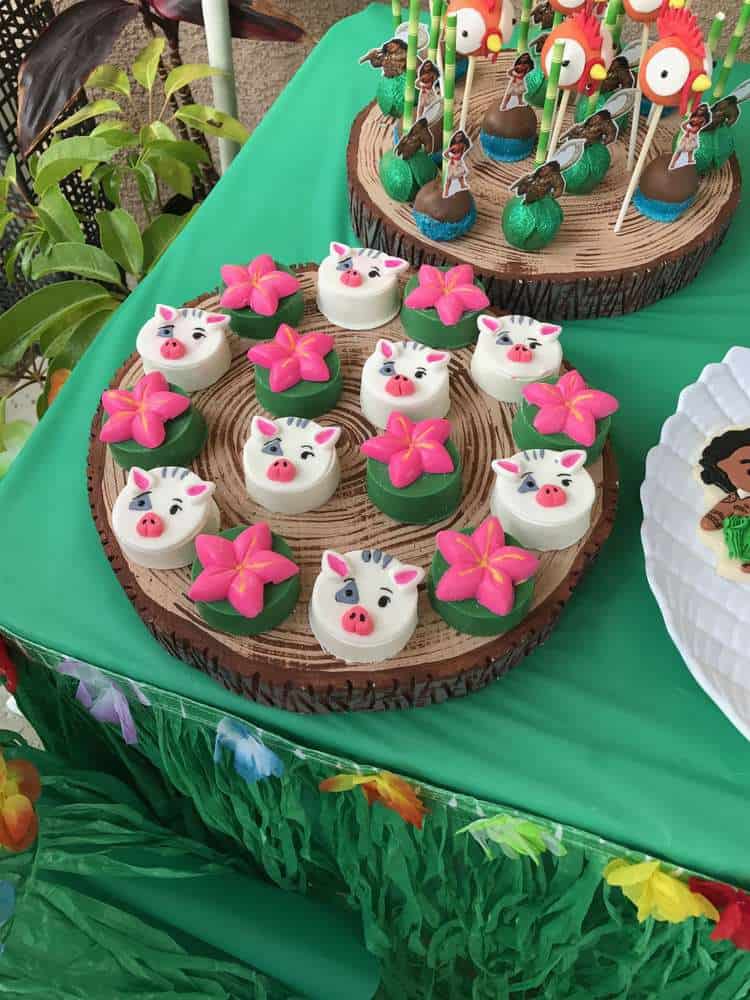 Moana Cupcakes
We, of course, cannot forget the cupcakes! Cupcakes are the best way to single serve cake and can be decorated oh so cute! Check it out…
Heart of Te Fiti Cupcakes from Mama Cheaps
These are super easy and adorable. Hearts of Te Fiti anyone?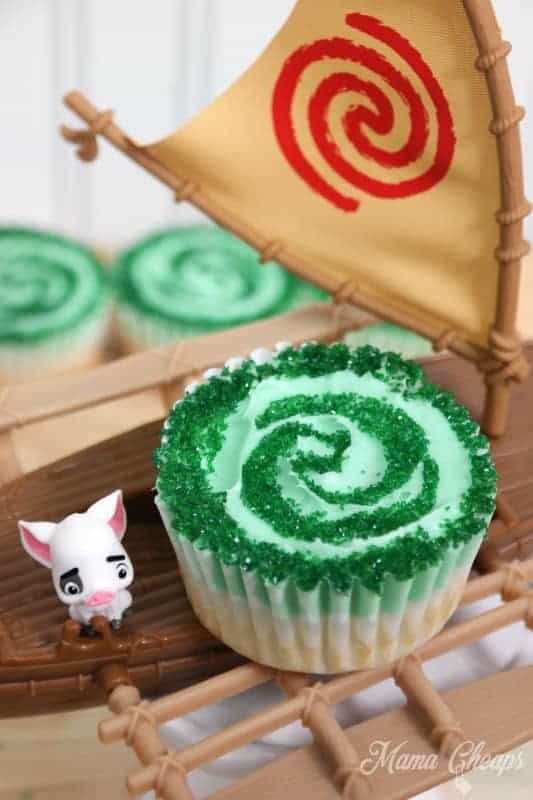 Moana Flower Cupcakes from The Sugar Bot
Grab these beautiful cupcakes toppers and add them to any homemade or store bought cupcakes!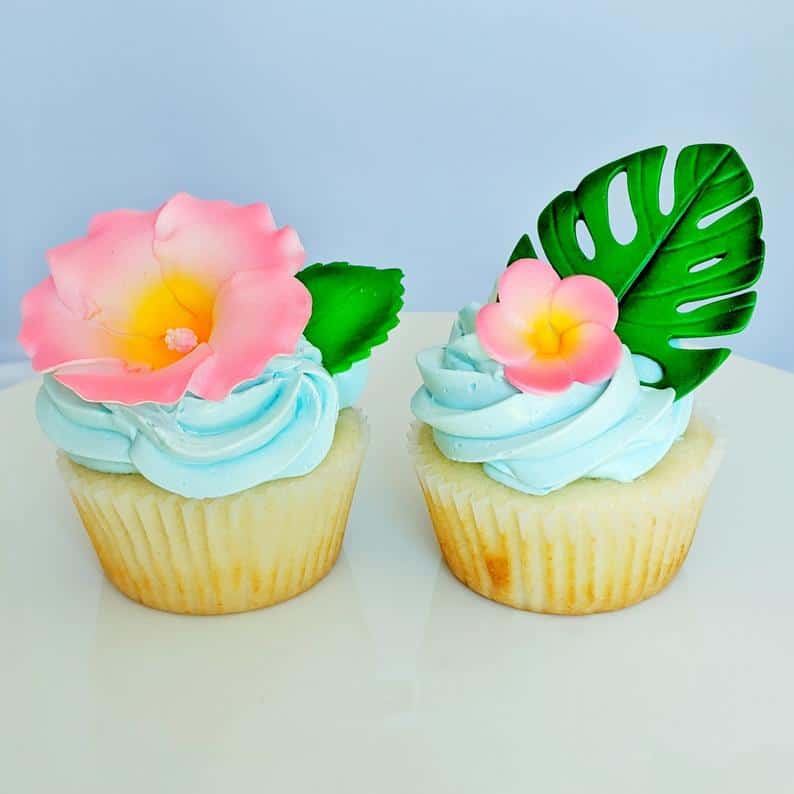 Moana Cupcakes from Bloom Food and Art
Here are some cute character based cupcakes. Who doesn't love that Hei Hei?
Moana Cupcakes from Si Cake and Bake
Here is another Moana cupcake set…and of course, Pua steals the show with that sweet face!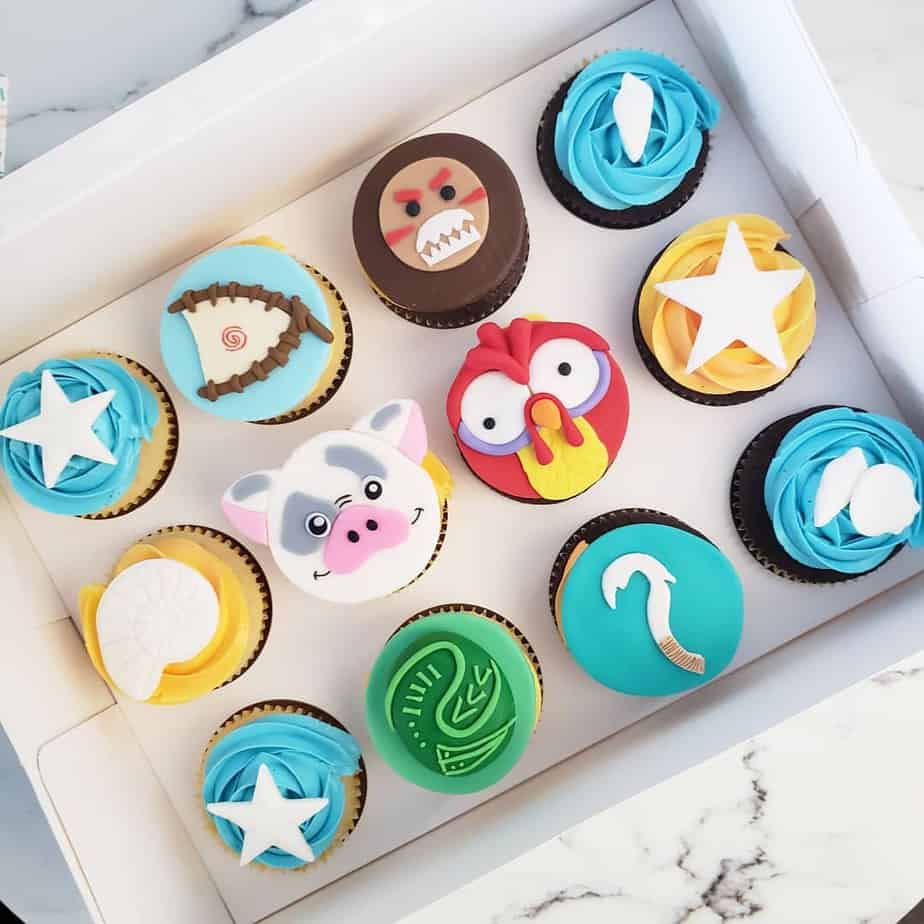 Moana Themed Cupcake Toppers from Amazon
These easy toppers can turn any cupcakes into themed cupcakes. Don't have time to bake…grab these are add them to store bought cupcakes for budget friendly and easy Moana cupcakes!
Heart of Te Fiti Cupcakes
from
The Inspiration Edit
Want some simple hearts of Te Fiti cupcakes? These are great and can be DIY'd for your party! Instant party treat!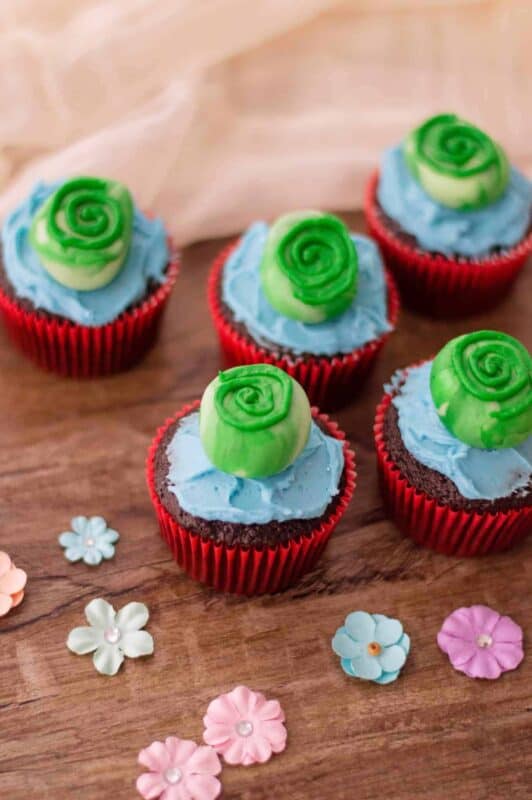 Moana Cupcakes from Mi Sweet Cake
How adorable are these fondant cupcake toppers? So, so cute!!!

Moana Desserts
And of course, there are some unbelievably cute desserts that aren't "cookies or cake" that I know you will LOVE!
Kakamora Macarons from Believe Cakes
Ummm…yep…these are perfect! These would definitely be a crowd pleaser!
Moana Cake Pops via Kara's Party Ideas
These Te Fiti themed cake pops are absolute awesome-sauce! Love it!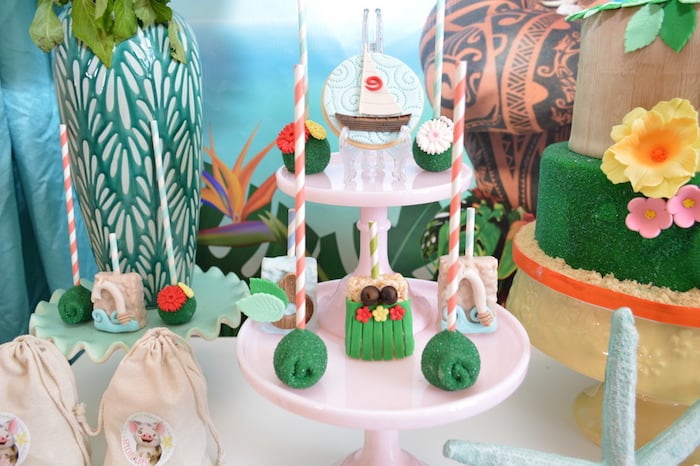 Sailboat Sails from Styling the Moment
Adorable jello sailboats, anyone? How perfect are these? You can download the sails and easily recreate these!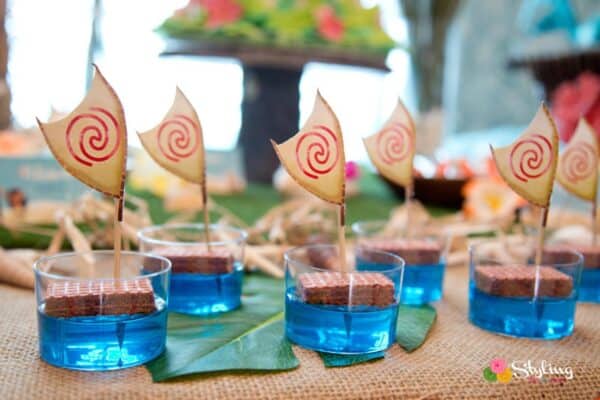 Chocolate Volcanos via Kara's Party Ideas
Simple and adorable for the win! How cute are these little chocolate volcanoes?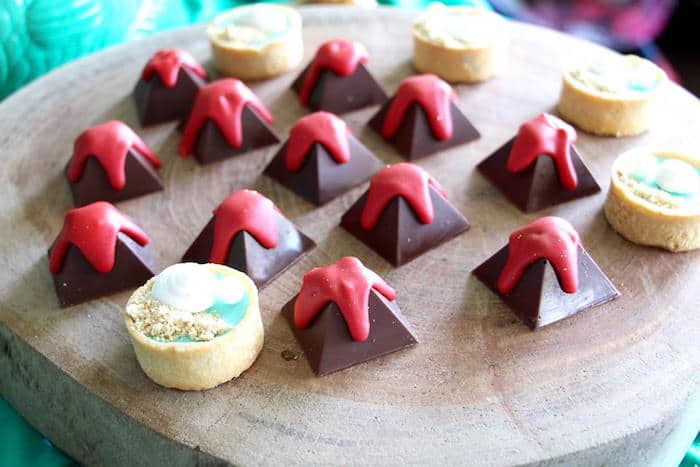 Moana Cake Pops from Melon Cookies
Yummy and cute "beachy" cake pops are great party pleasers too!
Te Fiti Cake Pops from This Little Light by Sue
Here are some Te Fiti cake pops you can order and have send for your party! Winning!!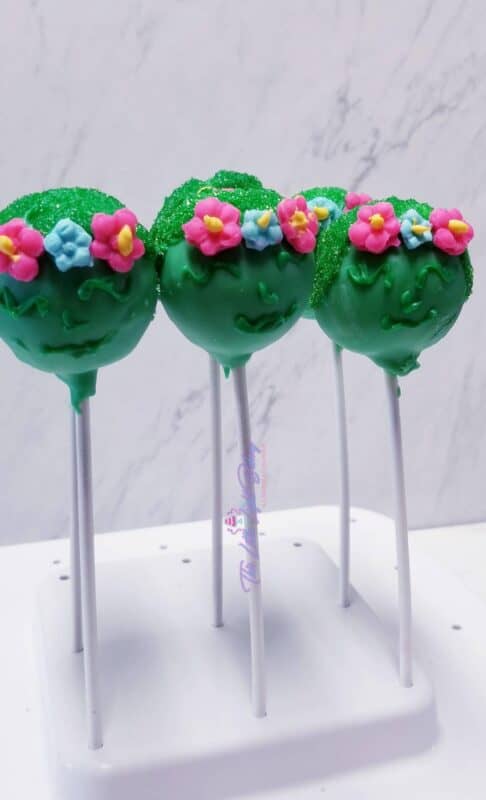 Coordinating Moana Party Supplies
If you are looking for more ideas for a Moana party, you should definitely check out all the Moana decorations ideas as well. These ideas will help your party sail into the beautiful horizon just like Moana!
Moana Party Tableware
Another great idea for displaying all these amazing party treats is with some Moana themed tableware. This is an easy and budget friendly way to pull the theme into your party ware and give your guests a way to grab and enjoy the treats you spend so much time prepping!
Here are some of my favorites:
Moana Tableware from Oriental Trading

Tropical Partyware from Daydream Society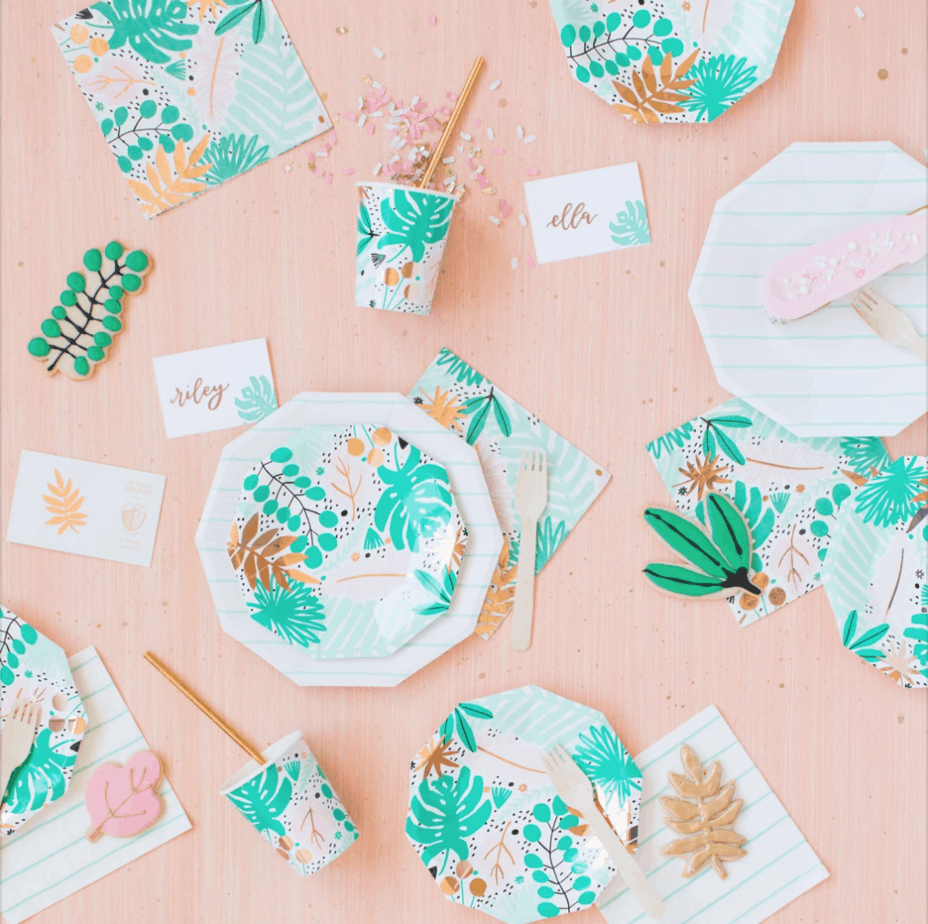 Moana Tableware from Amazon
Moana Party Set
from
Amazon
Here are some helpful links for planning a Moana party:
Conclusion for Moana birthday ideas:
Moana! If you love Moana and the gang and can't wait to get party prepping…these adorable party ideas are perfect for a Moana themed birthday. With tons of treat ideas, you will love whipping up these adorable party desserts!
If you love these ideas, please pin this image to your birthday Pinterest Board: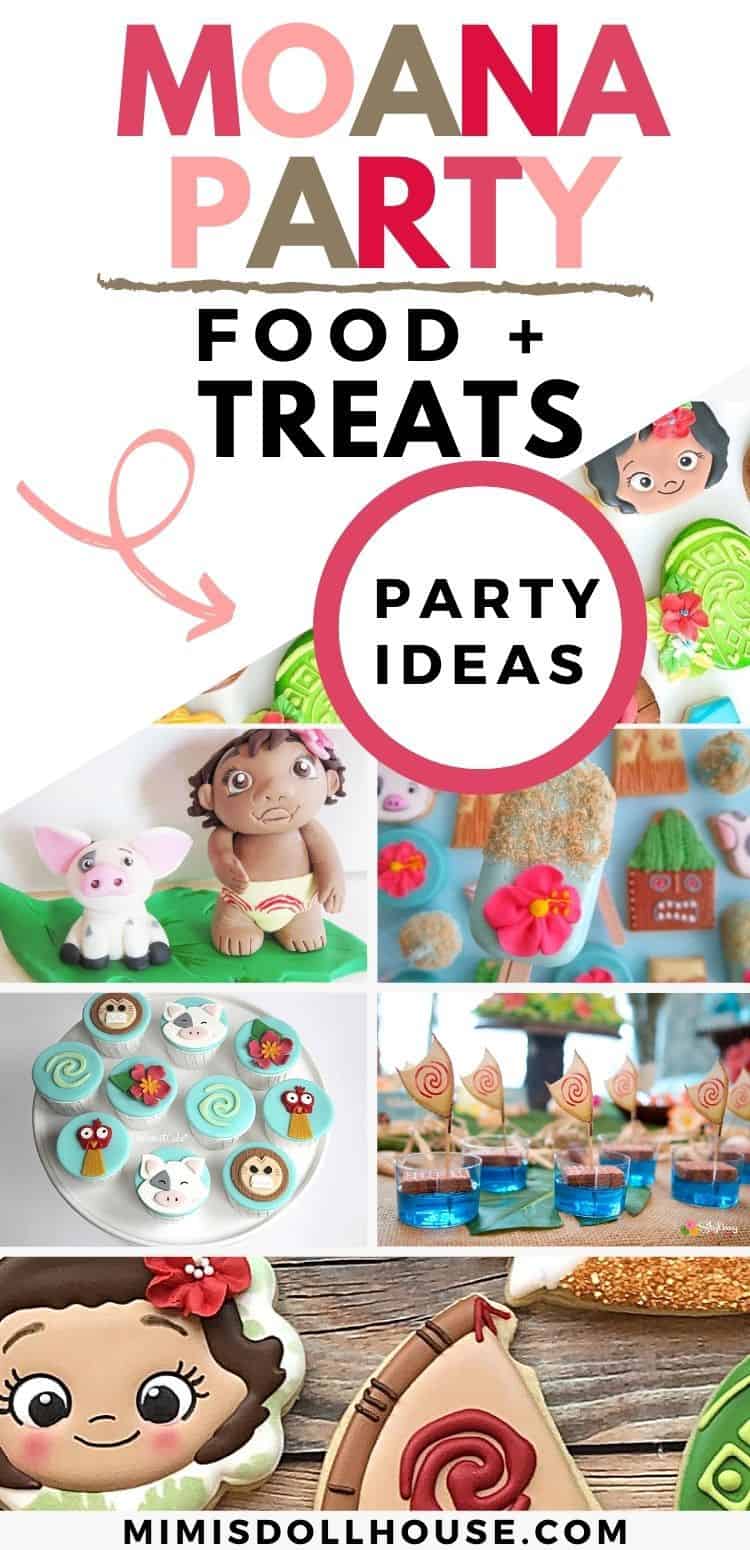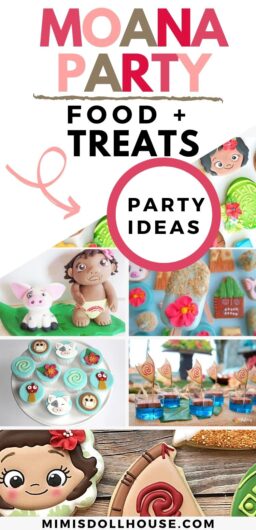 Related posts for Moana parties:
Thank you for reading my Moana Party ideas!