Creative Lego Themed Birthday Party
You are going to love these ideas for a Lego Party! As if Legos weren't cool enough, transforming those fun little building blocks into an un-BUILD-lievable birthday party, just might be the coolest thing ever! From Lego themed activity bags to Lego cupcakes…the details in this party are perfect!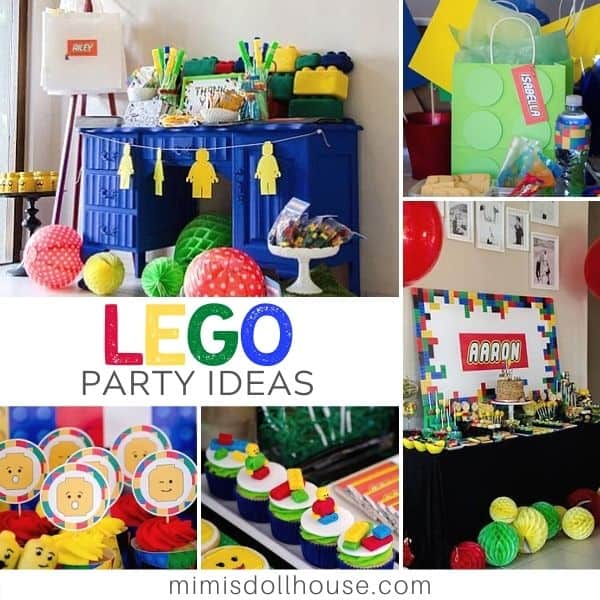 If you are a fan of Legos…or you have a little fan of Legos, you will love the details in this amazing Lego themed birthday party styled by the very talented Debbie Rossi from One Pretty Day. If you love this party (which face it…you totally will!), you should check out her Happy Bark-Day Party as well!
Throwing a LEGO PARTY?
☑️ This Lego Party Kit is the perfect set to get your party planning headed in the right direction!
This adorable Lego birthday party is FULL of amazing decorations, fun treats and clever activities that any Lego loving kid would flip for. Ready to check out all the fun? Let's get building!
Inspiration for this fun Lego Party
The best party themes ALWAYS come from those things the birthday boy or girl loves the most. Whether its a character or a toy, a vehicle or a game…the excitement they have over seeing their favorite thing showcased in a party is priceless.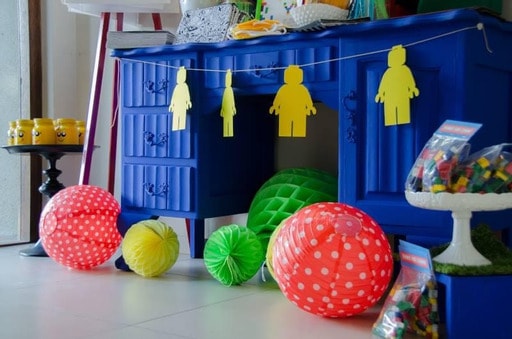 This party was definitely styled with the sweet birthday boy's favorites in mind. What a great party for a Lego loving kiddo, Aaron!
RELATED: How to Build a Lego Birthday Party Ideas
Lego Party Food Ideas
First let's take a look at the adorable food from this party! Non-sweet party foods are often areas where you can get super creative. For this party, Debbie set up a refreshment station where the guest could choose from blue, red, green or yellow soda.
The honeycomb balls underneath the drink station is one of my favorite details for this party also.
I love the use of different shaped dispensers to make a fun and festive drink station. It's amazing what a little food coloring can do to simple soda to give you perfectly matching and super kid friendly drinks.
If you are looking for a simple and easy to reproduce for any party theme recipe for punch, check out my lemonade punch recipe. It can also be made in any color to match any party.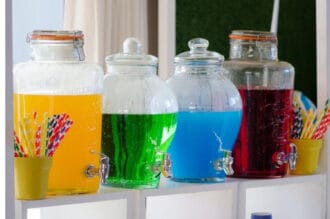 There was also a savory station where guests could choose some non-sweets to eat before indulging in the sugar to come!
Another awesome idea for serving food for a kid's party is having snack packs. These perfectly themed bags that look like lego blocks, are ready and labeled for each kiddo with all the items they need for a lunch or and a little cookie decorating. How fun!
Lego Desserts
The most delicious part of a birthday, of course, is the sweets. This Lego party does NOT disappoint when it comes to sweet.
One of the cutest and most clever sweets was the birthday cake. The cake topper was made up of fun little mini-figures holding birthday candles. Isn't that adorable? What kiddo wouldn't want to blow out these candles.
The cake itself was a layer cake covered in white frosting and lots of primary colored sprinkles. For a simple tutorial on how to bake a layer cake, check out this ombre layer cake recipe.
The cake was even placed on a building mat. It's the little details that really make a party!
For the delicious and adorable dessert table, the party guests could help themselves to buttercream cupcakes, macarons, chocolate bars, lego-man cake pops, butter cookies, and jello cups in bright colors.
The fun sugar cookies were a combination of lego blocks, name and number cookies, and minifig faces. So much fun!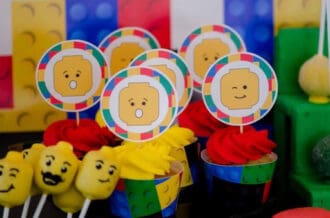 Simple primary color iced cupcakes were wrapped in lego cupcake wrappers and topped with mini fig cupcake toppers. All the expressions on these mini fig toppers are so fun!
Of course the fondant cupcake toppers that look like mini-figs and Lego blocks are one of the cutest details of the party too!
Lego Birthday Decorations
While the food was sensational…the decorations really take the cake with this party. The bright colors of the Legos mixed with clean white make for a bright and cheery event!
The main table for the little guests to eat at had the personalized lunch/activity bags set up with the adorable felt mini-figure dolls. Amazing!
The decorations were littered with custom signs and bright balloons for an all around little boy haven!
This particular sign really made me laugh. There is nothing quite like the pain of stepping on a Lego on the floor with your bare feet. It's almost a parenting right of passage and oh so excruciating!
Lego Activities
As mentioned previously, the kid's table had fun party packs which made great activities. Each guest had an adorable felt mini-figure doll. They also had a building mat and legos to build with. With a Lego theme, the activities almost plan themselves!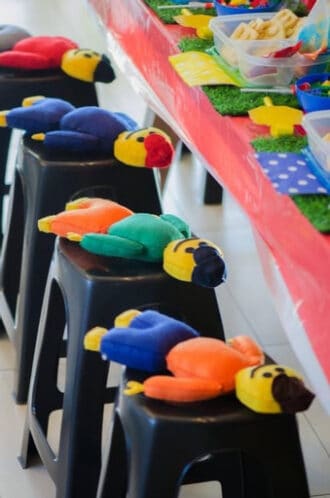 There was also the supplies to decorate their own Lego table.
Outside guests were able to play other games including taking a whack at the Lego themed piñata!
Lego Favors
For Lego party favors, the guests each recieved a personalized Lego tote bag that they could fill with crayons, coloring books, Legos, personalized Lego placemats, Lego mini-figs, masks and more!
The favor table is my single favorite detail of the WHOLE PARTY. Isn't it adorable with the mini-fig garland?
Cute little cellophane bags of Legos make great party favors.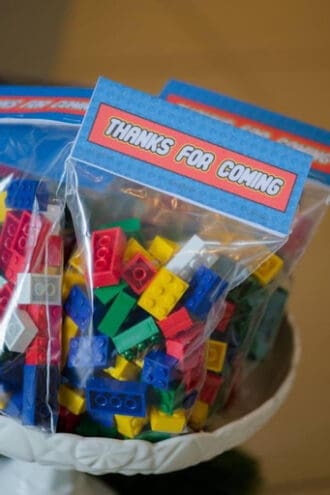 These hand painted mason jars are filled with marshmallows and are definitely a unique and adorable prty favor idea for a Lego birthday.
So many fun and fantastic birthday party ideas for any little kiddo who loves Legos.
Happy Birthday Aaron!
Vendors:
Coordinating Lego Party Supplies
Grabbing some amazing lego themed party ware and tableware is a great way to get your party planning going in the right direction. Here are some of the best options:
Lego Party Supplies from Oriental Trading
Lego Birthday Supplies from Amazon
Lego Happy Birthday Backdrop from Amazon
Lego Cupcake Toppers from
Amazon
Here are some helpful links for throwing a Lego Party:
Wanna throw a Lego Party?
The Printable Lego Party Collection is available in my shop:
Conclusion for Buildable Lego Party Ideas:
If you love Legos and are looking for a creative birthday party theme, you can't go wrong with this adorable party idea! This party styled by One Pretty Day is guaranteed to Blow. You. Away. Check out all the mazing details!
If you love these party ideas, please pin this image to your birthday Pinterest Board: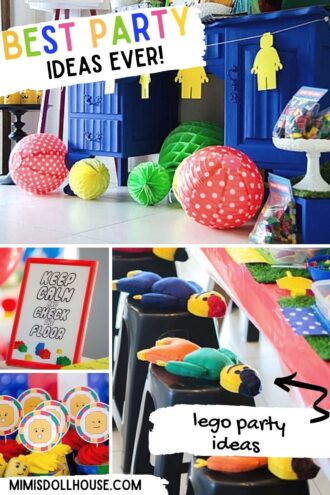 Related posts for Lego birthday party for kids:
Thank you for reading about this Buildable Birthday Party with Legos!