DIY Lego Birthday Party Ideas!
Lego Party Ideas: How to Build a Lego Party. Throwing a Lego Party for your little Master Builder? I'm sharing some fun Lego birthday party ideas on the blog today. Be sure to check out all of our Lego Party Ideas and Inspiration.
"Everything is AWESOME"…yeah I have totally had that song stuck in my head ever since I saw the Lego movie!! It was seriously a very cute movie.
I had my doubts…thought it would be more boyish and not really something my girls would like. I was wrong…they LOVED it. Today I'm sharing some fabulous ideas for throwing an awesome Lego Party!
Throwing a LEGO PARTY?
☑️ This Building Blocks Party Kit is the perfect set to get your party planning headed in the right direction!
I love these crayons…such a great idea of a Lego Party. They are so colorful and would make great favors. These can easily be made using these LEGO Minifigure Ice Cube Tray
.
You can also make LEGO brick crayons using this Building Bricks Ice Cube Tray or Candy Mold
.

Lego Favor Jars from Recylart
Firstly, this is a great up-cycling budget safer. If you are partying on a budget…you can't beat that! Secondly…what a fabulous idea.
These are perfect for party favor jars and would look adorable with a little favor tag ties around the top!!

Let's face it…kids love pinatas. They are so much fun to play with. This pinata is super duper cute too. It makes me wanna go get a stick right now and join in the fun.

Looking for a great addition to your treat table? Ok…seriously…lego gummies are awesome. These would definitely be a hit with the kiddos!! Honestly, I want to play with them myself.
This recipe is super easy to follow and these lego molds make the process a snap!
Not only are these cookies absolutely adorable…they look so yummy. These would be perfect for a Lego Party dessert table. Love, love!!
If you are feeling particularly crafty or enjoy baking and decorating cookies yourself, there is a tutorial for making Lego cookies available from Sugarbelle!
This clever and easy to follow DIY lego backdrop is one of my favorite Lego birthday party ideas! This is super versatile and could be used in some many ways in the party (or as a backdrop for smash cake pictures!!)
Love it!!
Pin the Head on the Lego Man Game from Andrea Steed
This is a super cute idea for a party. Pin the… games are one of my party go-to activities. The kids always have a blast completing the game.
I love the details on the cute faces too! Adorable!!
What a quick and awesome way to make a cake stand. This is perfect if your little one has tons of legos stashed up in their room (like mine do). Don't have legos to spare?
No problem…you can quick grab the blue baseplates and classic colored blocks and start building away!!! Easy peasy!!
Here is a super cute, super easy lego marshmallow pop tutorial. These are fun little treats that the kids will absolutely love, and they look super yummy too!
I love fondant cupcake toppers. They are some of my favorite details in parties. It is amazing the things you can do with fondant!!!
These are perfect for cupcakes or on sugar cookies or chocolate covered oreos! Everything (fondant) is awesome!! I love the little happy faces too! Adorable!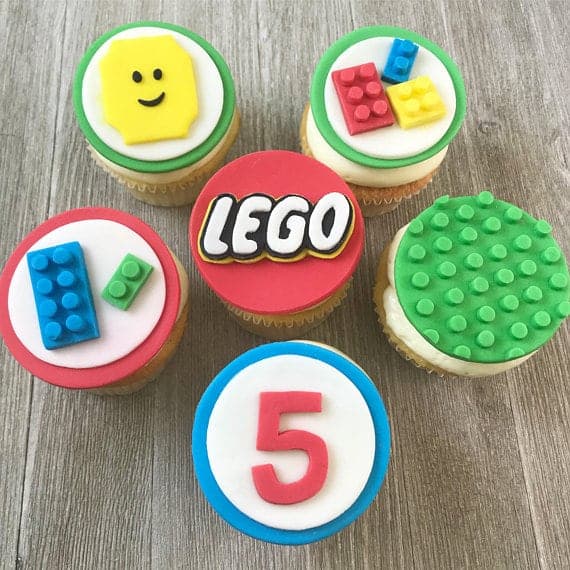 Be sure to check out all of our Lego Party Ideas and Inspiration.
Here are some helpful links for throwing a Lego Party:
If you love these Lego party ideas, pin this image to your birthday Pinterest board!!!
Wanna throw a Lego Party?
The Printable Lego Party Collection is available in my shop:
Conclusion for DIY Lego Party Ideas:
Building a lego themed party is a snap if you plan ahead and have the right tools. These adorable treats and decorations are the perfect steps to an awesome lego birthday.
Related posts for a Lego Birthday Party:
Thank you for reading our Lego Party Food and Decorations Ideas!