Throw a superhero party in style with amazing superhero themed party food!
Superhero Party Food Ideas: Amazing Desserts & Superhero Snacks. Calling all superheroes…need some superhero party food for your birthday party?
We are sharing the hottest superhero party food ideas today!
Looking for Girly Superhero Birthday Party Ideas? Be sure to also check out this Spiderman Party, super hero party, and these ideas for a superhero party.
So there are parties…and then there are SUPERHERO parties! There is just something special about a superhero party.
I think the superhero themed food really sets it over the top for me as a favorite theme.
Whether your little one loves spinning webs like Spider Man or fighting crime in the night like Batman, there are so many AMAZING ideas you can use to make superhero party freaking awesome!
Throwing a SUPERHERO PARTY?
☑️ This Superhero Party Kit is the perfect set to get your party planning headed in the right direction!
We are a Marvel family in my home (well truth be told, my husband loves Batman too…). I even decorated my baby's nursery in Marvel Comics.
I can't wait until he is older so I can throw him an Avengers themed party! #partygoals
To really take your superhero party to the next level, create themed desserts and superhero party foods! Showcasing your favorite hero or their bomb-diggity weapon is super easy with the right tools and ideas.
I have put together a list of the bestest-most-awesomely-awesome superhero party food ideas to get your creative juices flowing….check it out!
Superhero Snacks
Superman Cookies from Sweet Sugarbelle
Sugarbelle is incomparable when it comes to her cookie tutorials. Not only are they amazing to look at and absolutely perfection in a bite-sized morsel, the tutorials themselves are really simple and easy to follow.
Aren't these Superman Cookies out of this world??
Fondant Superhero Cake Toppers from Julia Topper Cake
Ok, hello adorable! Sometimes the best route with a cake is a simple white frosted cake with a kick butt fondant cake topper (i.e. Wild Thing Baby Shower, Boho Chic Party).
You can make a quick cake or pick one up from your local grocery store-usually under $10. Splurge a little on one or two of these freaking awesome fondant superheroes and…BAM! POP!
You have a killer Superhero Cake!
DIY Hulk Juice Boxes from Horrible Housewife
Not every treat has to be a handmade delight…grab some Kool-Aid Bursts and jazz them up just a bit. Who wouldn't want to drink these Incredible Hulk Juices?
This is such a great superhero themed food idea!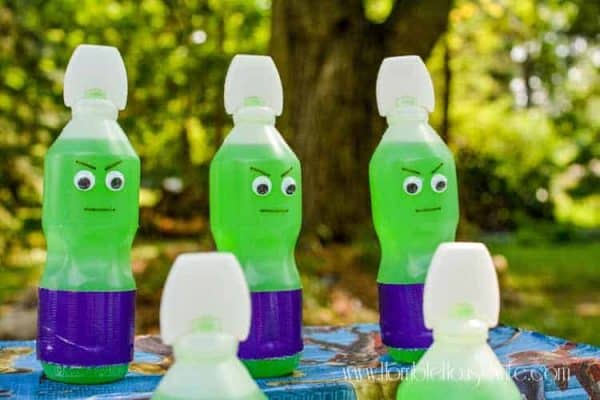 Girly Superhero Cookies from Shop Cookie Couture
These cookies are beautiful. They are so fun and a little girly with the pink and gold. I want to eat them all right now.
These would complement a more traditional superhero party for girls. (Check out our Girly Superhero Party for inspiration!)
Captain Marvel Rice Krispies Pops from Mimi's Dollhouse
These fun and easy treats are perfect for celebrating the hero we need is perfect for a Captain Marvel themed party or for a girls superhero party! Captain Marvel is such a great hero and these treats are so easy you almost HAVE to make them! Just saying!!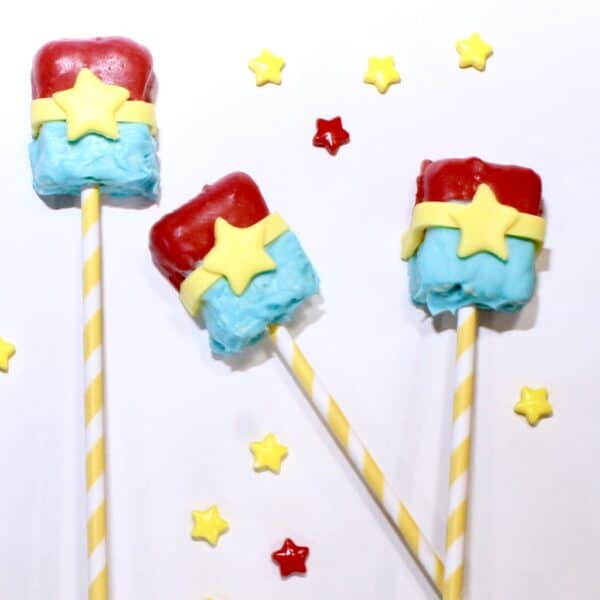 Hulk Pudding Cups by Whimsy & Hope
Ummm can you say cute and scary all at the same time? Well this adorably clever Pudding cup sure can! Simple and adorable! My kind of dessert!

Wonder Woman Popcorn from The Decorated Cookie
So..My daughters love Wonder Woman so much…I think I'm actually going to make this and put it in their lunch boxes for the first day of school!
Of course it's also an AMAZING idea for a Wonder Woman birthday party or a Justice League party. So simple and so yummy!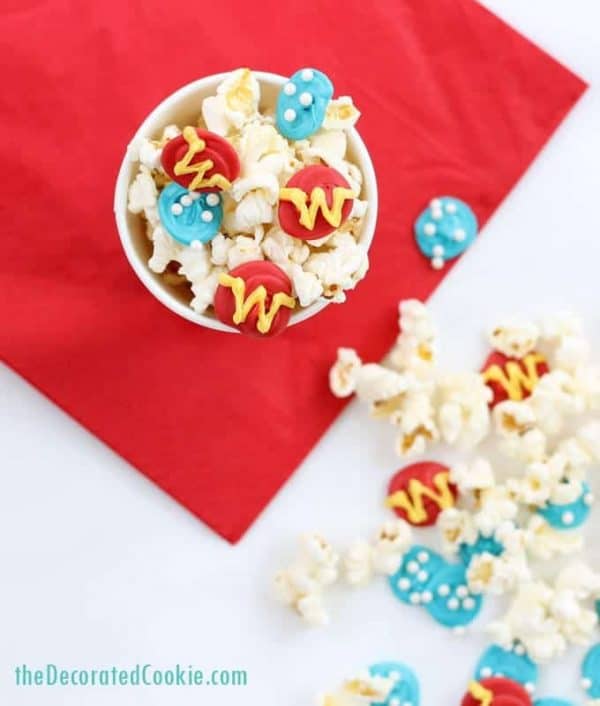 Superhero Cake pops from O Pops by Angie
Cake pops are my spirit animal. I love Cake pops. These adorable Superhero cake pops really put the BOOM! POP! into a party.
When it comes to superhero party food ideas, you can't go wrong with a starburst and some "boom" and "zap" action!
With strategic colors, these would match any superhero you choose to feature in your party!
Super Hero Drinks by The Cards We Drew
And whats a party without some awesome Super Hero Drinks. These are BEAUTIFUL!! Love. this.

DIY Superhero Oreos Recipe on Kara's Party Ideas
Custom colored Oreo cookies, anyone? Uh..yes please!! These look delicious and definitely SUPER!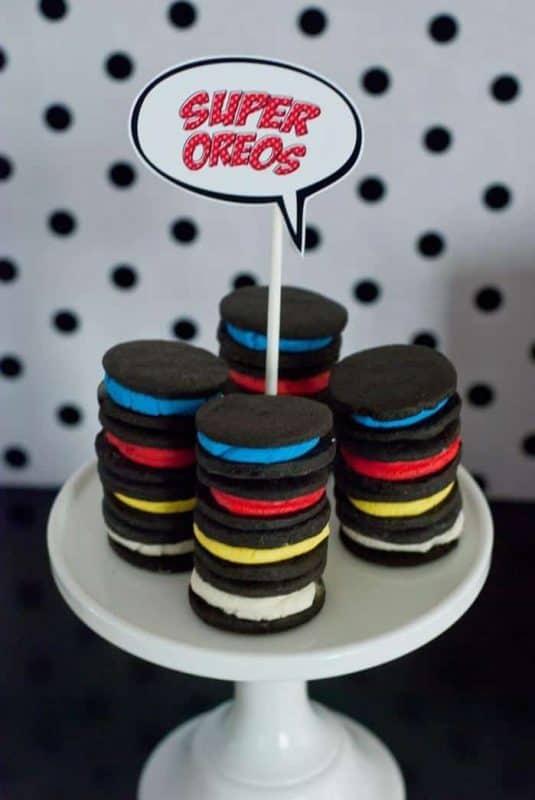 Superhero Rice Krispies from Mimi's Dollhouse
Want a super easy way to dress up those Rice Krispie treats? Using a simple cookie cutter set you can create an awesome superhero dessert in no time!
Superhero Cookies from Flourish Cookies
I think my favorite part of these superhero cookies, aside from the fact that they are absolutely adorable, is that they are a throwback to the comic books with their colors and design.
These are beautiful….definitely one of MY favorite superhero party food ideas!
Fondant Superhero Cupcake Faces from The Cake Fairy
Ok…stop with the cuteness, right! Simple cupcakes never had it so good. Show off your Avengers style with these Avengers Cupcake Toppers.
Hulk is my favorite (but Hulk might always be my favorite, *shrug*).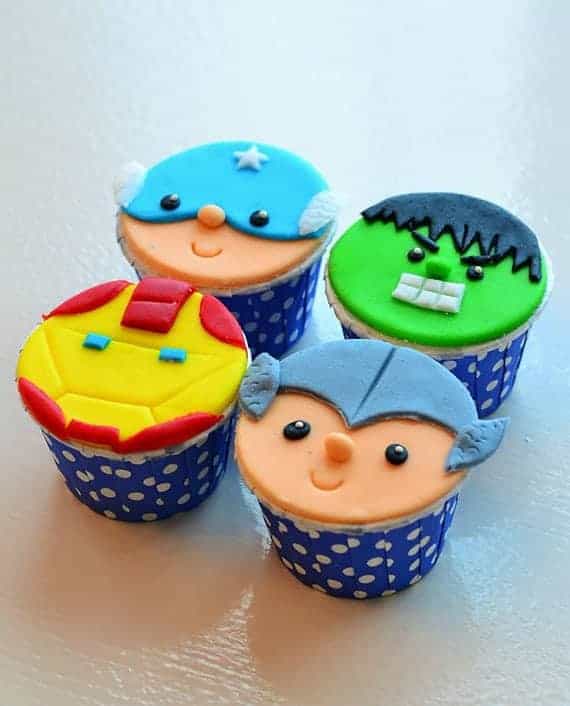 Simple Easy Spiderman Cookies from Mimi's Dollhouse
If you want some simple DIY Spiderman cookies, these little spiderwebs are great superhero treats. They are great on their own or as superhero cupcake toppers.
Wonder Woman Cookies from Baking in Heels
Satisfy the warrior princess in us all with these WONDER-ful Wonder Woman Cookies! I love how she looks ready to whip out her Golden Lasso and get down to business.
DIY Superhero Popcorn on Catch My Party
This simple DIY Popcorn containers are perfect for setting up a party spread. You can easily recreate these in easy to pass out plastic square cups too.
Just hot glue on some black scrapbook paper and WHAM! Superhero Popcorn!!
Captain America Shields from A Grande Life
Do you love Captain America? Make some easy and yummy Captain America Shield pretzel bites with this easy tutorial.
Iron Man Cupcakes from Mimi's Dollhouse
Looking for a great way to say "We love you 3000"? These easy Iron Man Cupcakes are a fun and a great addition to any party!
Batman Brownies from Sometimes I Bake
These Batman brownies look so yummy. I love the simplicity of these.
They would be especially fantastic in a party that is centered more on the black and white element of superhero comics with splashes of color, since they are simple and black and white.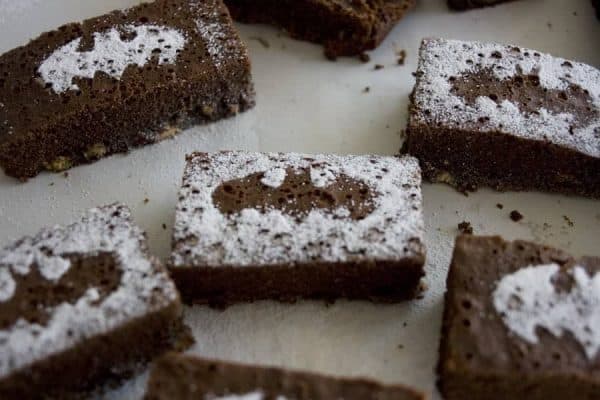 Wonder Woman Donuts from Nerdist
Another amazing Wonder Woman dessert. These Wonder Woman Donuts are perfection. I might need some right now!!!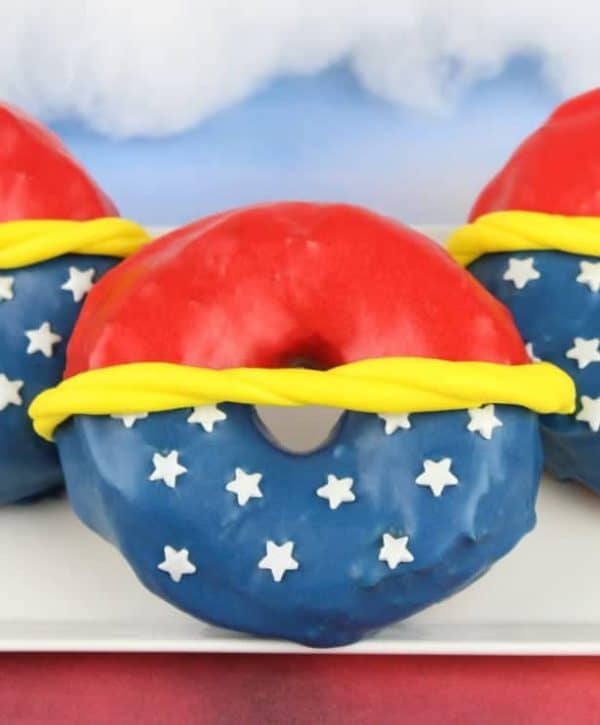 Captain America Cupcakes from Horrible Housewife
This are definitely a winner! They are equal parts simple and adorable and would be a hit at any Avengers party.
I love how the blue cupcakes "peek" through the white wrappers too!!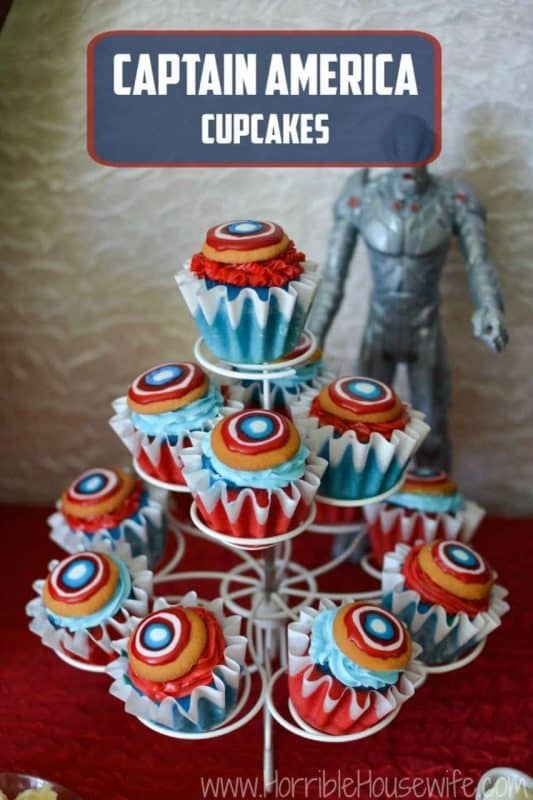 Spiderman Cookies from Sweet Sugarbelle
Here is another super cookie tutorial from Sugarbelle. I think even I can pull these Spiderman Cookies off. I love the webbing on the cookie face.
Thor Cupcakes from Horrible Housewife
Perhaps my favorite of the whole post…Thor Hammer Cupcakes. I mean c'mon son!!! These are so adorable and easy to recreate. You better get baking!!!
I hope these Superhero Party food ideas get you excited for throwing a superhero party! They definitely made me hungry!!
If you love these superhero food ideas, please pin this image to your birthday Pinterest board:
Here are some helpful links for throwing a superhero party:
Planning a Superhero party?
The Printable Superhero Decorations are available for purchase in my shop:
Superhero Party Tableware
There are tons of different options for Superhero Tableware. Some including specific heroes, and some the more generic superhero style! Here are a couple of my favorites that I am sure you will love!
Firstly, this set from Daydream Society:
Secondly this Comic Book Superhero Party Set from
Oriental Trading
Third, these superhero plates (and all the coordinating goodies) from Meri Meri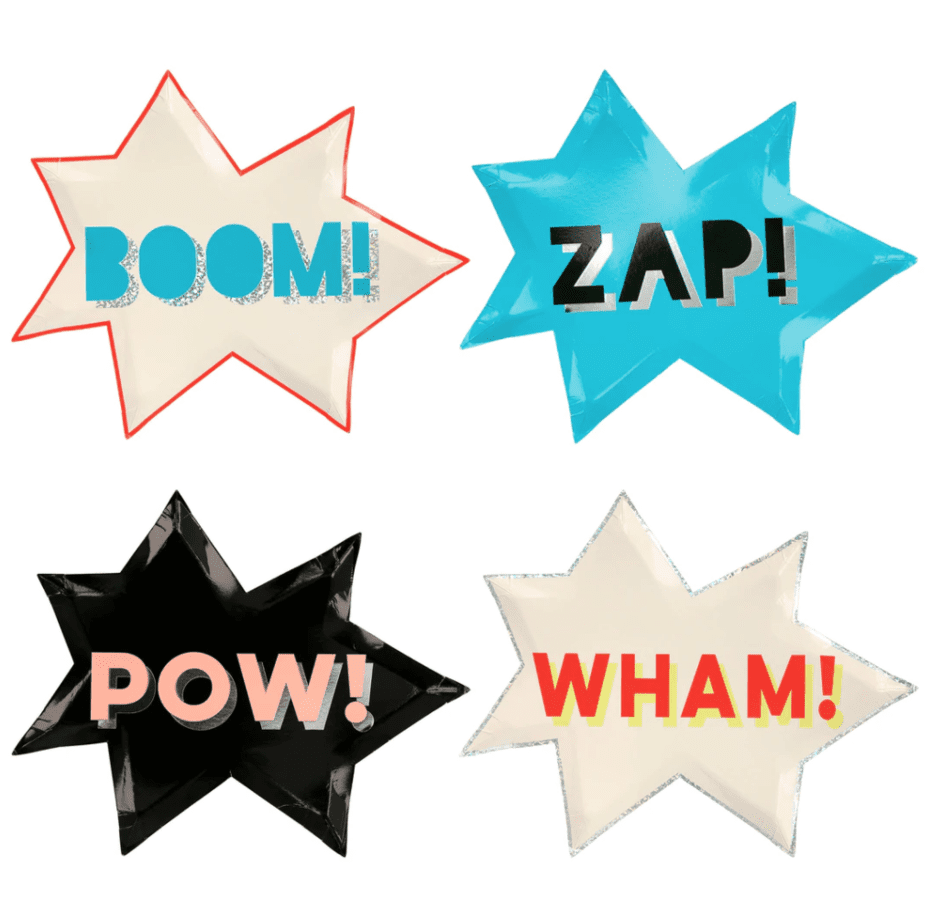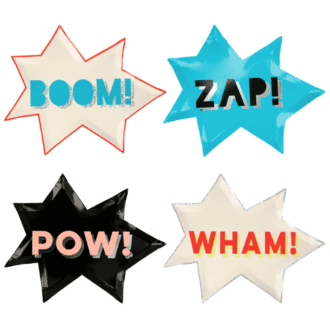 Conclusion for Amazing Desserts & Superhero Snacks:
Throwing a superhero birthday party is so much fun. Making it an extra special occasion is as simple as trying out some of this delicious and festive superhero party food.
From superhero cupcakes to hero themed cookies, these awesome dessert ideas are sure to be a hit for your SUPER party!
Related posts for Super Hero Party Ideas:
Thank you for reading our amazing superhero food ideas!