Delicious and Fun Pokemon Cookies, Cakes and Desserts!
If you are planning a Pokemon party, you can't go wrong with adorable Pokemon cakes, Pikachu cookies and adorable desserts! You will love baking and EATING these fun little Pokemon treats. Gotta catch 'em all!!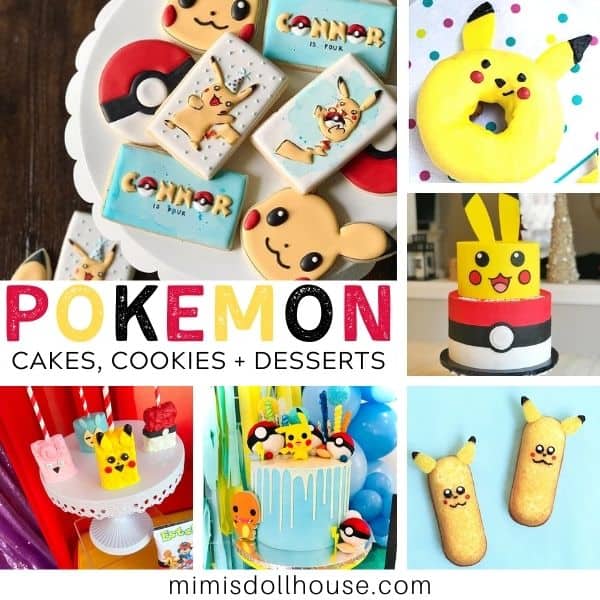 The best part of any birthday party is definitely the food. If you are planning an amazing Pokemon party and starting to think through your menu…you can't go wrong with some delicious, clever and easier than they look Pokemon themed desserts!
Pokemon Party Ideas
Styling a Pokemon party is as easy as pie when you have the right ideas and the right tools. Be sure to also check out this post FULL of Pokemon themed party decorations, favors and more to get your planning steered in the right direction.
Throwing a POKEMON THEMED PARTY?
☑️ This
Pokemon Party Kit
is the perfect set to get your party planning headed in the right direction!
Once you have all those details nailed down, it's time to start thinking about the FOOD!
Food Ideas for a Pokemon Party
We know the desserts can be an amazing assortment of cute themed treats, but you can also have themed healthy, snack and main course foods.
Often one of the best ways to bring your theme throughout all the food is to name them after characters, play up on aspects of the theme in the food or use specific colors.
Here are some fun ideas for Pokemon themed foods:
Charmander Cheese sticks
Pikachu Punch (Lemonade with strawberries. Try this SUPER EASY lemonade punch recipe)
Poke Balls (watermelon and white cheese balls)
Mew Marshmallows
Poke Ball Pizza (Half Pepperoni/Half Cheese with a line of olives in the middle)
Poke Ball Parfaits (Strawberries, Blueberries and a Banana center)
Bulbasaur Bread and Dip
Honestly, you can make pretty much any food you want to serve into a themed food with a little creativity and a clever name.
RELATED: Catch-Worthy Pokemon Party Ideas
Pokemon Cakes
Now let's take a look at some irresistible Pikachu inspired cakes…
These fun cakes make the perfect centerpiece for a party dessert table. Check them out…
Pikachu Cake from Biag Party Design
Isn't this perfect? Pikachu and a Poke Ball for the win! And of course, those adorable cupcakes, too!
Charmander Cake from Hala Sweets
Charmander chilling on a Poke Ball cake. This is a great way to showcase your favorite Pokemon!
Pokemon Cake from Deni Bakes
These fun layer cakes are easy and super fun for a party.
Pokemon Cake from Mi Sweet Cake
This fondant decorated cake is simply adorable! Love those cute Pokemons!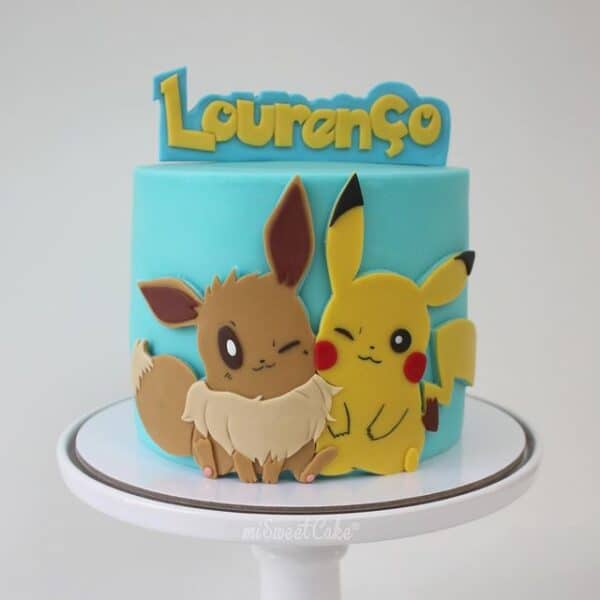 Pokemon Cake from Frosted Cake Boutique
Here is another adorable Pokemon cake! Love the ears!!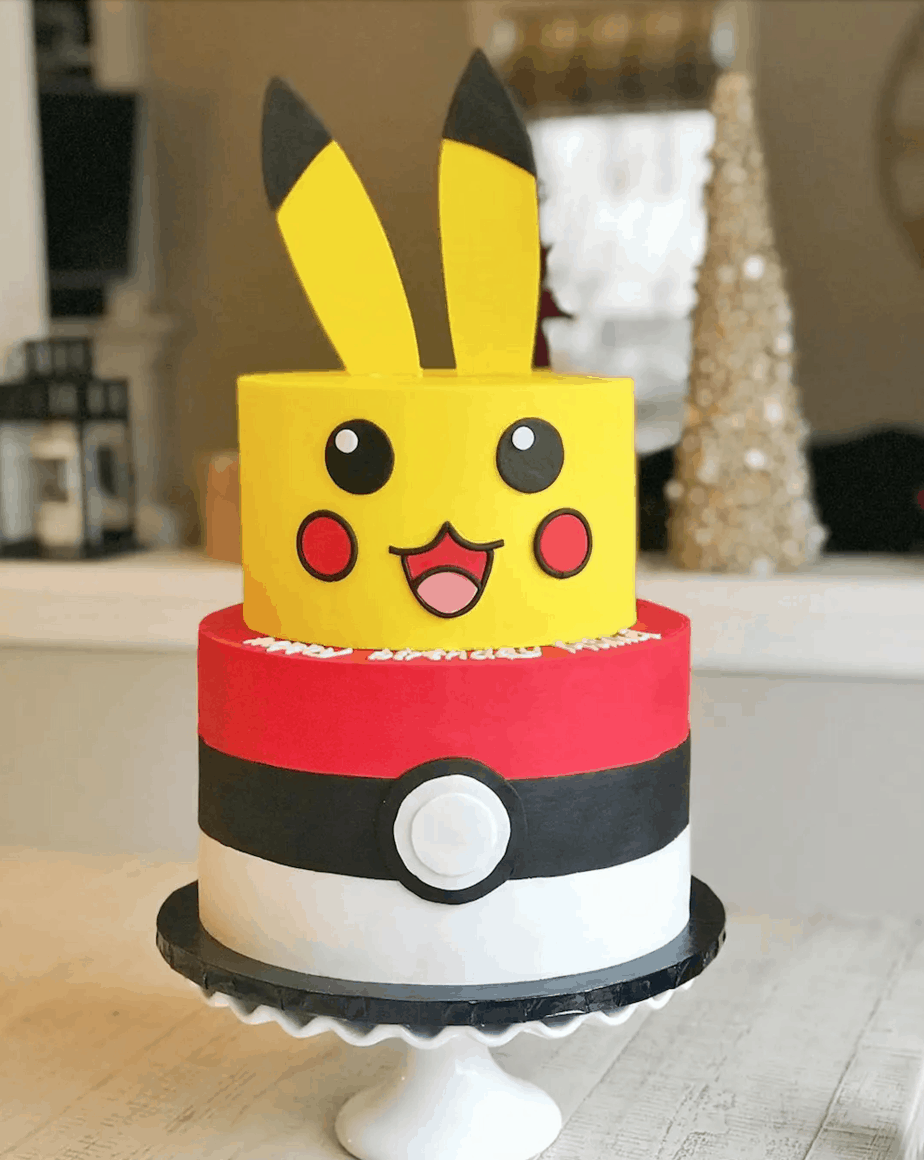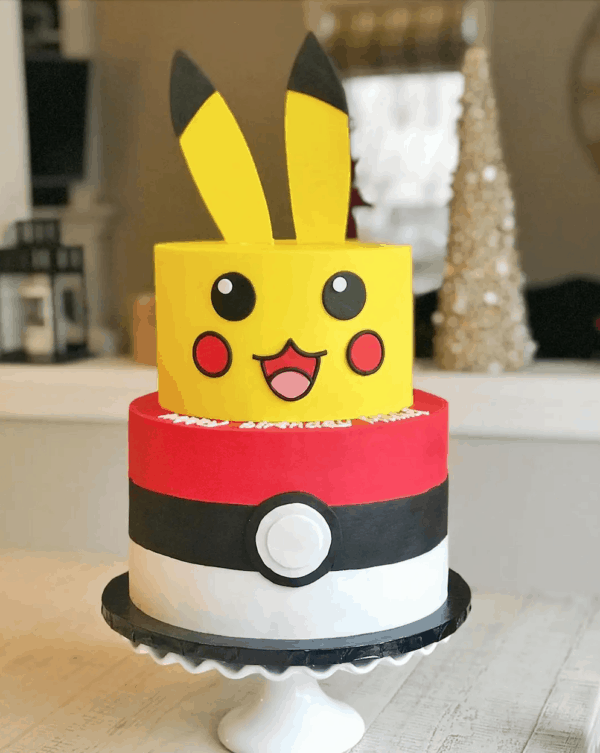 Pokemon Cake Toppers from Edible Perfections
Feel up to baking a cake, but not making the fondant? You can purchase these cute toppers to help you out with your party planning!
Pokemon Cake from A Custom Kreation
ADORABLE! These little Pokemons are super-duper cute!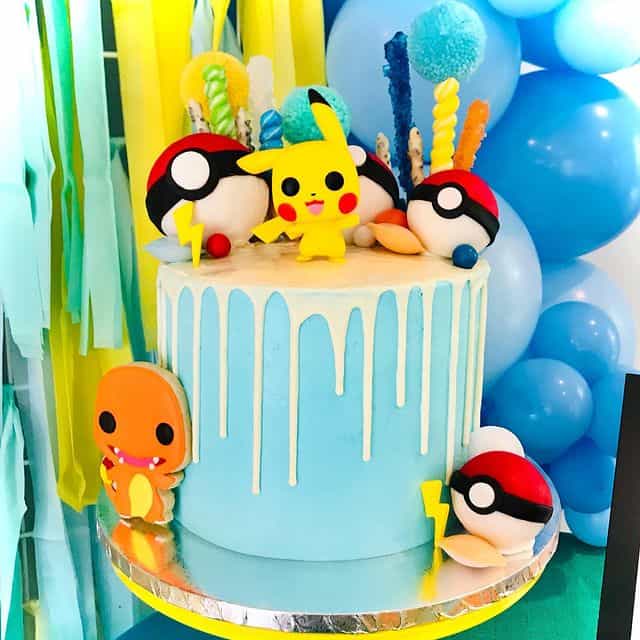 Pokemon Cupcakes
Nothing beats little bite sized pieces of cake! If you love serving up cupcakes…you will love these Pokemon cupcake ideas!!
Pokemon Cake Toppers from Toppers by Marigold
Grab some fondant cake and cupcake toppers to help make party planning a snap!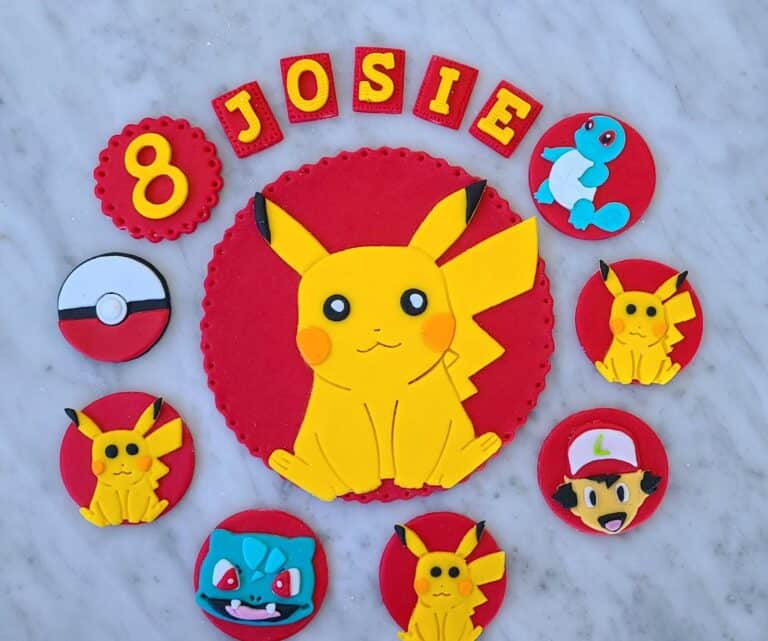 Poke Ball Fondant Cupcake Toppers from Dulce Cakes Shop
These fondant toppers are perfect for decorating simple poke ball cupcakes. Buy from a local bakery or make homemade and add these awesome toppers for a simple and easy cupcake option.
Pokemon Cupcakes from Warm Hot Chocolate
Aren't these fondant cupcakes just the cutest ever? Those Pikachu faces! Too adorable!
Pokemon Cupcake Toppers from Sweet Treats by Jess
Here is another option for fun and simple fondant Poke Ball toppers. So fun!
Detective Pikachu Cupcakes from Society 19
These fun cupcakes are all themed around your favorite Pokemons. Fondant ears galore!!!
Pokemon Cupcakes from Popcorn Reviews
Sometimes dressing up a simple cupcake with non-edible toppers and wrappers is the best option. Super cute and oh so fun.
Pokemon Cookies
You can't go wrong with some delicious sugar cookies! Here are some fantastic options that are perfect for a birthday party!
Pikachu Cookies from Mimi's Dollhouse
These cookies are super easy to make and oh, so cute!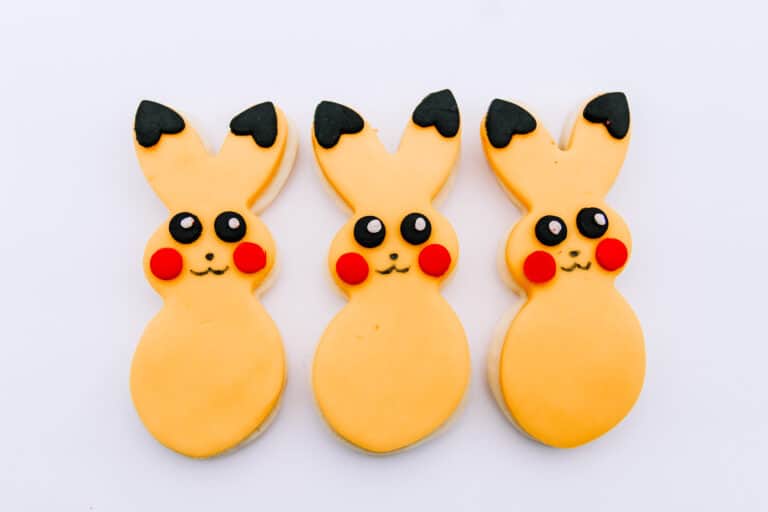 Poke Ball Cookies from Popcorn Reviews
These cute baked red and white Poke ball cookies and simple and yummy!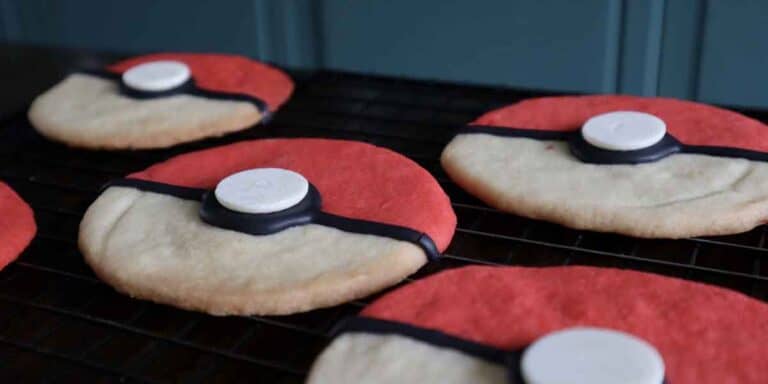 Pokemon go Sugar Cookies from Ashlee Marie
Show off those characters personalities with these fun Pokemon face cookies.
Pokemon Cookies from Anhledmd
Ok…aren't these GORGEOUS! If you are gonna spurgle on some cookies…THESE. THESE.
Pokemon Cookies from Sweet Sugar Crumbs
Also…these are DEFINITELY splurge worthy! Simply adorable!
Pokemon Cookie Cutter from Custom Cutters
Here is a great option for baking your own Pokemon cookies…grab a Pokemon cookie cutter!
Pokemon Desserts
And of course, last but certainly not least…the other desserts that aren't cakes, cookies, or cupcakes. Sometimes THESE are really what makes a party!
Pokemon Rice Krispies Treats from Pippa's Creations
Check out these cute and clever Rice Krispies treats. So fun!
Pikachu Twinkies from Kitchen Fun with my 3 Sons
Easy Pikachu Twinkie's for the WIN! These are so clever!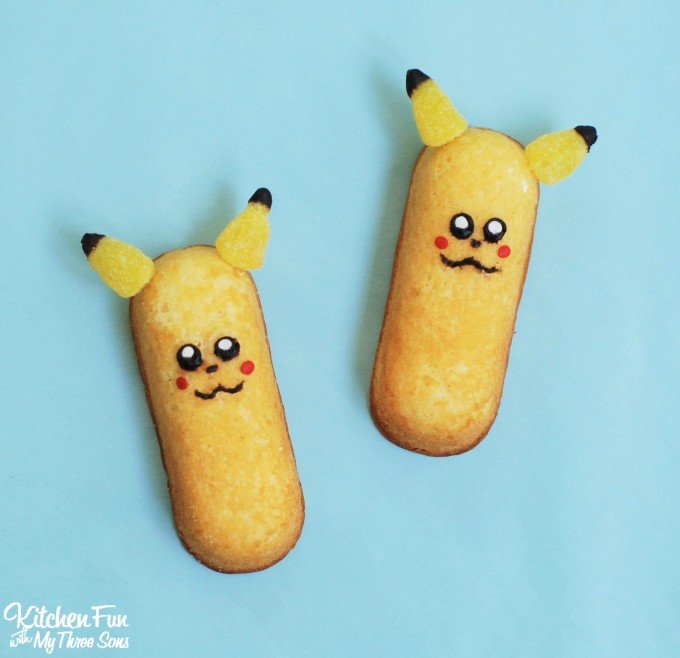 Poke Ball Apples from Today's Parent
Turn apples into fun Poke balls with some White dipped Chcolate and a mini Oreo!! Adorable!
Pikachu Donuts from Cake Whiz
Who doesn't love an adorable Donut? So…so…cute!!!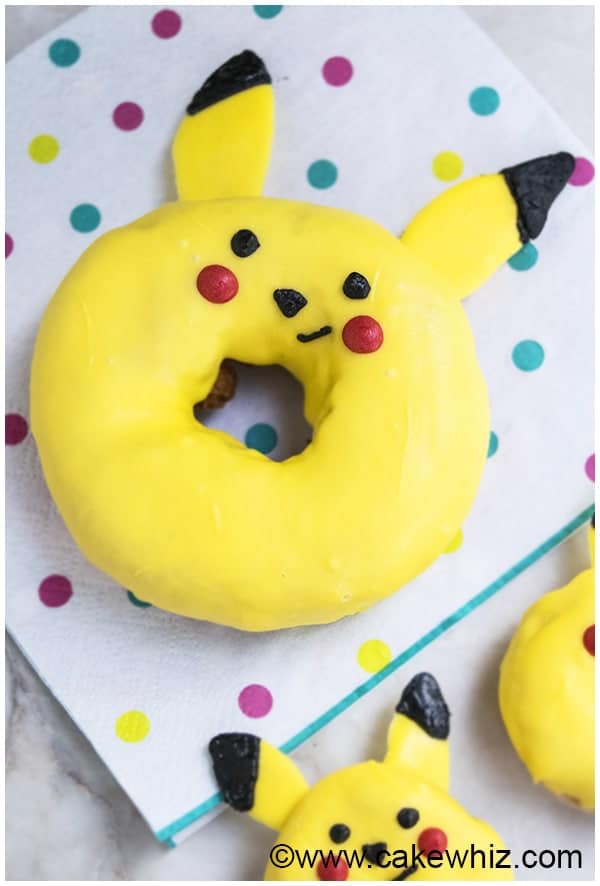 Pokemon Ice Cream Cones from Rosanna Pansino
Here is an easy way to jazz up some ice cream for a Pokemon party! LOVE IT!
Pokemon Party Tableware
Anyone else's mouth watering? Serving up all these food ideas doesn't have to be hard…
One simple way to pull your whole party together is tableware. Sometimes buying some simple and super matchy-matchy, on theme tableware is a great place to start with your party.
It definitely helps to bring everything on theme and get your started without having to hunt down individual pieces.
Pokemon Party Tableware from Oriental Trading

Pokemon Partyware from Amazon
Here are some helpful links for planning a Pokemon party:
Conclusion for Planning a Pokemon Party:
Putting together a Pokemon themed party can be a snap with fun and clever Pokemon themed desserts! From Pikachu cakes to fun Pokemon face cookies…we have all the ideas you need to turn an ordinary birthday into a Pokemon extravaganza!
If you love these ideas, please pin this image to your birthday Pinterest Board: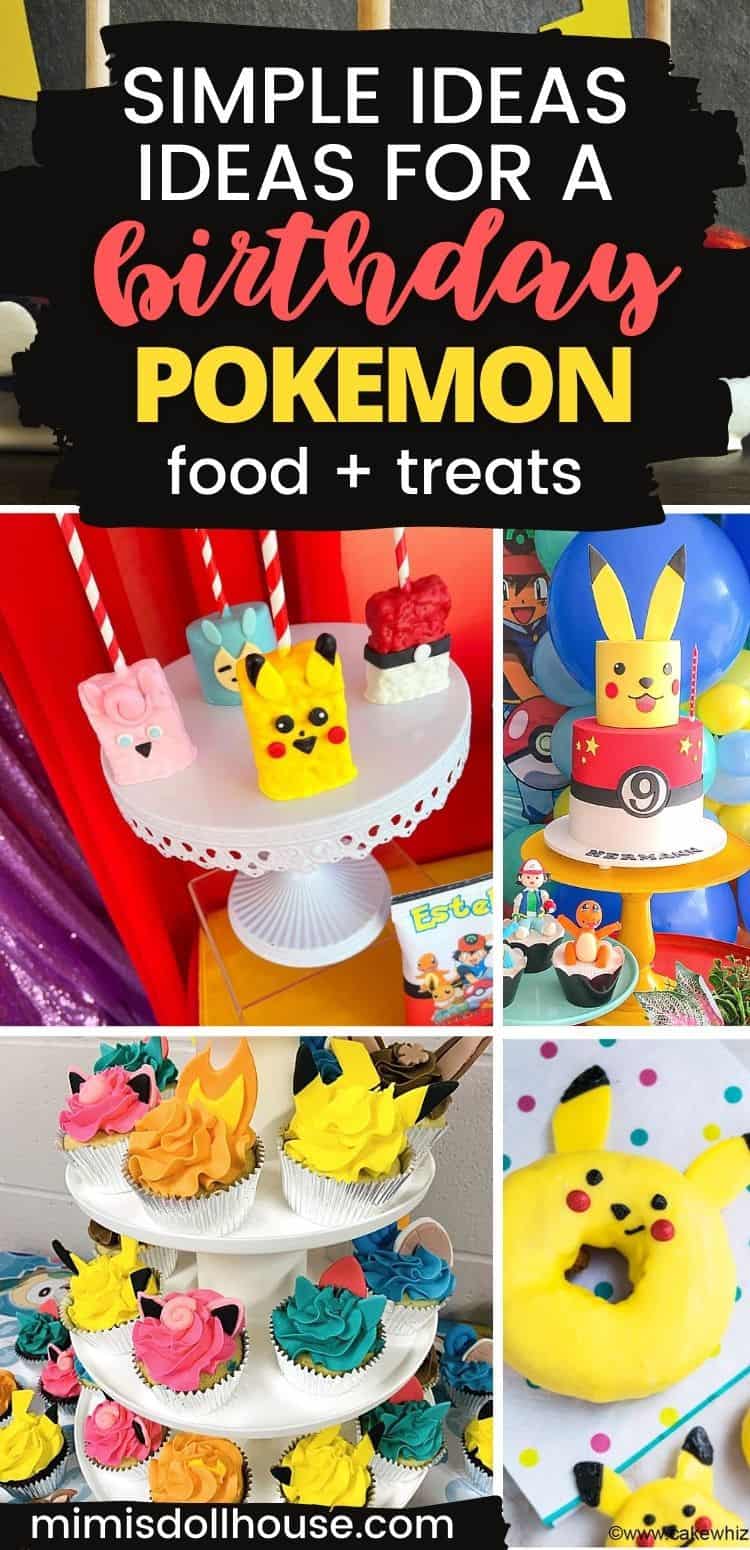 Related posts for Pokemon Birthday Cookies and Cakes:
Thank you for reading my ideas for baking for a Pokemon party!