Delicious Paw Patrol Cupcakes, Cakes + More!
When it comes to planning the perfect PAW-ty, creative and adorable Paw Patrol Cakes and food ideas are exactly what you need to save the day.
From Puptastic cupcakes and cookies to healthy snacks in creative serving dishes, we have the Paw Patrol party food that will make you wag your tail! Ready to get inspired to start baking?
We also have a fun Mighty Pups DVD* to share that we think your pups will love!
Paw Patrol is on a roll!
So you are planning a Paw Patrol party and need some help? We are on the case like Chase with these fantastic party dessert ideas!
No matter your level of comfort in the kitchen, we have simple easy to recreate ideas, elaborate masterpieces of fondant and even a few items to just click and order. (Busy moms…we see you!)
Throwing a PAW PATROL THEMED PARTY?
☑️ This
Paw Patrol Party Kit
is the perfect set to get your party planning headed in the right direction!
Paw Patrol Charged Up
What better way to celebrate at a Paw Patrol party, than with an awesome Paw Patrol DVD release?
The paw-some Mighty Pups are back for next level action-packed adventures in PAW Patrol: Mighty Pups Charged Up.* With this epic new DVD collection, fans can follow the Mighty Pups on daring rescue missions as they use their new superpowers and charged-up hover vehicles to save Adventure Bay from a brand-new baddie—the Copycat.
The Copycat was a great new villain that was introduced in this title and we definitely enjoyed watching it. MY 3 year old has had it on repeat since getting our copy.
I highly recommend this installment of the Mighty Pups as the perfect birthday gift for your little pup!
Food Ideas for Paw Patrol Party
The best part about making food for a Paw Patrol birthday is honestly the characters. With so many individual pups, there is so much opportunity to turn ordinary foods into themed ideas.
Thinking about the different focus for each character can help a lot.
Ready to explore Paw Patrol party food ideas?
These first ideas center around creative displays for ordinary foods. Here are some simple ways to make simple and budget friendly foods into Paw Patrol themed treats:
Fetch Sticks from Simply Beautiful
Pretzel sticks can transform into sticks for a roaring game of fetch with a simple label. No need to be too fancy…when an idea works this well!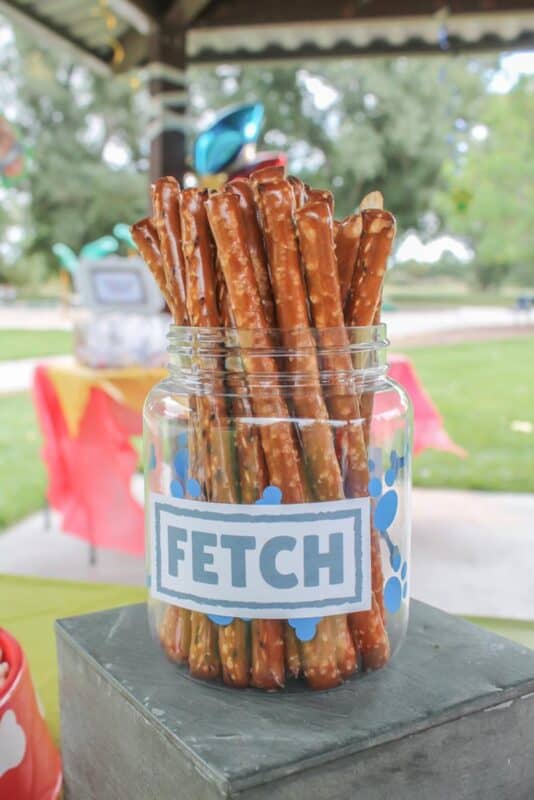 Puppy Dish Serving Bowls from Crowning Details
Grab some inexpensive dog bowls and decorate with bone shaped stickers for a fun and creative way to serve foods like "pup corn" and "puppy chow".
Other creative food ideas for a Paw Patrol menu include:
Skye's Wings: Chips
Everest's Snow Cones
Marshall's Fire Hoses: Redvines
Chase's Cheddar Sticks
Rubble's Rocks: Rock Candy or Chocolate Nuggets
Rocky's Green Snacks: yummy green fruits or vegetables
Zuma's Water
Pup-peroni Pizza
Bone shaped fruits and veggies (made with bone cookie cutter)
Paw Patrol Birthday Cake + Dessert Ideas
So the big focal point of many parties is definitely the cake. You can bake or buy a masterpiece or you can have a simple themed cake. Either way…make it delicious! Another fun option is making a "cake" from cupcakes.
Here are some extraordinary cakes, cupcakes and dessert ideas to inspire your creativity!
Paw Patrol Cake on Catch My Party
Here is an epic Paw Patrol cake with adorable fondant figures for all the pup characters. Adorable, right?
Chase Themed Cake on Cakes Decor
If your little one has a favorite puppy, focus your cake on that one puppy like this adorable Chase cake!
Paw Patrol Cakes from D Bakers
You can use fondant to turn a simple layer cake into a puppy face. I especially love those fondant Chase ears! So cute!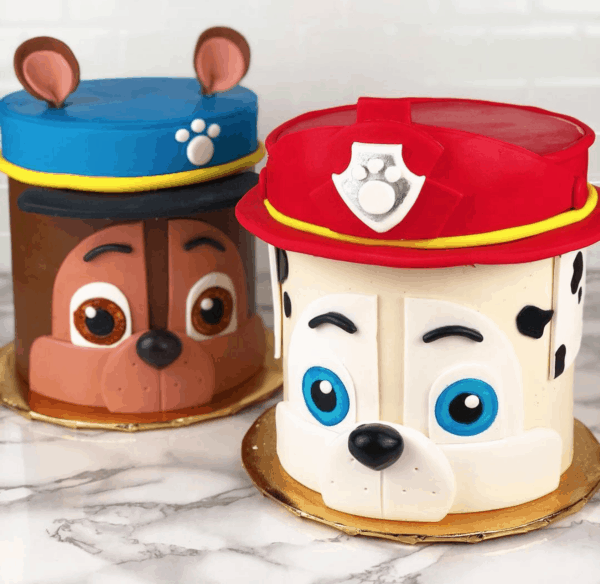 Paw Patrol First Birthday Cake on Cakes Decor
Here is another fondant covered cake masterpiece. I love how they included the lookout as well. Such a gorgeous cake idea!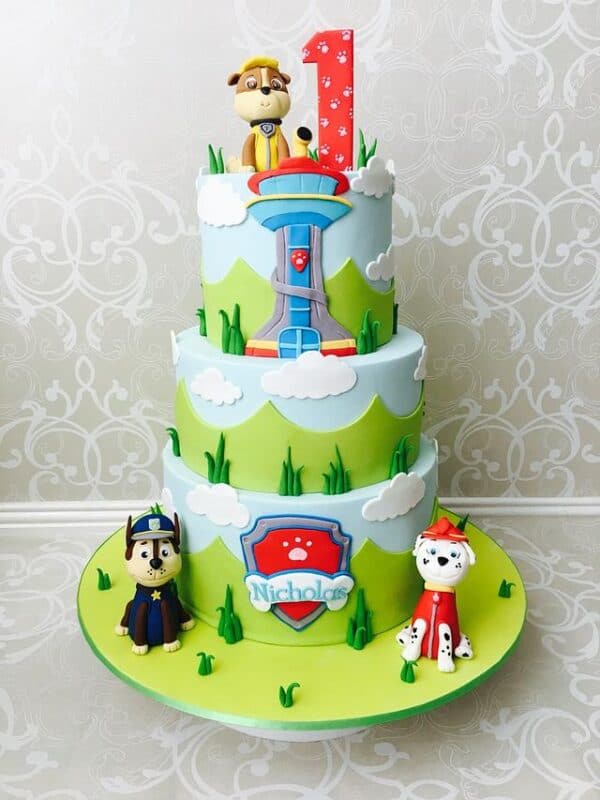 Marshall Donuts from Paw Patrol Live
These little Marshall donuts are absolutely adorable! I love how simple they are. These would be perfect as a party treat!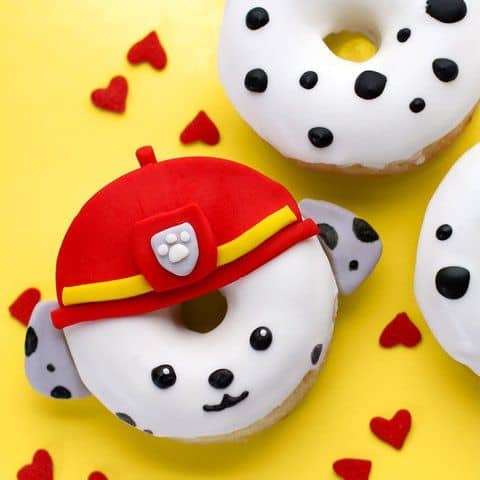 goto.orientaltrading.com/gbRnWB
Rubble Cupcakes from Lindie Sugar Art
Here is a gorgeous Rubble themed cupcake. Confession: Rubble is definitely my favorite of al the pups and these cupcakes do not disappoint!
Paw Patrol Cake Pops from Rachel J Special Events
Looking for a dessert to really knock your guests socks off? these Paw Patrol Cake pops are just that good!
Related: Paw Patrol Party Ideas
Paw Patrol Cookies
Cookies are always my favorite part of every party. From simple creative cookies to elaborate royal iced masterpieces, there is just so much you can do with cookies. Here are some super awesome Paw Patrol cookie ideas:
Rubble's Cookie Pile from Live Well Play Well
Simple cookies (like these Oreos) can me matched with a fun Rubble toy to create a super creative, simple and budget friendly treat.
Paw Patrol Cookies from NY Cookies by Victoria
If you love some beautiful royal iced cookies (me! me!), check out these cute puppy faces!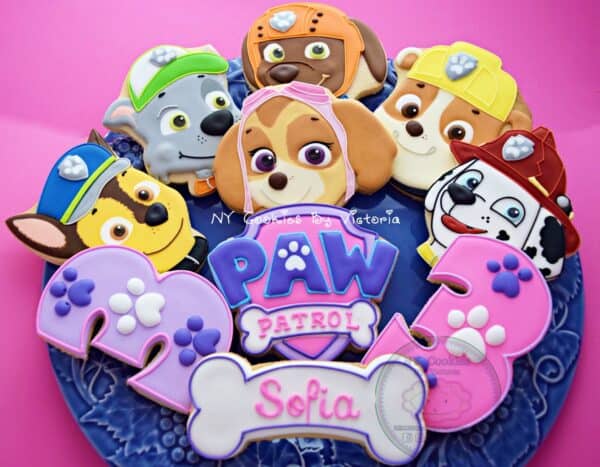 Paw Patrol Cookies and Cream Paws from Hungry Happenings
Here is a simple DIY cookie recipe you can make for your Paw Patrol party that are delicious and adorable!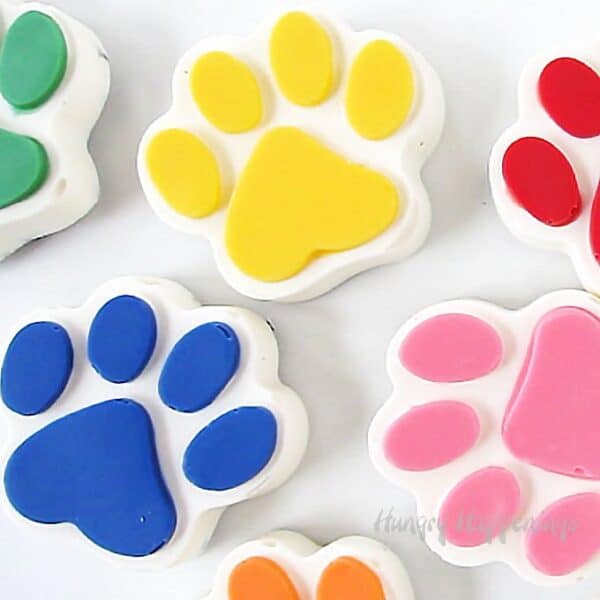 Paw Patrol Cookie Cutter from Strivami
Want to make your own adorable puppy face cookies? Grab these awesome character shaped cookie cutters and some royal icing. Don't forget to use our awesome Basic Cut-out Sugar Cookie Recipe!
Paw Patrol Cookies on Catch My Party
These cookies are my favorite. I love the simple designs and the colors. They highlight characters without being too busy. Fun and adorable for the win!
Paw Patrol Cookies from Sarah's Cookie Jar
If you are going to splurge on fancy cookies…these are the cookies to do so with. These are clever and gorgeous. I love the painted puppy faces and the fun designs. Perfection.

PAW PATROL PARTY TABLEWARE
Looking for easy and on theme ways to serve your food? Grab a tableware set and save time searching for matching items! Here are two super cute and affordable options:
Paw Patrol Tableware from Oriental Trading

Paw Patrol Supplies from Target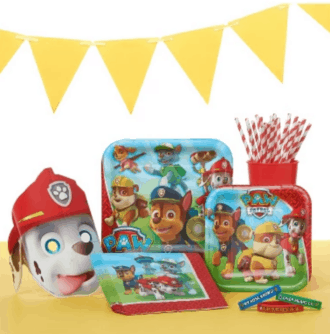 Pink Paw Patrol Party Supplies from Amazon
Here are some helpful links for Paw Patrol Food Ideas:
If you love these ideas, please pin this image to your birthday Pinterest board: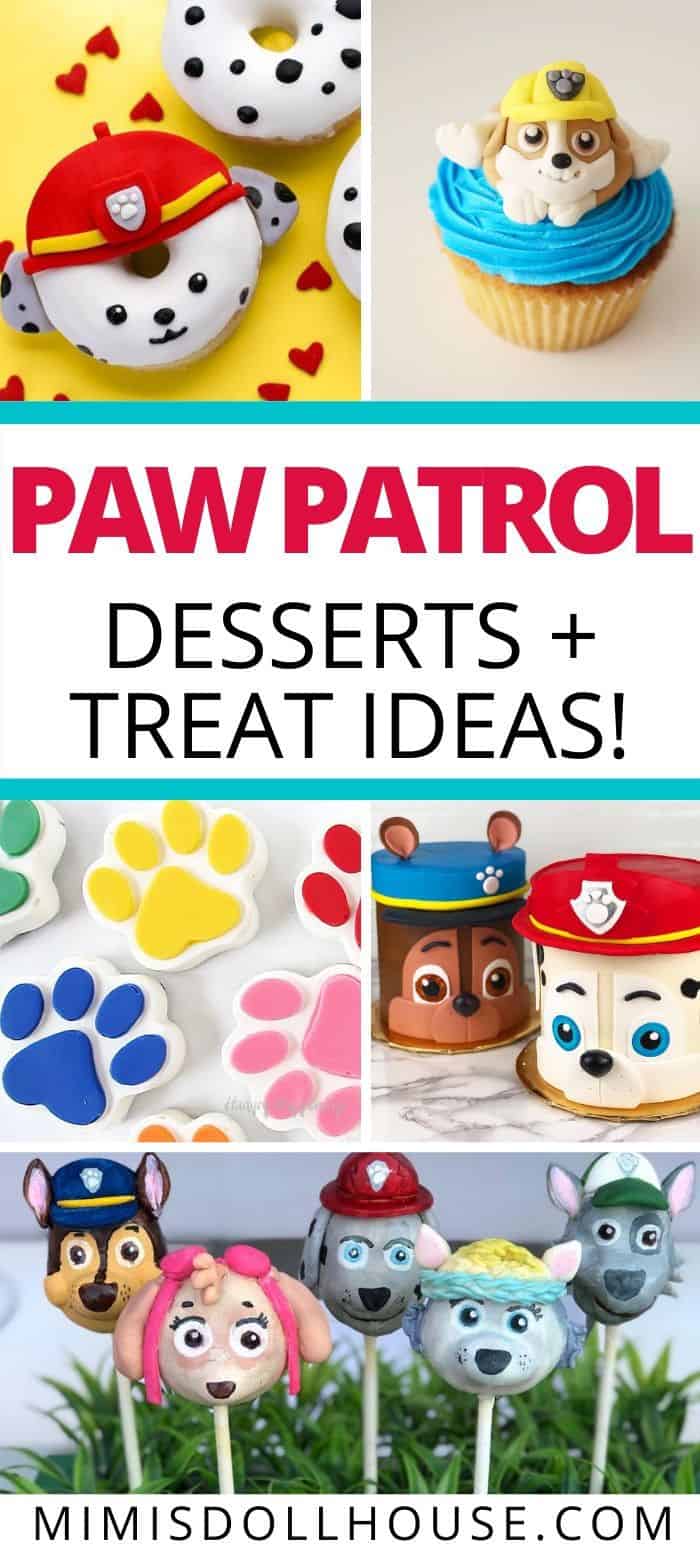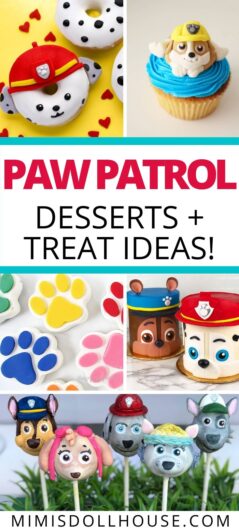 Conclusion for Paw Patrol Birthday Cakes:
No need to worry when you have these Paw Patrol desserts and food ideas to help you plan the perfect PAW-ty. From delicious Paw Patrol cakes to adorable cookies, you will find all the inspiration you need to create the perfect party for your little pup loving kiddos with these amazing dessert ideas!
RELATED POSTS FOR PAW PATROL Desserts:
Thank you for reading our Paw Patrol Birthday Food ideas!
*This is a sponsored post. Mimi's Dollhouse may have been compensated for this post, but rest assured…all thoughts and opinions are totally honest and totally my own:)*