Cat party supplies and ideas for an adorable Kitty Cat Theme!
Want to throw a cat themed birthday party? So if your daughters are anything like mine, they are OBSESSED with furry cute little animals. From puppies to bunnies to cute little monkeys at the zoo, they love all things cuddly and four legged!
The clear winner in the cuddly little creature contest is definitely the kitty cat! Not only are cats fun to play with and pet…it makes a fantastic party theme!
Throwing a CAT THEMED PARTY?
☑️ This
Cat Party Kit
is the perfect set to get your party planning headed in the right direction!
Let's party…cat style. Here are some fun ideas and super cute cat party decorations to inspire the party planner in you! Also, we will walk you through how you can throw a purr-fect cat birthday party, step by step!
Check it out…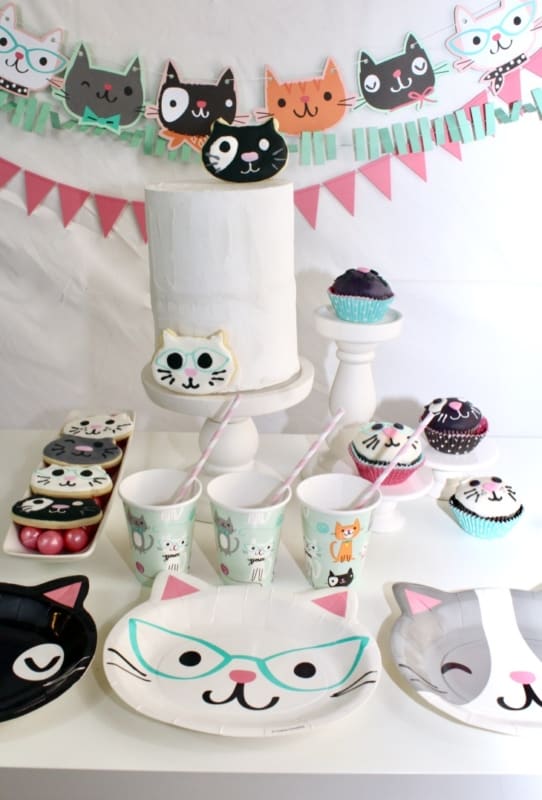 Cat Party Ideas
Cats and little girls are like a match made in Heaven. Maybe it's the cute pointy ears…maybe it's the sweet purring sound they make.
Whatever the reason, show me a little girl and I'll show you someone who would love a Kitty Cat themed birthday party.
This adorable cat party is full of ideas to inspire your party planning. We have ideas for fun DIY treats and the cutest party decorations and tableware. I know you will love this theme!
Cat Themed Birthday Party Decorations
These cat party decorations were another FANTASTIC Target find. I completely fell in love with these cute little kitties and their adorable little glasses. I knew it was the perfect design for a cat themed birthday party.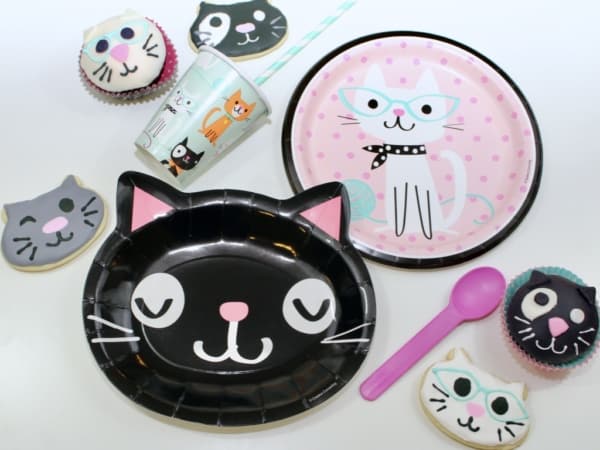 This design has fun kitty faces in various colors and expressions. One cute face even has nerdy glasses….so basically it's adorable.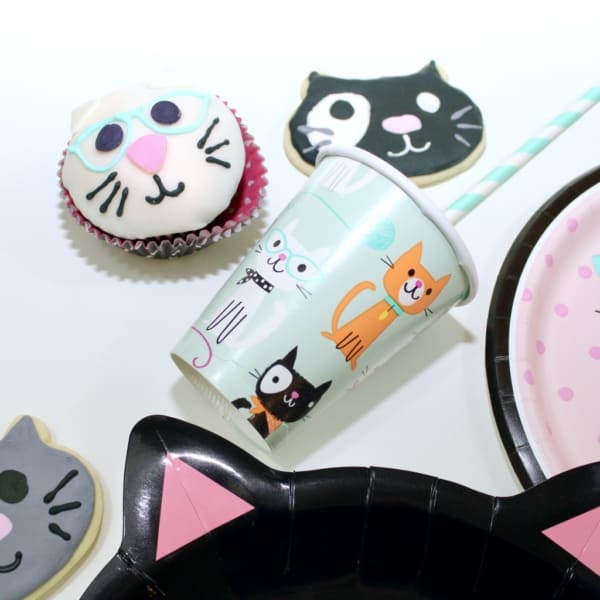 For the party setup, I used the Cat banner with a cute garland set to decorate the wall behind the table. The Cat banner is so awesome. It was my favorite detail of the whole party.
This party design is whimsical and fun. The colors are bold and bright. I am confident it would be PERFECTION for any little girl's birthday party.
Cat Party Games
Sticking with a theme for every element of a party can seem like a lot, but with a little creativity and some smart planning…you can have every detail ironed out in no time.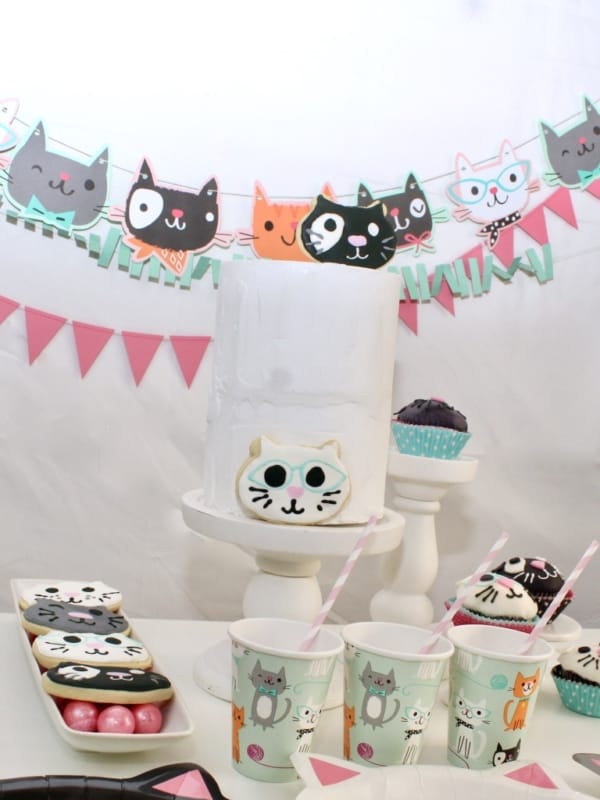 Party games are one of the most fun parts of a party to plan. This kitty party from Kelle Hampton has some adorable game ideas including Cat Corn Hole. (Also…they use this same party banner…and its ADORABLE!)
Here are some other cat themed party games that would be purr-fect:
Make your own Kitty collar:
Party guests can use ribbon and jewels and paint pins to decorate their own collars. You can cut tags out of cardstock and let them decorate them.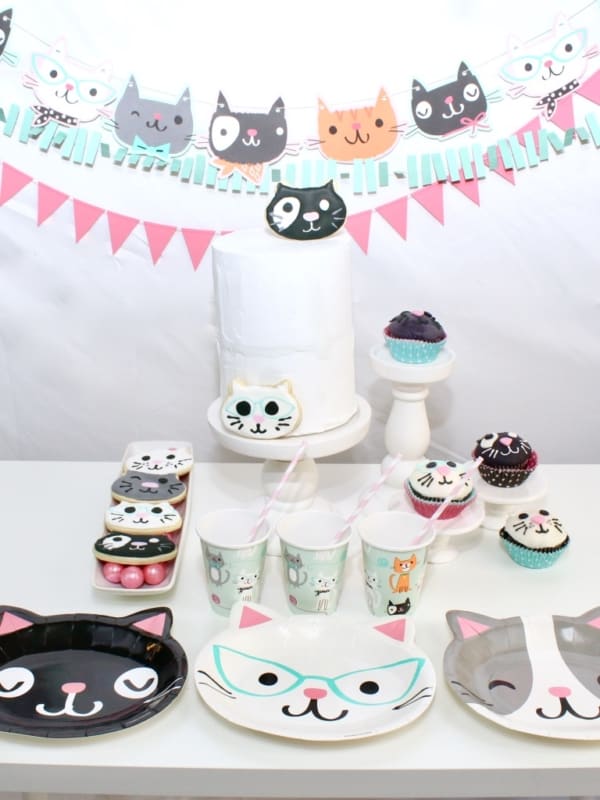 Pin the Tail on the Cat:
Make a large cat shaped cut out minus the tail. Have the kids try to pin the tails on the cat while blindfolded. It's a cat spin on a classic party game. Fun times!!
Cat cookie decorating:
Instead of having cookies ready to go and decorated for your party, you can bake cat shaped cookies and let the kids frost and decorate the cookies themselves. Sweets and Treats has some gorgeous sprinkles mixes that would be perfect for an activity like this!!
Cat Party Favors
For party favors you can go the traditional route and gift an assortment of candy or cat themed trinkets. You can also give cute cookies or cake pops as party favors.
The best idea of a cat party I've seen though, is a cat adoption. We did something similar for my daughter's monkey party a few years ago and the kids LOVED it. They had adoption certificates and everything.
For a cat adoption, you can get cute little stuffed cats and let each child "adopt" a cat to take home and care for. It's adorable!
Cat Party Supplies
Let's check out the adorableness that is this set of cat party tableware. The first thing about this design that caught my attention was the adorable kitty with the glasses. It was cute and nerdy and just plain fun.
Then I saw the little kitty face plates and I knew I NEEDED to style a party with this tableware set. The side effect of styling parties as a business is that sometimes you just have to style that party!!
Purrfect Cat Party Tableware
The cat tableware package also has tons of decoration options. The cat banner is adorable. You can get hanging cat faces and Centerpieces and so much more. It really decorates itself!!
There are cat balloons and cat themed photo props….seriously it's a GREAT package!
Cat Party Invitations
Before you can party, you have to invite your guests. When it comes to choosing the right invitations, there are three main options:
Option #1: Buy fill-in invitations. This is an easy option that only requires you to fill out the invites. If you are throwing a party for an older child, they can fill the invites out themselves.
Fortunately, you can purchase the matching invitations from Target! They are blank inside so you can also run them through a printer if you want to print the info on the invites or print you info out on colored paper and paste it into the invite.
Option #2: Have a custom invitation made that you can print and distribute. So I'm partial to this option, since I do in fact design printables for parties.
I think a custom invite is fun and saving time (although printing them can be more expensive than option 1). This would be my choice for a custom invite to match this design. It's similar in vibe and super cute.
Option #3: Send an Evite. Let's face it…we live in a digital world and sometimes, there isn't time to print something out.
Evite has some adorable cat themed birthday invitations (and they are animated too!!)
Cat Party Food Ideas
Now for my favorite part of planning a party…the food. There are so many fantastic ideas for throwing cat parties. You can make cat themed foods, serve in cat dishes and so much more.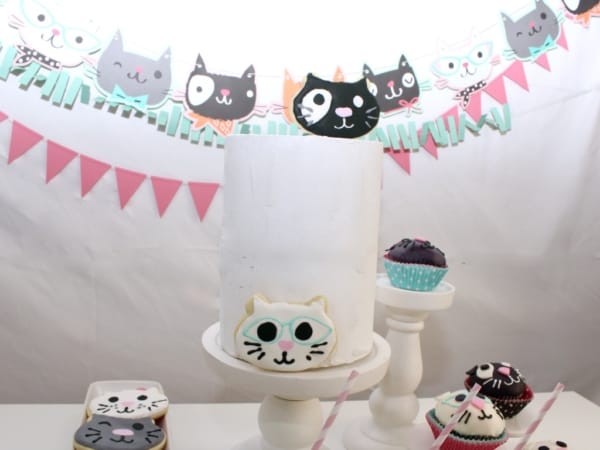 For this cat themed birthday party, I used the design of the tableware to inspire the food. For the cat themed birthday cake, I made a simple white cake with vanilla frosting and decorated it with the cat themed sugar cookies I made.
This was a nice option because it didn't require making anything extra for the cake. Instead, I just used a couple of the cookies I had already spent a ton of time on! Winning at cake decorating!
Cat Themed Cupcakes
The cupcakes were super fun to make. They were chocolate cake with fondant kitty faces. Check out the cat cupcake tutorial to learn how to make these cupcakes step by step. They are easy…I promise!!
Cat Party Cookies
The cat cookies were super fun sugar cookies decorated with royal icing to match the tableware as well. Be sure to check out the cat sugar cookies tutorial for detailed directions on how to make these super cheeky little cookies!!
SHOP THIS CAT PARTY
This party was honestly so simple to decorate and put together. The Cat Party Tableware set really styled the party. If you feel like Kitty Cat is your theme of choice, I highly recommend this design. The colors are bright and fun and the products are super high quality.
Click the links below to view and purchase the products from Target!
Conclusion for Let's Throw the Purr-fect Cat Themed Birthday Party:
Throwing a cat party is easy and fun when you have the right tools. There are tons of amazing ways to style a cat party and entertain your party guests. The cat tableware also makes this process super simple! You will love throwing this party!!
If you love this cat party…please pin this image to your birthday Pinterest board:
Related posts for Cat Themed Parties:
Thank you for reading about our Kitty Cat Themed Party!!