Girl Birthday Themes She is Sure to Love.
Need help finding just the right theme for a girl birthday party? Here are some of the most adorable and trending girl birthday parties that your little girl will adore.
So much girl party inspiration…I'm ready to squeal!!!
Here's to girly girl parties and all the pink!! Ok, they aren't all pink, promise!
Looking for some party inspiration for your little girl? Today I'm highlighting some of our most popular party themes for girls. Bust out your glitter and your lace…this is gonna be some girly, girly fun!!
Princess Party
Hands down, princess is the most requested birthday theme for little girls. While a princess party is popular in and of itself, there are tons of ideas and and unique ways to throw an awesome princess party.
There are even sooo many different princesses. Here are some awesome princess parties and styles to choice from:
Frozen Party
So unless you have been living under a rock the last few years, you no doubt know that Frozen is still super popular with the little girls.
While it is technically also a princess party theme, with its winter wonderland aspects…it is its own special kind of princess party. And little girls LOVE it.
Art Party
Who doesn't love an art party? Remember watching Bob Ross as a kid? Well Bob Ross themed parties are all the rage right now! You can set up an adorable art themed party with some Bob Ross flair and score major points with your tween girls!
Check out the adorable Bob Ross and Friends Party Supplies. They even have some free printables to go along with the decorations.
Who doesn't feel the need to paint some happy little trees??
Candy Land Party
This theme is as classic as the board game that inspired it. Little girls (and little boys too) will love all the amazing Candy themed treats and details.
One of my favorite ideas for this theme is, of course, a candy bar filled with brightly colored and super sugary candy treats. It's a fun way to make your own candy land!!
Sunshine Party
This theme is sweet and one of my very favorite themes for one and two year old girls. It is an especially perfect theme if you and your special little one share that sweet "you are my sunshine" song.
If you love singing this song to your little girl, why not theme your party around that precious tradition?
Lemonade Stand
Whether you are thinking traditional lemonade or yummy strawberry lemonade…this theme is perfect for spring and summer birthdays.
We also have a strawberry shortcake inspired version of this theme that is adorable.
I think my favorite part of a Strawberry Shortcake theme is that I used to love Strawberry Shortcake when I was little. I love watching my little girls love something I loved so much too. Isn't that awesome!!

This theme is perfect for any little ballerina girl. One of the awesome aspects of this theme, is that you can find a lot of dance studios that will host birthday parties.
Wouldn't it be fun to see the little girls in their tutus dancing altogether?? Too cute!
Spa Party
This theme is especially great if you have older girls. How about turning your house into a spa and treating your little girl and her friends to a relaxing and fun spa day!
Wouldn't that be a blast. It is also a great way for them to all feel special and pampered and beautiful together!!
Mermaid Party
This is an especially great theme in the summer time when you can hang out at the pool, beach or lake. Do you have a pretty little mermaid who loves to splash her tail.
There are so many wonderful under the sea party ideas you can incorporate into a mermaid party too.
Cat Party
Does your little one love kitty cats? Style her an adorable kitty cat themed birthday party. Explore her veterinarian in training skills and have a blast with a kitty cat party theme!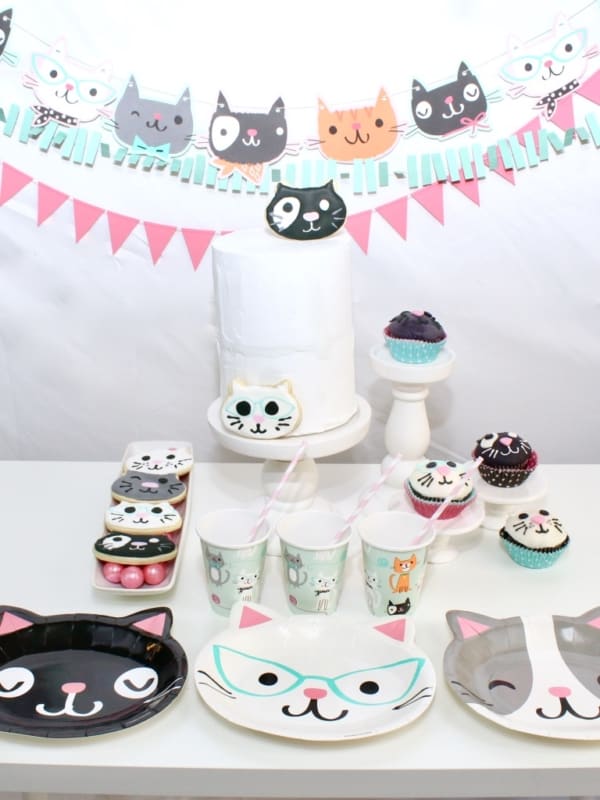 Hello Kitty Party
There is just something about that pretty little kitty that makes little girls get excited! Hello Kitty is definitely a super popular theme for little girls.
I am always amazed at the colors schemes and patterns and ideas that people have using Hello Kitty.
Including my personal favorite…the NERD Hello Kitty. I mean, isn't everything better nerdy??
Here are some helpful links for throwing a girl birthday party:
Conclusion for Trending Party Themes for a Girl Birthday:
No matter what your little girl loves, you can make a beautiful party with fun decorations and unique treats. Swing by the MD Printables shop for 100s of birthday party ideas and customized printable decorations.
If you love these girl party themes, please pin this image to your birthday party Pinterest board:
Thank you for reading our favorite girl birthday themes and ideas!