Fun and Adorable Disney Princess Party Ideas inspired by their stories!
It's a Princess Party! Bibbity Bobbity Boo! How about a Storybook Disney Princess Party? I'm sharing the first part of my daughter's birthday party today. It's a love letter to all her favorite princesses that you won't want to miss!
Be sure to check out the Castle Tutorial, Crown Tutorial, Princess Party Activites and Storybook Tutorial that coordinate with this design.
When it came time to plan my daughter's birthday party, I had completely planned to go a different direction. I was in full planning mode when Aubrey announced she wanted a Princess Party.
When I asked her which princess, she politely told me in her very matter of fact way: "All of them." All of them? Her reasoning, of course, was that a TRUE princess wouldn't leave anybody out. Makes sense, right?
So being the crazy momma that I am, I switched gears and set out to create the perfect princess extravaganza.
I knew I wanted to showcase each princess, but I didn't want it to just be about their dresses or their crowns. I really wanted to highlight their individual stories.
I designed the party and the printables around a storybook with the different signs, foods, games, etc. being storybook pages from each princess story.
To tie it all together, we made the large Storybook Centerpiece for the Dessert Table.
Princess Party Food Ideas
Today, I'm gonna share the fabulous food and some of the decorations. All the food was inspired by the different princesses and their stories.
Tiana's Lily pad Cupcakes
First up is Tiana's Lilypads (Lemon Blueberry Cupcakes with Fondant Lilypad toppers from LesPopSweets).
I used IKEA picture frames to display the story book pages that accompanied each item.
These fun fondant toppers made these cupcakes such a hit!
Cinderella's Glass Slippers Cupcakes
Cinderella's Glass Slippers (Vanilla and Chocolate Buttercream Cupcakes with Glass Slipper Fondant Toppers from Edible Details).
Honestly, I loved everything about these cupcakes. They were so perfectly feminine and so classically Cinderella.
Aurora's Castle Push-pops
Aurora's Castles(Vanilla/Strawberry Lemonade Push pops using plastic cake push-up holders). This was an easy DIY. I simply cut yellow paper into a crown shape and scotch taped it to the top of the push pops. From simple to royal in a snap!
Jasmine Rice Krispies Crowns
Jasmine's Crowns (crown shaped Rice Krispies treats). These were super easy to make using this crown cookie cutter. Besides…who doesn't love some Rice Krispies treats, right?
Belle's Enchanted Roses
Belle's Enchanted Roses (Rose shaped chocolate lollipops from Candied Cakes). These are also a quick DIY with this rose candy mold.
Rapunzel's Braids
Rapunzel's Braids (Mini Churros). This was one of my favorite party "cheats". I totally drove through Taco Bell on my way to set up the party and bought their cinnamon twists. Easy, inexpensive and delicious!
Ariel's Dinglehoppers
Ariel's Dinglehoppers (with Strawberry Vanilla Fudge from Jewel of the Lion with mini forks). Delectable and colored to match Ariel's style, these little squares of fudge were DELICIOUS!
Snow White Poison Apples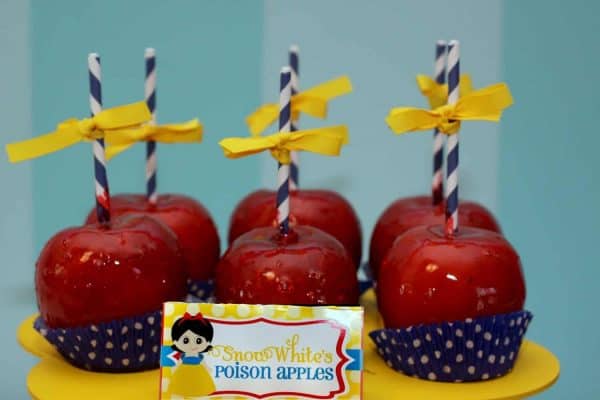 Snow White's Poisoned Apples (Candied Apples) I have a tutorial for these candied apples. They are pretty simple to make and showcase Snow White to perfection!
Princess Portrait Sugar Cookies
Sugar Cookies with each princess' portrait from SweetArts Sweets). These fantastic cookies were made to match my Princess Party Printables and were one of my favorite details of the whole party! Each cookie showcased a different princess' face.
True Love's Kissing Booth
We also had a True Love's Kissing Booth full of several different Hershey's kisses. (For the record, the caramel kisses are AH-MAZ-ING!!) The kids thought this was silly and fun! They loved giving away "kisses"!
Princess Cake
Chocolate Cake topped with Adorable Fondant Letters from Edible Details. These were absolutely fantastic. (The day after the party, my 2 year old actually got a hold of the "B" and I found her covered with pink fondant….all over her face. It was quite funny!)
Here is my birthday girl oohing and ahhing over her cake!
Princess Drinks
To drink, we set up Snow White's wishing well full of brightly colored sodas and water and of course some yummy princess lemonade.
I have a recipe for this Easy Peasy Lemonade Squeezy…it's ALWAYS a favorite at every party and I get asked for this recipe over and over!!
Additional Food Ideas:
Other food included:
Belle's teapots (teapot/cup shaped fruit slices)
Rapunzel's paint buckets (ranch cups with veggies)
Cinderella's Fairy Godmother Wands (fruit kebabs)
Aurora's crowns (crown shaped cucumber sandwiches
Ariel's fish (fish shaped tuna sandwiches)
Tiana's frogs (frog shaped peanut butter and honey sandwiches).
Princess Party Decorations
Don't worry…the party wasn't ALL food! We also had tons of party decorations and a bunch of princess games and activities. Here is the fun welcome wreath that greeted our guests as the entered the castle!
Ariel's Treasure Trove was set up for gifts. I used Aubrey's Disney Princess Animator Dolls to help display the different stations around the party.
We also built an entry way castle facade to match the large play castle we set up in the back yard. It was great for setting the tone of the party. Check out the DIY castle tutorial.
The party food table was set up like a stage. My baby wanted it to feel like the royal theatre in Disneyland. We draped pink fabric like a stage curtain on the wall and had a giant storybook in the center.
Whew…it was tons of fun for all.
Princess Party Tableware
If you want a quick and easy way to start your party planning, I recommend this sweet and pretty princess decor and tableware set from Amazon.
Here are some other options for AMAZING Princess tableware:
Princess Party Tableware and Decor from Daydream Society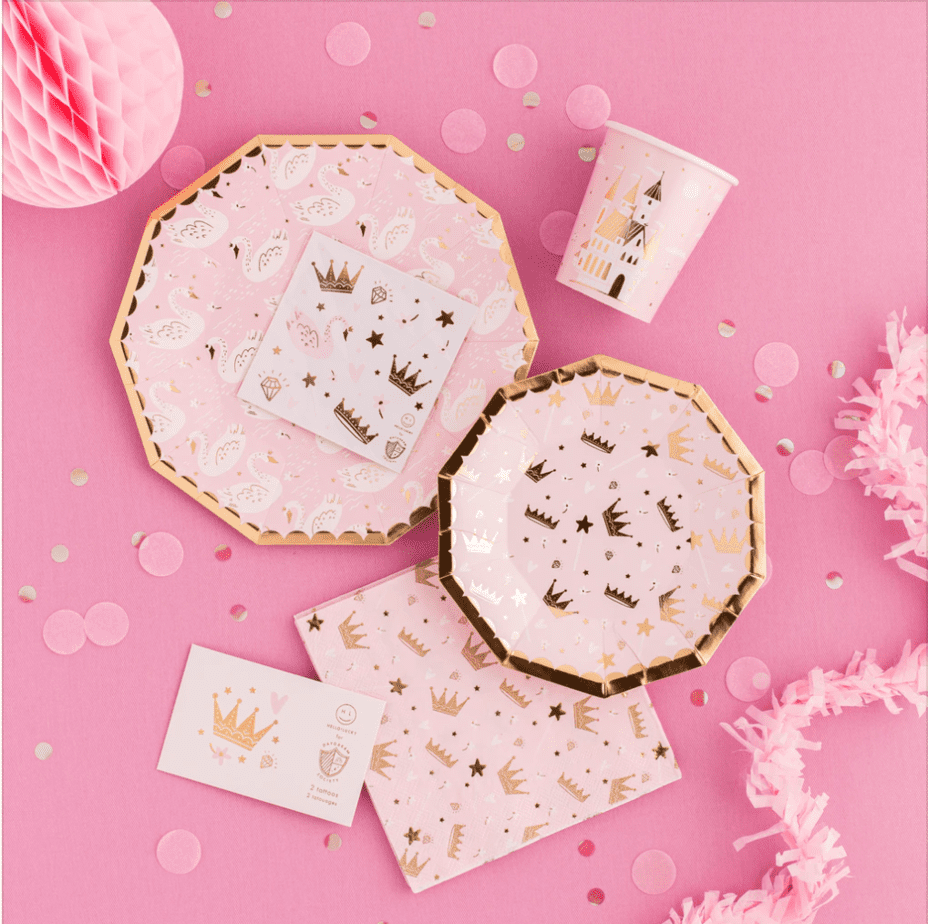 Princess Party Tableware and Decor from Meri Meri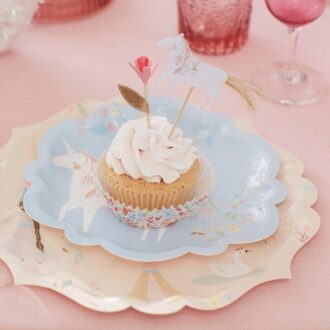 Here are some helpful links for throwing a Princess Party:
If you love this party, pin this image to your princess Pinterest board:
Click to check out all the princess themed activities included in this epic princess party!!!
Vendors:
Printable Designs, Party Styling and Food: Mimi's Dollhouse
Fondant Letters and Cinderella Glass Slipper Fondant Toppers: Edible Details
Princess Cookies: SweetArts Sweets
Cinderella and Aurora Dress-up Aprons and Bows: Ross and Rosie
Lily Pad Fondant Toppers: LesPopSweets
Lollipop Roses: Candied Cakes
Fudge: Jewel of the Lion
Wanna throw a Princess Party?
The Printable Storybook Princess Party Collection is available for purchase in my shop:
RELATED POSTS FOR PRINCESS IDEAS FOR GIRLS:
THANK YOU FOR READING OUR Disney PRINCESS PARTY IDEAS!