Frozen Birthday Party: Olaf themed Frozen Birthday. Do you want to build a snowman? If you have a little cutie who is obsessed with Frozen, why not throw a Olaf themed birthday party? This party is full of fun and easy DIY ideas for a Frozen birthday party.
Looking for more Frozen birthday supplies and ideas? Be sure to also check out these Olaf Oreo pops, this Princess Party, this princess birthday party and this Winter Wonderland party.
Want to throw a Frozen birthday party? Check out our Frozen Princess printables and our Snowflake Printables (used in this party!) at the bottom of the post.
When we first saw Frozen, we immediately fell in love with the characters. I swear some one from Disney was following my little Emma around and taking notes when they created the character of little Anna. "The sky's awake, so I'm awake…" classic Emma!!! After the movie, she ran around singing "Do you wanna build a snowman…" to ANYONE who would listen. She even busted out in song for Anna and Elsa when we went to Disneyland. To say that Frozen was the perfect theme for her birthday is putting it mildly!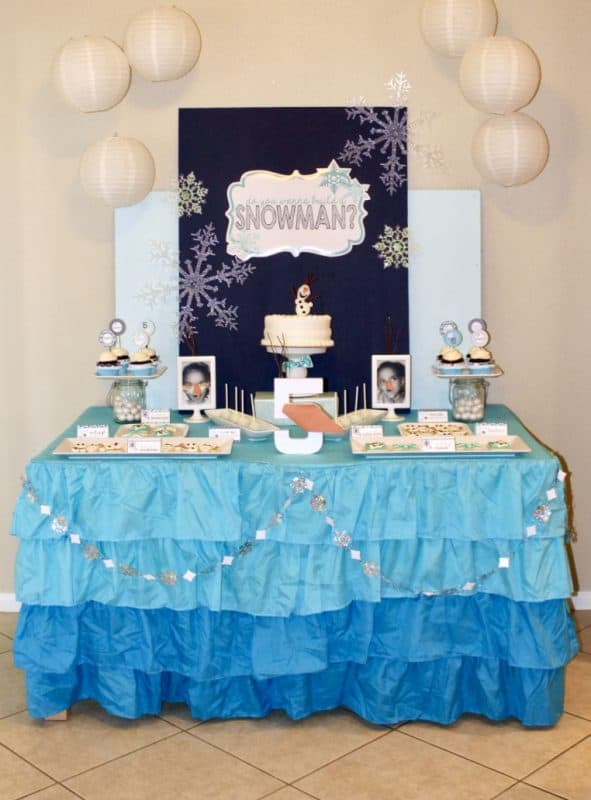 When we set out to do a Frozen birthday party…we didn't want to focus too much on the actual princesses. Having done several princess parties over the years, and knowing my little one's love of all things blue and aversion to pink, the idea of an Olaf themed birthday party was born. We decorated with white and silver snowflakes and pretty blues and then of course the main focus was adorable (and often edible) Olafs!!!
One of the party activities was to dress like Olaf. The little girls had paper plate masks (paper plates cut in half with ribbon tied around the back. We cut holes for eyes and they glued orange cardstock for noses and brown cardstock for wooden hair. Using a black marker, they drew on eyebrow…instant Olaf!!!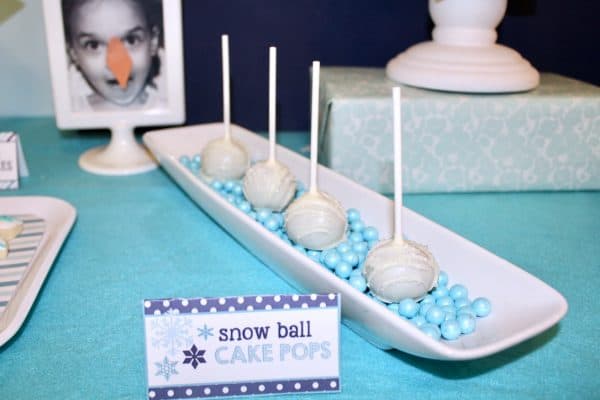 We of course had some of the Frozen party classics, like snowball cake pops and melted snow (aka water!) We had fun and adorable Olaf cookies. You can purchase similar Olaf cookies from Shop Cookie Couture. Everything was Olaf centered or pretty teals and blues. So much fun!!
Another fun frozen party activity was "snow-doh" aka white playdoh that they girls couls build snowmen with. We also had Olaf "pieces" cookies that could be put together to build Olaf. You can purchase similar cookies from Painted Cookie.
One activity they all loved was pin the nose on Olaf. I made a simple Olaf cut out out of foam board and cardstock. You can also achieve the same idea using a peel and stick Olaf. The girls took turns being blindfolded and trying to stick Olaf's nose in place. Pin the tail type games are one of my favorite go to party games (see pin the banana on the monkey, pin the kiss on the frog).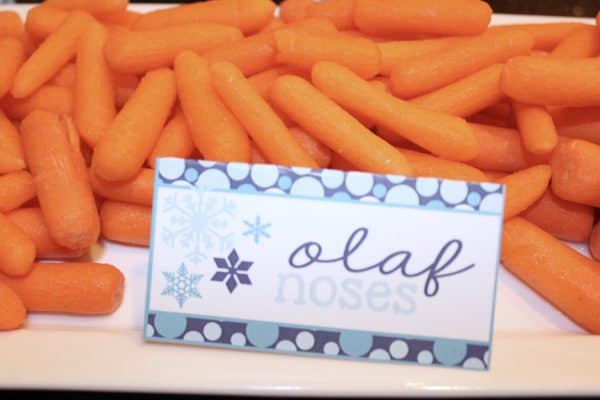 The kids also had a snowball fight in the yard with plush snowballs. This was probably their favorite activity. There is just something about chucking snowballs (even pretend snow) at your closest friends!!
The party favors were "build your own snowman" kits. Little cellophane bags with jumbo marshmallows, pretzel sticks and a orange tic-tac. Easy, inexpensive and fun!
The Anna and Elsa dresses are some of my favorites ever. My girls have rocked these comfortable and machine washable princess dresses (along with several other designs) from Lover Dovers to Disneyland countless times. They are adorable and always get tons of compliments. For Emma's party, she wore Anna and her big sister wore Elsa…perfection!!!
I also Olaf-ed a kraft letter "5" for her dessert table. So much fun to make everything look like Olaf. We did the same thing with picture frames of black and white photos of Emma. She was displayed looking like Olaf all over the party!!
Here is a close up of the welcome wreath I made using the Snowflake printables. For the backdrop, I had one of the printables blown up onto a poster. The cake was a simple chocolate round cake (with white frosting filling, iced white with a fondant Olaf on top. You can purchase a similar Olaf from Carolina Cake Topper.
Another activity for the party, like the favor bags, the kids were able to build snowmen using marshmallows. So fun!!!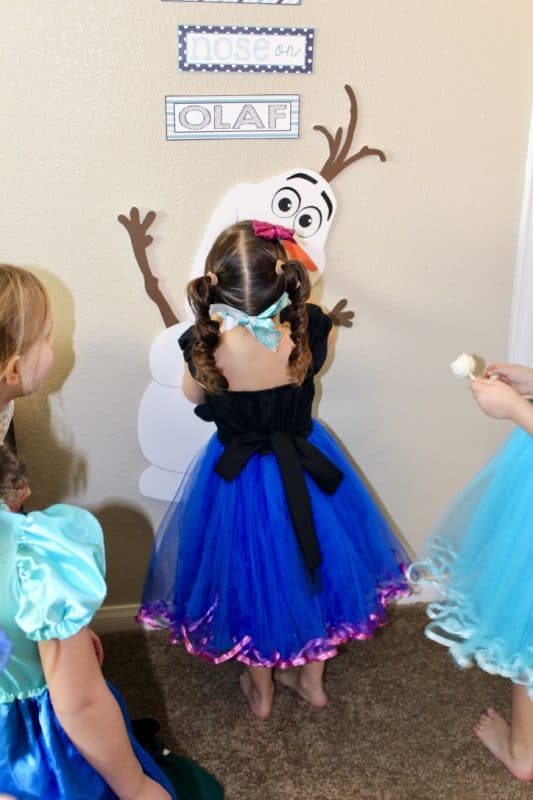 We had some healthy themed snacks including Olaf's noses (baby carrots), Hans and Anna's sandwiches, Sven's antlers (pretzels) and frozen lemonade along with the sweets.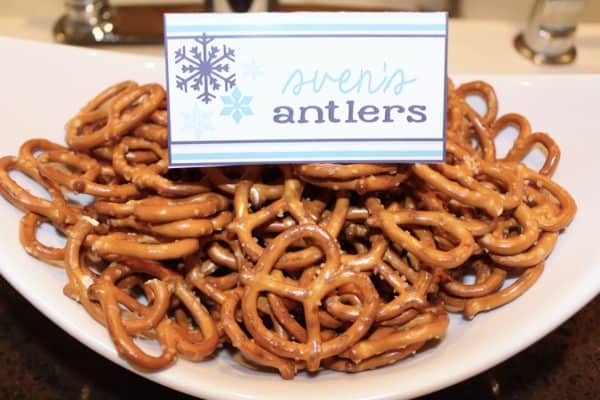 Using paint and foam, we turned our dining room table into an ice castle so the girls could read frozen books in the ice castle.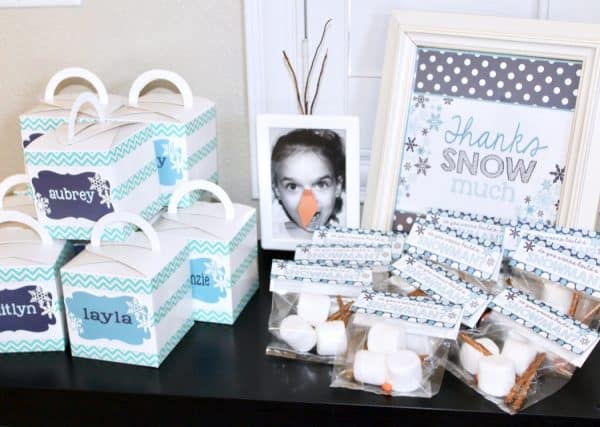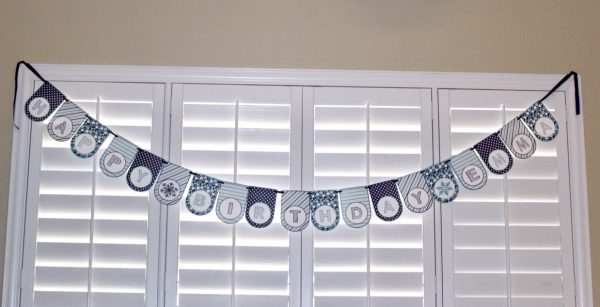 Thanks SNOW much for checking out my party!! We had such a wonderful time building snowmen and doing all sorts of Frozen-y things. I hope this party inspires you to throw a Frozen party of your own!!
Here are some helpful links for throwing a Frozen birthday party:
Looking for more Frozen birthday supplies and ideas? Be sure to also check out these Olaf Oreo pops, this Princess Party, this princess birthday party and this Winter Wonderland party.
Want to throw a Frozen birthday party? Check out our Frozen Princess printables and our Snowflake Printables (used in this party!)

If you love this Frozen party, pin this image to your Birthday Pinterest board: