Ideas for Frozen Parties, Desserts and Crafts!
Want some awesome Frozen Party Ideas? Looking for the perfect party theme for your princess or Frozen loving kiddo? Kick your Frozen party off in style with some of the best, most creative and SUPER adorable Frozen desserts, crafts and so much more!!
Be sure to also check out this Olaf themed party and these adorable Olaf Oreo Pops!
So unless you have been living under a rock for the past several years, you have no doubt encountered the phenomenon that is Frozen! If you have Frozen obsessed kids…you may be over the sound of Elsa's voice, but you definitely need to explore the awesomeness that are Frozen Parties!
Throwing a FROZEN THEMED PARTY?
☑️ This
Frozen Party Kit
is the perfect set to get your party planning headed in the right direction!
Whether you are a DIYer with a blackbelt in Hot Glue or just a mama with a love for all things themed, these ideas are sure to inspire your creative juices and get you in the snowman building mood.
Check them out…
Frozen Parties
You might think that a Frozen party theme comes one size fits all. Snow flakes, silver and blue. Done. Well, sure…that's the most popular approach, however if you crave a little off-the-beaten-path design, we have some of those options to share as well!
Frozen Fever Party on Catch my Party
Does your little Anna or Elsa have a spring birthday? Consider styling a Frozen Fever party with beautiful sunflowers and bright colors!
Frozen Party from Bird's Party
So not only is this party set-up absolutely gorgeous, but that Elsa doll cake is sure to make any little girl smile! I love the glitter and the bright colors.
Frozen Dessert Table from Glorious Treats
Simple ribbon garland for the win with this fun and budget friendly frozen party. Who says you need to spend an arm and a leg? Especially if you can time your party purchases with those killer after Christmas decor sales!
Olaf Themed Birthday Party from Mimi's Dollhouse
So maybe I'm partial to this party, since I styled it for my favorite five year old princess, but highlighting everyone's favorite snowman is definitely a great twist on a Frozen party. It also helps make the party more appealing to little boys!!
Frozen Party on Catch My Party
This delicious looking spread mixes some frozen classics in with some yummy, healthy fruit treats. It's always a good plan to add some healthy options to your treat table.
Frozen Party from Kara's Party Ideas
Aren't these Anna and Elsa cookies just to die for? This simple, yet super amazing set-up incorporates just the right amount of character and class. I love the giant tissue honeycombs!
Frozen Birthday Party from Inspired by This
Purple is just a perfect accent color for a frozen party. If you are looking to bump up the wow factor on your blue and silver glittery wonderland….look no further than purple!
Frozen Party on Evite
Glitter banners and ribbon garlands, oh my! This fun and bright winter wonderland party is perfect for any little Elsa or Anna.
Frozen Party from Kristen Duke
Want to have a traditional candy buffet. Frozen themed treats can include rock candy, blue peppermint sticks and so much more! I love the blue mason jars as well. Adorable!
Don't forget…If you need some amazing Frozen party ware, this set from Oriental Trading is perfection!
Frozen Food Ideas
No party would be complete without an assortment of delicious and beautifully themed food! Whether you want to bake, buy or a little of both, we have something to excite you on this list of fantabulous frozen treats!
Cotton Candy Meringues from Pink Pickadilly Pastries
Meringues are deceptively simple to make. Why not treat your guests to some delicious cotton candy flavored meringues that will match this theme to perfection?
Snow Cupcakes from Cake Journal
Whether store bought or homemade, you can dress up a simple white frosted cupcake with some sugar sprinkles and snowflake rings. From plain to adorable: Just. Like. That.
Frozen Rice Krispies from Two Sisters Crafting
Want the perfect Frozen party treat? Make some ombre Rice Krispies treats of course! I guarantee your kids will love these beauties!
Frozen Cookies from Sweet by Natalie
One of my favorite splurges is always gorgeous cookies! These adorable Frozen cookies would surely be a great focal piece for any party table. I love that happy little Olaf!
Watercolor Layer Cake by Baked by Rachel
The only thing better than a delicious birthday cake…is cutting into that birthday cake and finding fun colored layers inside. Take simple and turn it into extraordinary with a frozen colored layer cake!
Kristoff Ice blocks Jello Jigglers from Ashlee Marie
It wouldn't be a frozen party without some ice, right! Celebrate everyone's favorite ice delivery man with some fun ice block jigglers. Jello + Clever = Awesome!
Winter Wonderland Cake from Sweet Style CA
This cake is super fantastic! The mixture of textures and soft colors…I'm already in love!
Frozen Popcorn Balls from Life Made Simple Bakes
Here is another simple, kid friendly treat idea and can add some "pop" to your party. Grab some fun snowflake sprinkles and boom…amazing treat!
Healthy Frozen Snacks from Mimi's Dollhouse
Don't underestimate the power of a simple themed healthy snack. These little baby carrot "olaf noses" were one of the first plates I had to refill at this particular party! I love making healthy food fun, don't you?
Tsum Tsum Frozen Cookie Cutters from Sew Sewn Sew
So these are definitely a DIY cookie, but worth every second! Tsum Tsum's are adorable and simple. These cookies definitely would be so amazing for a frozen birthday party.
Vanilla Blackberry Cake from Sweetapolita
Another alternative to the colored layer cake, color layer the frosting. This cake is absolutely scrumptious and one of the prettiest things I ever seen. Winning on so many levels.
Marshmallow Snowflakes from Martha Stewart
Here is another easy and delicious kid friendly treat. These would be great served alone, but also as an add-in for some warm cocoa! Delicious!
Frozen Blue Cookies from Love and Marriage Blog
You can't go wrong with some fun blue cookies. Your kids will flip for these delectible cookies!
Olaf Oreo Pops from Mimi's Dollhouse
Simple and fun Oreo pops for any Olaf loving kiddo. These are super easy to make and who doesn't smile when they see Olaf's face?
Olaf Cupcakes from Wilton
This is definitely my favorite of all the Frozen treats. Make an adorable Olaf to top your Frozen cupcakes with this easy to follow tutorial! Hooray!
Frozen Themed Decorations and Activities
Once you have planned the perfect decor and food…you need some ideas to keep your guests entertained. Here are some Frozen themed party games and crafts…
DIY Frozen Hair from A Little of This, A Little of That
Dress up your little Elsas with an easy yarn braid. Make any princess feel extra special and fancy!
Pretty Paper Snowflakes from Lady Face
These are great as a craft or as party decorations! Simple and fun paper snowflakes!
Elsa Hair Tiara from Elo7
These Elsa headbands would be adorable party favors!! Simple and definitely a favor that will get used AFTER the party!
Frozen Inspired Paper Bag Tags from The Girl Inspired
Dress up your favor bags with a little personalized snowflake fun!
Paper icicles from Instructibles
I feel a frost coming on. Make some fun paper icicles for your next party.
Frozen Wands from Brilliant Little Ideas
Let your little ones "Let it Go" with some magic wands. They will love sing and waving their wands!!
I hope you loved these Frozen birthday ideas as much as I do… Have a winter blast planning your party from start to finish!
Here are some helpful links for throwing a Frozen birthday party:
Want to throw a Frozen birthday party? Check out our Frozen Princess printables and our Snowflake Printables!
If you love these Frozen Party ideas, please pin this image to your Frozen Pinterest Board: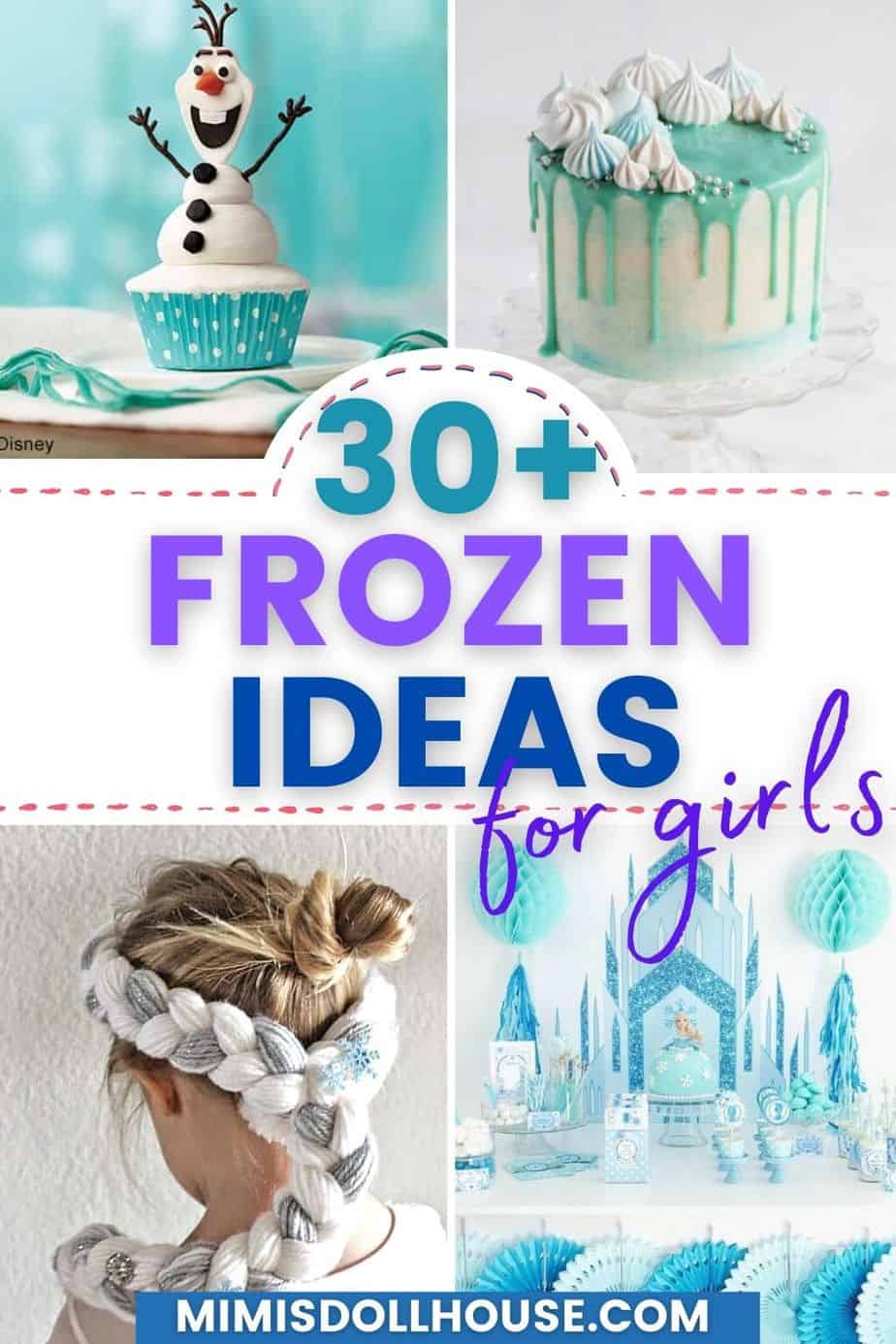 RELATED POSTS FOR Frozen BIRTHDAY PARTY IDEAS:
Thank you for reading our Frozen Party Ideas!