Princess Party Games for Royal Princesses and Brave Knights.
Want some fun princess party crafts and games to entertain your little royals? Setting up a fantastic princess party with all the themed decorations can definitely seem like a huge undertaking.
Once you have all those adorable ideas set up, what are you going to do with all those little princesses? How about some fun princess party games and activities?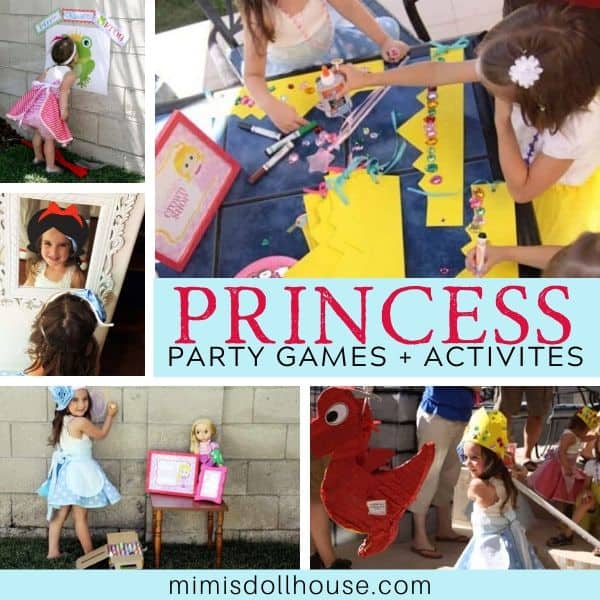 Ready for some more Princess Party Fun? I'm sharing the second part of my daughter's birthday party today (Princess Party Part 1).
Be sure to check out the Castle Tutorial, Crown Tutorial, and Storybook Tutorial that coordinate with this design. Also, check out all of my princess party ideas.
For Aubrey's party, I really wanted to make sure there were lots of things going on to keep the little princesses and princes busy and happy. Honestly, this aspect of the party was probably the most fun to plan.
Playing off the Princess Stories (like everything else in the party), I came up with activities that were specific to each princess. I'm sharing those activities today…
Throwing a PRINCESS PARTY?
☑️ This Disney Princess Party Kit is the perfect set to get your party planning headed in the right direction!

Princess Themed Party Games
Rapunzel's Art Studio:
This one was definitely one of the more popular activities. I found this awesome Sidewalk Chalk
that has 48 colors. Using the block wall around the outside of the backyard, the kiddos were able to create their own masterpieces just like Rapunzel in her tower.
They loved drawing on the wall and I caught a few parents joining in the fun too!
Tiana's Pin the Kiss on the Frog:
Just like Tiana, these little princesses did their best to kiss the frog (without becoming one themselves). I printed the frog out as a 16×20 poster and used lips stickers to let the blindfolded kiddos try to get the kiss on the mouth.
You can purchase the Kiss the Frog game pieces in my shop. Clearly, my little Emmy didn't quite understand the game…but she sure is cute kissing the frog anyway…
Snow White's Magic Mirror:
With this magic mirror…you never have to doubt if you are the fairest of them all…I cut out Snow White's hair and bow from scrapbook paper and used a little rubber cement to attach the hair to a mirror.
Easy Peasy and oh, so fun… You can purchase a printable version of this Magic Mirror game from my shop.
Let your little princesses discover that THEY are in fact the fairest of them all…
Jasmine's Jewelry Shop:
What princess party would be complete without a little jewelry? The girls had a blast trying on different necklaces and jewels.
With a mixture of costume jewelry (Charming Charlie's is a great place to find some inexpensively) and plastic necklaces and rings that they took home with them, there was plenty of bling to go around…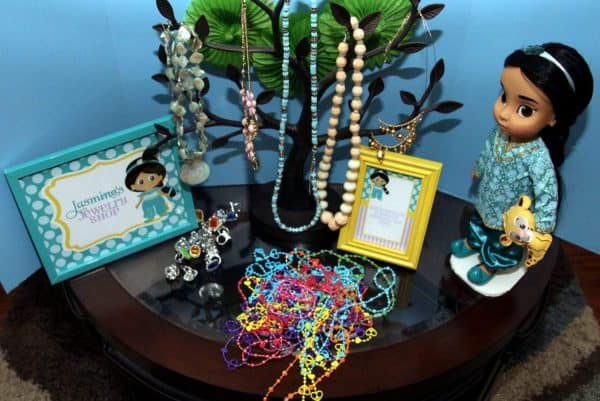 More Princess Party Crafts + Game Ideas
Cinderella's Dress Shop:
In true fairy godmother fashion, each little prince and princess visited Cinderella's Dress Shop and got outfitted like a royal. I made easy capes from t-shirts for the boys and sewed felt crowns on the back.
They also got to pick foam swords so they were ready for any dragon slaying that may come their way… The princesses got pretty tutus and wands.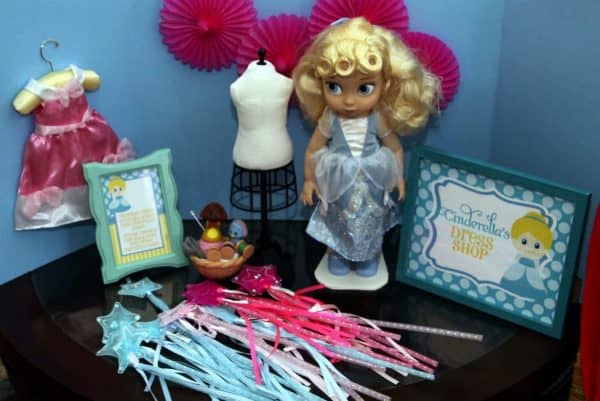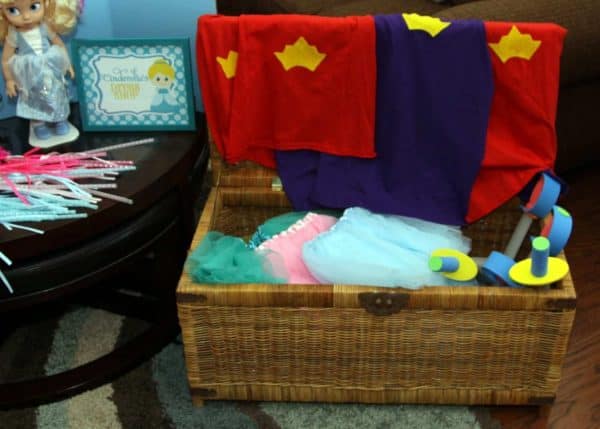 Prince Phillip's Dragon Slaying:
Speaking of Dragon Slaying…how about a fierce (ok not so fierce really) Dragon Pinata
? The kids each took a whack at the dragon as they sought to free their candy. My baby girl busted it open…I was soo proud:)
Aurora's Crown Shop:
The little royals all decorated their own crowns. (Don't forget to checkout the Crown Tutorial.) Using glue, markers and jewels, these crowns were made to complete their princess outfits.
Belle's Castle:
And of course, last, but not least….the giant foam castle (Castle Tutorial) the the kid played in:)

It was a blast…but now I need a nap:) Be sure to check out the Castle Tutorial, Crown Tutorial, and Storybook Tutorial that coordinate with this design. Also, check out all of my princess party ideas.
If you love these party ideas, please pin this image to your Party Pinterest Board:
Vendors:
Printable Designs,Party Styling and Food: Mimi's Dollhouse
Photography: Rachel K Photography
Cinderella and Aurora Dress-up Aprons and Bows: Ross and Rosie
Here are some helpful links for throwing a Princess Party:
Wanna throw a Princess Party?
The Printable Storybook Princess Party Collection is available for purchase in my shop:
Related Posts for Princess Party Games:
Thank you for reading our princess themed party game ideas!