Princess Party: Princess Crown Tutorial. Need Princess party activity ideas? Here's an easy DIY Princess Crown Tutorial Activity for your little princesses (or princes!). We also have an awesome Castle Tutorial and some Poison Candied Apple tips to share. Be sure to check out all of our princess party inspiration!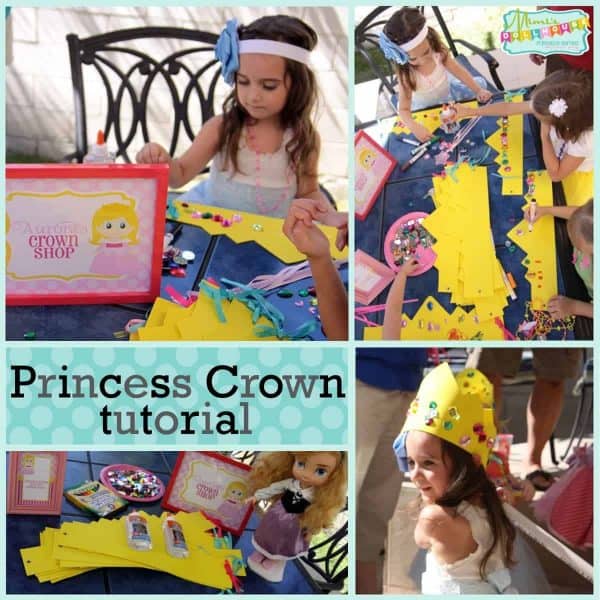 For my daughter's 4th birthday Storybook Princess Party, I really wanted to give the kids plenty of things to do and activities to keep their little royal minds a working. One of the super easy things I put together was "Aurora's Crown Shop" (That's Sleeping Beauty for all of you who don't live with small little princesses in training). In Aurora's Crown Shop, the royal guests decorated their own crowns to wear during the party festivities.
My favorite part of this princess crown activity was how serious some of them took their decorating. My two year old basically poured glue all over her's and proceeded to try to color the glue with markers:) The older girls…they were DECORATING. A little jewel here, a little heart there. It was pretty cute to watch and they had a great time.
The set up for this activity is really simple and pretty quick…
Here is the princess crown tutorial:
Materials:
Set-up Instructions:
Cut foam sheets in half long wise (like a hot dog, not a hamburger).
Cut the top of each piece of foam into a zigzag pattern so it looks like a crown
Using the eyelet pliers, punch a hole with the grommet on each end of the crown and presh to secure the grommet
Tie ribbon onto one side of the crown through the eyelet.
Princess Crown Tutorial Activity Instructions:
Have the little princesses and princes decorate their crowns with glue, markers, jewels, glitter, etc.
Once the crown dries, tie the crown around the child's head.
Easy Peasy and oh so cute! Like this princess crown tutorial? Be sure to check out all of our princess party inspiration!
Photography: Rachel K Photography
Wanna throw a Princess Party?
The Printable Storybook Princess Party Collection is available in my shop: