Princess themed Tea Party Ideas for Little Girls!
Fancy desserts, pretty dresses and a princess theme? Celebrate your little one's birthday with a fancy princess tea party that will be the talk of the town. These gorgeous ideas will inspire the fancy and proper in your party planning. Pinks, and peaches and glittery gold, oh my!
You can't spend five minutes in my home without having a princess doll, dress, movie, song or book basically shoved in your direction.
My 2 year old can spend HOURS spinning in a circle singing her princess songs (current favorite is the hair glowing song from Tangled).
It's really pretty cute:) I think they honestly believe that they ARE princesses. Then again, aren't all little girls princesses?
Throwing a PRINCESS PARTY?
Is there anything more fun than a beautiful princess party? I have a gorgeous one to share today styled by the fabulously talented Nikka from Triple M Good Parties to share with you'll today.
Looking for more princess party ideas? Check out this princess hats, this Disney inspired princess party, these princess party games, this Frozen party, these princess dress ideas and this princess crown tutorial!
I love, love, love all the details of this princess party. Take a look…
Isn't this little princess a cutie pie? I love the glittery, gold feel of this party and the subtle vintage charm!
How to Throw a Princess Tea Party
Do you want to style a perfectly detailed princess themed tea party for your little one? Let's walk through some of the basic steps to turning an ordinary princess party into a fantastic tea party.
The Princess Dress
This adorable tutu dress was handmade by Nikka for this party. But that doesn't mean you can't recreate this beauty.
Here is an easy DIY dress tutorial:
You can also purchase similar dresses
here
. If a tutu dress isn't your style, you can also use any pretty party dress that matches the color scheme you are using. Pretty peaches, pastel pinks and creamy whites are great choices.
Related: Amazing Disney Princess Dresses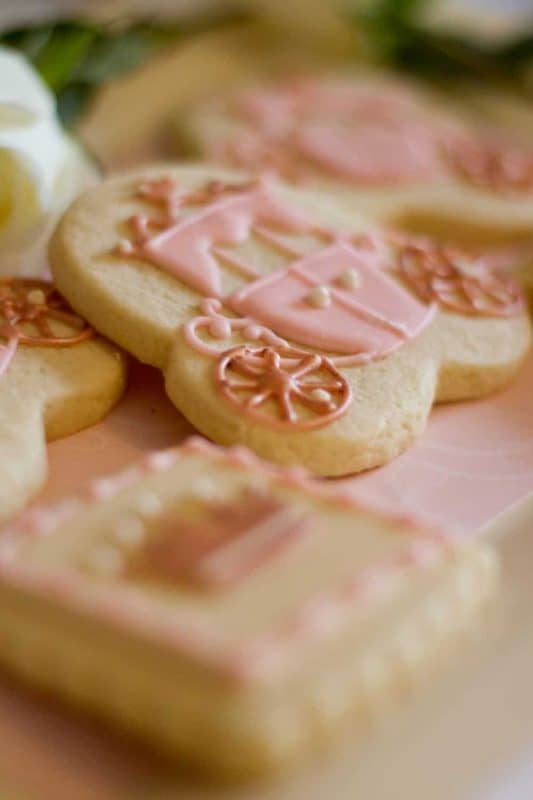 Tea Party Desserts
Fancy desserts can elevate any event from ordinary to extra special. These don't have to always be an assortment of expensive treats though. Simple royal iced star cookie wands like these below can easily be made at home with the right tools.
There are also many beautiful cookies you can buy to compliment your tea party feel. like these beauties from That's One Crafty Cookie.
A beautiful cake and simple lovely cupcakes are always wonderful ideas. Using a shaped pastry tip, you can make a gorgeous rosette cake, like this one above with a little patience and a steady hand.
Those same tips can ice pretty flowers onto simple homemade or store bought cupcakes.
Here's what Nikka had to say about this party: "I created this adorable Once Upon A Time 2nd birthday for a girlfriend's daughter. She didn't want the party to focus on one princess, but instead focus on the magical feel of being a princess.
I put a vintage touch to the party by using silver and gold glitter where ever I could. The lace and the rose cake made the party feel soft sweet and ohh so girly!"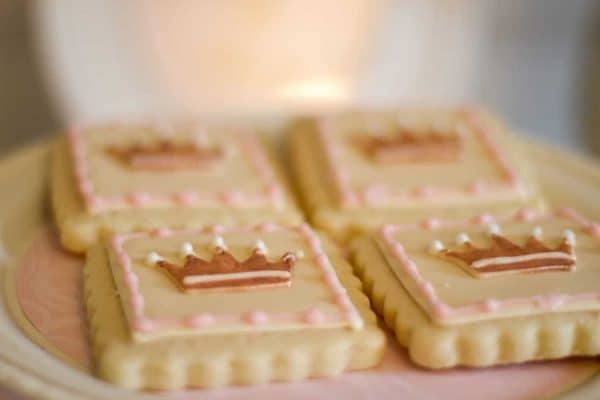 I love these beautiful cookies by The Cookie Jar. Perfection! Cake pops and truffles are always excellent ideas for a tea party dessert menu!
Tea Party Decorations
For a feminine and sophisticated tea party feel, think soft colors and lace. Glittery gold is a great way to really tie that princess party feel into your decor. This pink and gold balloon and banner set is a great start for any princess tea party set-up.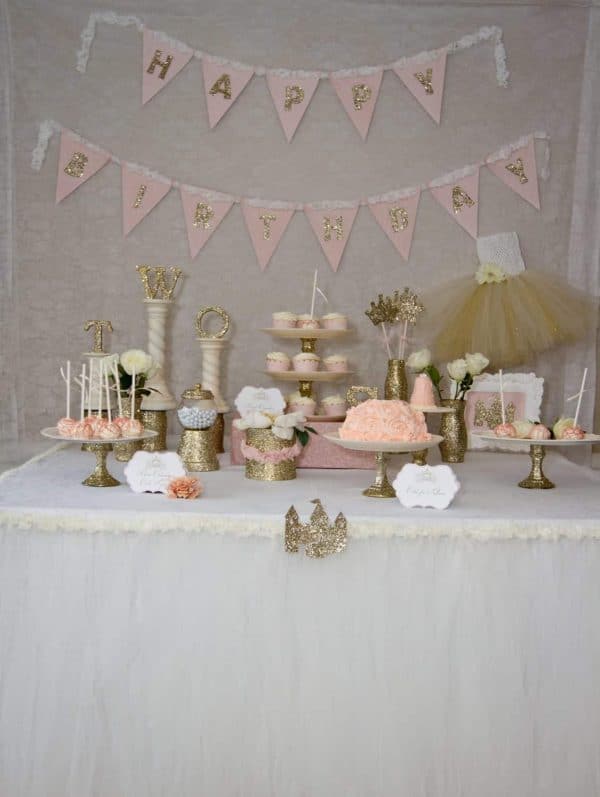 This fairytale princess partyware is hands down some of the best I've ever seen. It's fun and still very sweet.
Want to highlight the little girls age? How about some glittery gold letters? Who doesn't like using glitter glue now and then to dress up simple wooden letters?
The table cloth can be made from simple tulle hot glued to a white table cloth, or you can create a custom ruffled table cloth. We have a tutorial for making this from an inexpensive shower curtain.
Glittery and pink. It's such a beautiful combination!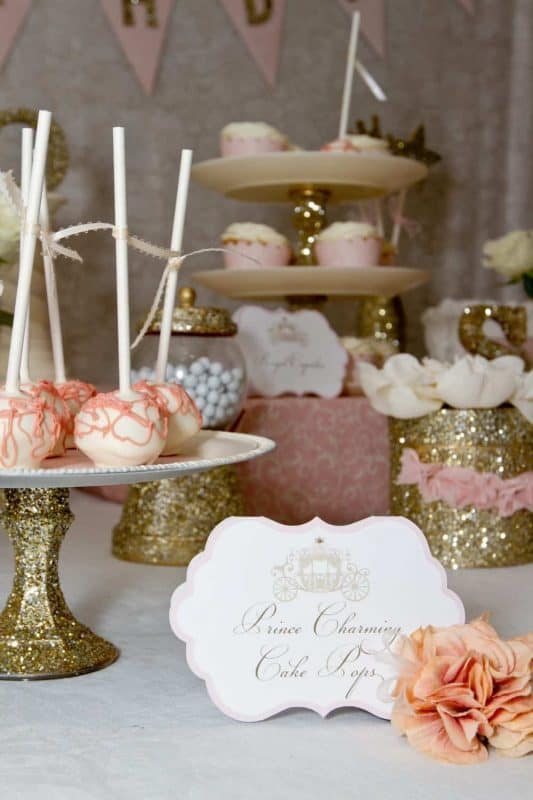 Absolutely stunning. This princess party is one of the prettiest spreads I've seen. Thank you so much for sharing. Happy Birthday Little Princess Stella.
Princess Party Tableware
If you want a quick and easy way to start your party planning, I recommend this sweet and pretty princess decor and tableware set from Amazon.
Here are some other options for AMAZING Princess tableware:
Princess Party Tableware and Decor from Daydream Society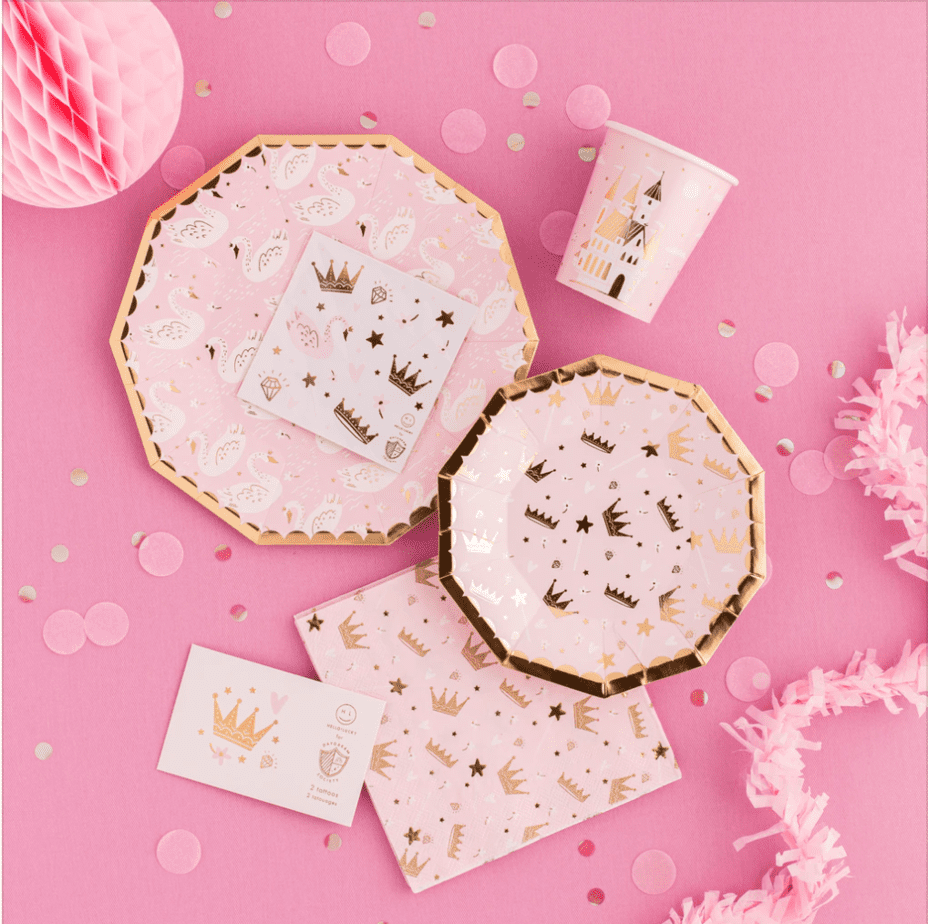 Princess Party Tableware and Decor from Meri Meri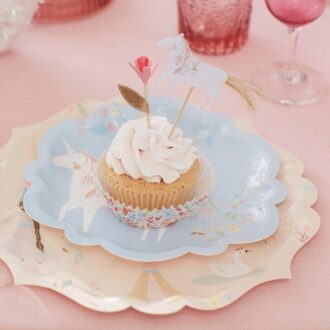 Looking for more princess party ideas? Check out this princess party, this Disney inspired princess party, these princess party games, this Frozen princess party, these princess dress ideas and this princess crown tutorial!
Here are some helpful links for throwing a princess party:
Vendors and Credits:
Party design, cupcakes, cake, cake pops, tutu, crown, stands- Triple M Good Parties
Photography- Cassie Pepper Photography
Invite and food printables- The Blue Egg Events
Cookies- Flourish Sweet Shop
If you love this party, please pin this image to your Birthday Pinterest Board:
Wanna throw a Vintage Princess Party?
The Printable Vintage Princess Party Package is available for purchase in my shop:
RELATED POSTS FOR Princess Birthay Tea IDEAS FOR GIRLS:
THANK YOU FOR READING OUR Tea Party Ideas!