Pretty princess hats for a little girl's party!
Vintage Princess Party: Tessa's Pretty Princess Party. Pretty floral and lace galore…celebrate your little princess with a beautiful princess party! Today I'm sharing a sweet and feminine princess party with amazing princess party ideas! Plus, check out this simple DIY Princess Hats tutorial!
Ready to party with some floral and lace and fun princess ideas?
Aren't princess parties a wonderful way to feel like you have been transported back to childhood? There are just so many sweet and adorable ways to dress up your party, princess style.
Maybe it's because I have two sweet little princesses, but I think magical princess parties are my favorite.
Throwing a PRINCESS PARTY?
Especially the dainty feminine kind like this adorable party I have to share today. This party is full of floral fabric and lace and sugary goodness. Watch out evil queen…here comes the princesses!!
Once upon a time a little girl named Tessa turned three…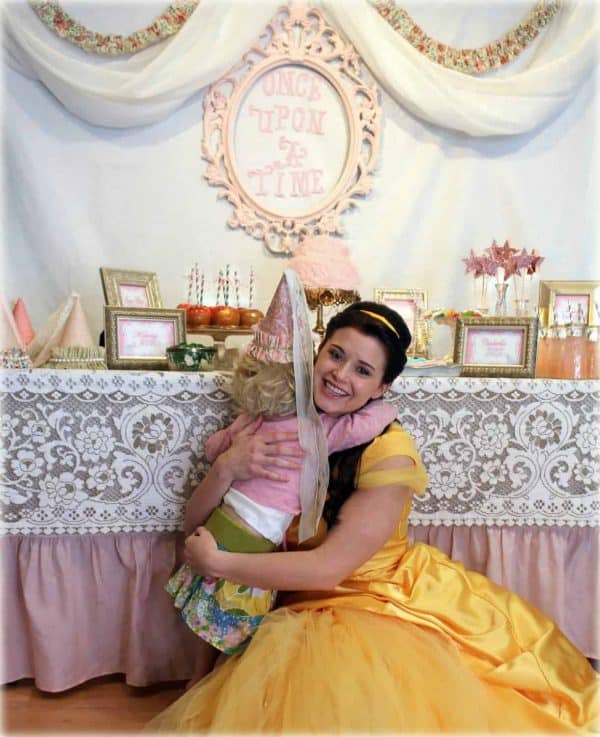 Recently, I had the honor to design printables for a Vintage Princess Party styled by the extremely talented Bridget Parry. Bridget did such an amazing job with this party…It was even featured on Amy Atlas!!!! (Check out the Pretty Princess Feature!!!)
Learn how to make these adorable fabric Princess hats at the bottom of this post!
Bridget "wanted each guest to feel like they stepped into their own fairytale that started 'Once Upon A time' and ended 'Happily Ever After.'"
This fairytale party is any little princess' dream with all the attention to detail. I especially love the use of the vintage fabric on the princess hats and garland.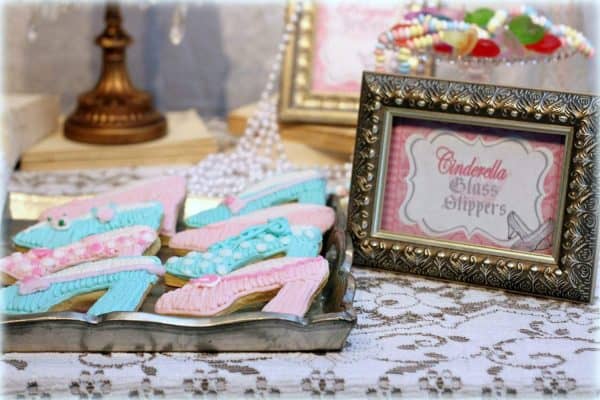 The little princesses feasted on princess peanut butter and jelly sandwiches and Cinderella cookies.
Simple sandwiches can be dressed up with paper doilies to make them fit for a princess!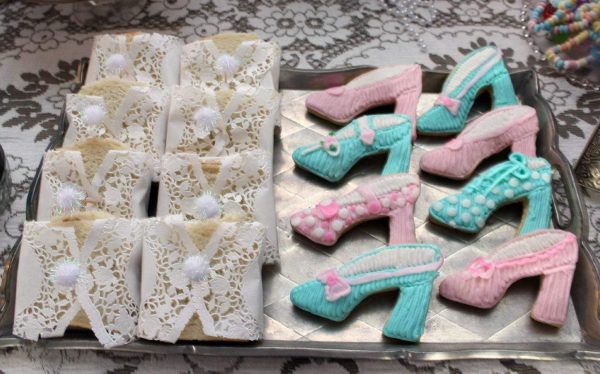 Here are some of the beautiful pictures from the party:
Cakes do NOT have to be complicated to be beautiful, as evidenced by this gorgeous cake. A simple homemade tiered cake can be covered with frosting in a "dirty iced" style.
This means it's not smooth frosting, which is great for novice bakers, because you can apply with a knife of even back of a spoon and the frosting is supposed to be "messy". Sprinkle some shaved coconut on top and you have an instantly gorgeous and simple birthday cake.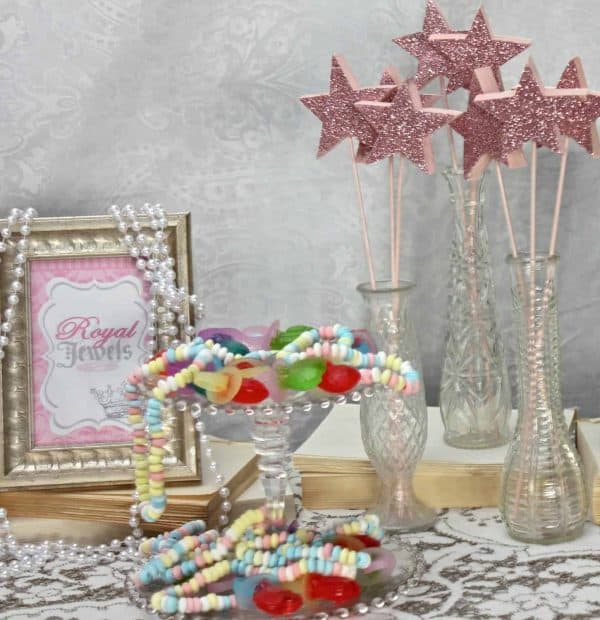 Candy jewels make great treats for a princess. They can be worn and enjoyed and are fairly inexpensive which helps to keep you party on budget!
Simple sweet pink lemonade in glass bottles with sweet paper straws in a great treat for little princesses. You can buy regular pink lemonade or use our super delicious lemonade punch recipe! It's always a hit!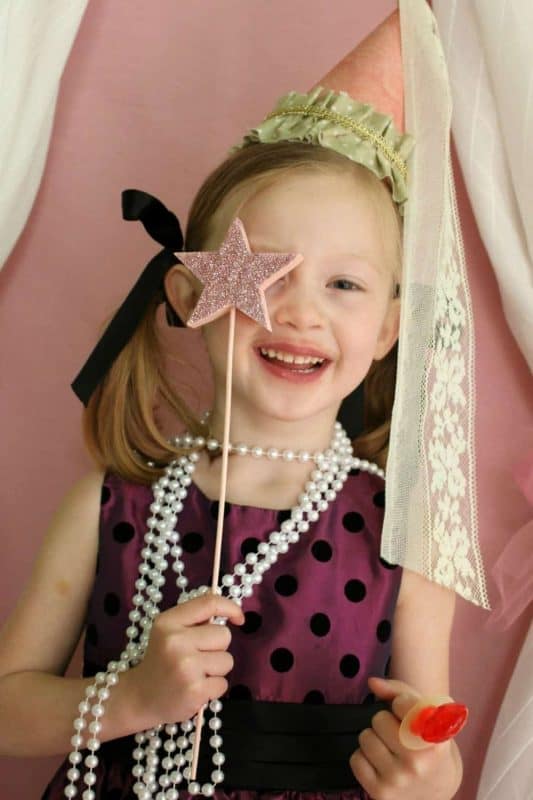 Altogether its an adorable look for an adorable princess! Simple caramel colored apples on straws are great treats for little princesses too. Also, check out our easy Snow White Candied Apples Recipe!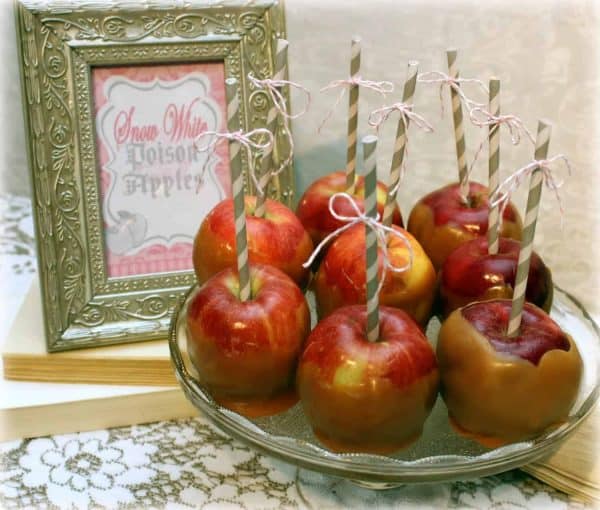 Here is the whole party table. The table skirt is easy to recreate with a lace table cloth and some pink fabric. Simple sew the fabric to the bottom of the table cloth for a layer look. We also have a tutorial for how to make a ruffled table skirt from an inexpensive shower curtain.
How to Make Fabric Princess Hats:
What to make adorable custom party hats from simple paper hats? This quick tutorial will help you recreate these gorgeous hats!
Materials:
Fabric
Hot glue
Embellishment Ribbon
Step 1:
Start with some inexpensive party hats (any design or color-since they will get covered up).
Using fabric quarters or an assortment of coordinating fabric, cover the hats with fabric and hot glue the seams and edges to hold the fabric in place.
Step 2:
Cut long strips of fabric (about 2-2.5 inches wide) and hot glue edge to the bottom of the hat. Bunch the fabric and glue as you go around the hat. You will want to glue at least every 1/2 inch to ensure the fabric stays in place.
Glue an embellishment ribbon to the top to help secure and give it a polished look.
Step 3:
Cut a long strip of lace ribbon. Tie a knot in the end larger than the whole at the top of the party hat. Pull the lace through the hole until the knot is at the top. Now your princess can wear her beautiful princess style hat!
Pretty, pretty princess and oh so fun!!
Princess Party Tableware
If you want a quick and easy way to start your party planning, I recommend this sweet and pretty princess decor and tableware set from Amazon.
Here are some other options for AMAZING Princess tableware:
Princess Party Tableware and Decor from Daydream Society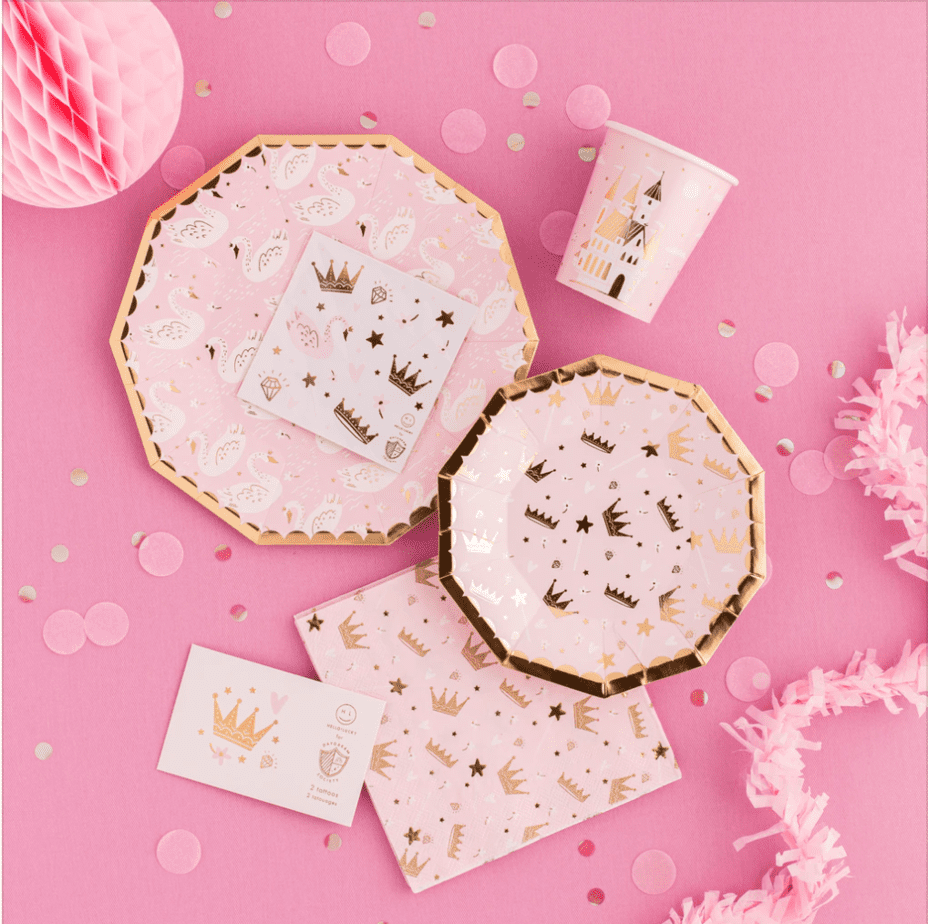 Princess Party Tableware and Decor from Meri Meri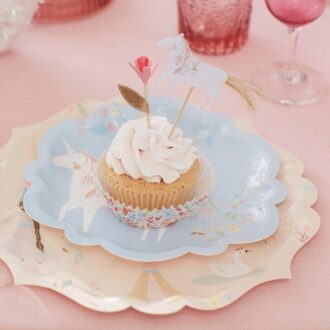 Here are some helpful links for throwing a vintage princess party:
If you love this princess party, please pin this image to your birthday Pinterest board:
You can also purchase the Vintage Princess Printables in my shop.
RELATED POSTS FOR Princess Ideas FOR GIRLS:
THANK YOU FOR READING OUR Vintage Princess Party Ideas!