Awesome ideas for St Patrick Crafts you can do with your kids!
St Paddy's Day: Crafts for St. Patrick's Day. It's your lucky day…we have some absolutely adorable St. Patrick's Day crafts that will make your holiday a blast. Whether you love shamrocks or rainbows…these crafts are perfect for some St. Patrick's day fun!!
Looking for more St. Patrick's Day parties? Be sure to also check out these Rainbow party ideas, these St. Paddy's Day treats, this St. Patrick's Day backdrop tutorial and then Shamrock shirts! We also have FREE St. Patrick's Day Printable Decorations, an awesome Lucky Charm birthday party and more fun St. Paddy's Day parties!
It's March and I have the spring bug BIG TIME!!! Spring also means St. Patrick's Day is almost here:) I dreaded St. Patrick's Day as a kid….I am soooo not into pinching!!!! You are probably thinking "Then just wear green!", right?
Getting ready for ST. PATRICK'S DAY?
☑️ Grab some awesome supplies from
Target
and get celebrating!
Well I did…sometimes subtly and sometimes overtly…it never seemed to matter. There was this one boy who ALWAYS pinched me anyway. It wasn't until much later in life that I realized it was because he liked me. In elementary school, however, it was annoying and he pinched HARD.
Now, as an adult, I love St. Patrick's Day because it is ripe with Crafting possibilities. (Not to mention the fact that I love dressing my babies up for any holiday and they both look fantastic in green!!!
It is also a great excuse for my husband to wear his lucky charms breakfast cereal t-shirt without getting grief about it from me.) There are so many super fun things to make and so many of them are very kid friendly.
Ready for some St. Patrick's Day Crafts?
St. Patrick's Day Crafts
My 2 year old has had a blast taking green hearts and decorating them with glitter to make shamrock cards for all the people she loves. These are super fun and easy.
Just cut out 4 heart from green card stock, decorate with glitter glue or scrapbooking glitter, glue to the front of a card or make a folding cards out of card stock and and using a sharpie write something clever like "I'm lucky to have you" and you have an instant card.
Simple and sweet.
St. Patrick's Day Wreath from Flamingo Toes
This fun St. Patrick's Day wreath has just the right amount of rustic burlap and colorful rainbow! So cute!!
Lucky Burlap Mantel from Landelu
Here is another burlap twist on St. Patrick's Day decorations. Lucky!
St. Patrick's Day Paint Chip Canvas from Craftaholics Anonymous
This St. Patrick's Mantel piece is super clever and absolutely perfect for St. Patrick's Day!!
Fabric Clover Art from Flamingo Toes
Here is another adorable little craft project. This is great to add a pop of holiday to your home!
St. Patrick's Day Mason Jars from This Grand Mais Fun
Who doesn't love fun painted mason jars? This St. Patrick's day craft is adorable and perfectly golden.
Shamrock Wreath from A Mom's Impression
If you have some fun fabric scraps…this is the wreath project for you! I love the fun and funky nature of this project!
Paper Shamrock fro Midwestern Mom
Here is a simple paper shamrock craft that would be the perfect addition to a card or wall decor. I love the little hearts.
St. Patrick's Day Shirt Ideas
I think my favorite part about holidays is the clothes…okay, maybe the cookies, but I also LOVE the clothes!! Especially cutesy homemade type holiday clothes. Sometimes, the more outrageous, the better!! Today, I'm sharing some awesomely festive and easy to replicate St. Patrick's Day shirt ideas…check it out!!! I'm sure you will love them too!
Eraser Shirt by Cutesy Crafts
Yeah….so I love this. It's cute and fresh looking. I love the reverse design where the color is not the shape, but the absence of shape:) This is also great, because you can let your little ones make it themselves!! This is an awesome way to dress up a plain shirt!

Ombre Shirt by Homemade Ginger
I'll admit I'm a little scared of dye! I always feel like I'm gonna screw it up or make a GIANT mess!! This, however, looks so easy I think I can handle it. And so cute!!

Lucky in Love Onesie by Emmy Lou Bee Doo
I so love this idea. It seems so simple and yet so adorable. I really like the idea of painting the design on too! Cute, cute!

Shamrock Ruffle Shirt by Polkadots on Parade
Feeling adventurous? This design is adorable, a little more complex, but yet still super adorable. The best part about this design too, is that you can pretty much use ANY fabric you find and love….I'm thinking mint damask!!! So cute!

These adorable options would be great for school or play to celebrate St. Patrick's Day!
St. Patrick's Day Party Ware
Here are some adorable options for getting your party styled on point and for less:
Rainbow Tableware from Sweet Lulu
Rainbow Balloons from Meri Meri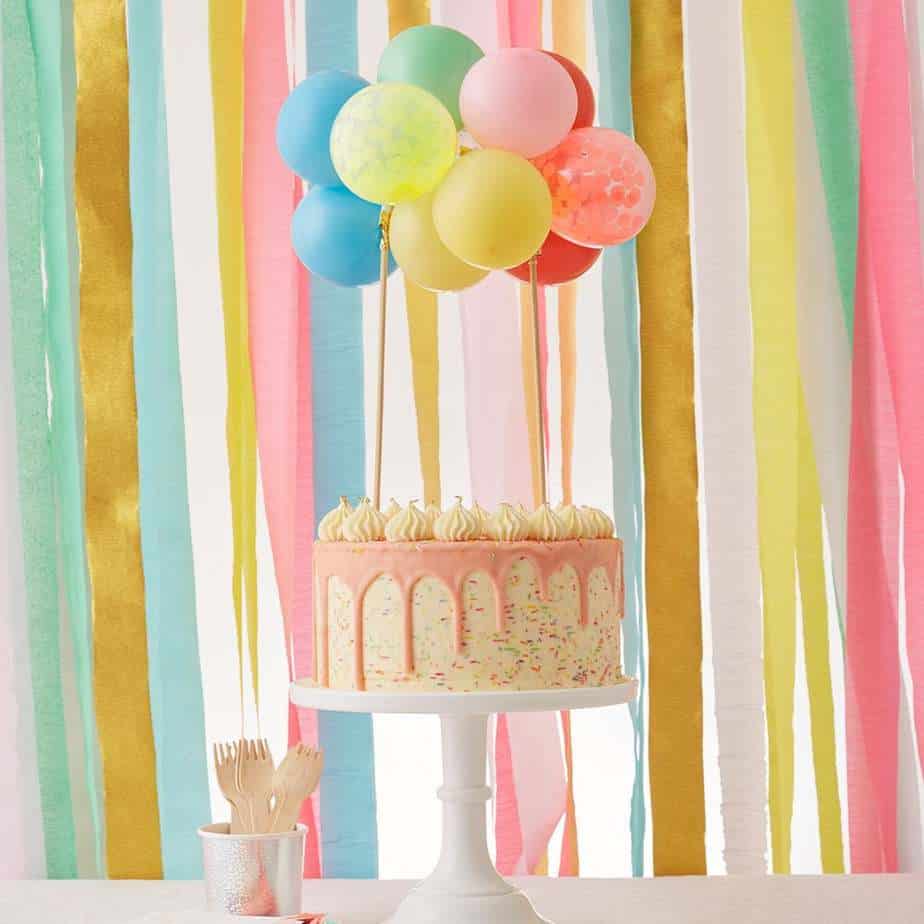 Green Striped Tableware from Sweet Lulu
Shamrock Tableware from Meri Meri
St. Patrick's Day Banners from Sweet Lulu
Here are some helpful links for crafting and decorating for St. Patrick's Day:
If you love these St. Patrick's Day crafts, please pin this image to your St. Patrick's Day Pinterest board:
RELATED POSTS FOR ST. PATRICK'S DAY Craft Ideas:
THANK YOU FOR READING ABOUT OUR St. Patrick's Day Crafts!