Looking for the perfect March birthday theme?
St. Patrick's Day Party: Lucky Charm Party. Feeling Lucky? Today I am sharing a sweet Lucky Charm party that is a great way to celebrate a little one with a March birthday! Let's talk about Shamrocks and Lucky Charms!
Looking for more St. Patrick's Day parties? Be sure to also check out these Rainbow party ideas, these St. Paddy's Day treats, this St. Patrick's Day backdrop tutorial and then Shamrock shirts! We also have FREE St. Patrick's Day Printable Decorations, and more fun St. Paddy's Day parties!
I can't believe its already time to start talking about St. Patrick's Day…I know I probably say that about EVERY holiday, but it seriously feels like time is speeding up! Crazy, right?
Getting ready for ST. PATRICK'S DAY?
☑️ Grab some awesome supplies from
Target
and get celebrating!
Today I'm sharing one of my favorite holiday birthday designs. Sometimes, that is exactly how I feel about my little Emma…she is my lucky charm and I love the sentiment of this for a birthday party. I
t's especially wonderful for your little March babies. I mean, how cute is it to have your little mister dressed up in a lime and baby blue bowtie with his little lucky charm smash cake. Just saying!!
This party was styled by Tiersha from Parties by Tiersha. Take a look…
I love the subtle-ness of this lime/light blue/gray combo. It is classy and muted, yet still playful. Cuteness! Check out this post for printing and paper recommendations and this post for help in using printables.
Tiersha made these yummy looking chocolate trifles in little plastic cups in lieu of cupcakes. I love the idea of being creative with your desserts.
While its awesome to go with the tried and true , sometimes it is fun to do a dessert that is out of the ordinary. You can still use your cupcake toppers without serving cupcakes! True story:)
I love these cute treat boxes. What a great way to send your guests home with goodies!!!
Here is a clever banner display as well…Hanging the mini banner over the happy birthday banner is nice for finishing off the table look. Honestly…I love the mini banners.
Sometimes I print 3-4 per party to accent small spaces and I LOVE, LOVE, LOVE having one available for the birthday boy or girl to hold for a cute picture.
Adorable!
Here are some helpful links for throwing a Lucky Charm Party:
Wanna throw a Lucky Charm Party?
The Printable Lucky Charm Party Collection is available for purchase in my shop:
St. Patrick's Day Party Ware
Here are some adorable options for getting your party styled on point and for less:
Rainbow Tableware from Sweet Lulu
Rainbow Balloons from Meri Meri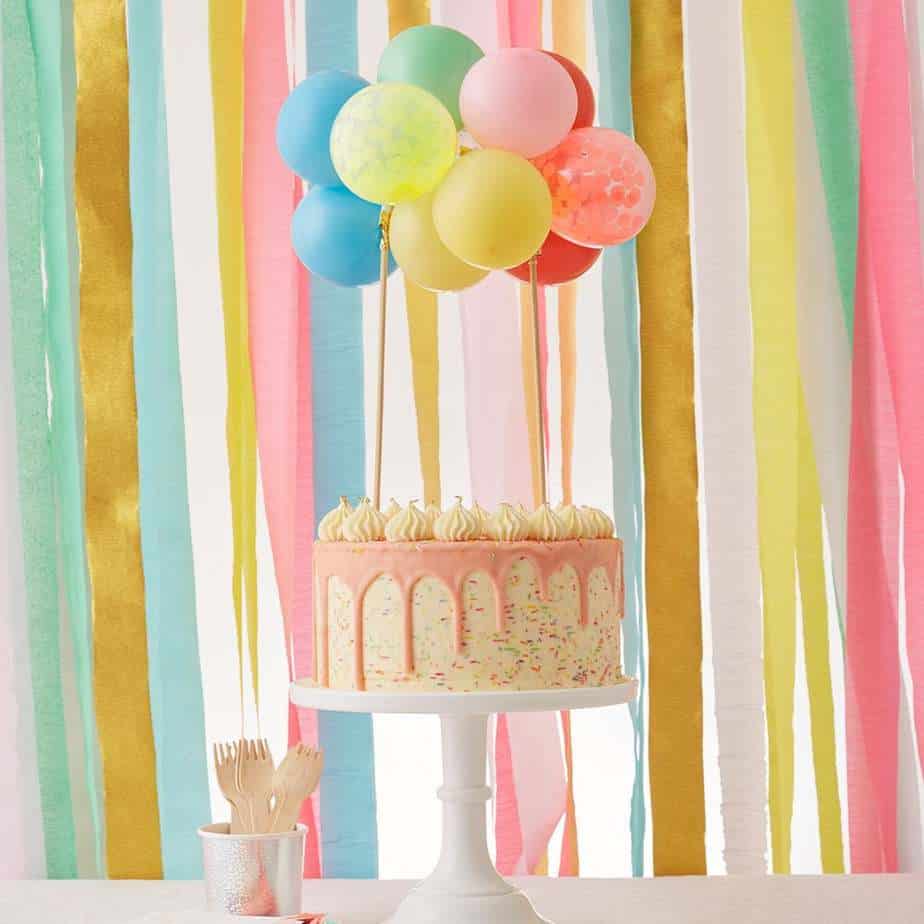 Green Striped Tableware from Sweet Lulu
Shamrock Tableware from Meri Meri
St. Patrick's Day Banners from Sweet Lulu
If you love this party, please pin this image to your birthday or holiday Pinterest board:
RELATED POSTS FOR a Lucky Charm Birthday:
THANK YOU FOR READING ABOUT OUR ST. PADDY'S DAY birthday ideas!