Let's celebrate a March birthday with a Shamrock Birthday Party!
Want a simple, elegant idea for your little St. Paddy's Day baby? Today I'm sharing this sweet Mint Shamrock Birthday Party I recently styled.
Looking for more St. Patrick's Day parties? Be sure to also check out these Rainbow party ideas, these St. Paddy's Day treats, and this St. Patrick's Day backdrop tutorial! We also have FREE St. Patrick's Day Printable Decorations, and an awesome Lucky Charm birthday party!
I LOVE the color Mint. Love it. It's my latest obsession!!! So when my sweet friend Miranda asked me to help her put together a first birthday party for her adorable little princess Eliana, I knew we had to go with the Mint!!
Getting ready for ST. PATRICK'S DAY?
☑️ Grab some awesome supplies from
Target
and get celebrating!
Mint Shamrock Birthday Party for the win!
Little Eliana was actually born on St. Patrick's Day so incorporating some St. Paddy's Day Bling into the design was perfect. We wanted to avoid the typical, cheesy holiday decor and do something simple and elegant.
So mint stripes, ruffles, and glittery gold seemed only fitting! Check it out…
I loved the contrast between the soft mint and the glittery gold. The simplicity of the design and the tablescape made a great set-up for a fun party at the park.
It was a gorgeous day (although, a little windier than you'd like as a party planner). The weather was perfect and the green grass made for a nice backdrop to the party.
Here is the sweet little thing in her party dress! Too cute!
We had homemade chocolate chip cookies, cupcakes, glazed donuts, marshmallow pops, and green fruit skewers for dessert. We also had hot dogs and polish dogs and all the fixings! It was lovely and yummy!
Looking for ideas on how to throw a party on a small budget. I'm going to share the budget breakdown for this Mint Shamrock dessert table. Only $100. Awesome, right!
I used black and white photos of Eliana throughout the party in pretty gold frames (white frames I spray painted of course) to add to the decor. I love this little bit of personalization!
This dessert table cost $100. Most of the cost was decor too, that can totally be modified if you want to bring the cost down or have things already to reuse. I'll break it down for you:
Budget Breakdown:
Table skirt- $20
Name Centerpiece- $20
Tissue Tassel Banner: $6
Printables: $30
Food: $24
Pretty easy peasy and it looks like you spend way more!
Here's the nitty gritty…
Tableskirt:
The table skirt was a white sheet and a Wrap Around Style Easy Fit Elastic Bed Ruffles
that I dyed mint green. The sheet was $5. The Ruffle was $7 and the RIT dye was $8 (1/2 tsp Rit Dye Liquid Fabric Dye, 8-Ounce, Teal
, 1 tsp Rit Powder Dye Lemon Yellow 1.125 Ounces
and a bucket of hot water).
The great part about doing skirts like this, you can re-dye them later on (as long as you are going darker) and re-use saving you cost down on your next party!
The ruffle bedskirt fits right to the edge of the table and you can use white fabric or a cheap bedsheet to cover the table top.
Centerpiece/Tissue Banner/Printables:
Cost varies on this centerpiece based on the length of the name, but this was super easy. I also used some of the spray paint from the centerpiece to refurbish some old picture frames to match the party.
Check out the easy tutorial for making this centerpiece.
I also will have a tutorial for this super easy and inexpensive tissue tassel banner backdrop soon on the blog as well!
The mint shamrock printables are available at the bottom of this post.
Food:
Chocolate chip Cookies, I homemade for $5 worth of ingredients, which is roughly the cost of a box or two, if you don't have a recipe you love. Easy and a huge hit with the kiddos.
I got a dozen cupcakes and a dozen glazed donuts from my local grocery store for $5 each. I love buying cupcakes from the grocery store because they are cheaper and easier than baking them myself!!
I made green fruit skewers from a few kiwi, a few green apples, a few kiwi and some green grapes, $6 worth of fruit.
Here's a close-up of the fruit skewers. A little tip for using apples…to keep them from browning up too fast, soak them in sprite immediately after cutting until you are ready to serve them. It helps soooo much!!
And then marshmallow pops (a jumbo marshmallow rolled in Gold Sanding Sugar
with a straw stuck in the top for $4. Easy peasy!
Here's the cute little smash cake made by Eliana's grandmother. Love it!!
It was a wonderful party! Happy Birthday Eliana. I am so glad we could be a part of your big day!
St. Patrick's Day Party Ware
Here are some adorable options for getting your party styled on point and for less:
Rainbow Tableware from Sweet Lulu
Rainbow Balloons from Meri Meri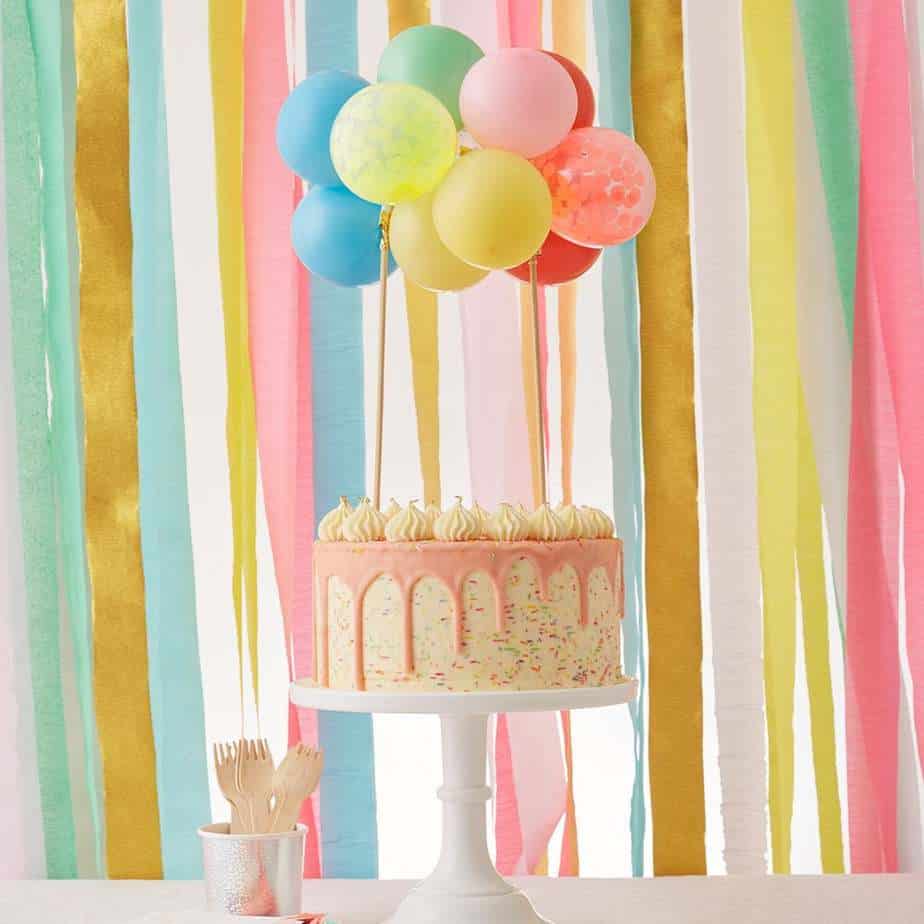 Green Striped Tableware from Sweet Lulu
Shamrock Tableware from Meri Meri
St. Patrick's Day Banners from Sweet Lulu
If you love this party, please pin this image to your Birthday Pinterest Board:
Wanna throw a Mint Shamrock Party? The Printable Mint Shamrock Party Collection is available for purchase in my shop:
Here are some helpful links for throwing a Shamrock party:
RELATED POSTS FOR ST. PATRICK'S DAY Birthday Party:
THANK YOU FOR READING ABOUT Shamrock party ideas!