Rainbow Party Ideas that kids will love.
Rainbow decorations can totally make a party! Looking for the pot of gold or just want to throw a St. Patrick's Day party that is not all green? Rainbow party ideas are amazing for birthdays, rainbow baby showers and so much more. These ideas are definitely show stoppers!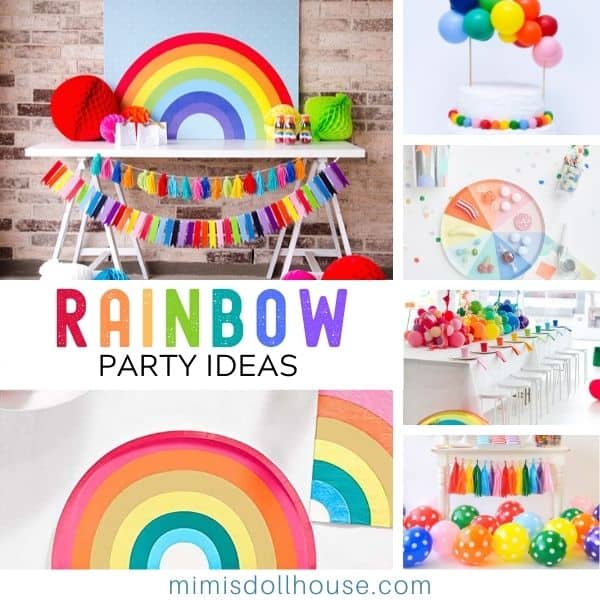 Now that Valentine's Day is behind us, I've been thinking about St. Patrick's Day decor. Ok, in truth…I was thinking about it WAY before V-day was over!!
Throwing a RAINBOW THEMED PARTY?
☑️ This
Rainbow Party Kit
is the perfect set to get your party planning headed in the right direction!
While traditional greens are sweet and fun…today I'm sharing awesome ideas for Rainbow themed St. Patrick's Day parties! Isn't the pot of gold at the end of the rainbow what its all about anyway?
Why else do you want to catch those pesky little leprechauns?
RELATED: 15 Rainbow Cakes, Cookies + Desserts
Rainbow Party Ideas
Ready to party with some beautiful rainbows? Whether you are thinking of St. Paddy's Day or birthday…I know you will love these ideas! Check out these fun Rainbow Party ideas…
Rainbow Party Snack Necklaces from Eighteen25
My little ones would LOVE this. It would definitely be a hit with all their little friends too!! So cute, and so simple!!
Rainbow Crayon Holder from SugarBee Crafts
So not only does this appeal to my OCD, but it really makes me want to throw a rainbow party! For sure!! This is so beautifully organized and utterly genius!

Rainbow Invitation from Mr. Printables
Here is an awesome and super unique invitation! Watch you guest flip for this invite!
Rainbow Blowers from Kid's Craft Room
Clever and kid friendly crafts like these are perfect for a kid-friendly party.
Rainbow Pom Headband from Sister's Suitcase
These headbands and necklaces would make great party favors for a rainbow themed birthday.
Rainbow Piñata from Target
You can literally taste the rainbow when all the candy falls out of this cute piñata! Can I get a yay?
Rainbow Party Decorations
Here are some fun ways to decorate your rainbow party:
Rainbow Party from Project Nursery
This party set-up is perfect. It's so colorful and fun. Kids would love this birthday theme!
Rainbow Arch from Oh Happy Day
Here is an adorable idea for a backdrop or photo booth. This simple and adorable balloon arch is so festive and beautiful!
Rainbow Balloon Cake Topper from Candle Cake Party Shop
Balloons for a cake topper? Yes, please. How cute is this???
Free Printable Rainbow Backdrop from Love The Day
So not only is this gorgeous…but you can download that printable backdrop for FREE! Free is awesome!
Rainbow Party Balloon Wreath from Hoosier Homemade
Here's a fun and festive Rainbow party idea…how about a cute balloon wreath. Simple and inexpensive. Sounds like a winning combination to me!!
Rainbow Garland from Juju Bees Goods
Simple, colorful and amazingly cute. I love this fun little garland!
Rainbow Party Centerpieces from Papery and Cakery
So, basically I love everything about this idea…so clean and fresh and beautiful…what a great centerpieces for a St. Patrick's day party. Yep…love it!!!

Rainbow Tablescape from Oh Happy Day
This is a wonderful table centerpiece for a rainbow party. Those balloons as a centerpiece! Genius!
I love Rainbows, don't you. They are so satisfying in there colors and organization! Perfect for St. Paddy's Day or a any birthday party!!! Click for more of our St. Patrick's Day ideas and inspiration.
Coordinating Rainbow Party Supplies
Setting up your rainbow party is made so much simpler with fun themed partyware. This helps keep you on budget and perfectly themed. Here are some amazing options…
Rainbow Tableware from Meri Meri
Color Wheel Tableware from Shop Sweet Lulu
Rainbow Plates from Parties that Pop
Rainbow Tableware from Target
Oh Happy Day Tableware from Oriental Trading
Here are some helpful links for planning a rainbow party:
Conclusion for Rainbow Party Ideas:
If you love rainbows and are looking for some colorful and bright party ideas for a rainbow themed party, you can't go wrong with these fun options. So many rainbow decorations…from Rainbow balloon garlands to rainbow piñatas…there are tons of adorable ideas you can mix and match for the perfect rainbow themed party.
If you love these ideas, please pin this image to your birthday Pinterest board:
Related posts for Rainbow Party Decorations Ideas:
Thank you for reading our rainbow decorations ideas for kids!