Amazing ideas for a Bob Ross Birthday Party!
Want to hold a Bob Ross painting party? Happy Little Painters can celebrate their birthday or any occasion painting with the one and only iconic painter!
This painting party is full of fun ideas for bringing the joy of painting to your next party using Prime Party's fabulous Bob Ross printables.*
So my kids LOVE to paint. They love doing arts and crafts and creating beautiful things. The idea of throwing a painting party has been mentioned in my home at least a million times.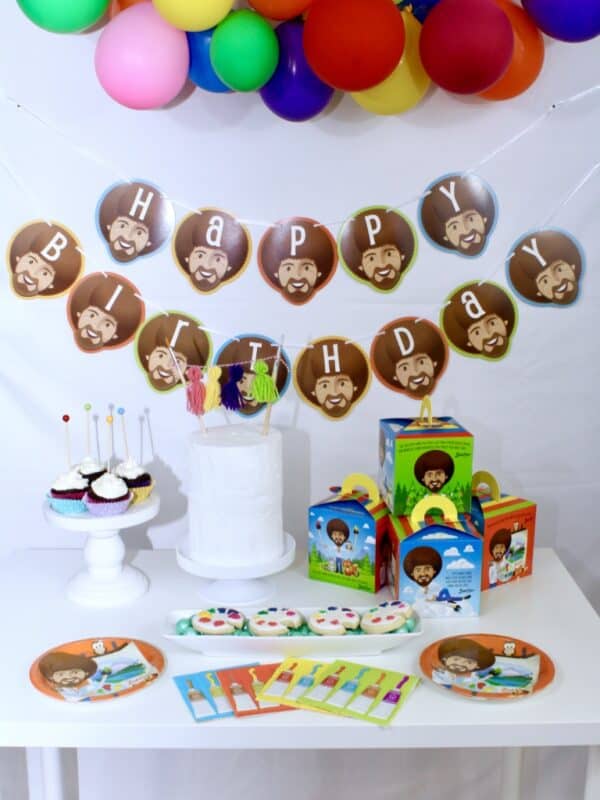 Throwing a PAINTING THEMED PARTY?
☑️ This
Bob Ross Party Kit
is the perfect set to get your party planning headed in the right direction!
Growing up, I remember watching Bob Ross with my grandmother. Whenever I would visit, she would bust out all the painting supplies and we would paint along with Bob while he created beautiful scenes of babbling brooks and gorgeous mountains.
No matter how many times we painted with Bob, he would get me every time with "let's add a line right here". I would yell at the TV "nooooo, he ruined it" as he took the dark brown paint and made a dark line down the side of the beautiful painting we were making.
And each time, Bob would surprise me by turning that ugly dark line into a gorgeous tree. Ah, good times.
Bob Ross Art Party Ideas
That love for painting and the fun that it inspires is a great way to throw a party. People love to create. There is a reason why those painting with wine places are so popular. Painting is fun.
If you have kids who love art….why not throw them a Bob Ross birthday party? If they know Bob, good job mama! If they don't, there is no better time to introduce some happy little trees into their lives!!!
Bob Ross Party Supplies
Styling an art party is super fun and so simple, if you have the right supplies. For this fun party, we used the Bob Ross and Friends Party Package from Prime Party as the focus of our design.
The package includes the basics you need for an awesome party (cups, plates, napkins, tablecloth, ec.) with a fun and kid-friendly animated Bob Ross and his bestest forest friends.
The Bob Ross Kit helps make party planning a snap.
Bob Ross Party Decorations
To accent the party tables, I used simple bright colored balloons for the wall behind the table and hung the birthday banner along with it.
I also used bring colored cupcake wrappers and yarn to decorate the simply frosted cake and cupcakes. I kept the food very simple, so the colors could come from the tableware and the painting instead.
Art Party Activities
The kids had two basic activities for this party:
The first was cupcake decorating, starting with simple white cupcakes.
Each cupcake was placed a plastic painting palette with different colored sprinkles. The kids had such a great time decorating their cupcakes. It was adorable to watch them "paint" with their food.
The second activity was painting on canvases while watching The Joy of Painting with Bob Ross. It was so fun to watch them all trying out the different techniques of the painting and seeing them laugh a their mess ups and be proud of their successes.
The Joy of Painting can be found on Amazon Prime if you would like to use it for your party.
You can even dress up like Bob Ross with this fun Bob Ross wig!
Art Party Food Ideas
I love the idea of using rainbow foods in an art party. This can be done by either making rainbow desserts, baking a rainbow birthday cake, or keeping the food white and adding the colors in with frostings and sprinkles.
We opted for the last option and made a white cake and white frosted cupcakes so the kids could add their own artistic flair to their food.
I also made adorable paint palette sugar cookies for this party. They were super easy to make and turned out so perfect. I displayed them on the table in a white dish with gumballs to make them pop.
Check out the Paint Palette Cookie Tutorial for detailed instructions on how to make these cookies.
Free Bob Ross Printables for kids
Another fun idea for a Bob Ross party (especially for those kids who might be a little too small for painting), is coloring. It's still artistic and MUCH less messy.
Prime Party has some free downloadable Bob Ross coloring pages that are PERFECT for this party theme!!
Bob Ross Painting Party Ideas
If you are planning a Bob Ross themed party for adults, you might want a design that's a little more classic. You can capture the authentic feel of a Bob Ross painting with the right party supplies as well.
Bob Ross Party Decorations
These adorable party decorations include landscape images, iconic Bob Ross quotes and images of the painter himself. I love this party design for an adult party that will focus less on brightly colored paints and more on actually creating some art work together.
This package has a very rustic feel that would definitely work perfectly paired with some wood decor. I love the idea of using mini canvases to label the food items.
Bob Ross Classic Party Package
There is even a life sized Bob Ross Cutout. Talk about a fun way to feel like you are painting with the man himself.
Painting with Bob Ross
The best part about this party theme is ACTUALLY painting with Bob Ross. You can turn the Joy of Painting on and paint right along with Bob as a group. This would make for wonderful memories and great photo ops.
Make sure you grab all the painting supplies you need (or have your painting friends byo paint):
So much fun…I know you will LOVE this party theme!!
Shop this party
Are you looking to score these adorable Bob Ross party decorations? It's so much fun for a birthday party or baby shower and there are so many options from matching aprons to Bob Ross Bingo!
Click the links below to view and purchase the products from Prime Party!
Bob Ross and Friends Party Package
Bob Ross Classic Party Package
If you love this party, please pin this image to your party Pinterest board:
Conclusion for How to throw a Bob Ross Painting Party:
If you are looking for a unique party theme for your next party or shower, you definitely need to consider a Bob Ross painting party. There are so many amazing options you can explore to have an entertaining party that will have folks talking for months!
Related posts for Art Themed Parties:
Thank you for reading our Bob Ross Birthday Party Ideas!
*This post was sponsored by Prime Party. The opinions are completely my own based on my experience.*