Throw a spectacular party with fun Construction Birthday Party Desserts & Food Ideas.
Have a little guy or gal who loves Dirt Movers and Tools? If you are going to throw a construction birthday party, you need some amazing construction birthday party desserts!
Whether you are in the market to bake, buy or DIY…we have ideas to share with you!!
Looking for Construction themed decorations and ideas? Check out this construction themed party and these construction party games.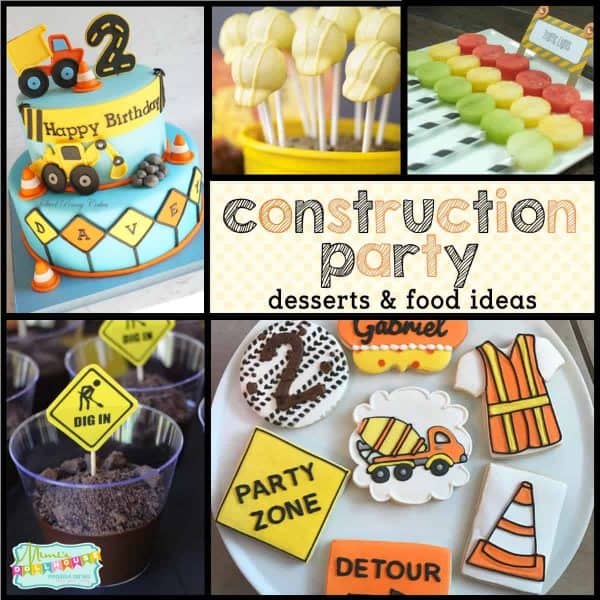 I love the way little eyes light up for tools. My little ones love helping their daddy fix things.
They get so excited about screwdrivers and hammers and nails. It's fun to watch the bonding that happens between daddy and girls as they fix things around the house.
Throwing a CONSTRUCTION THEMED PARTY?
Truth be told, my eyes light up when the items get checked off my "honey do list" too. It's that love for all things handy that makes a construction birthday party such a great theme. Of course…
Construction Party Food Ideas
Here are some delicious and crazy adorable food ideas to help you plan your construction themed party. I know you are gonna LOVE these ideas!
Desserts + Sweet Treats
Let's get started with the sweet stuff…
There are so many amazing construction party food ideas to really inspire your party and wet your appetite. Are you looking for dessert ideas that are perfectly themed? Here are some amazing ideas:
Dig in Dirt Cups from SNL parties
I love these little dirt cups. Who knew making chocolate pudding and cookie crumbles could be so cute! These would be simple and inexpensive and definitely a hit at your construction birthday party!
Drill Bit Cheetos from via Catch My Party
I love treat ideas that you just have to open and serve. These corkscrew chips make the perfect drill bits. So clever!!!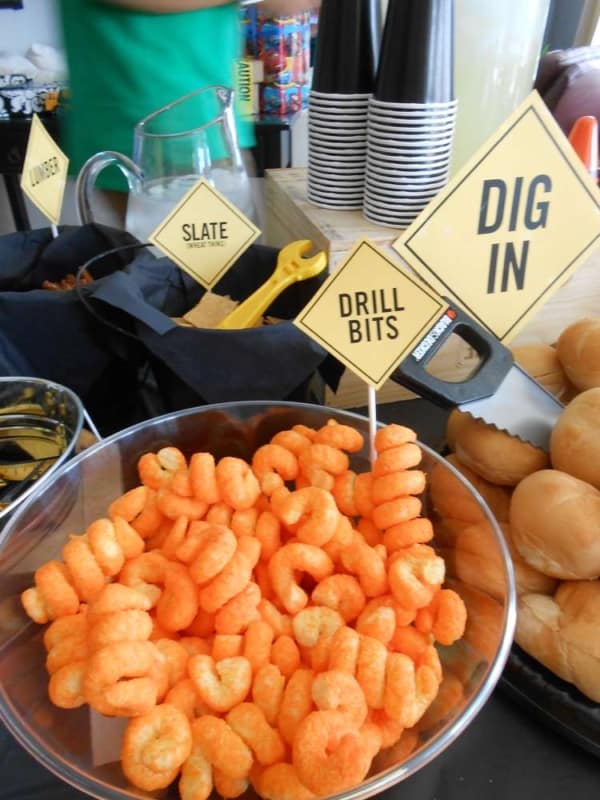 Construction Cake Fondant Set from The Polka Dot Bakery
Want a gorgeous cake without having to spend a ton of money? Did you know you can buy the fondant ready to go for a cake…all you have to do is bake the cake!!! Simple and genius.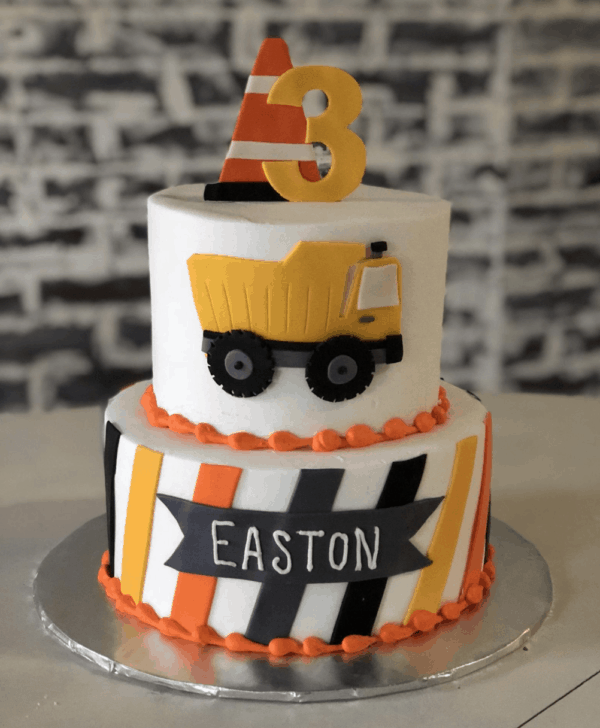 Paint Brush Rice Krispies from Hoopla Events
Rice Krispies treat that look paint brushes are the perfect tool to put on you construction themed dessert table. So cute.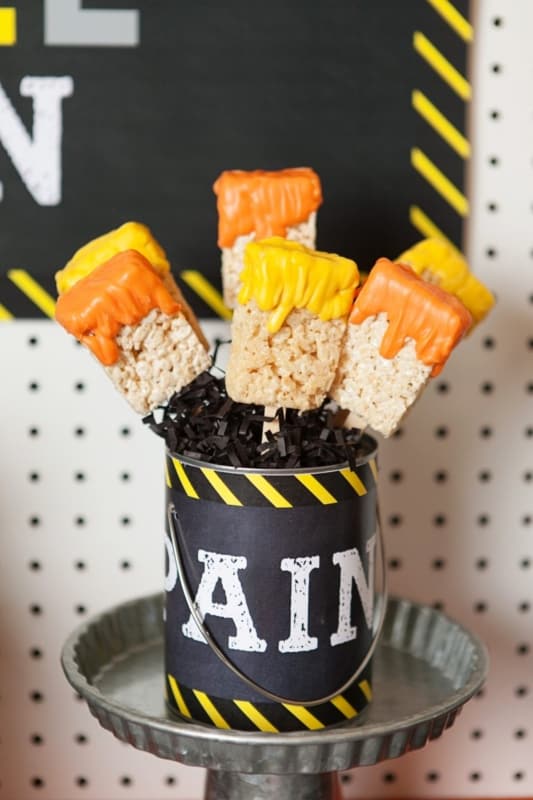 Construction Themed Fondant Cupcake Toppers from Les Pop Sweets
Here is another great option for having adorable treats if you aren't inclined to making them yourself. You can purchase fondant cupcake toppers and place them on home made or store bought cupcakes. Easy Peasy!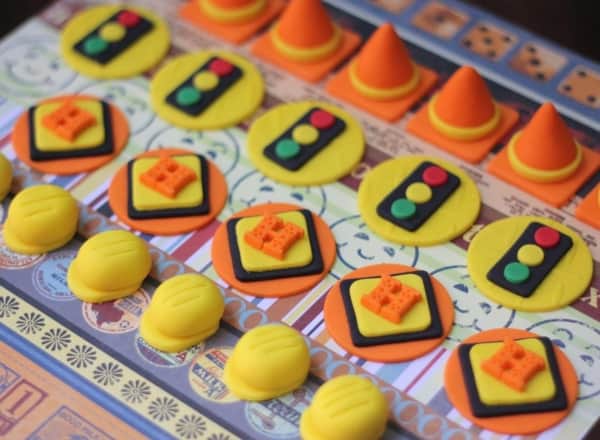 Construction Tool Sugar Cookies from Oh Sugar Events
These tool shaped cookies are perfection. I love these! The drill is my favorite!
Caution Tape Cake from Hoopla Events
I love this construction birthday party cake. Not only is the outside caution tape themed…but so is the INSIDE. It's the coolest. thing. ever.
Construction Cake from Cake Central
So, seriously…the details on this cake are too, too adorable. If I were going to to describe the perfect construction cake, I'm pretty sure I'd pick this one!! I love the name signs and the little pile of rocks. I'm dying!!!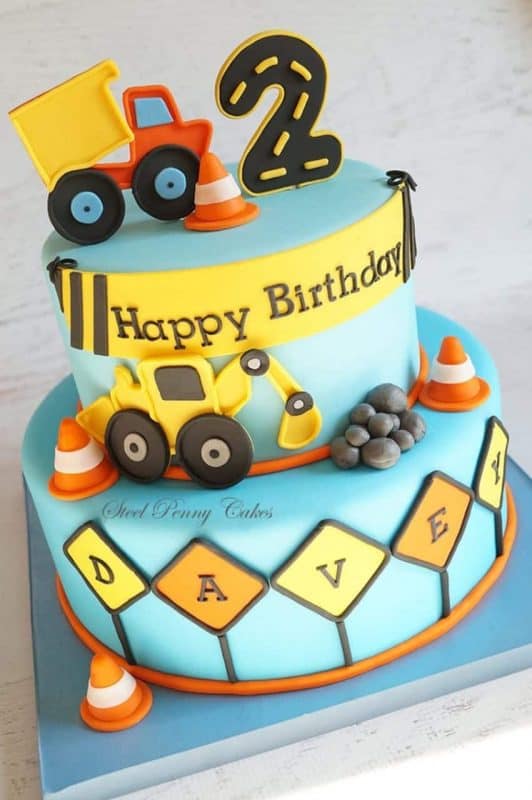 Construction Cookies by Shop Cookie Couture
Sometimes you just need to splurge on some adorable custom made cookies and call it a day. If you are like me a adore some party cookies, or don't feel your cookie decorating skills are up to snuff…you have to check out these construction cookies. ADORABLE!
Spare Tire Donuts from Celebration Lane
This. It's simple and limited prep and if your kiddo is into dump trucks…you probably already have some of these lying about. (And if you don't, you can BUY dump trucks pretty reasonably. Also, bonus…since they are toys, they double as gifts!!)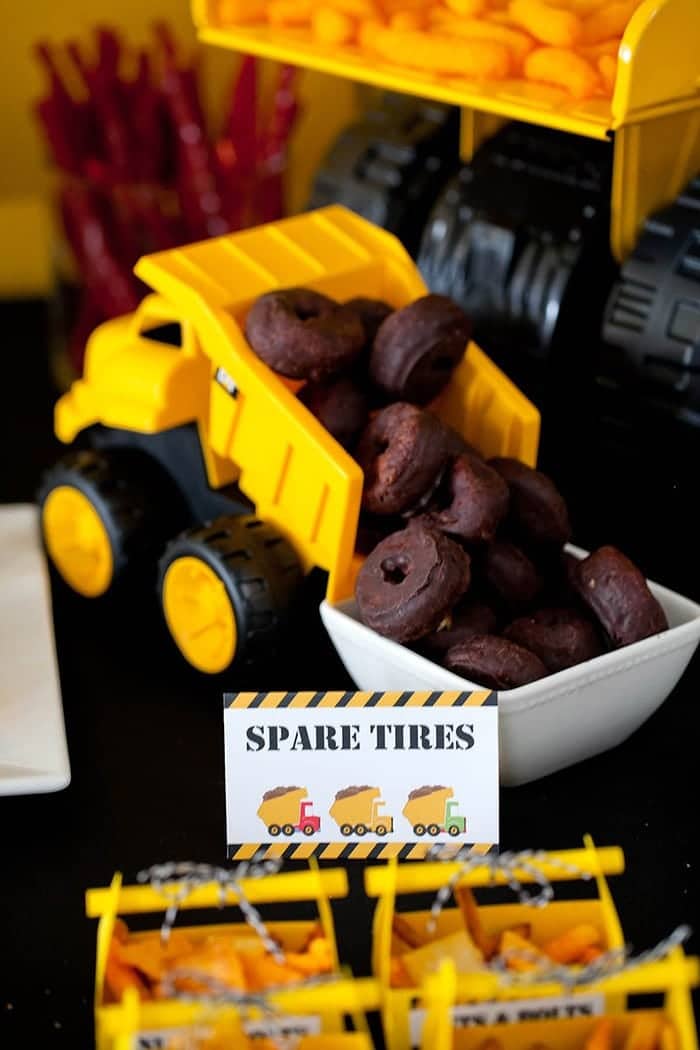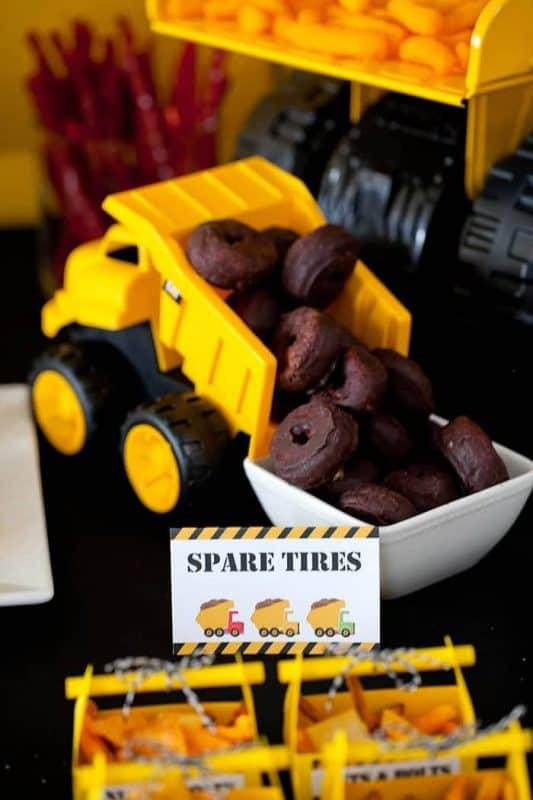 Wet Paint Brush Marshmallows from Mimi's Dollhouse
This idea is simple and yummy. What's a construction site without some wet paintbrushes? One of the easier of the construction birthday party desserts!! This is a great way to throw a little color into your party too, if you are overwhelmed with the orange and yellow!!
Construction Number Cookies from Baking in Heels
Here is another adorably awesome construction birthday party cookie option. These are fun and simple and would be a great addition to any construction party dessert table. I love the tire tread…that's my favorite detail for sure!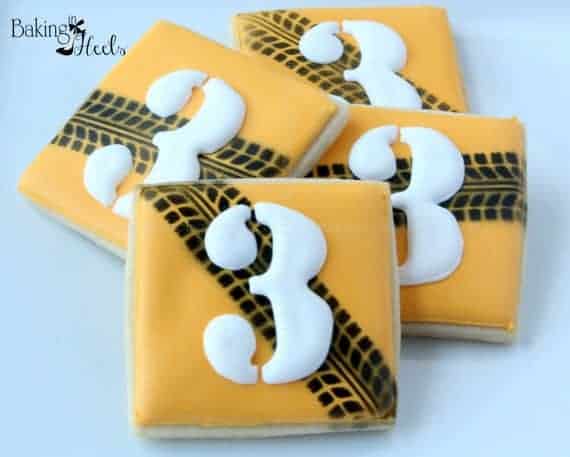 Construction Cake on Kara's Party Ideas
This is an awesome and easy cake idea! I love how the Kit Kat shell makes the cake look like it's well built and sturdy! The cookie crumbs on top give it that perfect hole of dirt feel too! Loving it!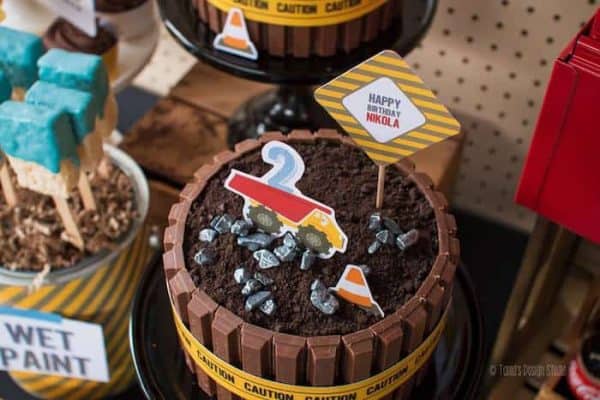 Healthy Options
Parties are not ALL about the sweets. There are also some delicious healthy and non-dessert options that can really stand out and be a hit at your party. Here are some fantastic healthier options to serve:
Traffic Lights Fruit on Kara's Party Ideas
This fun and healthy dessert alternative is as cute as it is sweet. Honeydew, Pineapple and Watermelon skewers anyone? All you need is a round cookie cutter and you are in business!!
Dump Truck Fruit via Catch My Party
If you have a dump truck…you have a display for gorgeous and delish fruit skewers. Isn't this a great idea? Fun, easy and themed!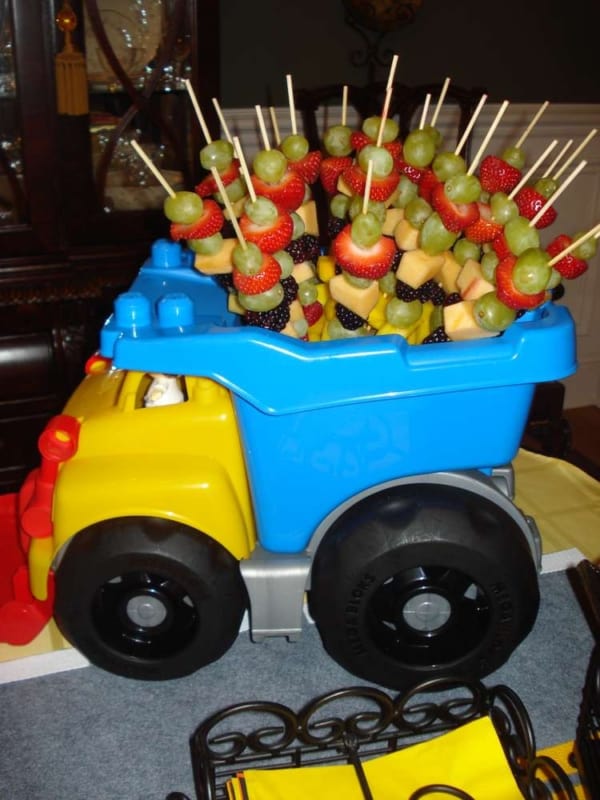 Construction Cone Carrots from Jen Spends
Carrots make the perfect construction cone treats! These little beauties are a great themed healthy snack!
Construction Party Supplies for Serving Food
When you are serving amazing food, dress them up just right with some amazing tableware and serving ideas. Food tables can be gorgeous with the right pieces.
Adorable Construction Tableware and Supplies
You definitely need the right tableware for serving food at a construction party. This set from Shop Sweet Lulu is seriously my favorite of all the Construction party ware I've seen out there… It's fun and bold and super versatile.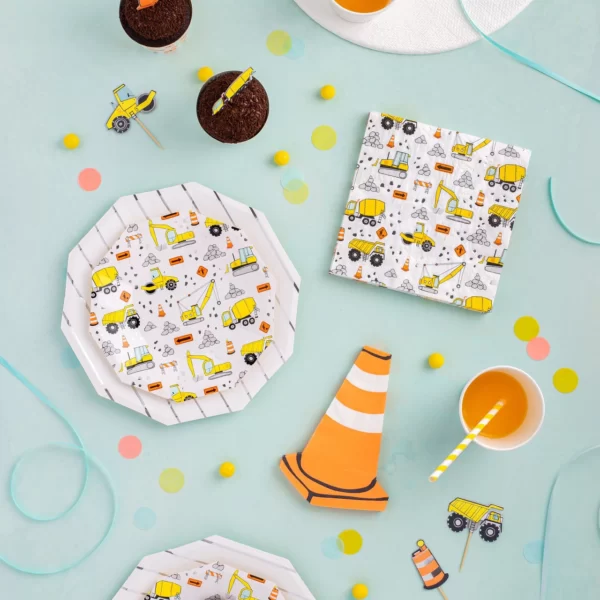 Cupcake Toppers from Daydream Society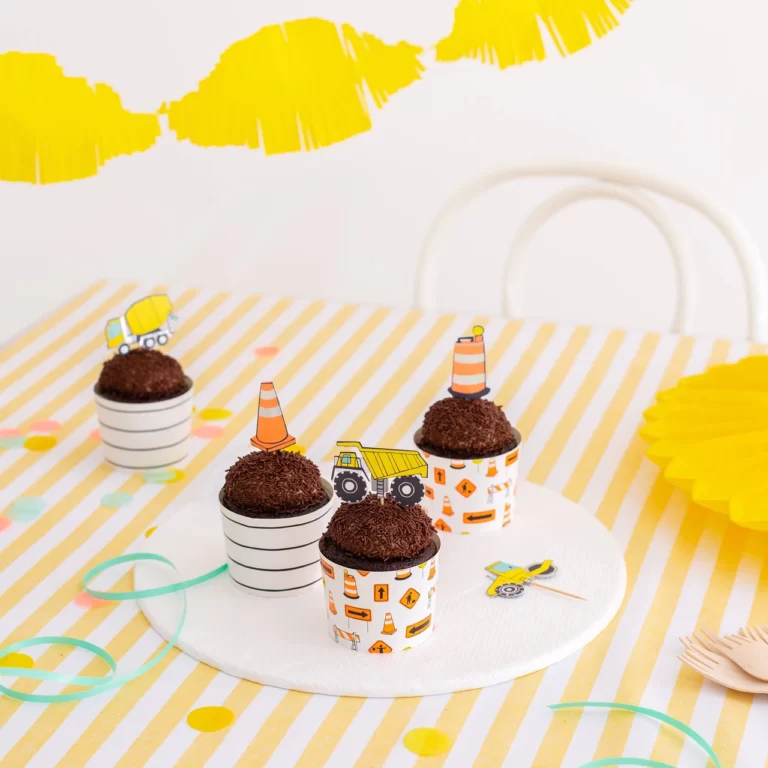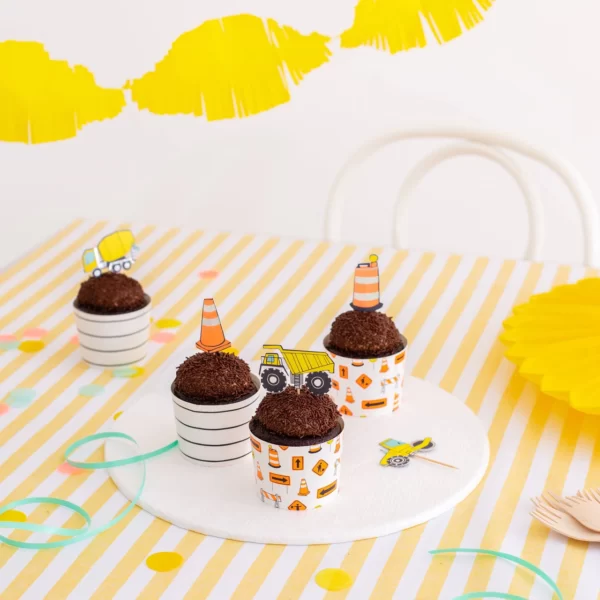 Construction party set from Meri Meri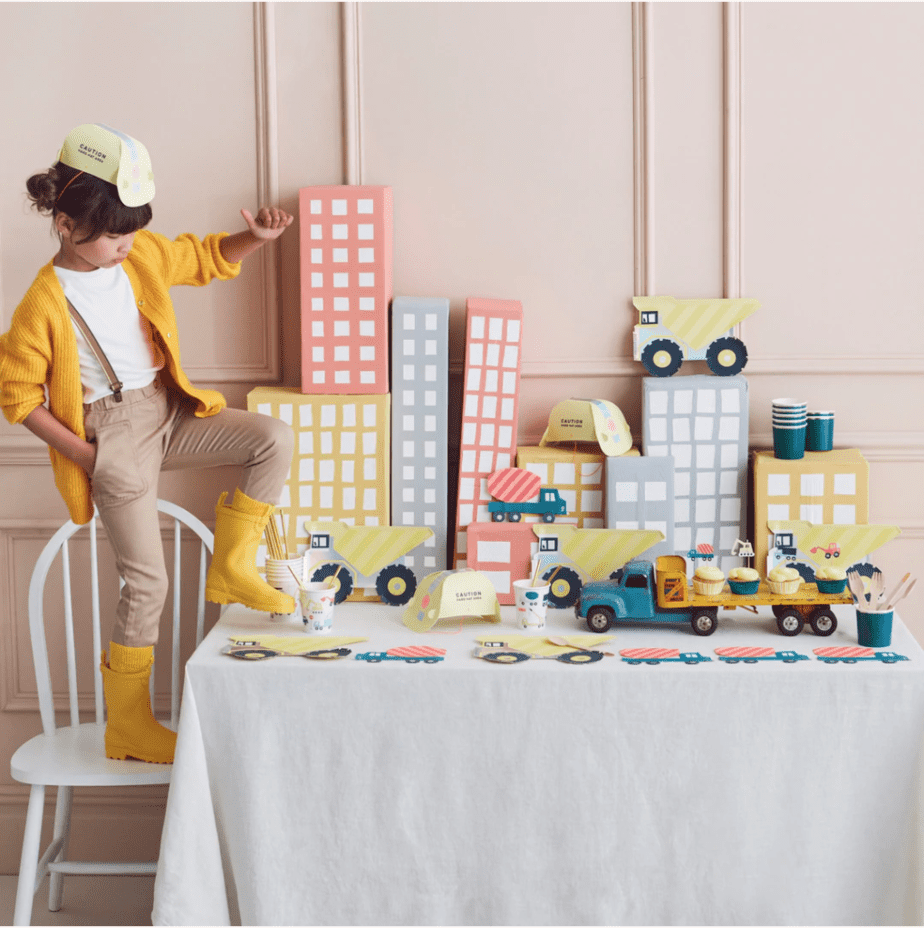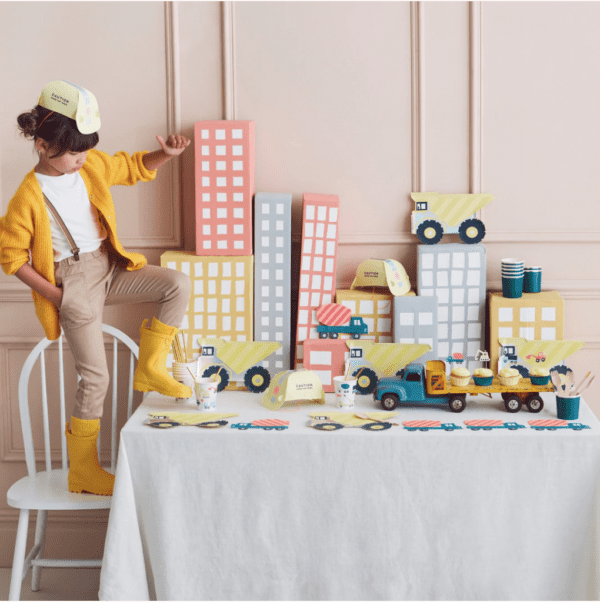 Construction Hat Food Bowls via Pinterest
All you need are some fun construction hats and you have instant serving bowls. I love ideas like this that are super easy to setup!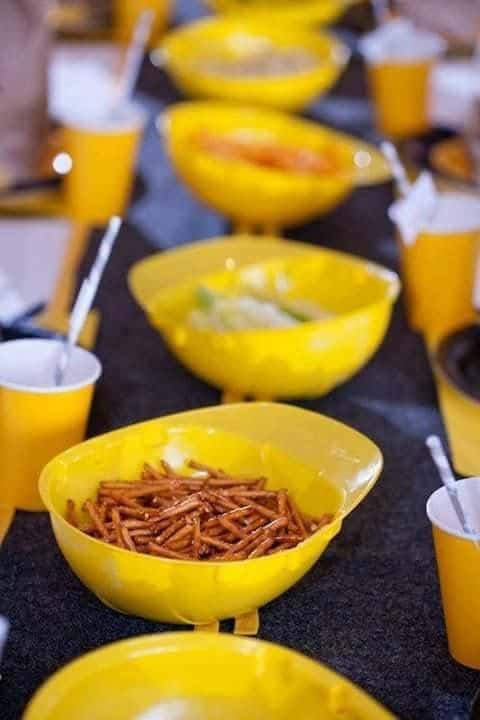 Candy Bins from Little Big Co.
This is such a prefect idea for setting up a toppings bar. If you serving ice cream…you could have a station like this for all the goodies that go on top.
I hope you loved these construction treat ideas! Looking for Construction themed decorations and ideas? Check out this construction themed party and these construction party games.
Here are some helpful links for throwing a Construction party:
If you want to save these ideas for later…please pin this image to your birthday Pinterest board: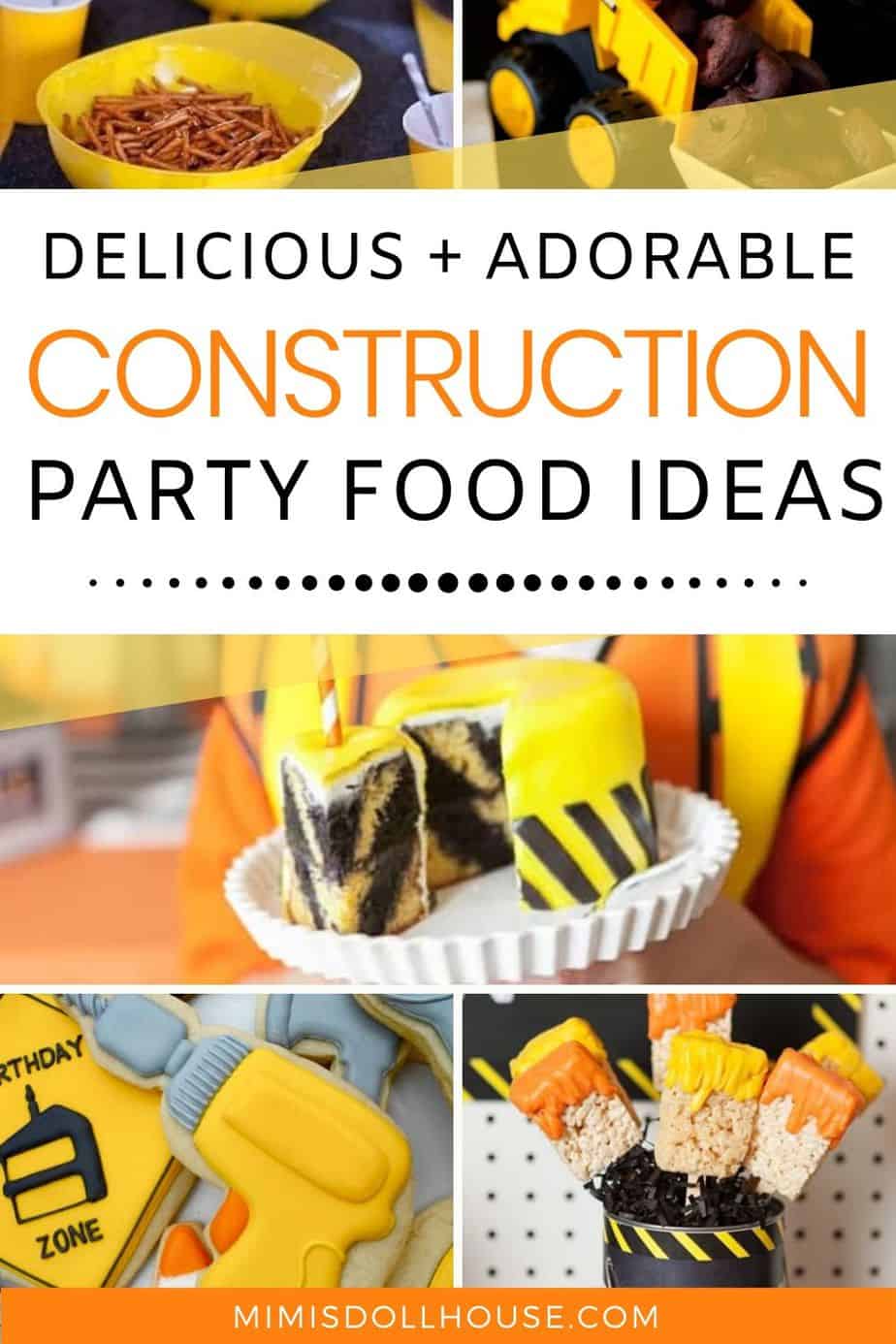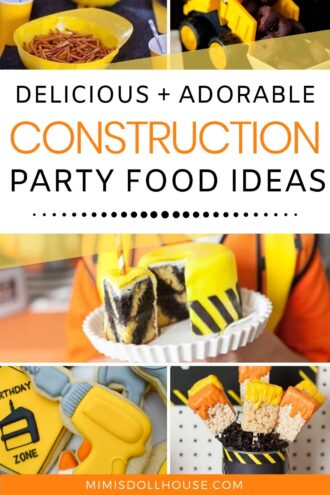 Want to throw a Construction Party? The Printable Construction Party PDF Package is available for purchase in my shop:
RELATED POSTS FOR CONSTRUCTION PARTY IDEAS:
Thank you for reading all our Construction Bday Party Food ideas!