Amazing ways to style and decorate a Construction party!
One of the hottest trends in boy's birthdays is definitely Construction. From dump trucks to dirt diggers, there are some amazing ideas! Construction Party: Under Construction Party Ideas. Looking for some fun and creative ways to throw a construction party? Here are some great construction party ideas and decorations.
Looking for Construction themed desserts? Check out this construction themed party and these construction party games.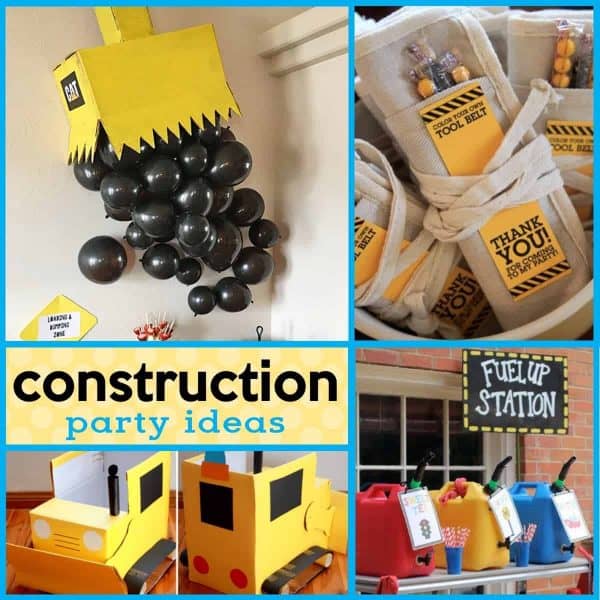 You know what is my favorite part about living in "party land"? Getting to see things through the excited and imaginative eyes of a child.
Ordinary, even mundane aspects of our real world (like cardboard boxes) are AMAZING in little kid land. My daughters can play with a box for hours like its the greatest toy ever.
Sometimes I wonder why I bother to buy them anything at all… I just need some bubble wrap and a cardboard box and that's better than an iPad.
Throwing a CONSTRUCTION PARTY?
☑️ These Construction Party Supplies are the perfect way to get your party planning headed in the right direction!
***Thank you to everyone who has ever mailed us anything packaged with bubble wrap, by the way. You have entertained my children for countless hours***
But seriously…I had an "ah-ha" moment the other day when I was driving home from picking up my daughter at school. There is this intersection that has been under construction FOREVER!!
I DREAD this intersection as traffic slows down so much. We are sitting in a long line of equally aggravated adults when I hear my kids in the backseat oohing and aahing over something outside.
SO of course, I quickly turn to see what is so amazing to them….There was this huge crane lifting a very large piece of metal something or other onto the freeway overpass.
You would have thought it was Princess Ariel for all the excitement that came from the backseat. To me….annoying delay in my schedule. To my kids…amazing gravity defying magic machine.
See…don't you just love kids. They keep it real.
In honor of my "ah-ha" I'm sharing some fun and inventive ways to throw an amazing construction party.
Construction Party Decorations
Here are a collection of AH-MAZ-ING Construction Party Ideas to decorate your party and serve your food. Don't forget to check out all our Construction food ideas and Construction themed games too!
DIY Construction Ideas
Paint Chip Plates from Jolie Jolie
This table set up is adorable. I absolutely adore the paint chip utensil holders. Grab some of these from your local hardware store, cut two slits and throw some wooden utensils through the paint chip. perfection.
Construction Party Table from Catch My Party
This tablescape is adorable. I love the colored boxes to give the table height. This cake is super adorable also!!
Construction Place Settings from Dream and Party
Here is another ADORABLE way to set up your plates and silverware. I love the road down the middle and the super cute plates.
Layering your plates is a great way to add some pizzazz to your table as well. And don't forget the construction cone cups!!
Pegboard Backdrop from Hoopla Events
Using a pegboard for the backdrop is a fantastic way to incorporate some real tools into the design. I love this idea sooo much!!! It really makes you feel like you are in a hardware store!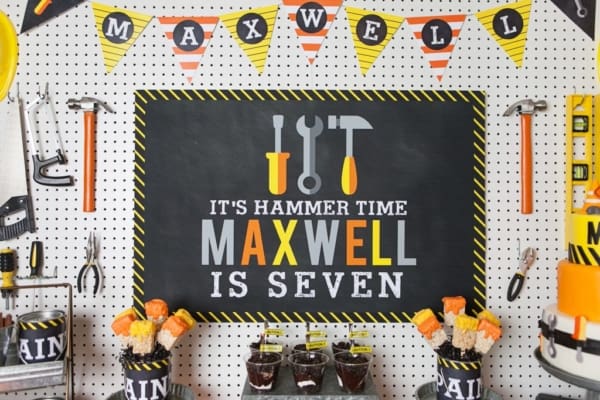 Construction Themed Porch Decor from Fab Everyday
This adorable porch really sets the mood for the party. I love that it includes real construction barricades too. Did you notice the cord decorations on the door?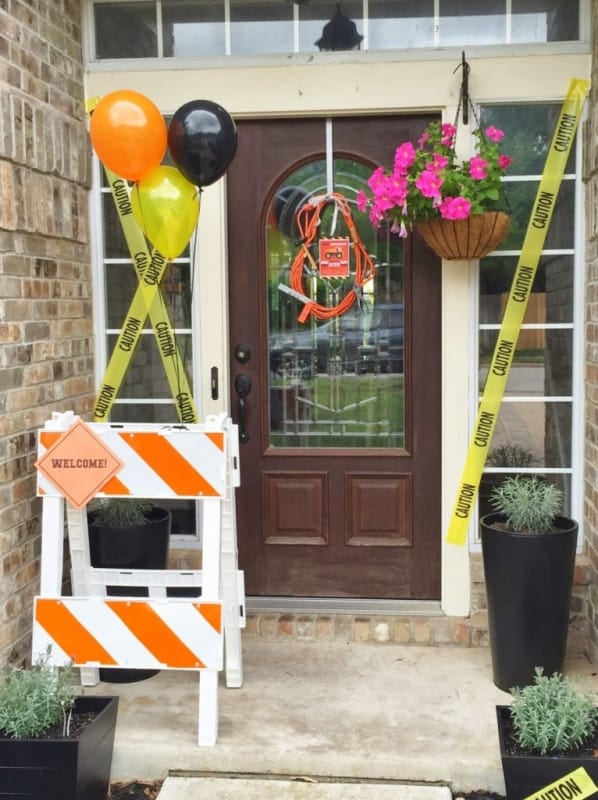 Construction Party Entry Way from SNL Parties
Here is another adorable entry way for a construction party. The ladder is an awesome touch, but the Caution sign on the door is my favorite.
Extension Cord Wreath from Kara's Party Ideas
This extension cord wreath is such a great idea for a welcome sign. Talk about setting the mood for the party right off the bat!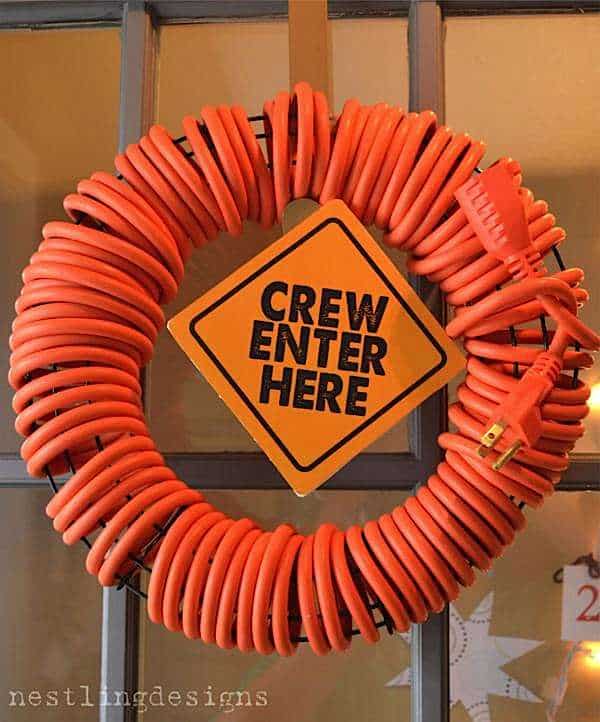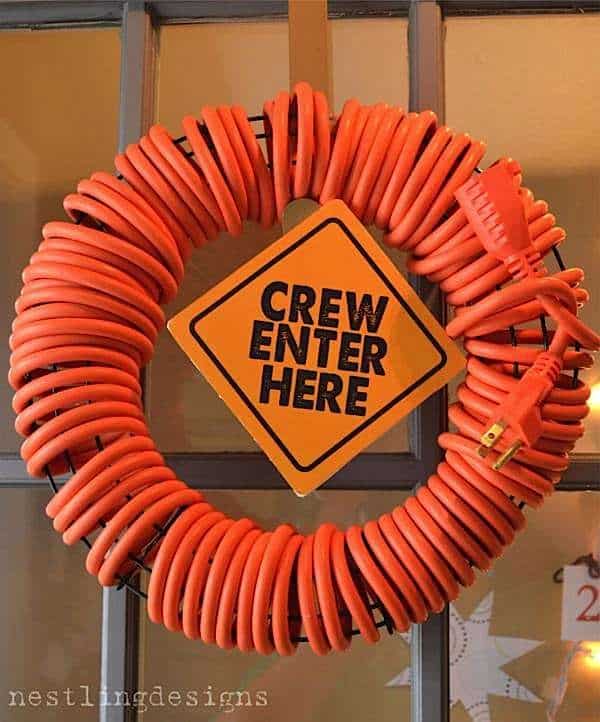 Dump Truck Party Favors from SNL Parties
These little construction truck party favors are so clever. They are great little gifts to give to kiddos at a construction party.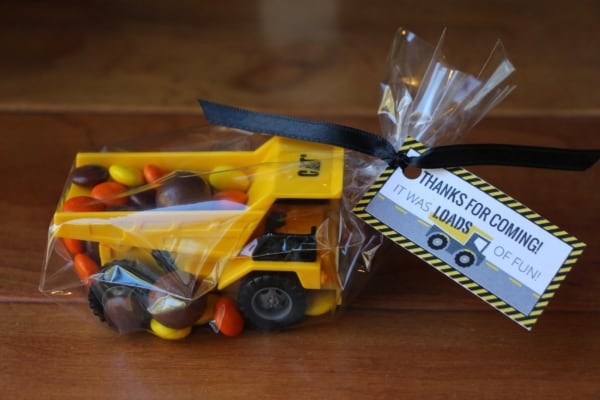 Construction Tent from Dream and Party
Talk about an awesome set up for a party. I love this tent. It would be a great spot for reading books or playing with toy trucks during a construction party. The details are so good!!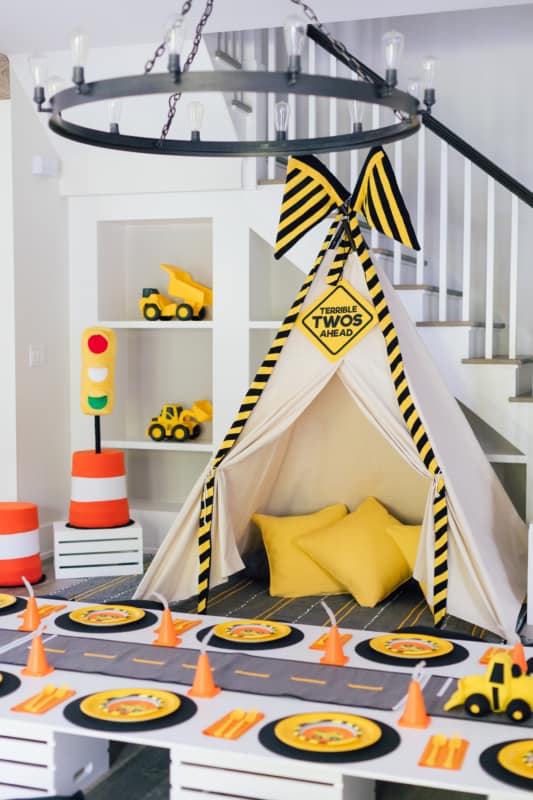 Construction Balloon Backdrop from 2 Little Lovebirds
Ok seriously hello cute…not only is this adorable…but it's super duper simple! Use those cardboard boxes we discussed, some yellow paint and black balloons…boom! Instant party awesomeness!!!
Fuel Up Station on Catch My Party
If all that partying makes you thirsty…how about setting up a Fuel Up station for your guests to get refreshed and top off their tanks?? These gas can drink dispensers can easily be made by drilling a hole in the side of the gas can and adding a spigot.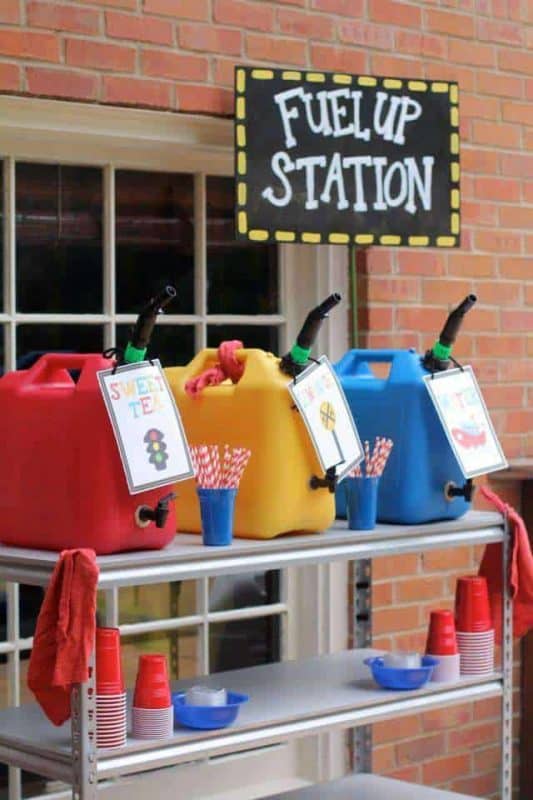 Construction Vehicle from Keriene
First up….this is seriously one of my favorite tutorials ever…Not only is this a cool construction vehicle, but it's made from a cardboard box….you know that's right!
Construction Truck Photo Cutout from Little Goobers Party
What's a party without a photo booth or photo cut out? Get your guests interacting with the decor and snapping some cute photos with this awesome construction truck cutout. Perfection!
Construction Party Supplies
Want to dress up your party table right? Grabbing some adorable themed tableware is a great way to pull all those ideas together and make them into a cohesive party theme!
Adorable Construction Tableware and Supplies
You definitely need the right tableware for serving food at a construction party. This set from Shop Sweet Lulu is seriously my favorite of all the Construction party ware I've seen out there… It's fun and bold and super versatile.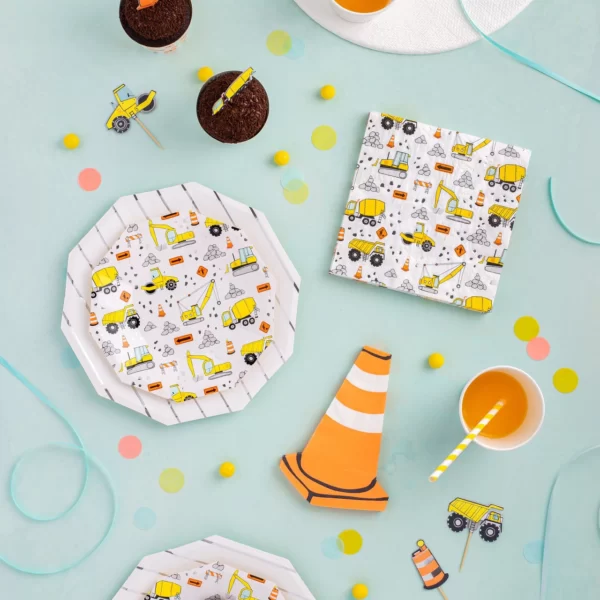 Cupcake Toppers from Daydream Society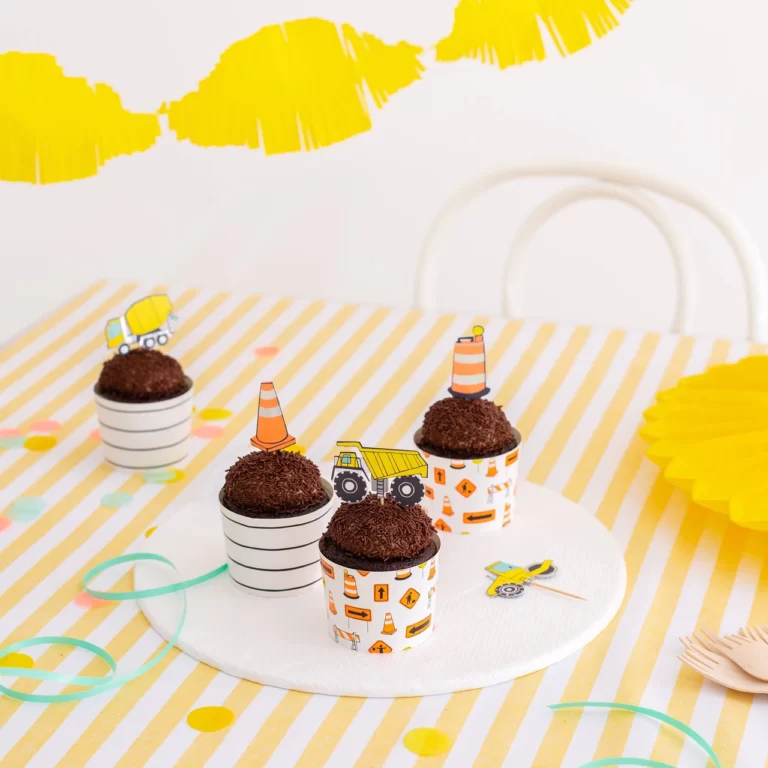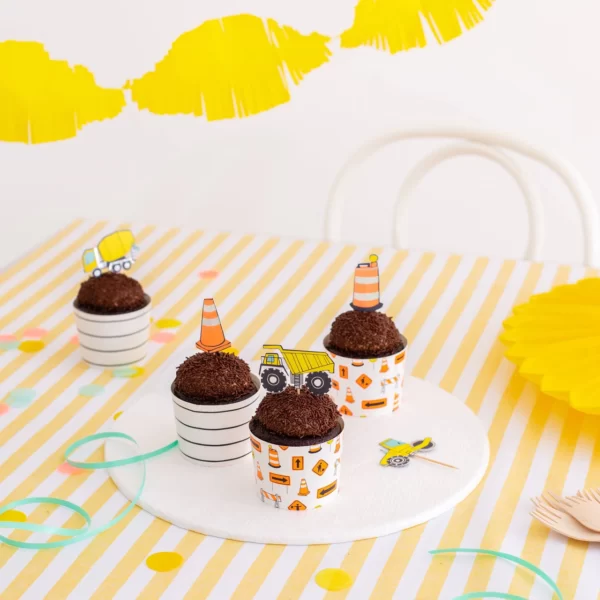 Construction party set from Meri Meri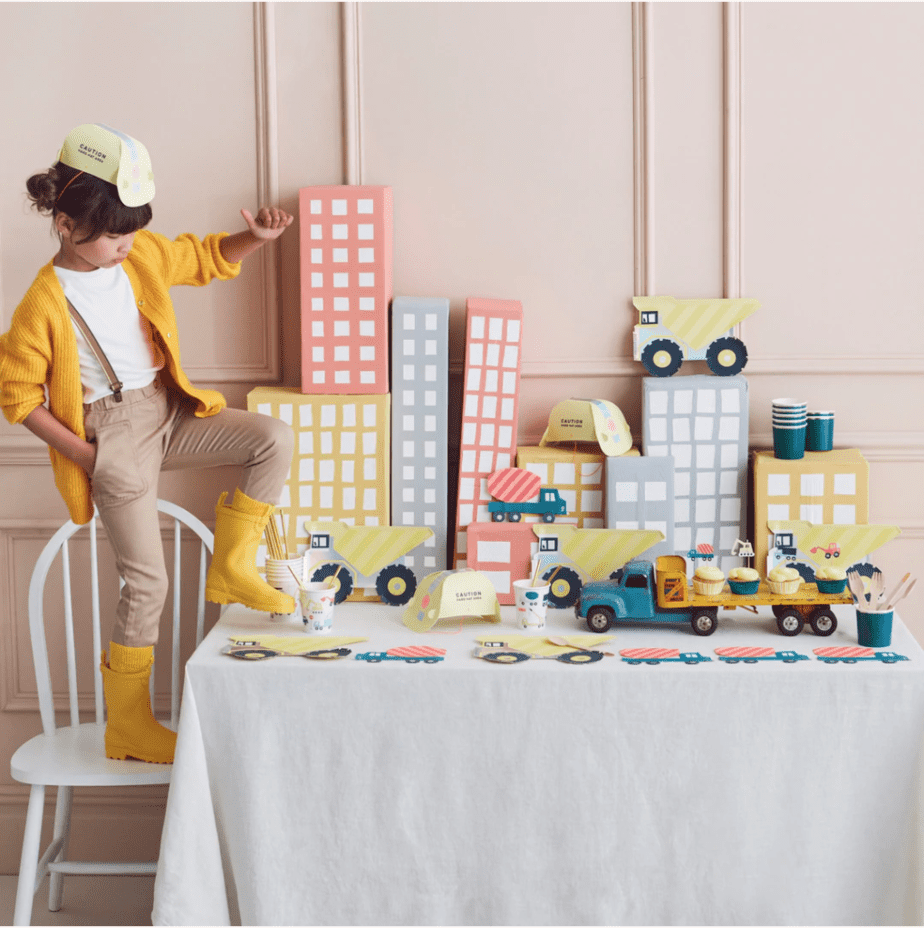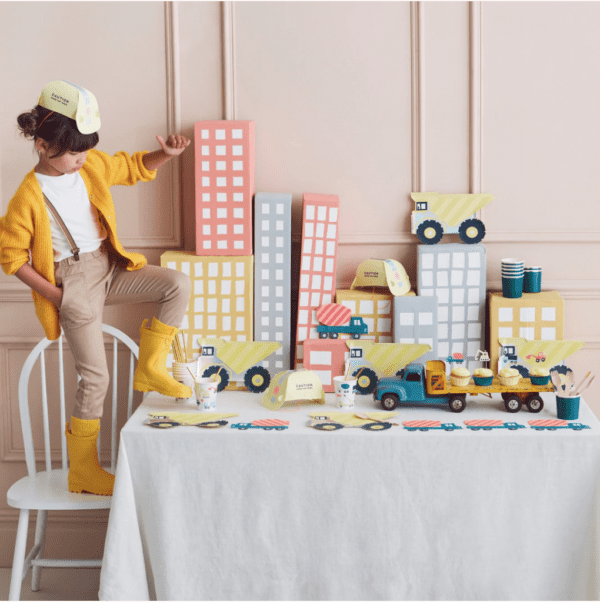 Tool Belt Favors from Kommunicated
Looking for s fun construction party favor idea? How about giving them their own tool belt to decorate? This can also make for a fun party activity!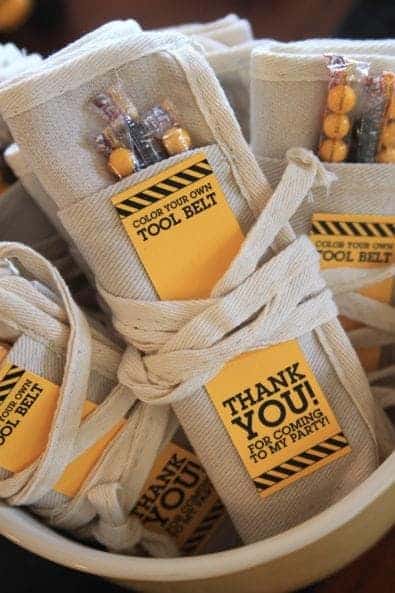 Construction Highchair Banner from Raw Edge Sewing Co.
Need an adorable custom made high chair banner? This is one of the cutest I've ever seen…so sweet and simple! This is perfect for a smash cake photo op!!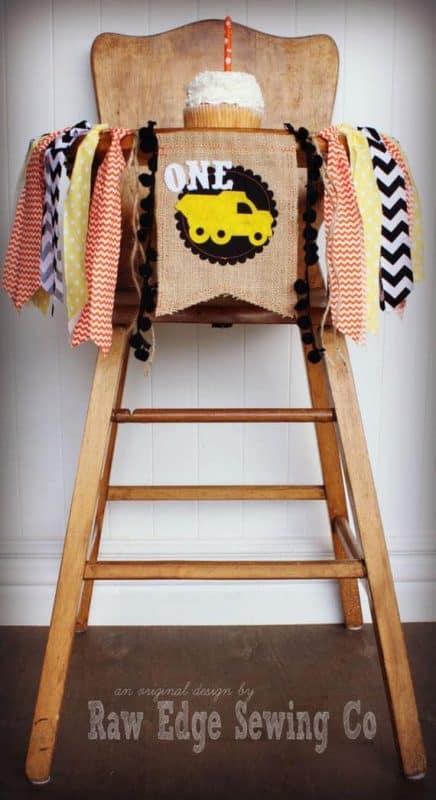 Construction Party T-shirt from Happy Lion Clothing
I love having cute birthday shirts made for my kids to wear to their parties. It's the perfect way to tue them into the decor and it makes the pictures extra cute! This adorable construction t-shirt would be perfect for a little dude!
Here are some helpful links for throwing a Construction party:
Ways to Use Construction Party Printables
Want to see some of my Construction printables in action? I love the idea of a construction party. It's honestly one of my favorite themes for a little boy.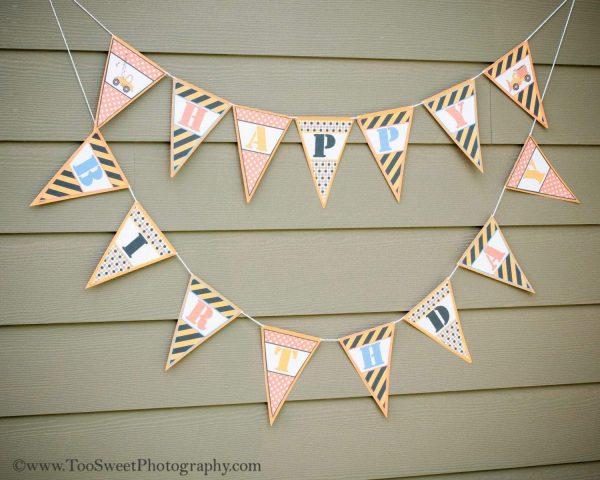 Here are the "Tools" Napkin wraps around silverware and napkins.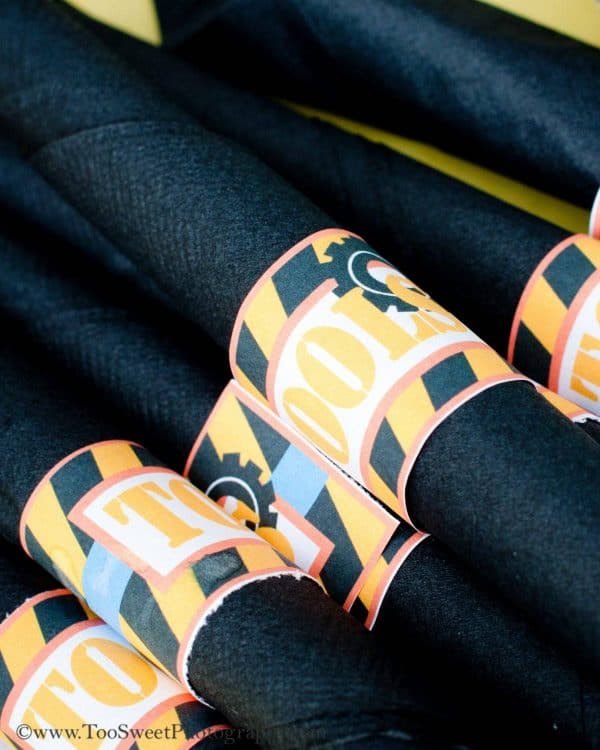 What's really cool about throwing a construction party is that there are so many different ways you can twist it. You can focus on the tools, you can focus on the huge trucks. you can really get into the dirt aspect.
The Mini Name Banner is awesome on the front of a tablescape.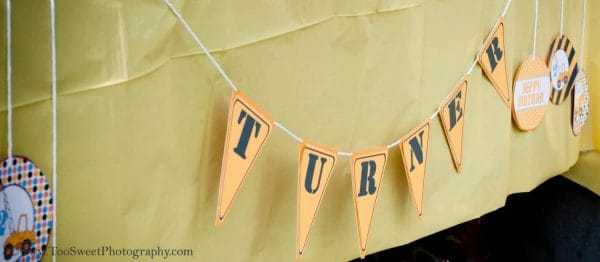 It really makes it easy to personalize the party to you little guys favorite aspects. That's my favorite part…when the party really emphasizes the personality and preferences of the child.
This party was styled for Turner's second birthday. Check out the details…
I love the little shirt too. You can order the same Construction T-shirt from Heather Rodgers Designs. And isn't Turner such a little cutie pie?? I think so.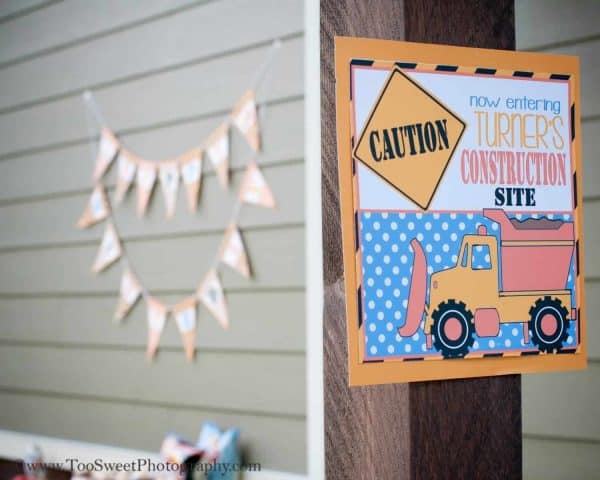 Favor bags filled with Oreos with super cute favor tags attached.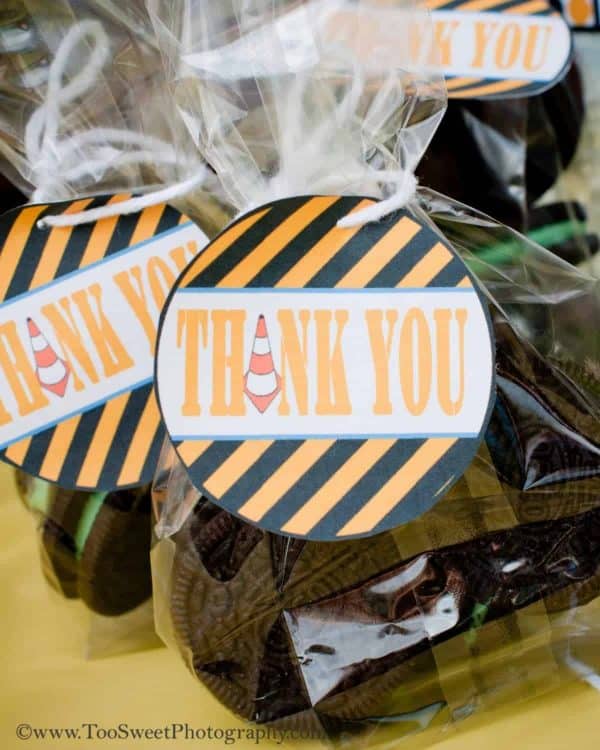 And….here are some super helpful links to some great deals on Construction Party Supplies:
Looking for Construction themed desserts? Check out this construction party, this construction birthday party, this construction themed party and these construction party games.
Want to throw a Construction Party? The Printable Construction Party PDF Package is available for purchase in my shop:
Conclusion for Construction Party Decorations:
If you are looking to create a memorable party, construction party ideas are definitely a great way to set your party apart from the rest. These amazing ideas will inspire you and help you streamline how to style the perfect birthday party!
If you love these party ideas, please pin this image to your birthday Pinterest board!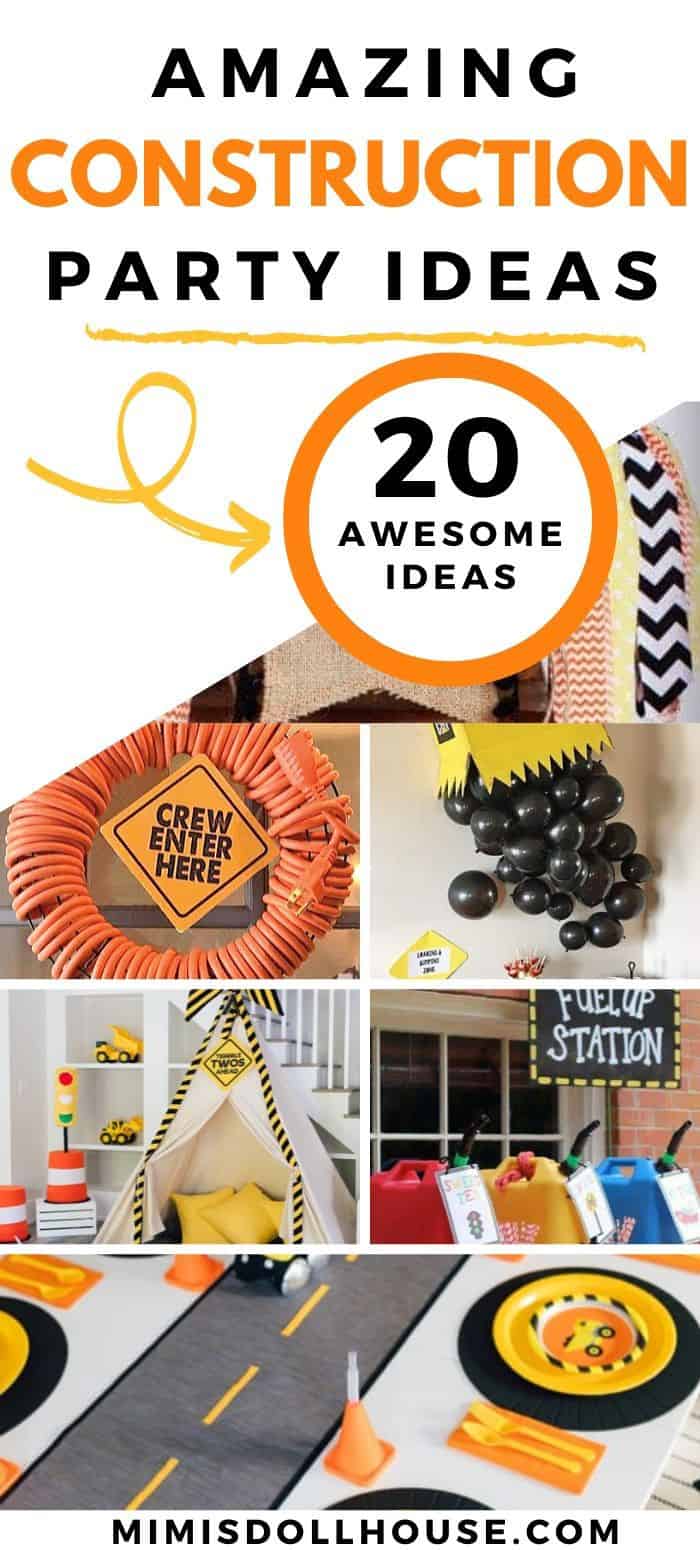 RELATED POSTS FOR CONSTRUCTION PARTY IDEAS:
Thank you for reading our DIY construction party decorations!