Simple Budget Friendly Ideas for a Fantastic Construction Party
Throwing a construction birthday party can be a great deal of work. If you have a budget you want to stay on, that means lots of DIY! This construction party guide will help you throw an adorable party, while still staying on budget.
There are so many amazing ideas for helping turn your ordinary party into an extraordinary construction truck birthday!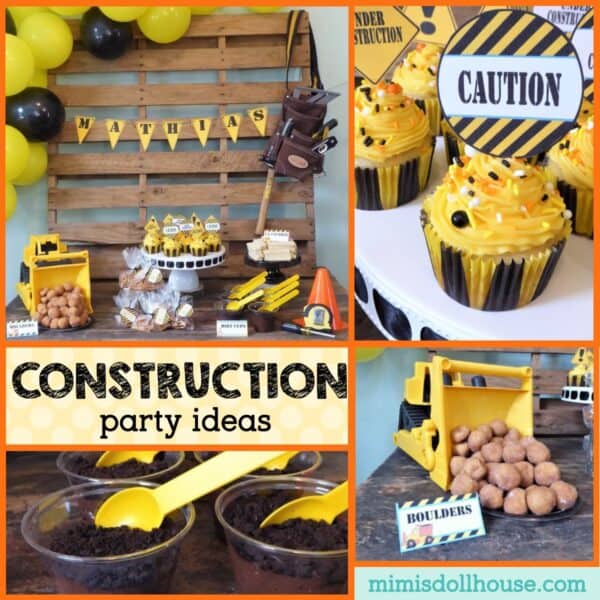 Today I am sharing some tips for putting together an easy and affordable Construction party! This party was styled by Sarina at Joy in the Commonplace for her so Mathias using Mimi's Dollhouse Construction printables. You can purchase these at the bottom of this page! Just look for the teal "View Product" button!
Throwing a CONSTRUCTION PARTY?
Construction Party Supplies
Construction Parties are seriously one of my favorite themed for a little boy. Not only are the colors bold and bright…but little boys with their hammers and dirt movers are just about as cute as it gets.
When it comes to sticking to a budget, choosing a construction theme also allows a myriad of options from things you probably already have at home! This is especially true if you are a DIY household with tools at your disposal!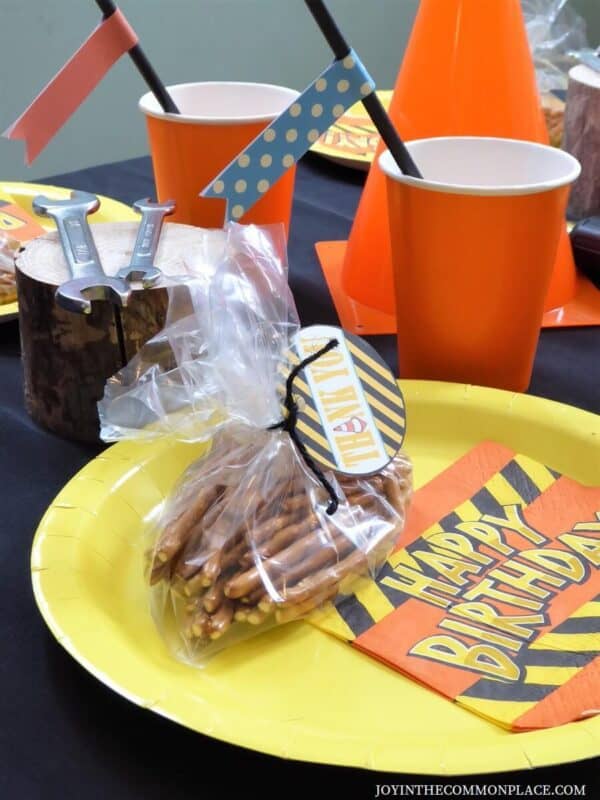 In this guide, I will show you several options for using things you have and things you can easily and inexpensively acquire to create the perfect Construction themed party!
Construction Party Decorations
When it comes to planning a themed party, the decorations really set the tone for the whole party. These decorations will be what your guest first see when they arrive and really brings the whole thing together.
Personalized printables are an easy and fun way to really establish your construction party theme. This party uses our Construction Party Printables to really help establish the mood of the party.
If you are interested in more information about how printables work, check out our how to use printables series.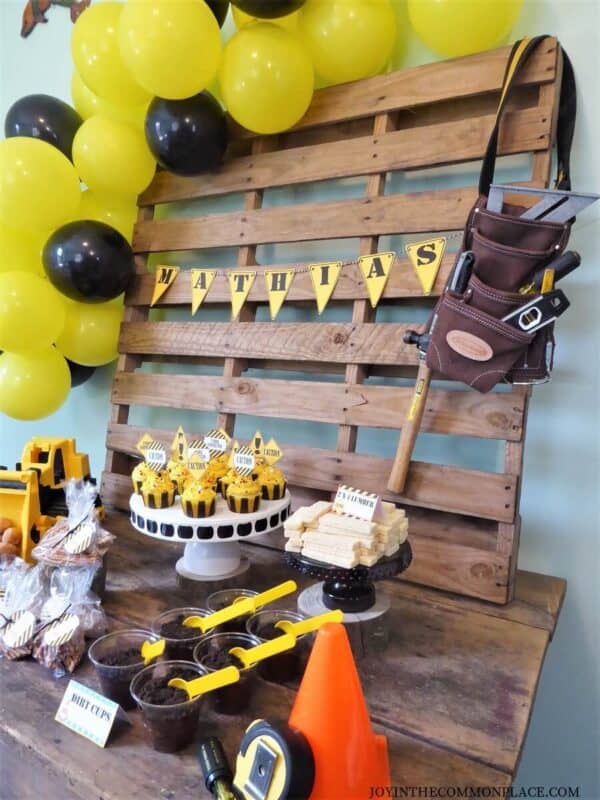 This construction set up is absolutely adorable and fairly simple to recreate. For the back drop, Sarina used a pallet. You can usually find these for free by inquiring at local grocery or hardware stores.
More than likely, depending on the pallet you find and your table top, you will want to get a simple wood stain to use on the pallet.
By using the pallet as a backdrop, Sarina was able to string the mini name banner from the printables across the back, giving it that personalized touch.
Another awesome detail from this backdrop set-up is the use of tools throughout. Just by going through the tools you have at home, you can probably decorate most of this party easily.
Choosing party themes that you can use things you already have is a great money saving idea. I did this with my son's fishing party using my husband's fishing gear.
Construction Party Theme Supplies
When choosing party supplies for a construction themed party…it is best to stick to one design. If you are going to use printables, Simple solid colored tableware can definitely help to add the overall feel of the party without being too busy.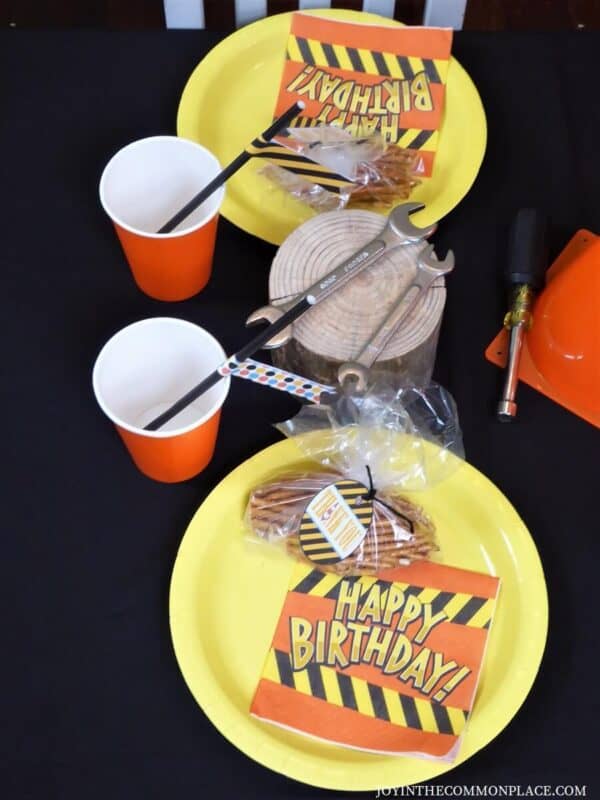 Here are some helpful links for high quality solid tableware:
Here you can see how adorable using the solid colored items to accent the party decorations. You can also use the printables to accent the solid colored tableware by attaching the circles to plates or cups or using water bottle labels as napkin rings.
Another option is to use patterned construction tableware, like these adorable construction party plates from Target.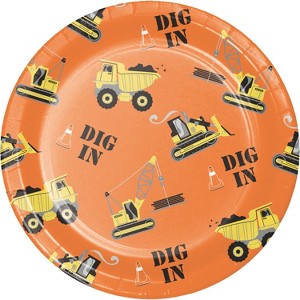 Here you can see the cupcake toppers on the cupcakes, making a simple dessert into the perfect themed treat. They are baked into adorable construction cupcake wrappers too, for an extra special touch!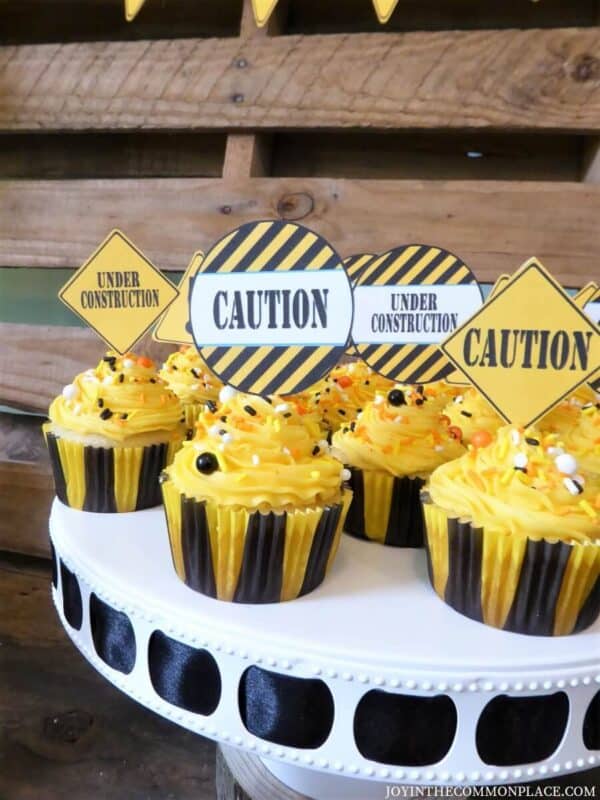 We have many additional amazing construction party ideas to share…be sure to swing by and check them out as well!
Construction Invitation
An important part of throwing a birthday party is definitely inviting your guest. A wonderful way to set the tone for your party is through fun themed invitations. These construction invitations can be purchased individually or as a part of the printable package at the bottom of this page.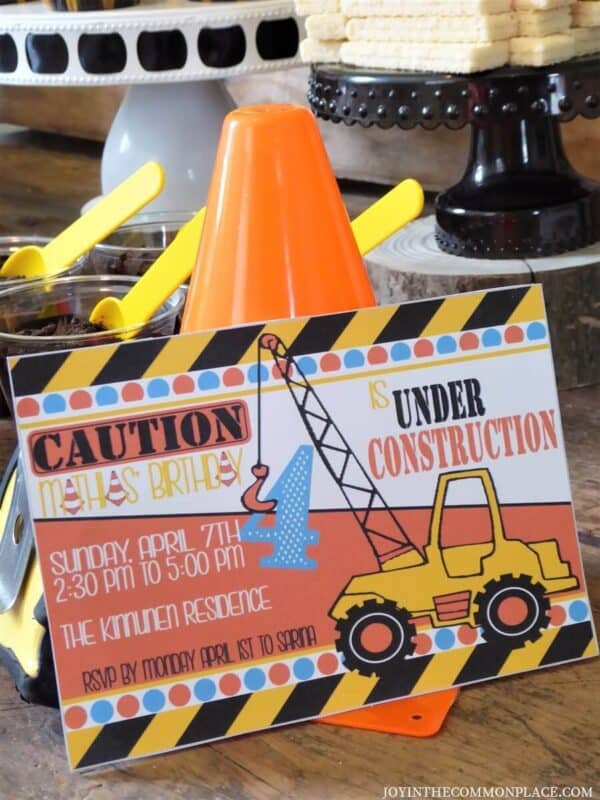 Using a fun printable invitation makes your invite customizable and also gives you the option to sent the digital image out via email or text, which saves you time and money. They can be easily and inexpensively printed also.
Construction Favor Ideas
Another important element to consider when planning a party is the party favors. I love when party favors fit the overall theme of the party. Here you can see a great Construction party favor idea…
Pretzel sticks. They are inexpensive and not sugary sweet. They also resemble logs…so it's like have building materials as your favor. Genius!! I love it when ideas work so well like that!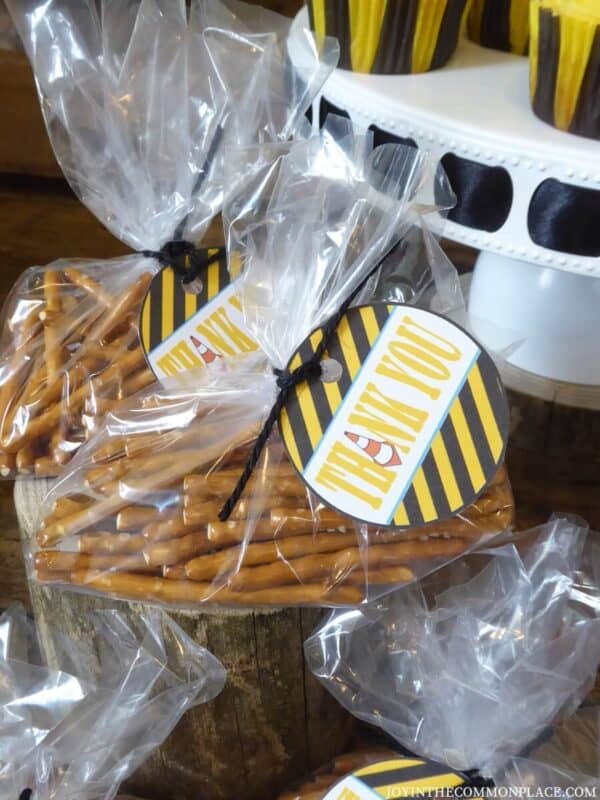 Construction Party Food Ideas
Of course…we can't forget the party food! Planning the food is always my favorite part of party planning. There are so many creative things you can do with a party menu. The options are endless.
Start by thinking of foods that your kids already like and then see if you can make them fit the theme with a little creativity!
Here are some food ideas for a construction party…
Food for a Construction Party
Wafer cookies as 2×4 lumber
Isn't this an adorable idea? It's themed and easy to set-up. Just put the cookies on the plate and you are golden. I love this.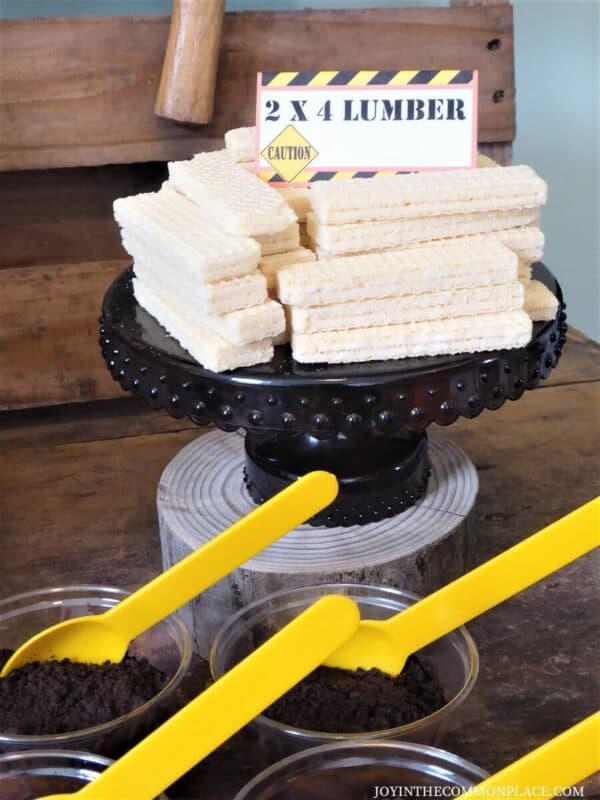 Donut Hole Boulders
Umm…you had me at donut holes! This is another super easy and perfectly themed treat that the kids will love!! My favorite part of this is how the "boulders" spill out of the dump truck. If you have these toys already…use them in the party set up. If you don't…buy them for the party table and have them double as decor and presents!!! #momwin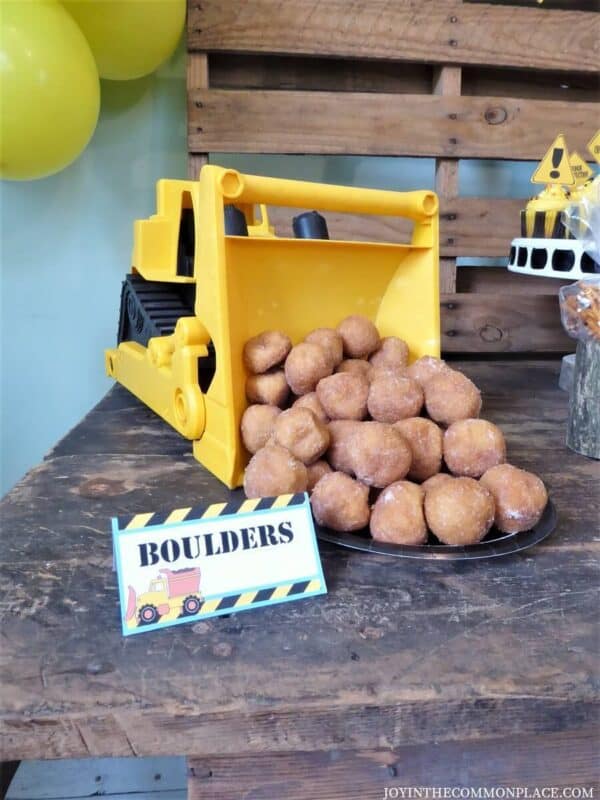 Dirt Cups
These are one of my favorite of the construction party treats. All you need is some chocolate pudding and some crushed Oreos. Perfection. A quick trick for making this easy to serve and eat is to to put them in individual cups with spoons.
These reusable spoons from Sweets and Treats are my FAVORITE. They are sturdy, reasonably priced and come is bright colors and can be used party after party. This is especially awesome if you have small kids at home who don't use regular grown-up silverware at home. Extra reusable spoons are a definite bonus!
Construction Cupcakes
These adorable cupcakes make the perfect construction party treat. You don't need to go crazy with desserts (unless you want to…sometimes it's fun to go a little crazy!!)
Simple cupcakes with yellow frosting and cupcake toppers give the treats all the pizzazz they need. You can also add these gorgeous sprinkles to give the cupcakes that little something extra. Simple sprinkles sets like these are so amazing because they dress everything up, but are super easy to use.
Party Punch
Of course, no party would be complete without some punch. Swing by Joy in the Commonplace for the recipe to make this beautiful yellow punch!
Additional Construction Cake & Party Food Ideas
While this post focuses on the construction desserts in this party, we have many more construction desserts and food ideas. Be sure to check them out!! I know you'll find tons of inspiration!
Honestly, sometimes using the simplest foods and giving them a construction flair will help to make them super on point. Even simple pretzels are suddenly lumber. It's fantastic to use foods your kids already love in a creative way!
Construction Party Activities
Planning party activities can be a daunting task. You might be unsure of what to actually have the kids do at a party. This can be especially true if it's a themed party. Trying to keep games on theme can be hard.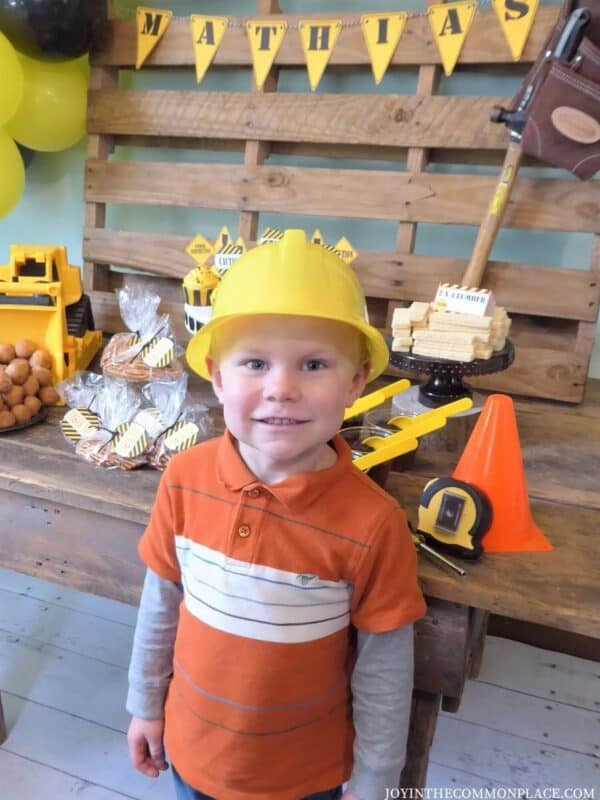 Activities for a Construction Theme
Sometimes having themed party activities is as simple as taking a normal activity and adding a little "theme" into it. For example, these construction themed coloring sheets. It's simple, but the kids will love it and it stays on the construction theme!!
There are so many fun ways to turn ordinary party games, like scavenger hunts or pin the tail on the donkey into Construction themed games. For more ideas, check out these Construction party activities.
It's amazing how many simple ideas you can find to take a theme like construction and really bring it to life. Throwing a birthday party does not have to be super expensive. Some of the best ideas for parties are honestly simple foods or decor ideas that don't cost a ton.
This party is particularly cute, because it stays on budget, while still be creative and fun.
If you are looking for simple tableware options to compliment this theme. I definitely recommend this construction tableware from Target! It's simple and fun and adorable!
If you love this Construction Party…please pin this image to your Birthday Pinterest Board: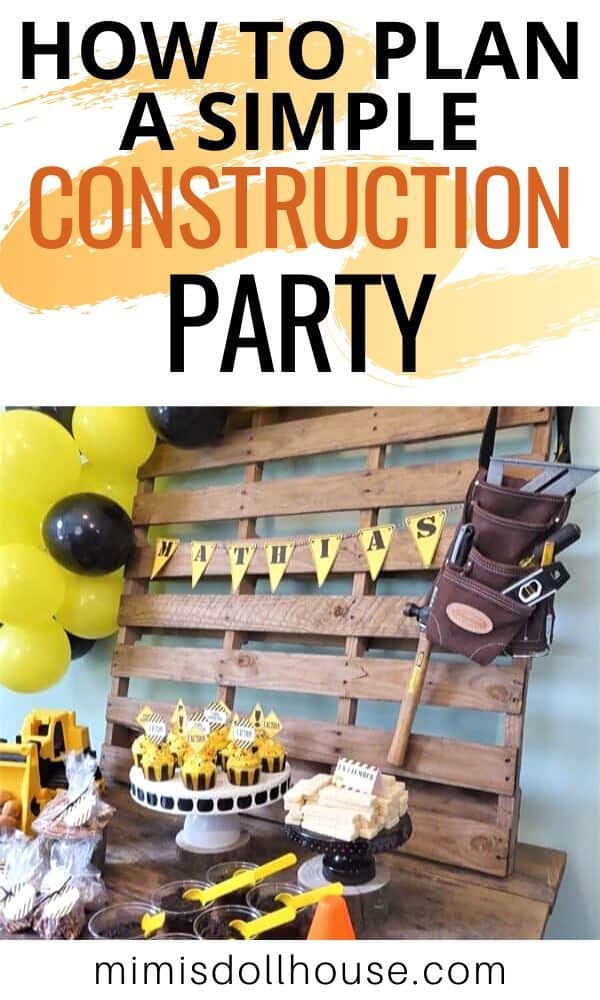 Purchase the Construction Printables:
Adorable Construction Tableware and Supplies
You definitely need the right tableware for serving food at a construction party. This set from Shop Sweet Lulu is seriously my favorite of all the Construction party ware I've seen out there… It's fun and bold and super versatile.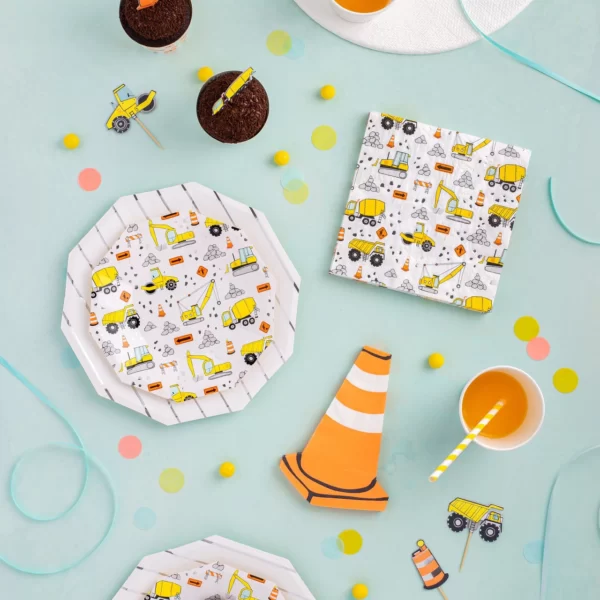 Cupcake Toppers from Daydream Society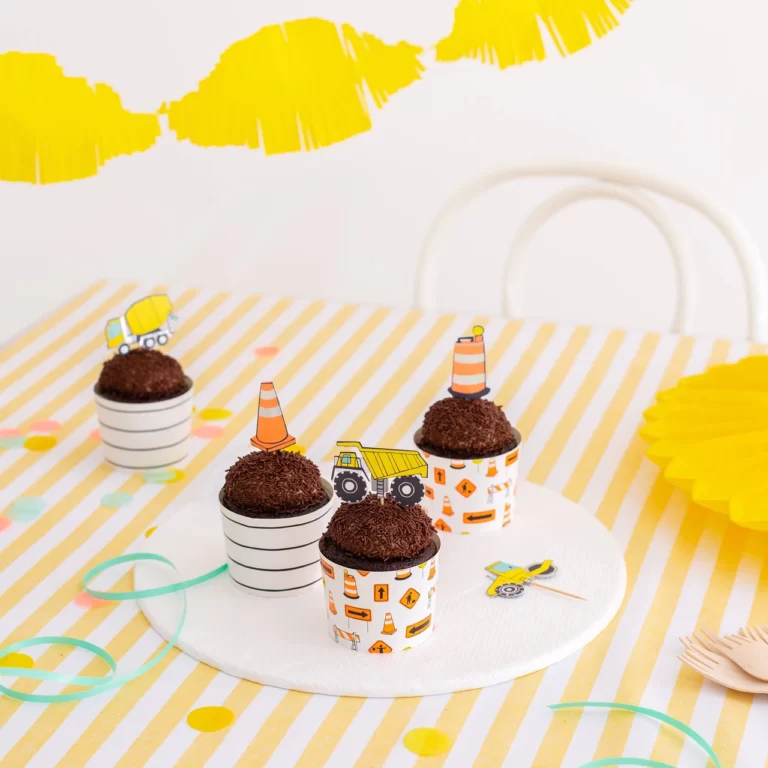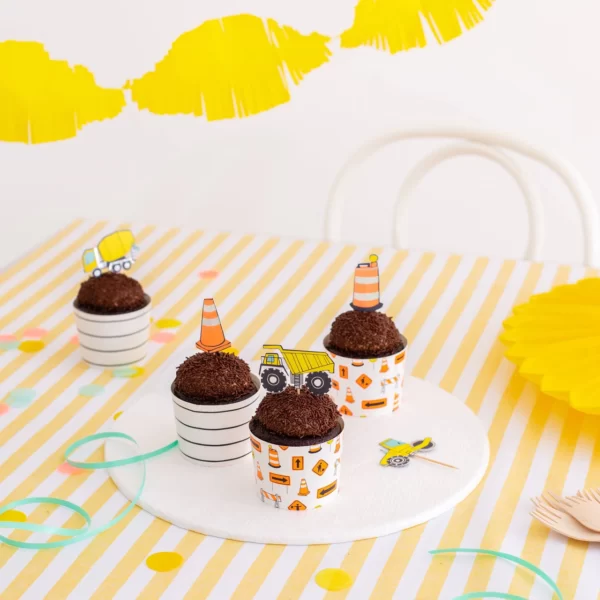 Construction party set from Meri Meri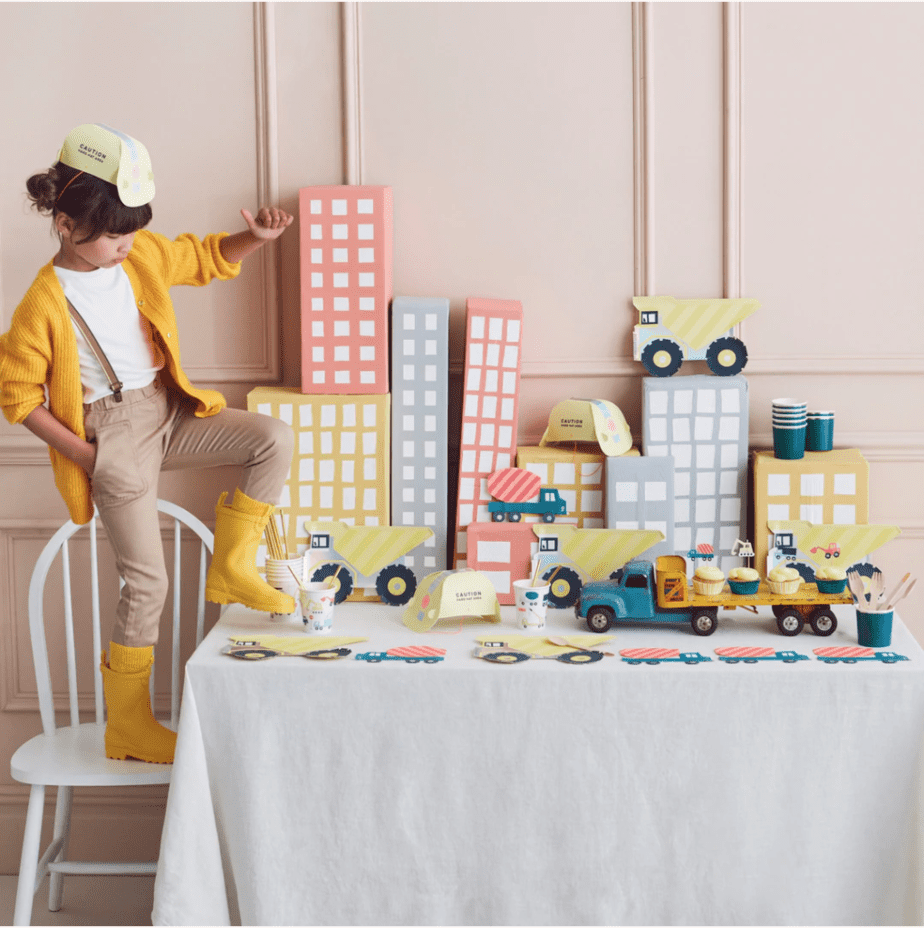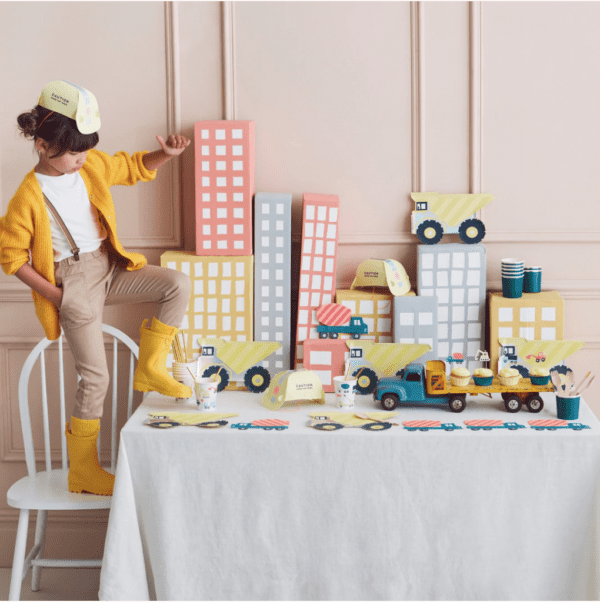 Conclusion for
Easy DIY Construction Party Ideas
:
This fun Construction themed party is full of amazing ideas to throw a themed party on a budget. Impress your guests and thrill your little ones with some amazing Construction party ideas. These ideas are easy and creative. Styling a fun and festive birthday party has never been easier!
Here are some helpful links for planning a Construction Party:
Related posts for Construction Party Ideas:
Thank you for reading our Budget-Friendly Construction Ideas!