Fishing Themed First Birthday Ideas
Fishing Party: Rowdy is Reeling in the Big ONE. Looking for the perfect first birthday theme for your little man? Check out this fishing themed first birthday party for inspiration.
Be sure to also check out our pirate party ideas, wild one party ideas and other first birthday party inspiration.
This party also contains DIY Fish Sugar Cookies and DIY Bobber Oreo Pops.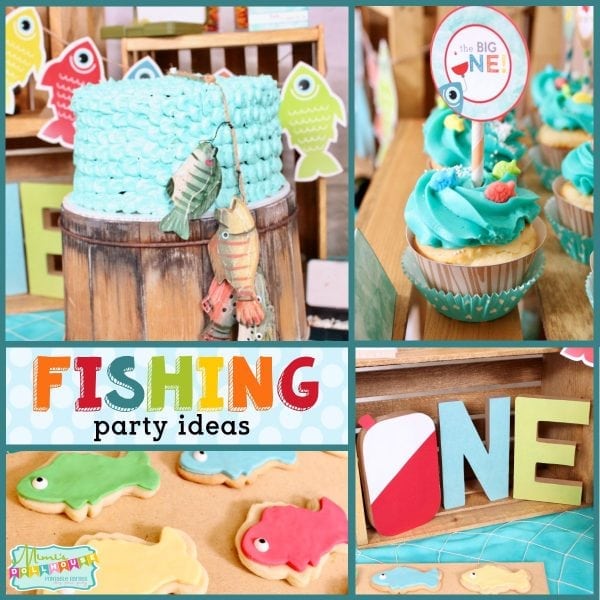 My sweet baby Rowdy just turned the big ONE!!! It was so much fun to come up with ideas for throwing a first birthday party for my little man.
See…I've been a girl mom for SOOOO long. This is my first little boy. I literally went through dozens of boy birthday party ideas for this kid, because we've been all about the girly birthdays for a decade!!!
Rowdy ALMOST had two parties because this mama had a super hard time deciding on a theme!
Fishing Party Theme
For little man's first birthday party, I settled on a fishing theme. This was perfect for us because my husband is SUPER into fly fishing. We spend time every spring/summer on the lake fishing.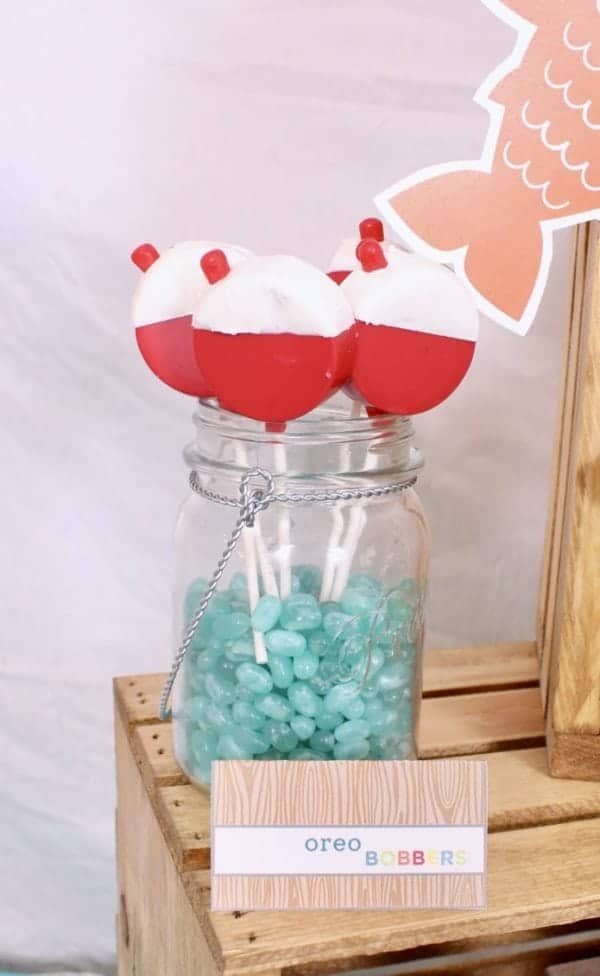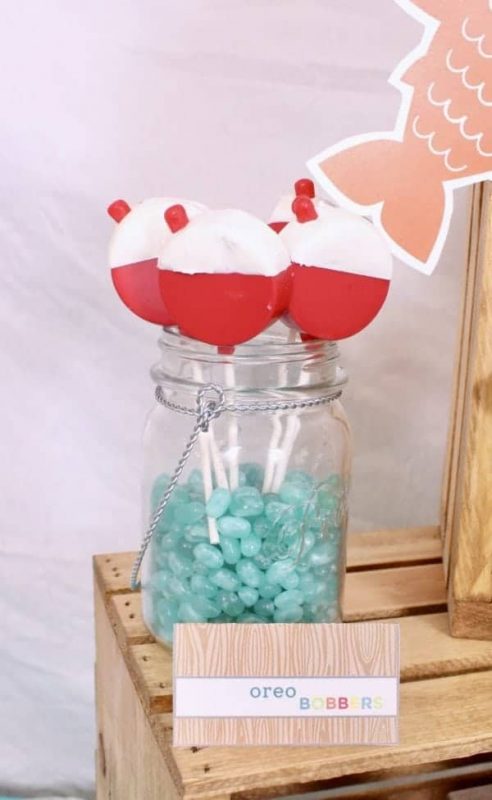 Rowdy as a little baby had already spent time on at least three lakes before he was 6 months old. Also, I'm a punny girl…I love me a good pun.
So the play on words with "Reeling in the Big One" was just too much adorable cuteness.
I NEEDED to throw him this party. And trust me it was hard to not do a Star Wars party. (You can learn more about my Star Wars obsession with this Chewbacca Party!)
I had such a great time styling this fishing party, though….it is one of my favorite parties ever. (I may or may not say that about every party I throw!)
I created fun brightly colored fishing printables to accent all the DIY party desserts I made for this awesome-sauce party.
Fishing Desserts & Party Food
The desserts were super fun to make. I really wanted to hand-make as much of the food as possible. Of course, I couldn't resist splurging on some adorable fishing cookies I found from Case Bakes!!!
Here are my handsome fellow and his helpful big sister (catching an active one-year-old for party photos isn't always the easiest task). He did sit still, however, for his smash cake!!!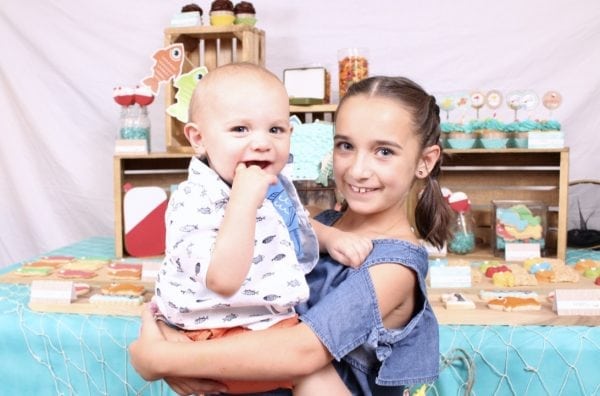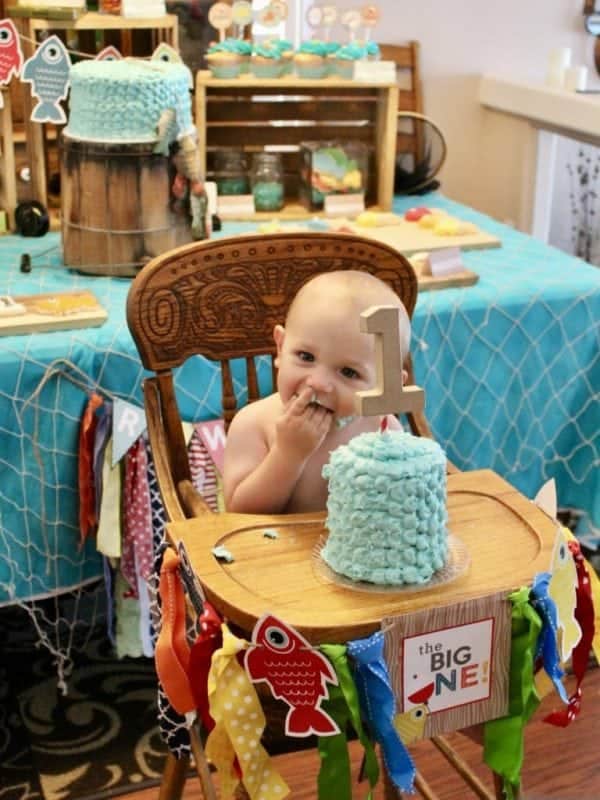 I made super easy Rice Krispies fish in bright colors for the kids to eat. Be sure to check out the easy DIY tutorial for these fun little Rice Krispies fish using this cookie cutter.
I also used fondant to top super yummy buttery sugar cookies in the same colors. There was plenty of fish to go around for all party guest.
Also, check out the tutorial for these fondant topped fish. They were definitely a hit and super-duper easy to make.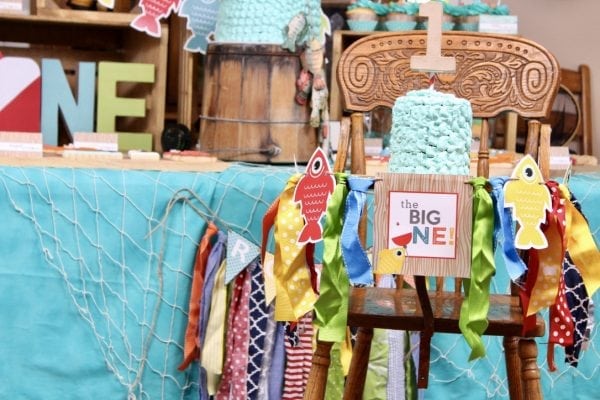 The dessert that definitely got grabbed up the fastest, was my bobber Oreo pops. These hand a nice vanilla taste to them (along with Oreos of course) and were so easy to make!!
Be sure to check out the tutorial for making Bobber Oreo Pops.
Along with those reeling in the big one cookies and desserts, I made shore cupcakes (chocolate cupcakes with chocolate frosting), lake cupcakes (vanilla cupcakes with light blue/teal frosting).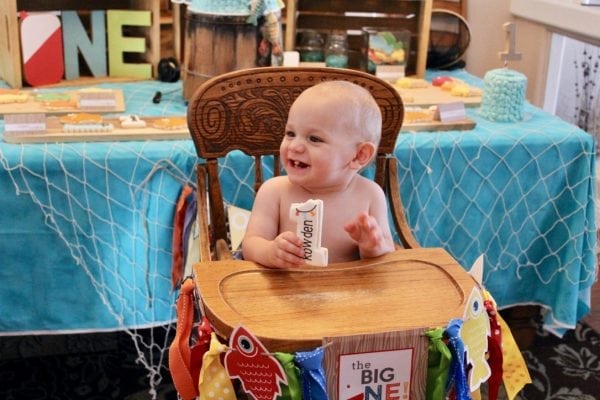 In the blue cupcakes, I added cute little candy fish "swimming" in the water!
For the main table cake and also Rowdy's little smash cake, I made a chocolate cake with chocolate filling and did a simple petal icing to give it a "water-like" feel.
To display the cake, I used an old bucket (actually it was my mom's ice cream maker) turned upside down as a cake stand.
The cake was topped with a simple string of fish I found at Hobby Lobby. It was a really easy cake to make and was so perfect for this party.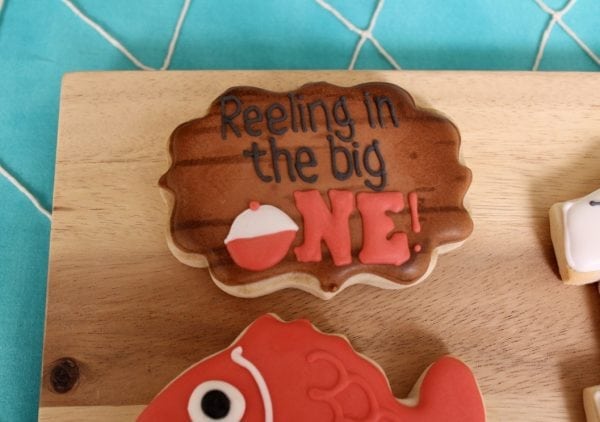 Decorations
When it came to planning the decorations. I wanted a bright fish meets watercolor water/wood feel. I made Reeling in the Big One printables with bright colors and wood and water.
For the party table, I used teal fabric and a simple fish net to make the tablecloth. I laid the fish net out on top of the fabric in a haphazard manner to give it a "thrown in the water" feel.
I used wood crates to set the food on the table and give different dimensions and height to the table. The party foods were served on wood plates and trays.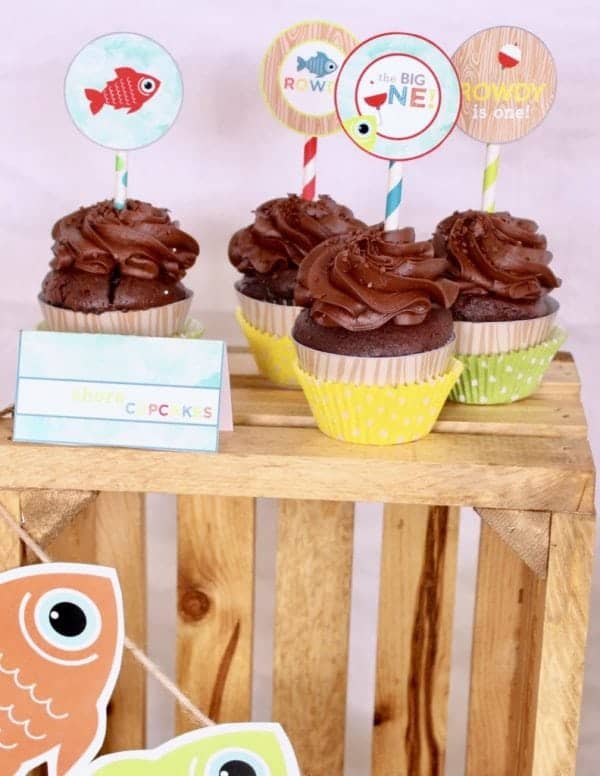 I set out some of my husband's fishing gear (reels, nets, flies) on the crates as well to help bring together the fishing theme.
Using Kraft letters and scrapbook paper, I make letters that read "ONE" with the "O" made into a bobber. Lastly, I strung caught fish (printable fish) from the crates.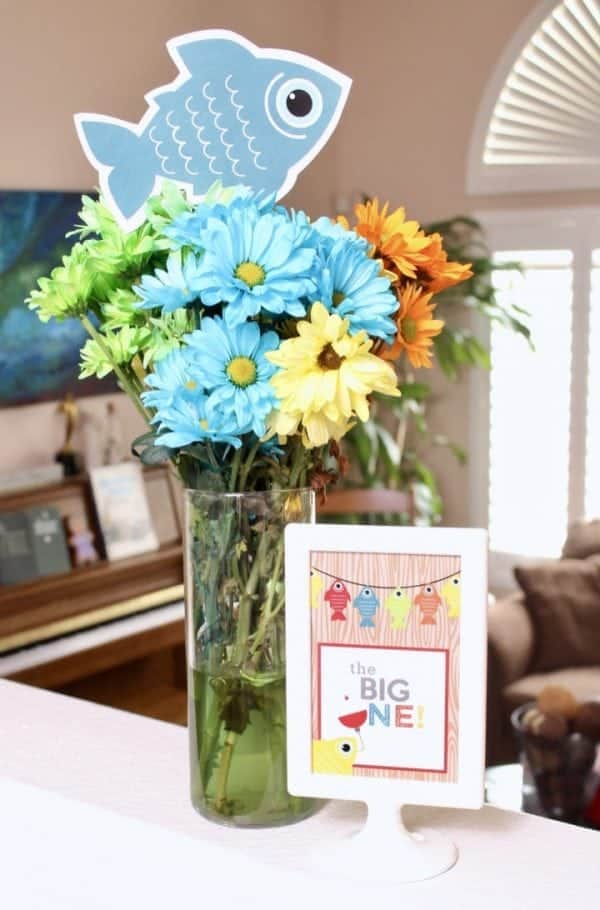 We used my mom's old-fashioned high chair for the smash cake photos. This chair fits in perfectly with the rustic fishing party theme. I tied the printable high chair banner with pieces of ribbon to make a fun high chair banner.
Here is a close-up of the adorable custom fish cookies. I think the one with Rowdy's name on it was my favorite, but honestly, with fish cookies this cute, it's hard to choose.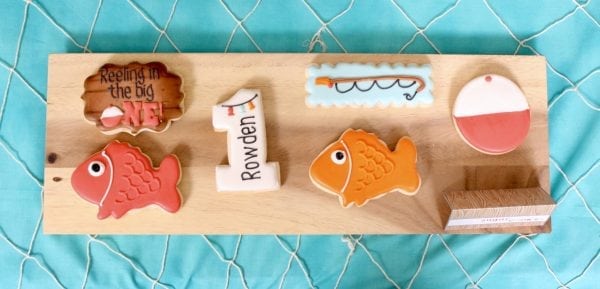 Also…here are the lake cupcakes all lined up…I love how these turned out.
Party Details
Since it is July and a fishing themed party…all the kids swam in the pool which was the perfect party activity.
Rowdy had an amazing time with his smash cake and it was the perfect first birthday party for my little fisherman.
For the welcome wreath, I wrapped a foam wreath with burlap and added the printable fishing party welcome sign. I think it turned out super cute!!
Happy, happy first birthday to my sweet little man, Rowdy! Hope you loved this fishing party as much as I loved styling it!
Be sure to also check out our pirate party ideas, wild one party ideas and other first birthday party inspiration. Also, be sure to check out the tutorials for DIY Fish Sugar Cookies, DIY Bobber Oreo Pops and DIY Fish Rice Krispies Treats.
Here are helpful links for throwing a fishing party:
Wanna throw a fishing party?
The printable fishing party decorations are available in my shop:
Fishing Party Supplies
Here are some cute and easy to use party supplies to make planning a fishing themed party so much simpler:
Fishing Tableware from Oriental Trading
Fishing Photo Props from Target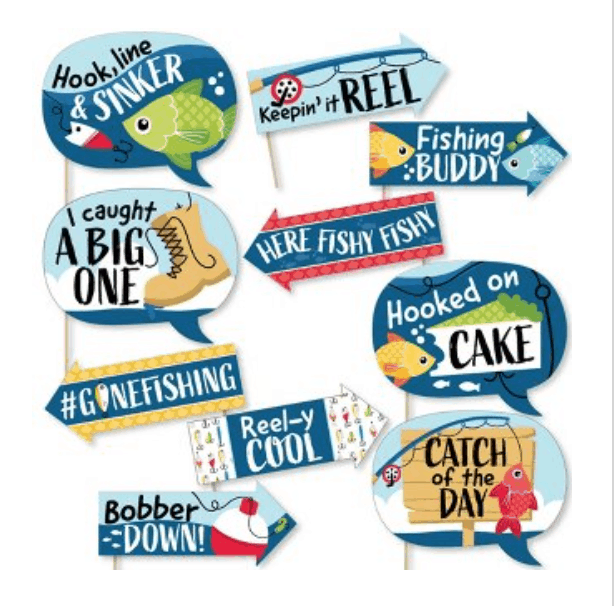 Fish Piñata from Oriental Trading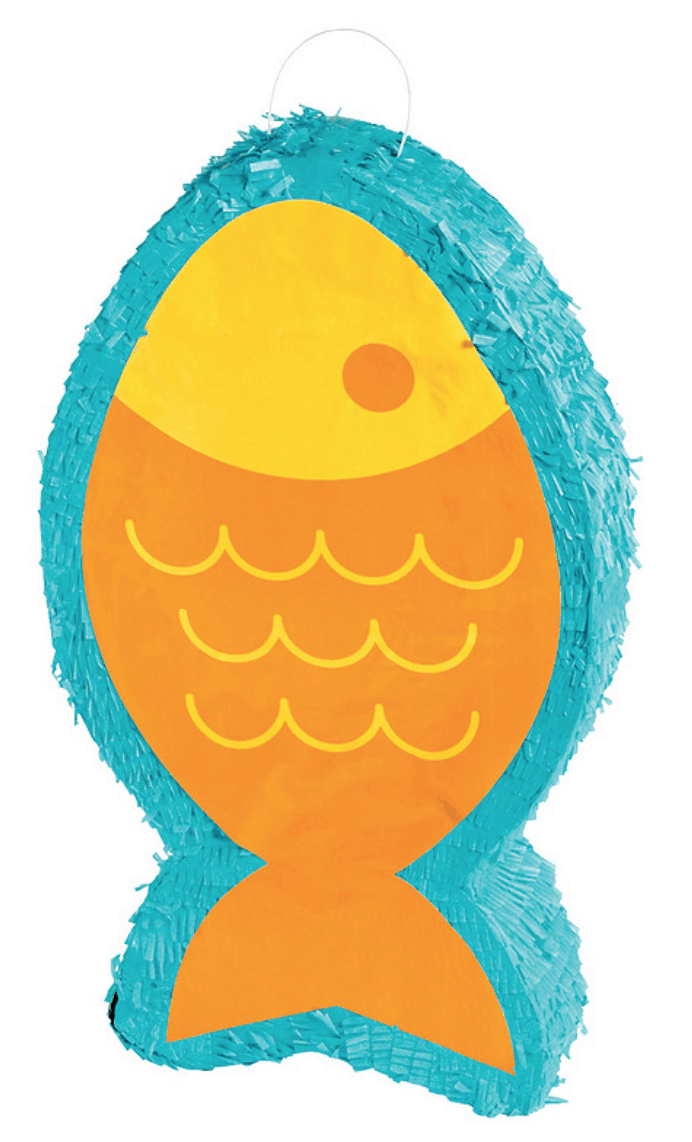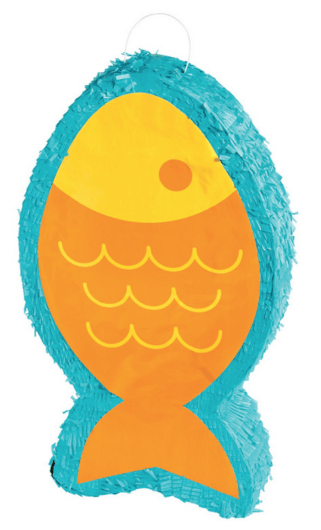 Conclusion for Fishing Party:
Throwing a Fishing themed party is simple and adorable. These ideas are great for styling a first birthday party or any fishing themed bash.
Here are some helpful links for planning a fishing themed party:
If you love these party ideas, please pin this image to your birthday Pinterest Board: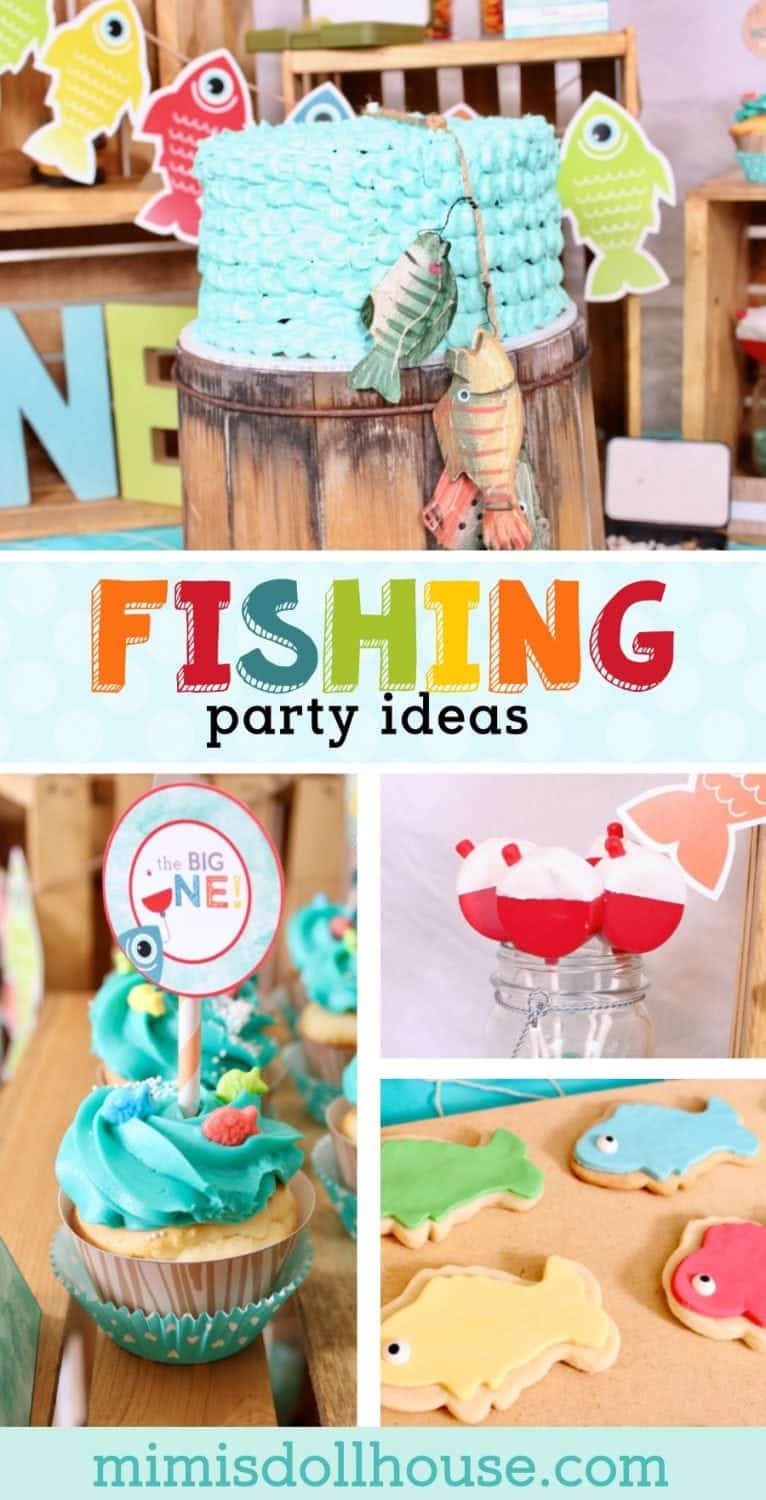 Related posts for Fishing Cookies:
Thank you for reading my Reeling in the Big One Party!