Pirate Party Ideas + Decorations
Pirate Party: Arghh you ready for a Buccaneer Bash? Looking for a fantastic way to celebrate your little Pirate lover? With hooks, gold and plenty of wood…these ideas are perfect for a pirate themed birthday party!
What's more fun than searching for pirates gold and walking the plank? Perhaps having a stink eye contest and watching pirate clothed four years olds sword fight for the title of Captain.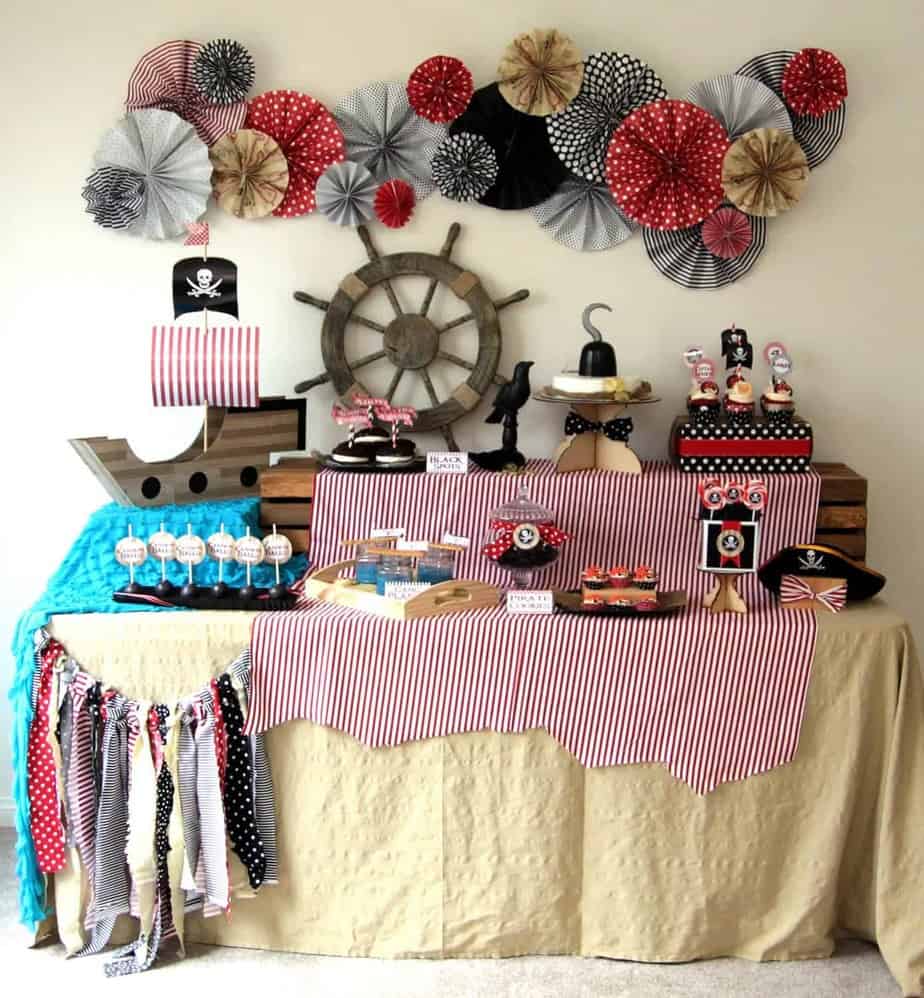 For Mason's fourth birthday, we broke out the pirate gear.
Ok so seriously…Pirates are cool. It's funny to me that real pirates are a rather unsavory group, but yet, they can be so cute as a costume or party theme.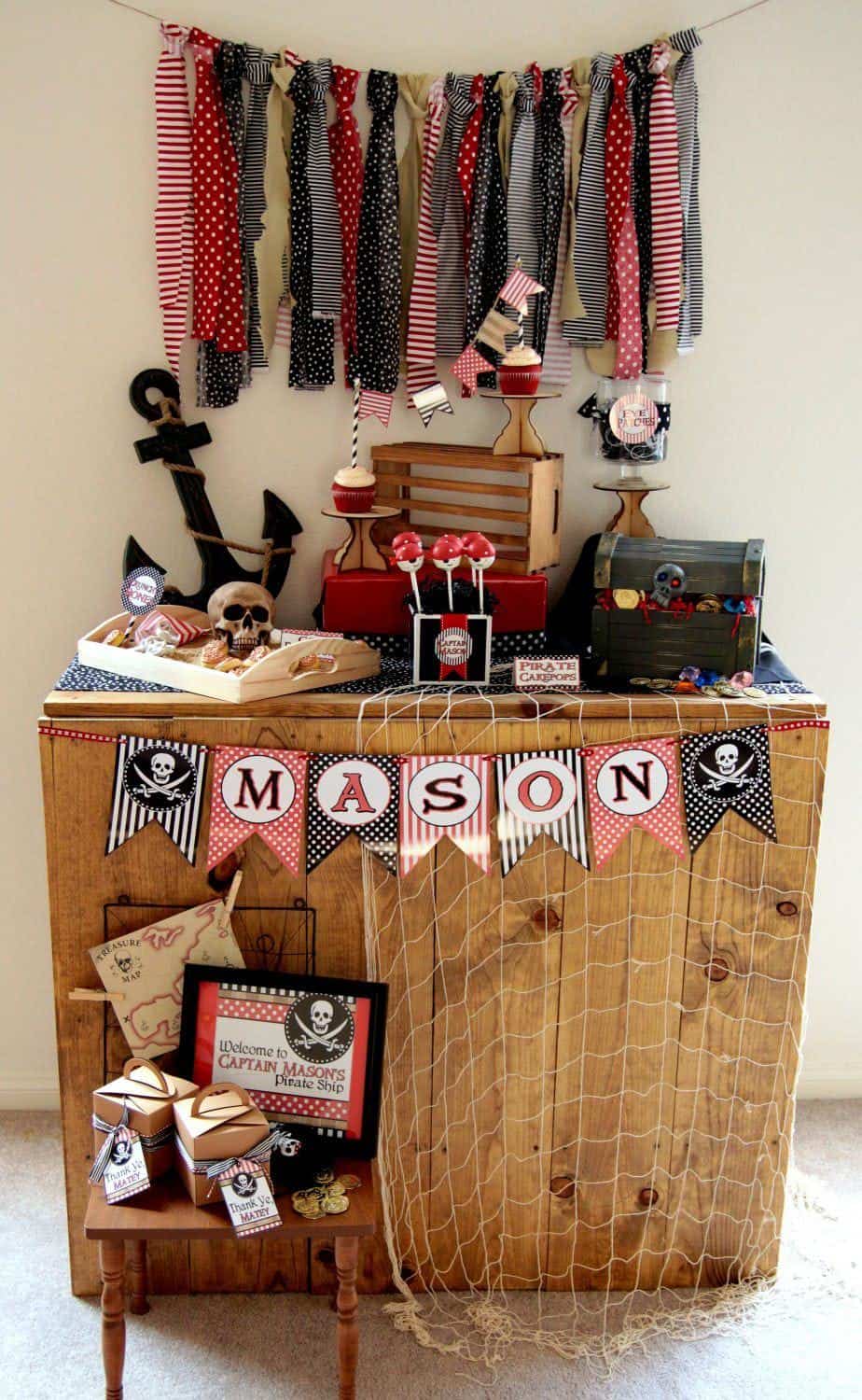 I recently styled a super fun swashbuckling pirate party. This party was also featured in the debut issue of Carousel Magazine. (Which is so cool because it is our first print feature!!)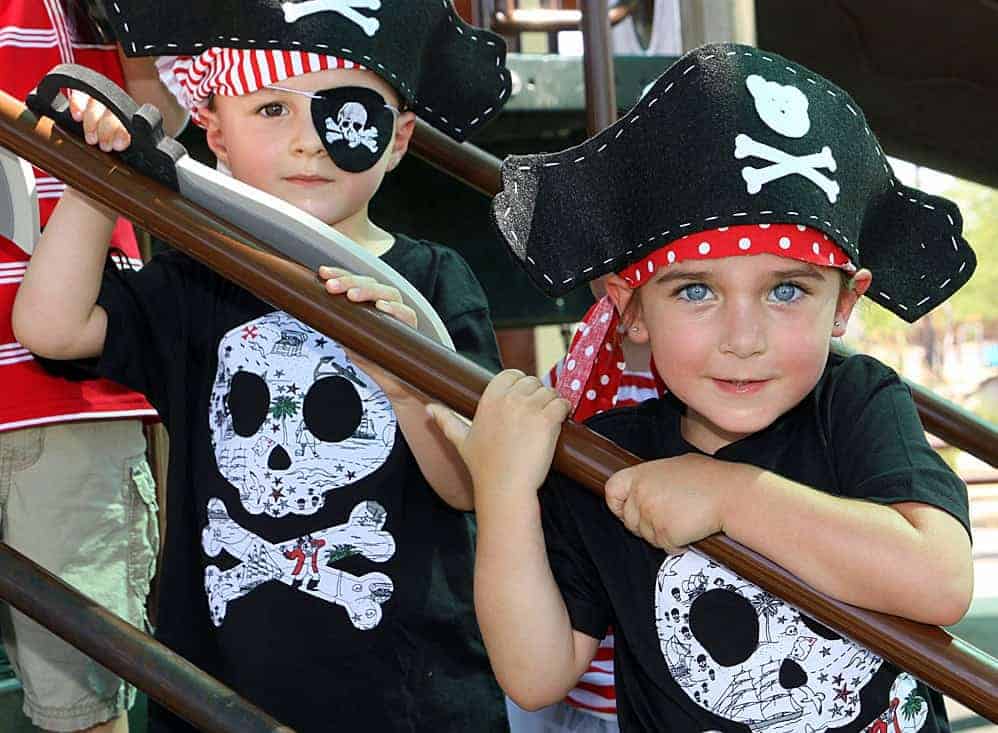 Pirate Decorations
I had such fun styling this party. One of the best parts about this party was the fabric ripping. Usually with a party, I am meticulous about lines and symmetry.
Call it OCD if you will, but everything has to be just so. Pirates, however, are NOT neat and tidy people. They would not have clean lines and symmetry. So fabric ripping and crooked lines ahoy!!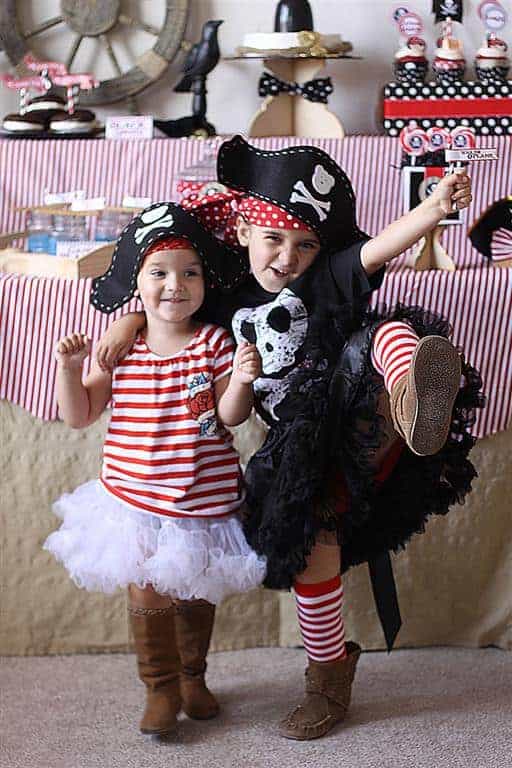 Check out the details:) Hope you love it!!
Pirate Supplies
There are so many fun little details you can incorporate into a pirate party.
I loved mixing the pirate patterns and being able to mix up the textures. We included plenty of wood and burlap and even some sand (brown sugar) and water (blue ruffled fabric).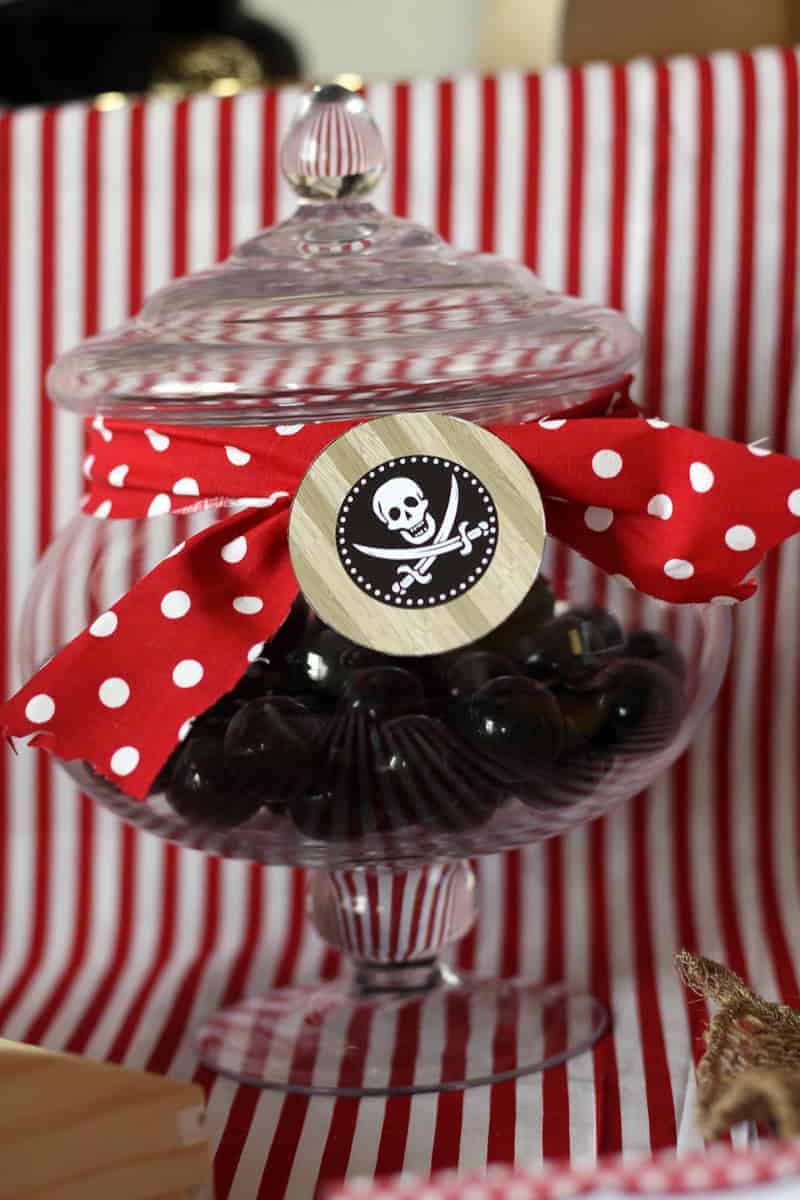 My favorite piece of the decor was the pirate ship we built from cardboard and covered with the wood grain patterned paper.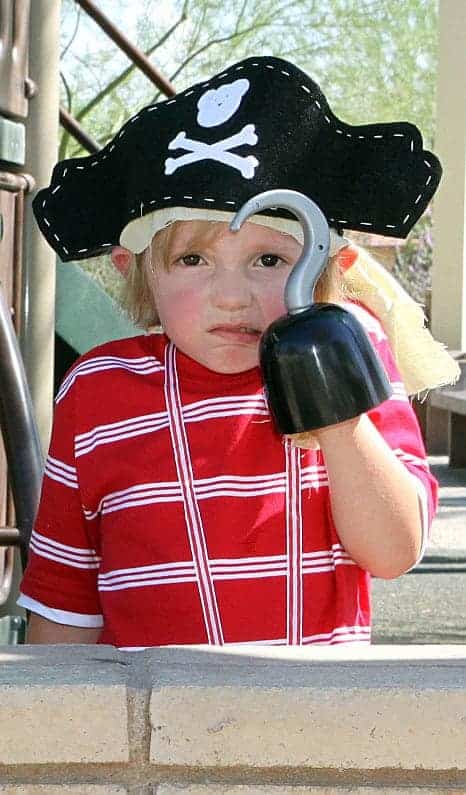 I used a wooden ship steering wheel and anchor as well.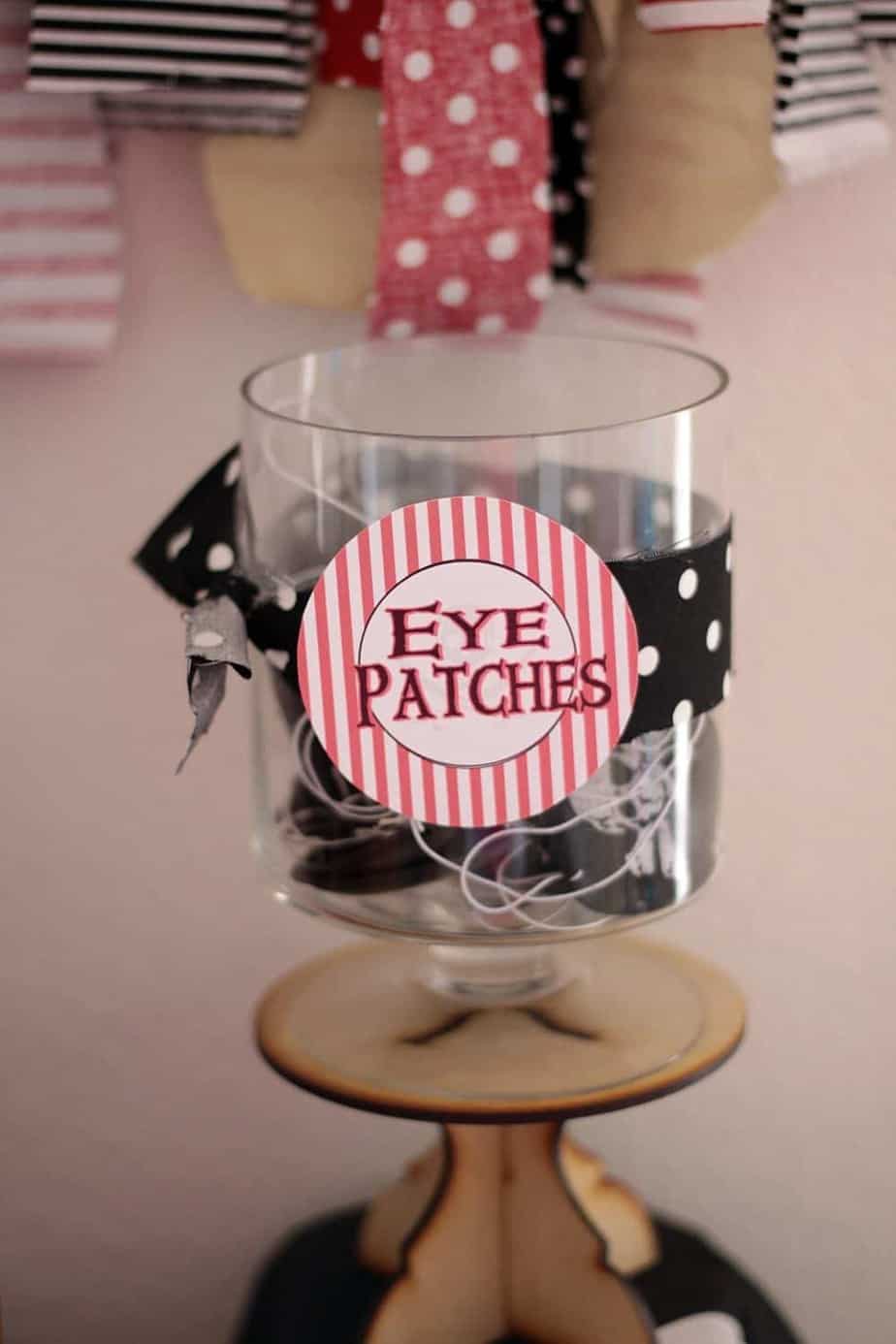 The pirate's treasure was kept "securely" locked away in this cute treasure chest!
The fondant cupcake toppers were made by Edible Designs by Letty. The adorable cookies were made by Sweet Art Sweets. The pirate shirts were made by Little Pitter Pat. The pirate hats were made by Pixie and Penelope.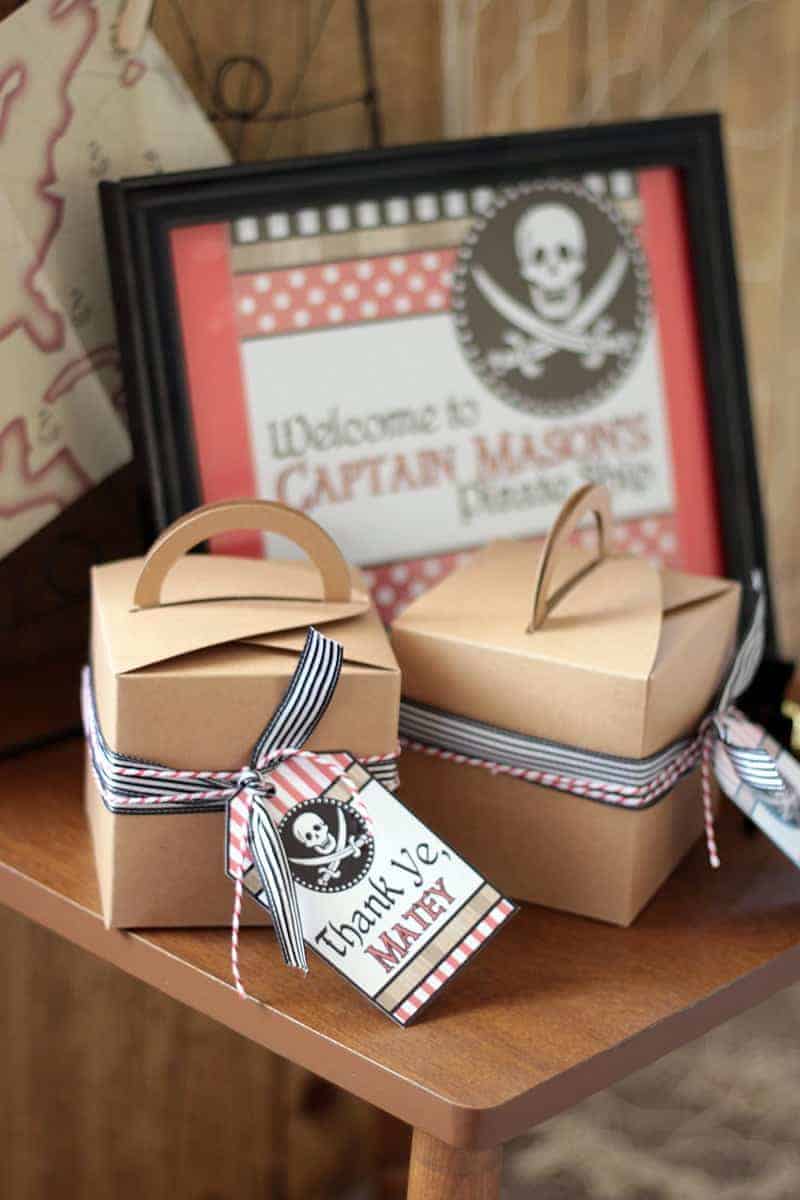 Pirate Themed Activities
The kids enjoyed climbing on a giant play-set with rope ladders and ship steering wheels. They had sword fighting contests, and a cannon ball water balloon battle.
When it was time to cool off, they enjoyed using their pirate activity pages.
RELATED: Set sail with Pirate Game Ideas
Pirate Food Ideas
Of course, we can't forget the delicious pirate themed food, right? Looking for more pirate food ideas?
Our Pirate loot included cannon ball cake pops, pirate cake pops, red velvet cupcakes with cute pirate fondant toppers and chocolate cake.
We also had gang planks (blueberry yogurt, graham crackers), pirate sugar cookies, gold doubloon sugar cookies, crunchy bones (white frosted pretzels), lollipops and black spot whoopie pies.
To drink, our little pirates had Pirate's (root) Beer, Pirate's (ginger) Ale, and Bilge Water. I used old wine and liquor bottles to serve the root beer and ginger ale to give it that authentic feel.
For the cake, I ordered a plain white frosted round cake from a local grocery store and wrapped with burlap and added a pirate's hook to the top. So easy and super inexpensive!!
Pirate Party Tableware
Here are some awesome and super simple to use pirate party supplies to help you set up your party:
Pirate Party Tableware from Target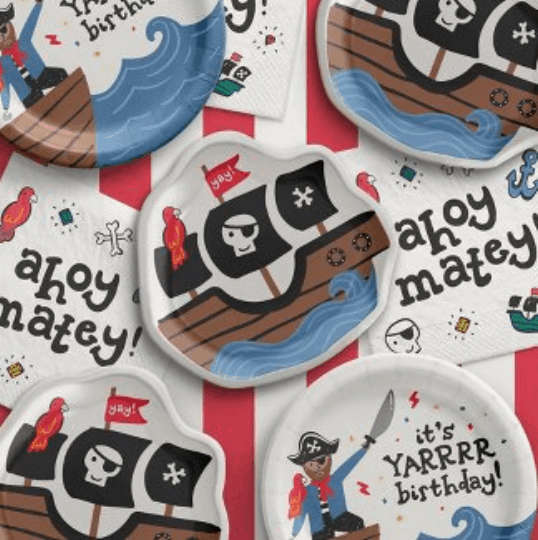 Pirate's Map Party Tableware from Target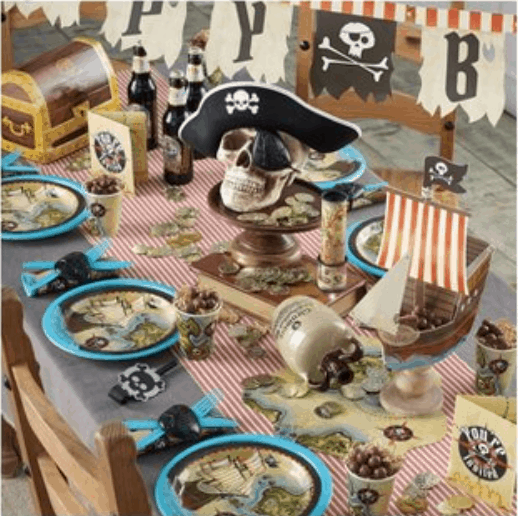 Pirate Tableware from Oriental Trading

Pirate Plates from Meri Meri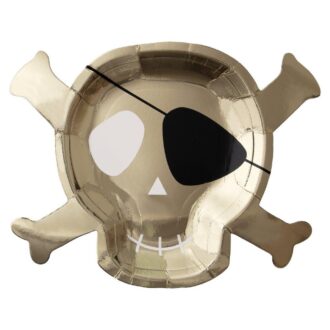 Wanna throw a Pirate Party?
The Printable Pirate Collection is available for purchase in my shop.
Here are some helpful links for planning a pirate party:
Conclusion for Pirate Birthday Ideas:
If you are looking for an amazing party theme, you definitely need to check out all the awesome things you can do with pirates. Styling a pirate party is perfect for a pool party or boy's birthday party.
These fun games and decorations and adorable food ideas will definitely get you into the pirate party mood!
If you love these ideas, please pin this image to your birthday Pinterest Board: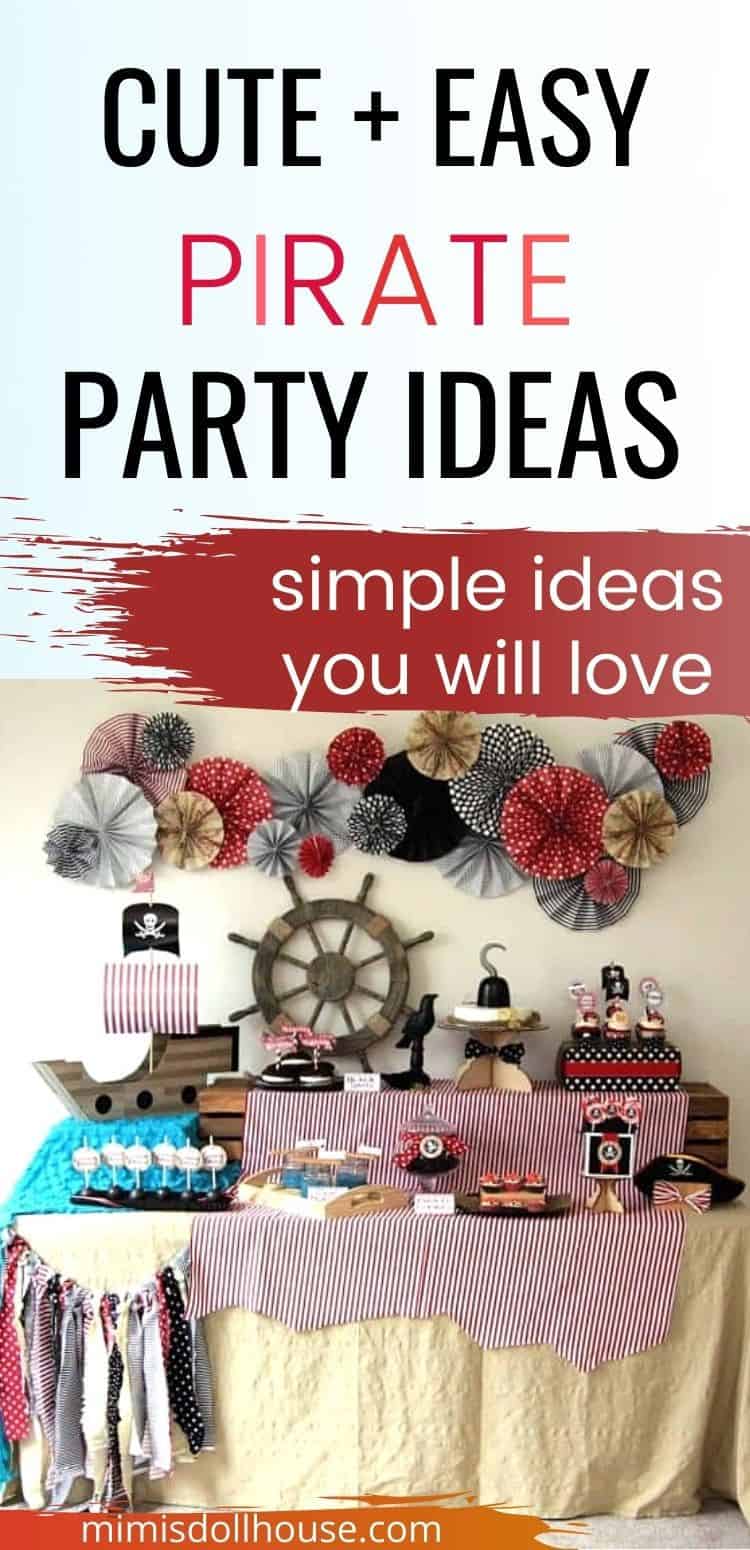 Related posts for Pirate Decorations ideas:
Thank you for reading our Pirate Party ideas!