Adorable Toy Story Party Decorations and Food Ideas!
Are you looking for a crowd pleasing kid birthday theme? Want to celebrate with some clever and simple party ideas that everyone is bound to love?
If your child is like millions across the world…there is nothing they want more right now than to ride a horse with Woody or soar into Space with Buzz Lightyear!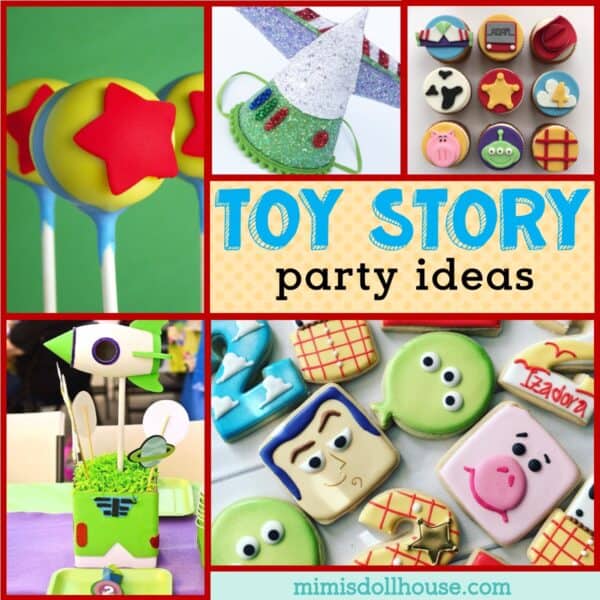 There are so many fantastic ways to throw a Toy Story themed birthday party. From customized printables and adorable tableware to super crafty handmade decorations and delicious inspired desserts…we have pulled together some of THE. CUTEST. IDEAS. EVER.
Here's to helping you style the Toy Story party of your dreams!!
Throwing a TOY STORY THEMED PARTY?
☑️ This
Toy Story Party Kit
is the perfect set to get your party planning headed in the right direction!
Toy Story Party Ideas
Toy Story is a great theme for a birthday party for a little one who loves the movies. The sweet bond between the child and their beloved toys is what makes these movies so fantastic! (Ok awesome actors like Tom Hanks and Tim Allen don't hurt either!!)
If you are looking for some amazing ideas for a Toy Story birthday party…you have come to the right place!
Toy Story Birthday Party Theme
There are two major ways to style a birthday party Toy Story style. The first is to focus on ALL the characters. Using different characters to emphasize different foods (think slinky dog garland or Mr. Potato Head chips).
The other is to pick your favorite character and focus in on that character. Popular ideas would be a Woody and Jessie themed cowboy party or focus on Buzz Lightyear and the adorable aliens and have an out of this world space adventure.
Regardless of which option you choose, there are PLENTY of ways to add stunning details to all aspects of your party, from food to decor.
Toy Story Party Food Ideas
My favorite part of any party theme is always the food. I just LOVE making fun themed treats for a party. Here are some fantastic Toy Story inspired cakes, cupcakes, cookies and more…
Toy Story Cake and Cupcakes
If you ever have time to kill, swing by instagram and check out all the epic toy story birthday cakes. There are some amazingly talented bakers out there!
If having a 4 layer Toy Story inspired cake is what your heart desires, but you aren't a baker, try searching for a local baker who can recreate your favorite cake!!
Buzz and Woody Cake from Cakes by Manda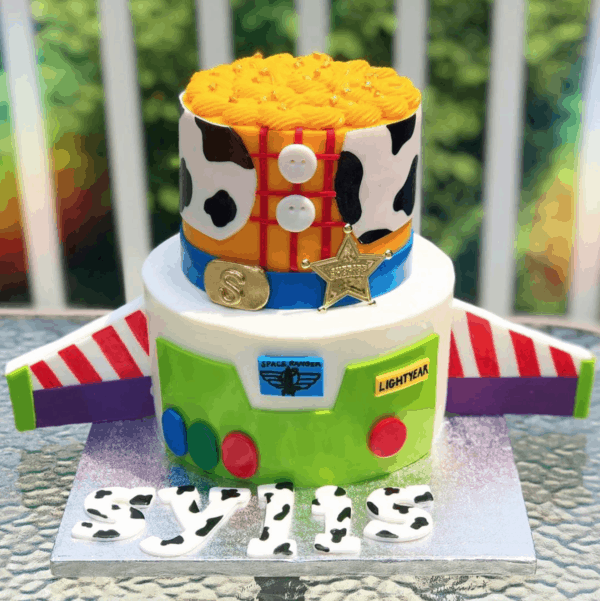 Woody Cupcakes from Baking with the Best
Multi-Layer Toy Story Cake from Cupacake by Subrina
Mr. Potato Head Cake Pops from Bakerella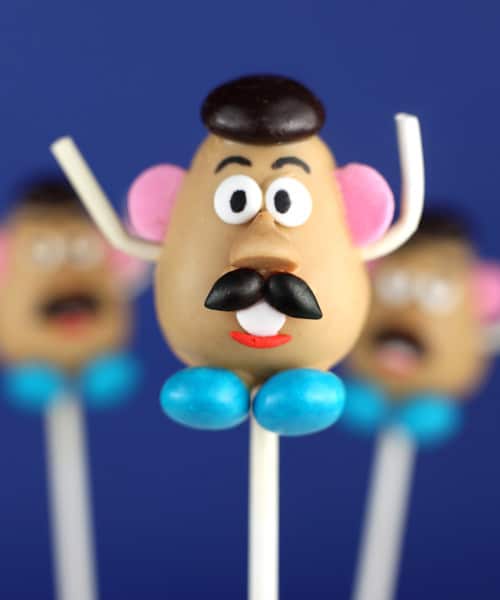 Buzz Lightyear Cupcakes from Party Love
Toy Story Cake Pops from The Cake Poppery
Toy Story Cake from Cakes and Bakes
Toy Story Fondant Cupcake Toppers from Bakers Love Bakery
Toy Story Cookies
Here are some epic cookie ideas for a Toy Story party. Whether you want custom decorated cookies with all the details, or easy to make cookies…we have you covered.
Toy Story Cookies from Bird Treats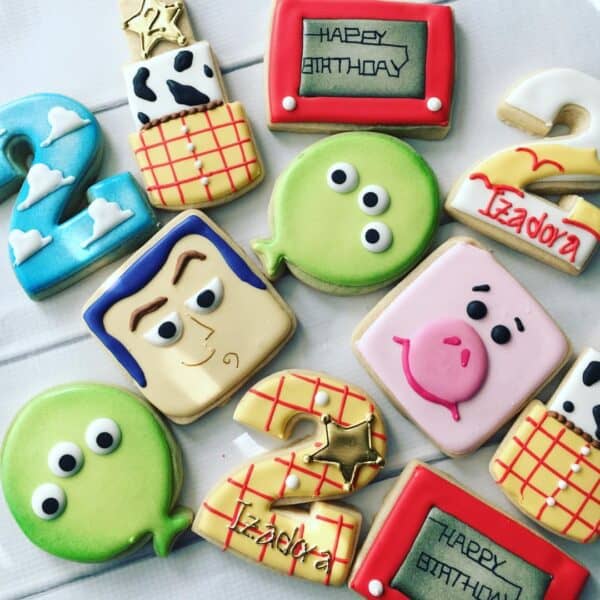 Jessie's Cowgirl Hat Cookies from Disney Family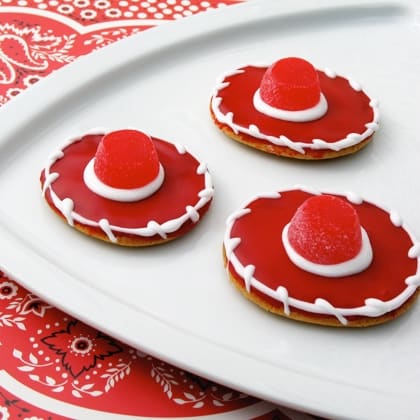 Toy Story Cookies from Sifts and Giggles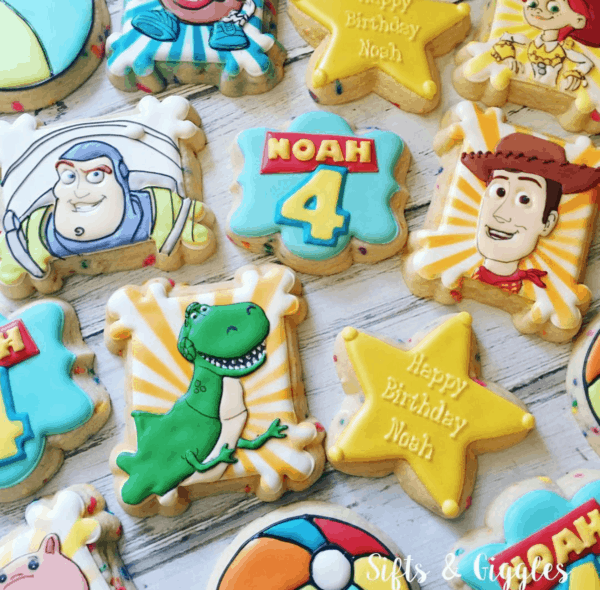 Toy Story Cookies from Bakes by Lo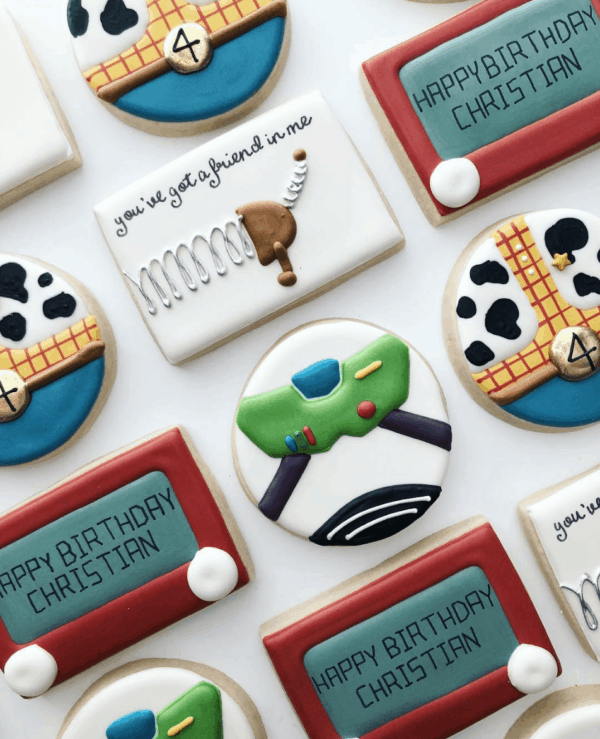 Forky Cookies from Disney Family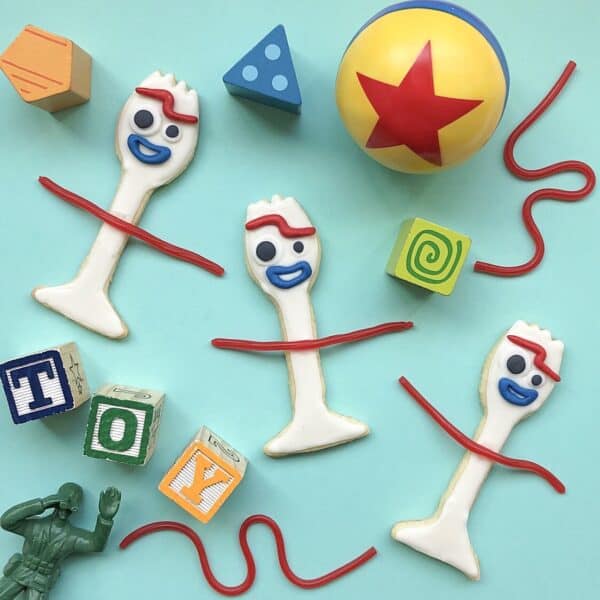 Toy Story Cookies from Flourish Cookies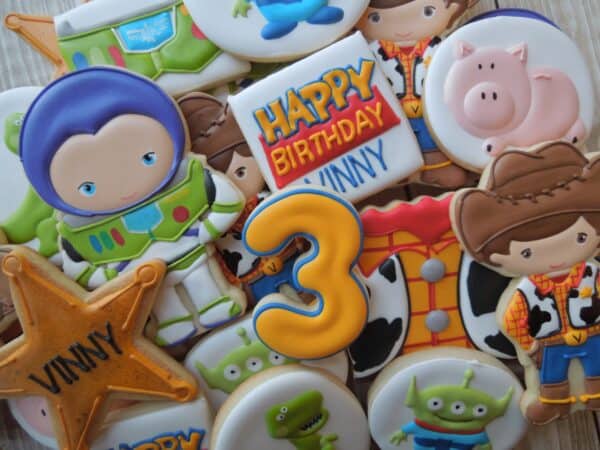 Toy Story Cookies from Charm Treats
Toy Story Food Ideas
Of course there are tons of non-sweet food options as well to make your party a whole Toy Story experience. I'm loving these cute little Alien Jello Cups from The Quiet Grove.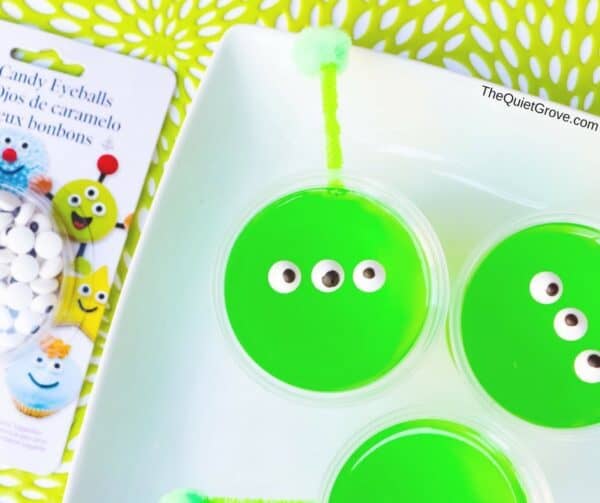 You can also find ways to "toy story" your regular party food. For example, Curly Fries can be "Slinky Dog Fries" or you can make pigs in a blanket and call them "Hamm's Pigs in a Blanket". You can also make potato chips into Mr. Potato Head Chips and Bullseye Burgers.
It is fun Toy Story party ideas like these that rally get me excited about planning a fun and super themed party. Just knowing all the hard work and creativity is going to be loved by the kids in attendance. They see their favorite characters represented as food and get so happy!
Smiles all around!
Toy Story Party Games and Activities
Once you have your menu planned out, it's time to think about games and activities. My favorite ideas for kid party activities is to take things they already enjoy doing (like coloring or swimming) and put a party theme twist on them.
For example you can get hula hoops and have a Jessie's lasso contest, where they try to toss the hula hoop onto their partner.
You can also have a Create Your Own Forky station with sporks and glue and googly eyes and pipe cleaners. The kids can make their own Forky toys!!
Toy Story Games and Crafts
Here are some more awesome Toy Story Party Games:
Etch a Sketch Photo Booth from The Suburban Mom
Pin the Tail on Bullseye from Disney Family
Toy Story Slime from Kimspired
Pizza Planet Crane Game from Amazon

Toy Story Paper Bag Craft from The Inspiration Edit
Alien Slime from We're Far From Normal
Toy Story Carnival Game from Amazon
Glow in the Dark Alien Slime from Farm Girl Gabs
DIY Forky Toy from Down Redbud Drive
Pin the Face on the Mr. Potato Head via Catch My Party
Buzz Lightyear Pinata from Amazon
If those Toy Story party games don't get you excited like a trip to Toy Story mania…I don't know what will. It's easier than you think to transform your backyard into a fantastic Toy filled wonderland full of inspired games and decorations!
Toy Story Party Favors
Party Favors are another way to be creative with your party planning. You can fill themed buckets or bags with Toy Story toys and trinkets.
You can also give custom cookies or costumes as favors. Costume items are fun party favors because they can wear them during the party and then take them home after, so it's an activity/favor hybrid.
Toy Story treat bags via Kara's Party Ideas
Coloring Pack from Pink 750
Toy Story Birthday Outfits
Here are some ideas for Toy Story inspired outfits for both the birthday kid and as activity/favors for the little guests.
Buzz Lightyear Party Hat from Paper Arrow Apparel
Toy Story Hair Bows from Sweeties Bowtique
Toy Story Character Masks from Amazon
Toy Story Dress from The Dollies Closet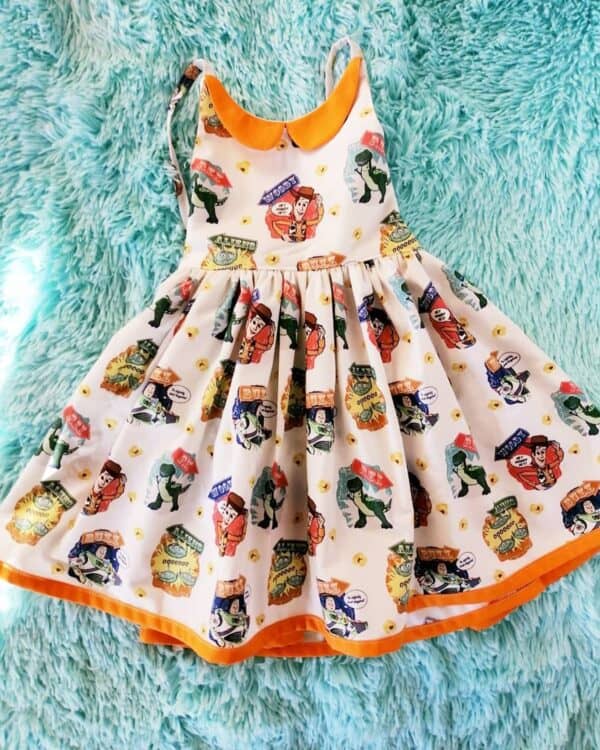 Jesse the Cowgirl Hat from Amazon
Toy Story Party Decorations
Decorating your party can be one of the most fun aspects of party planning. This is an area where you can just let your imagination run wild! Focus on your favorite characters or pull a little bit from each character.
Here are some fantastic Toy Story decorations to get your creative juices flowing….
The Claw from The Suburban Mom
Buzz Lightyear Centerpieces from Macetes de Mae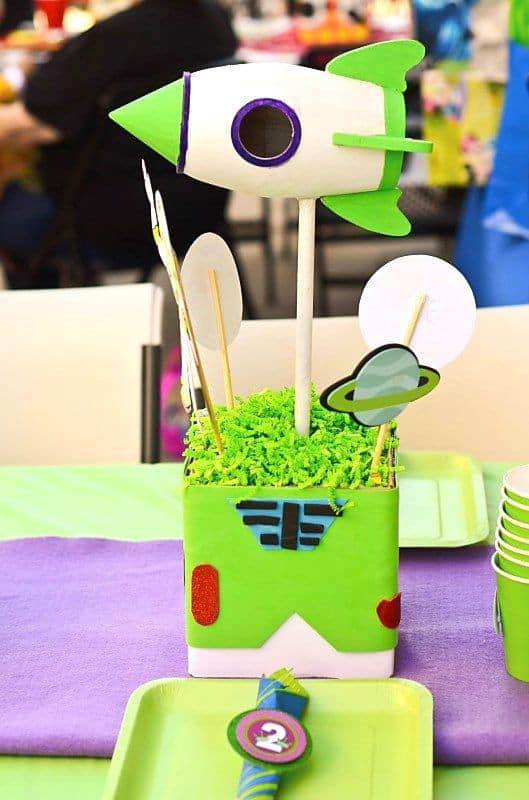 Toy Story Garland from Design for All Studio
Alien Pom Garland from Disney Family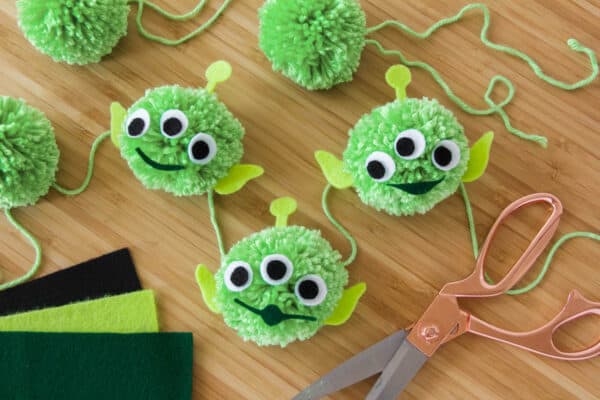 Giant Name Blocks via Catch My Party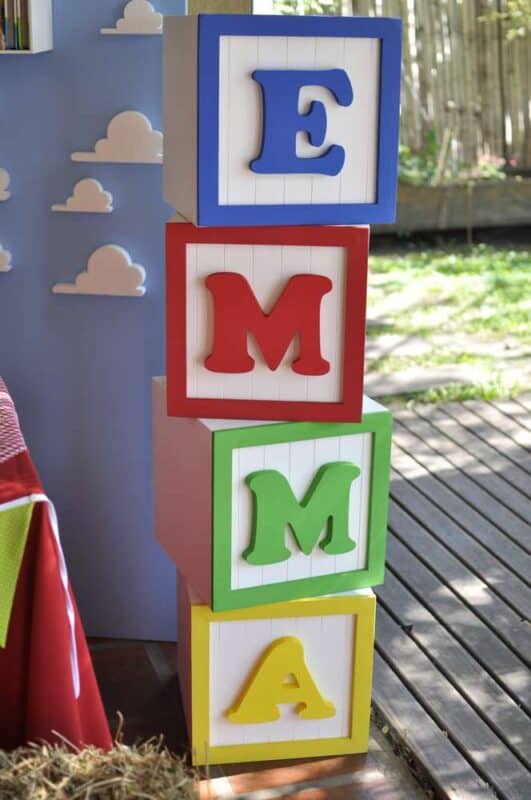 Toy Story Party Supplies
If an all-in-one package is your kind of awesome…you can't go wrong with this decorations and tableware package from Amazon! It has so many adorable options and will make your party planning so stress free!!
Using a package like this helps to streamline your party planning. It helps so much to make sure you aren't forgetting anything.
Looking for a backdrop idea? Another awesome idea for decorating for a Toy Story party is to use a fun personalized digital backdrop, from Printerama, for the dessert table or as a photo booth.
Toy Story Party Tableware
When it comes to decorating a Toy Story themed party, one easy way to make everything look themed and amazing is to grab some cute Toy Story Birthday Party Supplies. I am loving this pack from Amazon!
Toy Story Tableware from Oriental Trading

Toy Story Party Invitations
Before you can party, you have to invite your guests. When it comes to choosing the right invitations, there are two main options:
Option #1: Buy fill-in invitations. This is an easy option that only requires you to fill out the invites. If you are throwing a party for an older child, they can fill the invites out themselves.
Fortunately, you can download these adorable fill-in invitations from Disney Family.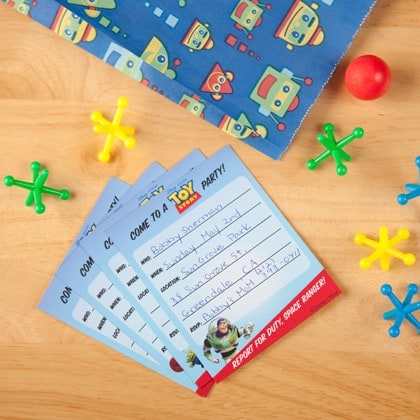 Option #2: Have a custom invitation made that you can print and distribute. So I'm partial to this option, since I do in fact design printables for parties.
I think a custom invite is fun and saving time (although printing them can be more expensive than option 1). This would be my choice for a custom invite from CutePixels to match this design. It's similar in vibe and super cute.
If you love these Toy Story Party ideas, please pin this image to your birthday Pinterest board:
Conclusion for throwing a Toy Story Party:
If you are planning a Toy Story birthday party, this post is full of all the ideas you need to make sure your party is EPIC. From decorations to food ideas, you are sure to style the best Toy Story party EVER!
Related posts for Toy Story Birthday Party Ideas:
Thank you for reading out Toy Story Party Ideas and Supplies!