Honest Review of KiwiCo monthly subscription boxes
Considering signing up for a monthly subscription to KiwiCo? Looking for some fun and engaging science or art activities to do with your children? If either of these questions apply to you, then you have landed in the right place. Check out my KiwiCo Review…
We are going to explore the KiwiCo boxes and talk about ways to use them and why your kids will love them! KiwiCo sent me the a Tinker Crate for free, so that I could review it.*
If you want to check out all the box options, visit KiwiCo. There are boxes for ages 0-17! (Don't forget to use code SHARE30 for 30% off your first box.)
What is Kiwi Co?
Kiwi Co is an Award Winning company of innovators and experts who have put their thinking caps on to come up with super engaging and educational projects that will inspire creativity in kids of all ages.
All boxes come with the tools needed for your child (with minimal supervision) can create something unique and fun and learn about art, engineering and so much more.
Kiwi Crate boxes are designed for your child's age and developmental level.
Tadpole Crate ages 0-2: Explore & Discover

Koala Crate ages 3-4: Play & Learn

Kiwi Crate ages 5-8: Science, Art & More

Atlas Crate ages 6-11: Geography & Culture

Doodle Crate ages 9-16: Art & Design

Tinker Crate ages 9-16: Science & Engineering

Eureka Crate ages 14+: Engineering & Design
Each box is age and developmentally appropriate and filled with an exciting activity specifically designed to help encourage your child to be creative and innovative.
Who is KiwiCo for?
A KiwiCo box is for any child with a love of learning. Children who love building, inventing and designing will LOVE KiwiCo. If you have a child who likes to touch items and is constantly trying to figure out how things work, KiwiCo will be a great fit.
KiwiCo is a great alternative to television and video games for entertaining kids and doesn't require parents to be experts…because let's face it…nobody has time for that!
KiwiCo Review: Will my kids like their KiwiCo box?
If you are wondering whether or not YOUR kids will like KiwiCo boxes…let me tell you a little about what MY kids thought…
We received a Tinker Crate from KiwiCo to try out with my 8 and 10 year old children. This particular crate had a DIY Hydraulic Crane.
Using the easy to follow directions and the included materials, my daughter's had such a blast building different cranes and claws that they powered with their own hydro-powered tubes.
There were several different options for ways to use the materials and once they went through the initial directions, they were able to go back to let their creativity dictate what they built next.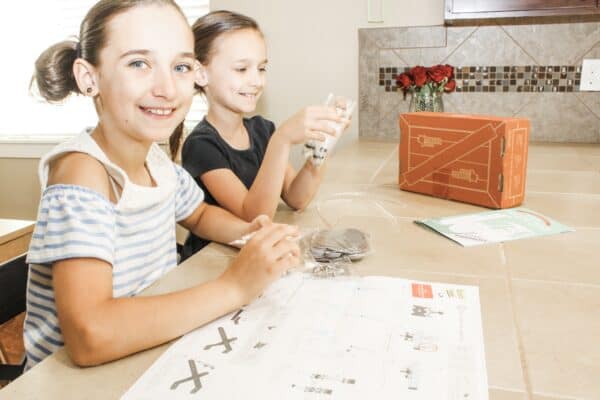 As a teacher and homeschooling mom, it was awesome to watch them first learn the fundamentals oh how the hydraulic system worked (including when my 8 year old accidentally sent water shooting across the room at me!)
Once the learned the fundamentals, they were able to easily apply that learning to make a whole host of other designs using the hydraulic tubes to power them.
The best part…this was just from ONE BOX. Funding out that another kiwico box was coming the following month was met with cheers from my excited kids!
That excitement is why I wholeheartedly recommend this subscription box for other parents!
What comes in a KiwiCo box?
Everything you need to let your child learn and explore through the theme of the box. From 0-14+, these are age appropriate and complete kits to help your child learn and explore.
How does KiwiCo work?
There is a super simple process for ordering a KiwiCo box.
Pick a Line.

They offer projects for every age and interest! (Don't forget code: SHARE30 for 30% off your first box)

Delivered Monthly.

Choose your plan and the first crate ships in 2 days. Pause or cancel anytime. (You can also opt for just one box or send a box or subscription as a gift.)

Serious Fun!

These science and art projects inspire kids to become creative problem solvers.
How much does a KiwiCo subscription cost?
KiwiCo subscriptions are super reasonably priced. Depending on the subscription option you choose, you can have your kids learning and loving it for under $17 a month. (Also…with code: SHARE30 you get 30% off your first box)
Can I order just ONE KiwiCo box?
Absolutely. If you are unsure whether or not your child will enjoy using a KiwiCo box, you can start with a one time box and see what all the fuss is about!
How to use KiwiCo boxes to supplement your homeschool program.
Are you a homeschooling parent? One of the challenges with homeschool curriculum, is that the science programs are not always as hands-on and exciting as our kids would like.
If you would like to give your child more hands-on options for science learning or really step up your child's exposure to art and design…KiwiCo is the perfect supplement to increase learning and engagement.
The boxes can easily be independent activities or shared between siblings that are in the same age range for a small group project.
KiwiCo is perfect for keeping kids busy during summer break!
When summer is in full bloom no one wants their kids sitting in front of the television all day. If you are looking for something to help your kids stay engaged and busy that doesn't require you to constantly sweat your mascara off…KiwiCo crates are a great summertime activity for kids!
With so many fun and interesting projects, this is a great time to try out the crate that aligns with your kids age and interests!
KiwiCo makes great birthday and holiday presents!
Looking for a unique birthday gift or holiday present? A one time box or subscription to KiwiCo crates will excited the kids and the parents alike!
No more loud obnoxious race cars or patterned socks….how about a love for learning this Christmas?
Conclusion for Hands-On Science and Art Projects with KiwiCo:
So if you are an awesome parent (you know you are) and you have awesome kids…I think these fun KiwiCo crates will be a great fit and I highly recommend trying them out! Swing by KiwiCo and grab a box or sign up for subscription! Don't forget to use code: SHARE30 for 30% off your first box!!!
If you love these KiwiCo crates, pin this image to your Pinterest boards for later!
Related posts for KiwiCo Review:
Thank you for reading my KiwiCo review!
*This post was sponsored by KiwiCo. The opinions are completely my own based on my experience.*