Great Alternatives to Throwing a Birthday Party!
Sometimes, either by choice or necessity….planning a big birthday party just isn't possible. We all love a good party, but there are also other fun ways to celebrate a birthday without a party.
Whether you are looking to keep expenses low, or trying to navigate a party during quarantine, we have some amazing alternatives to a traditional birthday party to help you keep the event special minus the party planning!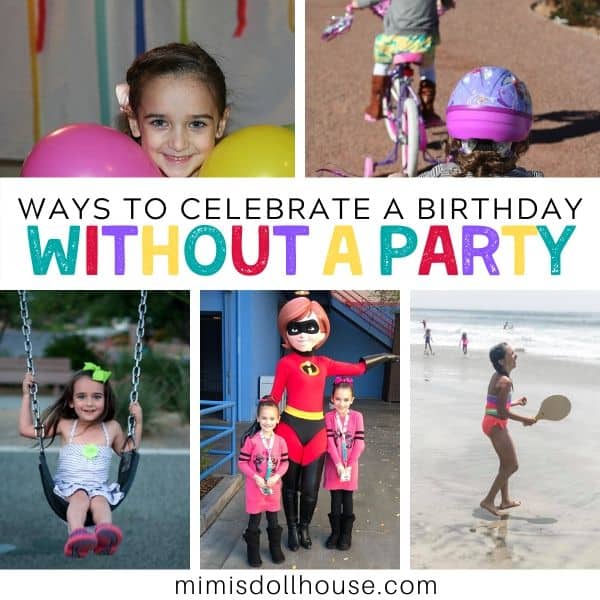 Birthdays are exciting, especially for kids! Having a big party full of friends is something most kids look forward to as their birthdays approach. Sometimes, though, a party just isn't the best course of action for your circumstances.
Finding a way to celebrate a birthday without bumming your kids out is important to making them feel special.
Ready to look at some alternatives to throwing a birthday party?
Reasons to choose to not throw a party
There are many reasons to choose NOT to have an actual birthday party.
The most important thing to consider is that there is absolutely no shame in needing to cancel a party or plan something different for your kids. Sometimes those other ideas end up being more fun anyway!
Here are some common reasons for choosing not to host a birthday party this year:
Medical
Let's face it…sometimes illness happens. If you are in a position where introducing germs into your home is not in yours or your child's best interest…a big party might not be for you.
Right now with social distancing being the standard across the world, medical concerns are high and gathering are not encouraged.
Planning an alternative to a party is going to be the new norm for a bit.
Financial
Let's face it…sometimes parties are expensive. Even if you cut corners or are a DIYer…depending on your guest list, providing food and decor and favors for everyone on your invite list can be a financial strain at times.
Choosing to focus on a smaller budget celebration can be a blessing sometimes.
Minimalism
Often, you just want to pull back. Minimalism has really become a popular movement in recent years. The idea of just doing less and appreciating smaller endeavors more can be a refreshing alternative to the norm.
It can also be a great way to change celebrations as your kids get older.
Ideas for celebrating without a party
So if you aren't planning a party…what ARE you doing? Here are some popular and creative alternatives to having a birthday party!
If you would still like to throw a party…have you considered trying a Virtual Party? Here are fun ways to throw a Virtual Birthday party to check out!
Camping
Take your kids camping. If you are a camping family, this one is an easy option. Finding a local camping spot for a weekend trip and getting a little sunshine and outdoors as a birthday celebration is awesome.
Roast s'mores over the fire and sing "Happy Birthday" under the stars.
Even if you aren't a "camping family"…finding a cabin can be a cozy change of pace and a great way to see if camping is for you!
Day Trip
Pile your kids into the car and get out of town for just a day. Do you have a nearby waterfall or landmark to visit? Maybe there is a fun nearby bakery or tour you can take.
Sometimes finding something close to you that you haven't done can be a fun adventure for your family and a great way to celebrate a birthday!
Movie
Family movies are always a hit. There are options for how to do this too. It doesn't always have to be in a theater. Yes, you totally can go watch that new awesome blockbuster, but you can also do a fun at home family movie night with pjs and popcorn.
Sometimes watching your little birthday kiddos favorite movie and yes…even singing along to all those songs it might have can be a fantastic way to celebrate a birthday!
Family Dinner
There is something so special about a family dinner. Find that favorite restaurant or even favorite home cooked meal (if you are staying in) and spend an evening just talking about what makes your little birthday kiddo unique.
Grab some easy balloons or simple decorations and decorate their chair. Maybe even bake up some cupcakes or a delicious birthday cake and just enjoy each other without guests!
Beach Day
Lucky enough to live near the coast or a swimmable lake? Spend a family day at the beach. Play games, splash in waves and enjoy some recreational sunshine.
Also…take lots of pictures. The sunshine on the waves often gives you great lighting for photos anyway…use that to get some candid photos of your family celebrating a day together.
Invite a friend
If you are avoiding the expense of a large party, sometimes letting your kiddo invite just one friend to accompany you and your family on whatever you are doing is a great birthday idea.
This gives them someone to "hang with" without adding a lot of extra cost to your day.
Friends are great for everything from a simple bike ride to a day at a water park, right!
Spa Day
This idea is perfect for a little girl, especially a tween or teen girl. Grab a mani-pedi together and get pampered. This can also be easily adapted into an at home option.
You can get creative with a bucket and some fingernail polish and make your own at home spa! Facial masks and lotions are great options as well.
Who wouldn't want to be pampered for their birthday?
Amusement Park
While not an option for budget saving or social distancing…looping a vacation and a birthday together with a trip to an amusement park is an awesome way to celebrate a birthday and give the whole family a treat.
This is an option we have done many times for our kids and have loved every minute of it! The shared experience is such a great present!
Pool Day
Plan a fun pool party with less party and more pool. Ditch the decor and the complicated snacks and just let them swim! simple sandwiches and some splashing are all that are needed to have a simple pool birthday without all the hoopla!
Have a Picnic
Spend the day having a picnic outside. If you can go to a park, this is a great place to do this. If not…a simple backyard picnic with some easy games can be a great little celebration.
It's amazing what a little fresh air and sunshine can do to make a day fabulous!
No matter what you end up doing as a way to honor a birthday…make it special and unique to the things that your little birthday boy or girl loves. Celebrate their interests and enjoy the time as a family.
It's those moments that end up getting remembered anyway!!!
Here are some helpful links for celebrating a birthday:
Conclusion for Non-party birthday celebrations:
You don't have to have a big party to celebrate a birthday. There are many alternatives to a birthday party that can still be special and bring joy to the birthday boy or girl.
Choose one of these fantastic options and make it your own. You will love the day and the celebration no matter how small!
If you love these ideas, please pin this image to your birthday Pinterest Board:
Related posts for How to celebrate a birthday without a party:
Thank you for reading my alternatives to a birthday party ideas!