Magical Harry Potter Party Food Ideas for your birthday!
Planning a Harry Potter party never tasted so good. These amazing Harry Potter Food ideas are exactly what you need to create an amazing wizarding world with delicious cakes, cookies and more!
From Harry Potter cupcakes to gorgeous Harry Potter cakes, these ideas will get you on track for a fantastic party!
There is just something so "magical" about Harry Potter. From the first moment I started reading the first book…I was totally hooked. It's the perfect story of an ordinary kid becoming something special, which is probably why it is so beloved by "ordinary kids" the world over!
Throwing a HARRY POTTER THEMED PARTY?
If you have one of those kids who is Hogwarts obsessed (or are yourself…no judgment, I'm a grown woman loving Harry Potter too!!), throwing a Harry Potter party is the perfect potion for a Magical party!
RELATED: Magical Ideas for a Harry Potter Party
Harry Potter Food Ideas
Once you have those decor ideas in mind (check out the above link for inspiration), you can start focusing on that fantastic menu full of themed treats and awesome desserts!
Here are some simple themed options you will love:
Gryffindor Grapes

Sytherin Snakes (gummy worms)

Hufflepuffs Cheeto Puffs

Professor Sprout's Veggies
Magic Wands (pretzel sticks)
Also, don't forget all the Harry Potter themed treats mentioned in the books like Treacle Tarts, and Bertie Bott's Every Flavor Beans.
Also check out these Pretzel and Cheese Broomsticks from One Little Project
Simple brooms you can eat or play with! Quidditch anyone?
Harry Potter Desserts
Desserts are a great way to showcase your creativity. Check out these glorious ideas:
Golden Snitch Truffles from Cooking Classy
This is a simple and absolutely awesome way to dress up store bought chocolates!
Butterbeer Fudge from Ashlee Marie
Do you love fudge? How about some butter beer flavored fudge? Delicious!

Butterbeer Muddy Buddies from Hey, Let's Make Stuff
Muddy Buddies with a Harry Potter flair…absolutely! Easy and yummy!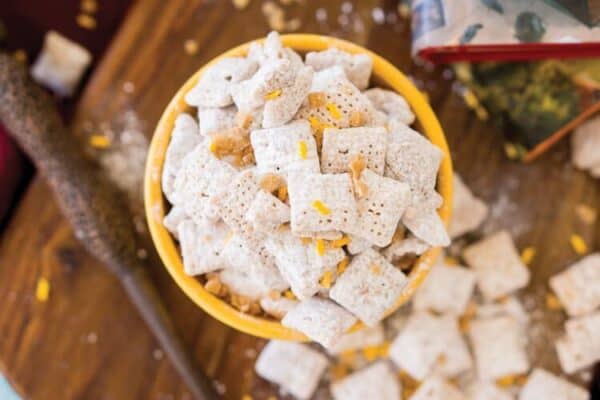 Harry Potter Cake + Cupcake Ideas
Ready for some cakes and cupcakes that are the perfect fit for a Hogwarts enthusiast?
Harry Potter Cupcakes from The Sparkly Life
These are adorable! You can recreate these cupcakes with these awesome cupcake toppers.

Butterbeer Cupcakes from Food Curation
More butter beer flavor? How about these delicious cupcakes?

Sorting Hat Cupcakes from Sugar Bean Bakers
Bake a little surprise inside to help your party guests get sorted into their houses!

Harry Potter Cupcakes from Birthday Express
Adorable Harry Potter cupcakes with little fondant glasses. Ummm…adorable, right?
Harry Potter Cake from Pretty My Party
This cake is absolutely perfect. The details are so on point!

Sorting Hat Cake on Kara's Party Ideas
Check out this fabulous sorting hat cake! For an extra surprise, bake the house colors inside!!

Harry Potter Cookies
Ready for some amazing cookies that will surely be a hit with the kids and jazz up your dessert table?
Harry Potter Cookies from The Little Baker Co.
Aren't these cookies adorable? Especially the glasses!!

Butterbeer Cookies from Sarah in the Suburbs
You can't go wrong with butter beer cookies. Delicious and perfectly on theme!
Harry Potter Cookies from Eight Arms Bakery
Here are some more awesome Harry Potter cookies you can order! Adorable, right?

Harry Potter themed Cookies from Sugar Chic Bakery
These adorable cookie options are so fun. The sorting hat and the brooms are clever options!

Harry Potter Character Cookies from Divine Presents
The details on these character cookies are absolutely perfect! I think Ron is my favorite!

Harry Potter Drinks
You can even get your beverages into the party theme…here are some super fun ideas for Harry Potter themed drinks:
Butterbeer Recipe from Princess Pinky Girl
Butter beer, of course!!! Delicious and necessary for a true Harry Potter experience!

Polyjuice Potion Punch from This Grandma is Fun
Are you looking to change into your favorite character? Whip up some delicious polyjuice potion….just be careful whose hair you use!!

Flitwick's Charmed Cherry Soda from Miss Kitchen Witch
GEt ahead in charms class with this yummy cherry soda. It's Professor Flitwick approved!
Harry Potter Party Tableware
Serving up all these yummy themed treats is made so much easier with some themed table ware. Save time and money with a great set like this:
Harry Potter Tableware from Party City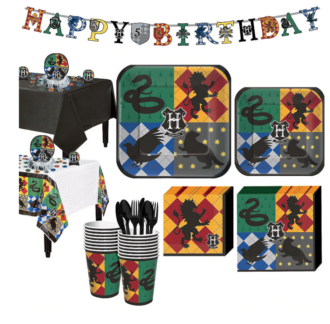 Here are some helpful links for planning a Harry Potter Party:
Conclusion for Harry Potter birthday cake + dessert ideas:
If you are throwing an amazing Harry Potter themed party…you need some magical food ideas. These Harry Potter cakes, cookies, desserts and food ideas will help set your party ahead of the class. Impress your friends an excite you little Hogwarts fanatics with these extra special treats!
If you love these ideas, please pin this image to your birthday Pinterest Board:
Related posts for Harry Potter party food:
Thank you for reading our Harry Potter Food ideas!