Minecraft Party: Let's build a birthday!  Check out this fun and creative Minecraft Party styled by The Sweetest Things.  Be sure to check out all of our Minecraft ideas and inspiration.
So, Minecraft.  This game is crazy popular.  The Lasha household hasn't become a Minecraft house yet…my little girls care far more about princess dress up and baby dolls than video games, but my email blows up about Minecraft parties all the time.  I'm especially surprised all the time about the number of girls who want a Minecraft party.  Maybe I should bust out this game for myself:)  Who needs to wait for the kiddos???
This is a great party theme.  I think there are tons of fun things you can do with the simple elements from the game.  It's nice too, because you do not have to be crazy artistic to recreate the images, since they are seriously just a collection of boxes.  Winning!!
This fun Minecraft party was styled by The Sweetest Thing Events using our Minecraft Party Printable Decorations.  They made some amazing treats and lots of yumminess.
This party has tons of cute mincraft themed treat ideas. Very cute and very clever. Check it out!! Here are some cute chocolate dipped pretzel dynamite sticks and some simple brownies that are perfect as building blocks.
So many fun Minecraft Birthday Party Ideas.  I love how pixelated all of the Minecraft images are!!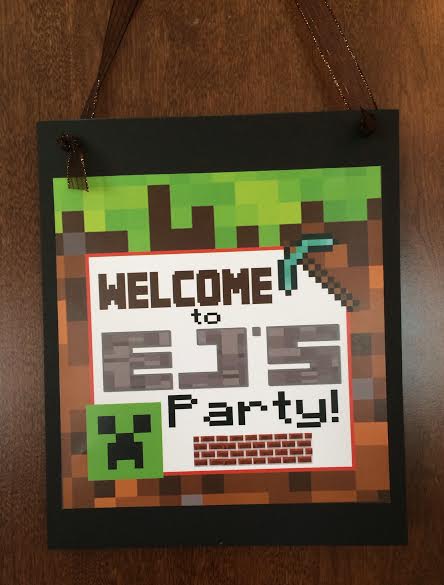 Isn't this a cool looking cake?  I really like how well it matches the turf table cloth.  Such a fun touch.  It looks great coupled with the mini banner.
I also love the yummy looking creeper rice krispie treats.  Such fun ideas.  The "carrot" chocolate dipped strawberries and super clever too.
Here are some fun creeper cookies, too.
Happy Birthday EJ!!
 Vendors:
Party Styling and Treats: The Sweetest Thing Events
Minecraft Party Printables: Mimi's Dollhouse
Here are some helpful links for throwing a Minecraft party?
Wanna throw a Minecraft Party?
The Printable Minecraft Party Collection is available for purchase in my shop: