Clever parties with an ocean theme
Under the Sea Birthday Party: Romain's Ocean Birthday. Looking for some ocean birthday party inspiration? Want to see if the seaweed IS greener? Today I'm sharing an adorable Under the Sea Party!.
Looking for mermaid party activities? Also check out this mermaid party, these mermaid party ideas, this dolphin party and these under the sea party ideas!
It's party time under the sea and this absolutely fabulous under the sea birthday party from That Cute Little Cake is perfect for an under water adventure.
Throwing an UNDER THE SEA THEMED PARTY?
☑️ This Under the Sea Party Kit is the perfect set to get your party planning headed in the right direction!
Virginie from That Cute Little Cake styled this amazing party for her son's third birthday using our under the sea party printable collection (available at the bottom of the post). It is too, too cute…Check it out!!
Are these little octopus cake pops not completely the cutest things EVER. I LOVE them!!! They look so happy:) This design is also available in pink as shown in this girly under the sea party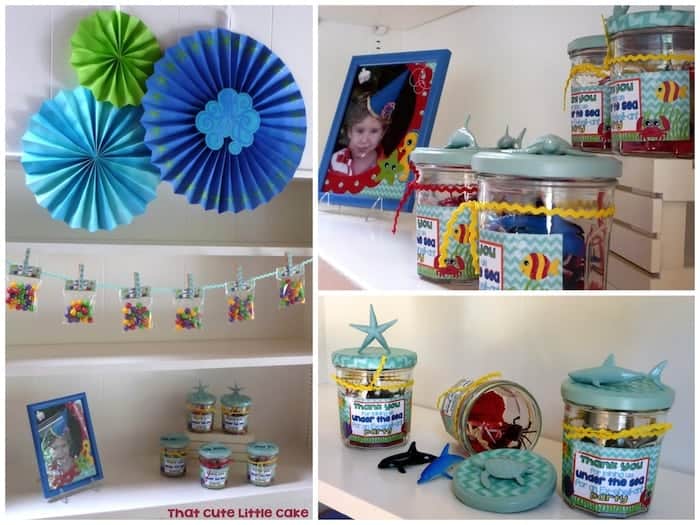 I love this clever party favor display. Using the patterned paper from the package and some matching spray paint, she was able to make custom jars and clothes pins to hang favor bags. I love it!! Also, check out these under the sea party ideas.
I love this sandcastle mold centerpiece. This would be amazing made with some Kinetic Sand
. So creative!!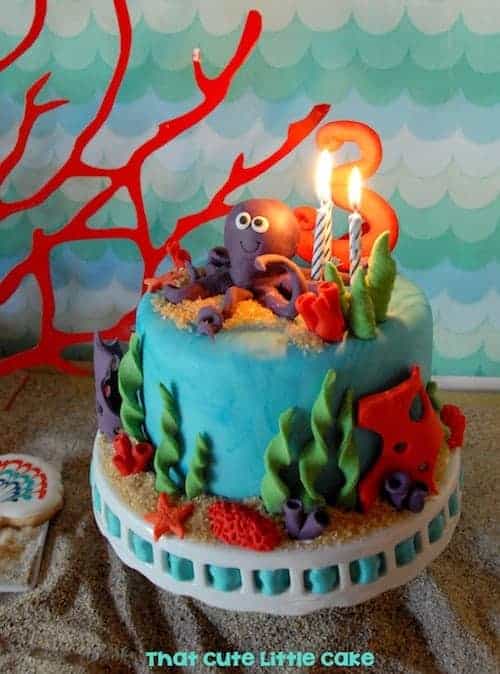 I think hands down, though, my favorite detail on the whole party is this amazing under the sea cake!!! It is perfection. I love every detail with the coral reef and the sand and the cute octopus.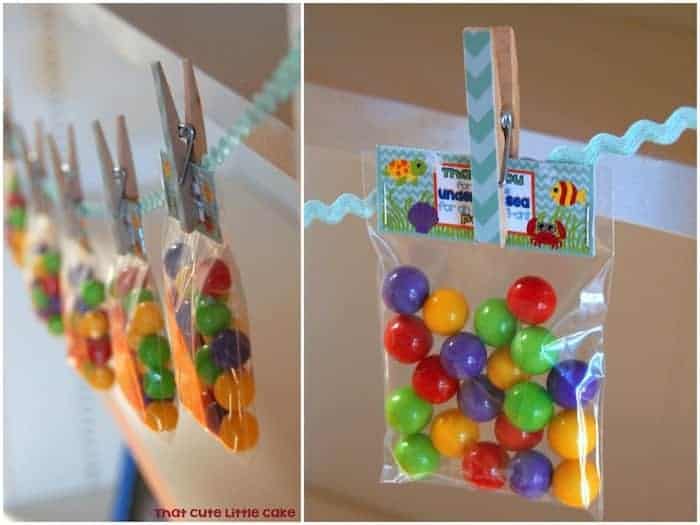 Virginie also had a fabulous idea to make the kids table look like a beach, with towel placemats and sand bucket cupcakes. Adorable, right?

Here is a close up of the cute sand bucket cupcakes. LOVE!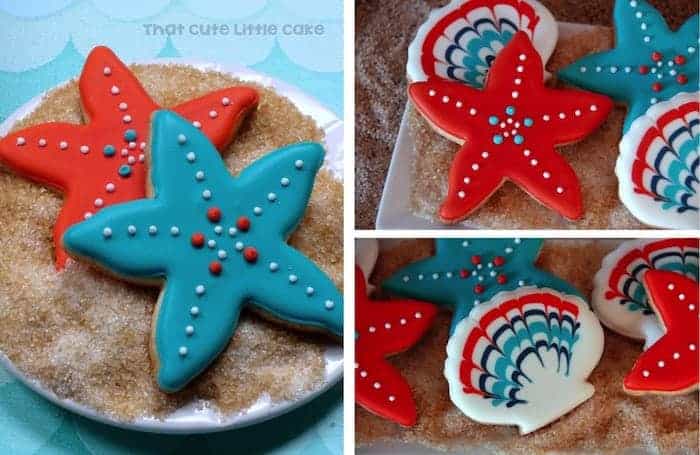 Happy Birthday Romain!!! What a cutie!!
I absolutely love this photo booth idea. Here is a tutorial for how to make this simple, yet stunning backdrop from streamers!!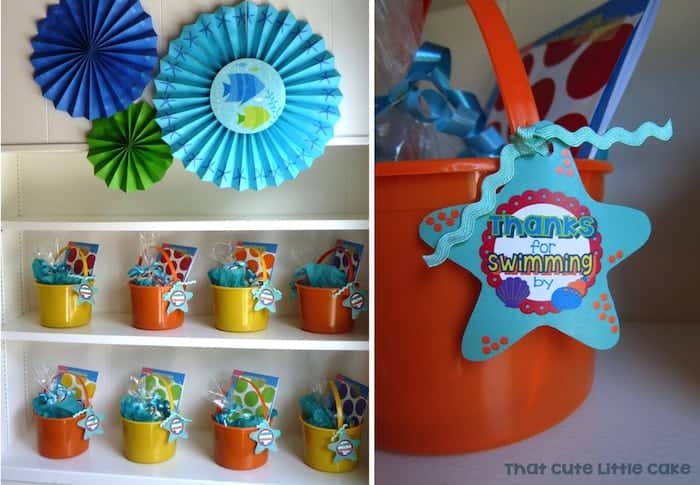 Looking for mermaid party activities? Also check out this mermaid party, these mermaid party ideas and these under the sea party ideas!
Vendors:
Coordinating Under the Sea Party Supplies
If you are throwing an under the sea party, a great way to set your party off right is by getting some adorable under the sea decorations and tableware. I am in LOVE with this design from Meri Meri. The metallic sharks are fantastic and those cute little fish napkins!!! Adorbs!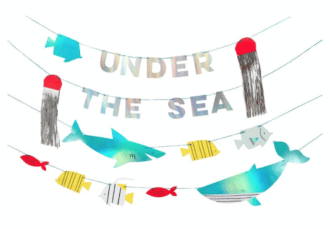 This set from Oriental Trading is also super adorable for an under the sea themed party. The fish shaped plates are soooo adorable!

Girly Under the Sea Party
Mermaids and seaweed and bubbles galore. Looking for fun ideas for under the sea party decorations? This under the sea party is full of fun ideas, food and activities for under the sea!
Looking for more ocean party ideas, mermaid party ideas and under the sea party ideas? Also check out this mermaid party!
Confession time: I can't swim. It's okay, you can laugh. Most people do.
Believe me, its not for lack of trying. I took swim lessons EVERY SINGLE YEAR from birth to age 12 when my mother finally gave up. She says the first time I said the word "no" was in water babies. They said 1-2-3 let's go under and I shouted NOOOOO.
And I guess I meant it:) I love the water. I love the beach. I love the ocean. But I NEVER, EVER go under water. NEVER.
Despite my inability to stay afloat, I love all things ocean related. Especially when they come in the form of a super cute Under the Sea Party like this one.
This party was styled by Jenn, for her daughter Atleigh's 3rd birthday. (Be sure to check out Atleigh's 2nd Minnie Mouse birthday too.) Jenn is super creative and I love seeing all the great ideas she has for her parties.
Check out the cute mermaid tail cupcakes…I love how they are mixed in with the chocolate shell toppers too.
For this party, we did a little mixand match with my Mermaid printables and the Under the Sea printables to keep that ocean feel and still celebrate Atleigh's love for all things mermaid!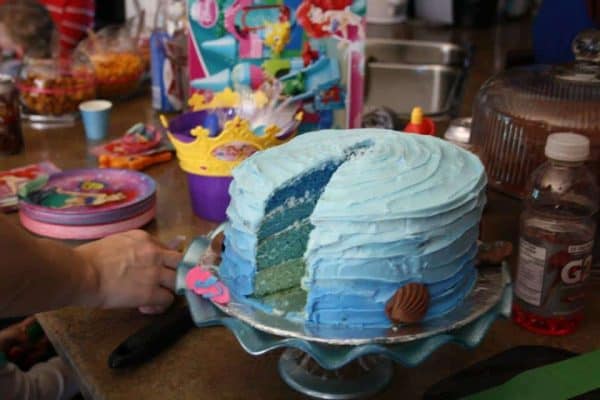 I love this cake! It is probably my favorite detail of the whole party. Especially the ombre layers inside. Perfection!
Sand dollar sugar cookies in a bucket. Too cute for under the sea party decorations, right???
Thank you so much for sharing your under the sea party decorations with us, Jenn. Happy birthday Atleigh!!!
Here are some helpful links to Under the Sea Party Supplies:
If you love this party, pin this image to your birthday Pinterest board:
Wanna throw an Under the Sea Party?
The Printable Under the Sea Party Decorations Package is available for purchase in my shop:
Conclusion for Ocean Themed Party:
Planning a fun and festive ocean themed party is simple. These fun parties are full of ideas and inspiration to help you get your party planning off on the right track!
RELATED POSTS FOR Ocean BIRTHDAY IDEAS:
THANK YOU FOR READING ABOUT OUR IDEAS FOR THROWING A Ocean PARTY!