Ideas for planning a Shark themed Party!
Want to plan a simple shark party? Let's take a bite out of this birthday party with a shark theme!! This theme is perfect for little boys with summertime birthdays. It's a great pool party theme with so many ways to celebrate with style!
Be sure to grab some Printable Shark Party decorations to make your party planning a snap!!
Sharks. Is it just me or are they some of the coolest and most terrifying creatures. They fascinate me. My family frequents aquariums and zoos. My kids are basically OBSESSED with animals and fish.
Throwing a SHARK THEMED PARTY?
☑️ This
Shark Party Kit
is the perfect set to get your party planning headed in the right direction!
It's pretty cute how excited they get to go see them. We always seem to hit the shark tank at cleaning time. My theory is that it is always cleaning time in there.
Here's what we observe: Two man team. One guy is suction cupped to the glass with one hand and cleaning the tank with the other.
Second guy is standing in between the first guy and the sharks with a long piece of PVC pipe (or what at least LOOKS like a PVC pipe). That guy's job…hit the shark if it tries to attack. SERIOUSLY.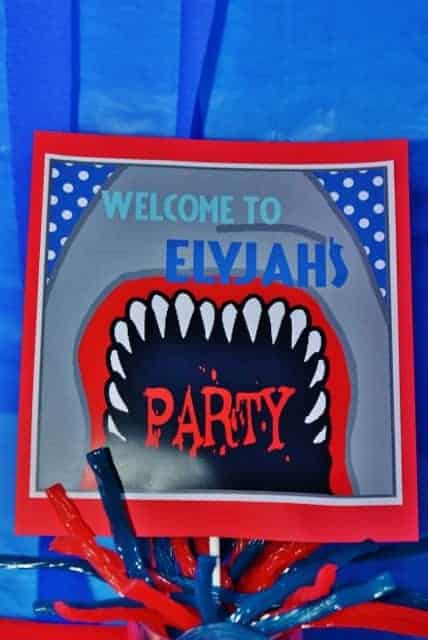 The lesson to learn here…even on my worst day, no one has to stand behind me to beat off an angry mouth full of sharp teeth from having me for dinner.
The danger element is what makes sharks so cool. And nothing is cooler than a Shark Party! Especially if its a Swimming Shark Party (although, just thinking about sharks might keep me out of the pool, but I'm a wimp!)
Shark parties are a fun take on a pool party. Especially if you need a boy birthday theme that can knock your socks off and excite your little swimmers!! Check out of this shark party styled by Kelly at Kustom Kakery for her son Elyjah…
The backdrop here is very simple and easy to DIY. It's simply a couple of blue plastic table cloths and some blue streamers. Backdrops don't have to be expensive or elaborate to fit your party theme.
This simple and inexpensive backdrop gives the illusion of water which is wicked cool!
Red Velvet cupcakes are perfect for a shark party. Baking them in the white wrappers also gives the look of bloody teeth…that's a very nice touch to add to the shark theme.
Bonus, as well…red velvet tastes freaking amazing so it's a great treat to serve too! The straw flags look awesome sauce on red and white striped paper straws. Kids love drinking out of paper straws. Hey, who am I kidding…I love doing it too!!
Throwing a party is super easy when you have printable shark cupcake toppers and shark water bottle labels to help turn ordinary items into adorable items!!! So easy!
Aren't these shark fin cake pops adorable? Such a great idea for dressing up normal blue cake pops!!! I love it.
Who says shark party favor bags can't be fun and simple? Grab some shark themed goodies and add them to simple colored gift bags. Yummy shark shaped gummies
are great for the party table or favor bags. Eat them before they eat you!
Check out this great cake the Kelly made! Too, too cute!
Happy Birthday Elyjah! Hope it was awesome! (You were expecting another Shark pun, weren't ya?!)
Be sure to check out this mermaid party, this under the sea birthday party and these under the sea party ideas!
Here are some helpful links for throwing a shark party:
Shark Party Supplies
Starting off your party planning with some coordinating supplies is a great way to save time and money. Here are some awesome tableware and decorations packages to get you started.
Shark Tableware from Target
Shark Party Supplies from Meri Meri
Shark Party Supplies from Oriental Trading

Conclusion for Shark birthday Party Ideas:
This fun shark party is sure to inspire you to throw an amazing party for your little one who loves sharks. From fun food ideas to simple printables, you will love these ideas for making a stunning shark party!
If you love this party, please pin this image to your birthday Pinterest board:
Want to throw a shark party?
The Printable Shark Party Decorations Package is available in my shop:
RELATED POSTS FOR simple Shark party IDEAS:
THANK YOU FOR READING ABOUT OUR IDEAS FOR THROWING A Shark Birthday!