Ideas for a Little Mermaid Party
Mermaid Party: Aubrey's Little Mermaid Party. For my daughter's 5th birthday this year we threw a fin-tastic under the sea mermaid party. Fun shades of purple, teal and green turn this ocean themed party into a beautiful mermaid themed party experience!
Be sure to check out this dolphin party , these mermaid cookies and all our Under the Sea and Mermaid Party Ideas and Inspiration.
Welcome to Mermaid Cove! For Aubrey's fifth birthday party, we really wanted to make a splash with some fun under the sea.
Throwing a MERMAID THEMED PARTY?
☑️ This
Mermaid Party Kit
is the perfect set to get your party planning headed in the right direction!
Aubrey loves mermaids, so for her birthday it was only fitting to have a mermaid party with fun little mermaids made to look like Aubrey.
RELATED: Fin-tastic Mermaid Party Ideas
The colors were lavender, aqua and green with lots of sand and yummy goodies.
Little Mermaid Party Decorations
We transformed the house and yard into a beautiful mermaid cove with bubble balloons, seaweed (streamers sewn to make them ruffle), and tons of floating jellyfish.
The printables were designed with pretty shells, mermaids, and bright under the sea colors to accent the ocean floor of sand and seaweed covering the tables.
The entry was lined with bubbles (balloons) welcoming each guest into mermaid cove where they could dress like a mermaid or a pirate and join the underwater fun.
I made jellyfish out of paper lanterns and plastic tablecloths. Wanna make these? Check out this jellyfish tutorial.
I covered the top of the backdrop with paper starbursts.
Food items were displayed on wood trays to accent the beach-y color scheme.
I also used brown sugar in all the plates to display the cookies and treats so it looked like sand. This was awesome and the kiddos loved it!!

Sea stars on ribbon were throughout the party as accents. I love the texture on these stars.
For the entry way, we decorated with balloons and a fun fabric covered wreath. The wreath was accented with the printable welcome sign.
This simple foam wreath was wrapped in fabric strips and decorated to match the party. For more welcome wreath ideas…check out this post.
The guests were all able to make their own bubblegum necklaces or pirate hats for the boys, play sea shell bean bag toss, pin the starfish on the mermaid, chase bubbles and swim in the mermaid lagoon.
Check out all the details of the mermaid party activities. It was a fun time under the sea.
Foam board cut out waves made a great photo op!
Mermaid Party Food Ideas
The little mermaids ate freshwater and saltwater cupcakes topped with cute fondant toppers made by Edible Details.
Some cupcakes were also topped with printable cupcake toppers.
Here is a close-up of one of the cute fondant cupcake toppers!
They also had Sea Star and Oyster Pearl cake pops from Nikki's Cake Pops.
Adorable Shell and Mermaid cookies were served from Crafted Cookies and Sugared Hearts Bakery.
Another treat was Lavender Macarons from Splendid Sweet Shoppe.
The cake was homemade and featured fondant waves and a brown sugar beach top complete with fabulous ocean themed fondant letters by Edible Details.
For the cake, I made a simple 9×13 chocolate cake which is frosted in white cream cheese frosting. I cut green and blue fondant into waves and wrapped around the cake.
I then topped it with brown sugar to look like sand. Lastly, I surrounded the fondant with glass candy.
The mermaids also had many non sweet treats including finger sandwiches, veggies and fruit.
To drink we served delicious Blueberry Le-mermaid.
Fish Rice Krispies Treats Tutorial
There were also chocolate dipped rice kripsies treats that look like under the sea fish bowls.
I made cute fish rice krispy treats. I cut the rice krispies with a round cookie cutter, dipped in blue chocolate and added a cute candy fish and round sprinkles. Easy, yummy and fun!!
Mermaid Dress-up Ideas
For the party, the girls wore skirts made by Ross and Rosie. They also had necklaces made by Little Miss Petals.
I made headbands for the girls with teal flowers and sea stars as well.
They also had lime tutus to wear over their bathing suits!
I can't believe my little baby is 5 years old!!! I love this little mermaid so much!! Thanks to all who helped make her day special!!
Coordinating Mermaid Party Supplies
Choosing the right party supplies and tableware can also make a simple party into an extraordinary party!
Mermaid Party Supplies from Meri Meri
This set from Meri Meri is my favorite. It is fun and flirty and makes the PERFECT addition to any mermaid party!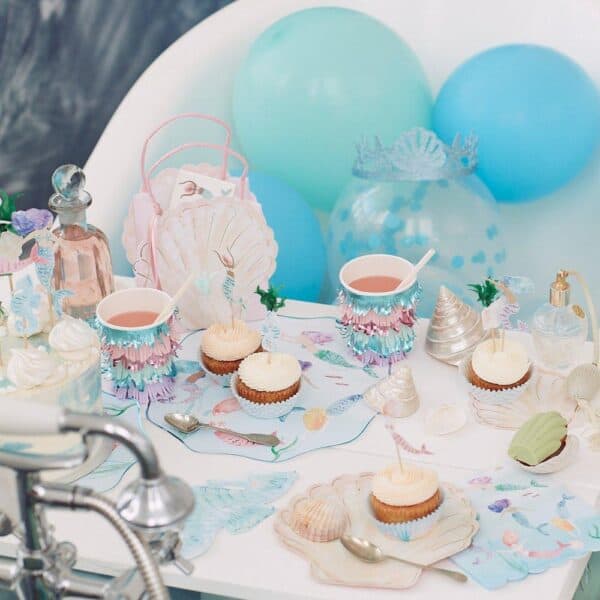 Mermaid Tableware from Oriental Trading
This gorgeous mermaid themed tableware is a great way to take the guess work out of decorating. It's themed and will match with most mermaid ideas.
It comes with lots of coordinating decorations, but items can also be purchased individually.
Mermaid Party Supplies from Target
This set is fun and playful. The colors are perfect for a little girls pool party!
Purple Mermaid Supplies from Target
Here is a fun iridescent Mermaid Party collection as well:
Here are some helpful links for throwing a mermaid party:
If you love these little mermaid ideas, please pin this image to your birthday Pinterest board:
Little Mermaid Themed Party Printables
Wanna throw a Mermaid Party?
The Printable Mermaid Party Collections is available for purchase in my shop:
Conclusion for a little mermaid themed party:
Planning a little mermaid themed party is easy with the right ideas. Creating a beautiful under the sea party is an amazing way to celebrate your little mermaid! Check out all the inspiration!
RELATED POSTS FOR Little MERMAID BIRTHDAY IDEAS:
THANK YOU FOR READING ABOUT OUR IDEAS FOR THROWING A Little MERMAID birthday PARTY!