Ideas for a fun and modern Wild Things Baby Shower!
Wild Things Baby Shower: Where the Wild Things Are Party. Celebrate your little baby with a Wild Rumpus. If you are celebrating the birth of a little wild thing, these ideas are just what you need. Today I'm sharing my little man's Wild Things Baby Shower. Let the Wild Rumpus Begin!
Looking for Where the Wild Things Birthday Party Ideas?
When we found out we were having a little boy…my husband was over the moon. Living in a house full of females, he's been odd man out A LOT.
Throwing a WILD THINGS THEMED PARTY?
☑️ This
Wild One Party Kit
is the perfect set to get your party planning headed in the right direction!
For example, earlier today…all his ladies were rocking out in the car to The Cranberries and he just drove in silence. Poor guy! Now don't get me wrong…he's a GREAT girl dad, but the excitement he had over having another man coming into the house was adorable.
So to celebrate that sweet bond…I definitely have focused on a lot of things my husband loves with our little guy.
Theme
Where the Wild Things Are by Maurice Sendak was his FAVORITE book as a little boy. So to honor both my big guy and my new little guy, we chose to do a Wild Things Baby Shower.
I chose bold colors and silhouettes to give the Wild Things printables a modern feel, but still keep the feel of the book as inspiration. Check out the party details:
Where the Wild Things Are Table Details
For the food/dessert table, I used my favorite table cloth (which I made from a shower curtain and have used in countless parties. Check out my easy to DIY ruffled table cloth tutorial!!). The banner I ordered from Banner Celebration.
It was perfection and exactly what I hoped for for a table decoration.
Wild Thing Themed Sweets
The cupcakes were mocha chocolate chip and double chocolate because I love chocolate and well…I was pregnant, enough said!!! I love layering cupcake wrappers.
I feel like it gives the cupcakes such a unique and colorful feel. Typically, I place the cupcake first in one of the cupcake wrappers from the printable Wild Thing package.
Then I place it in a traditional cupcake wrapper. I try to mix and match the colors and patterns to add some pizzazz to the cupcakes.
For the cake, I ordered a simple round chocolate cake from our local grocery store. I love doing this, by the way, because it definitely saved money and time and with the right additions, looks as fabulous as an expensive custom cake!
For the cake topper, we ordered adorable fondant Where the Wild Things Are cake toppers from The Lil Details. Needless to say, this was one of my favorite details of the whole shower. They were absolutely adorable!
Where the Wild Things are Decorations
Another small detail I love using in parties is fresh flowers in mason jars. Often, I pair them with a sign in a frame from the printable package as centerpieces or little extra decor to sprinkle throughout the party.
I also found these adorable wooden Wild Things signs from Apple Jack Designs. It was the perfect little extra and would be adorable in a Where the Wild Things are nursery.
Sandwiches
I love little finger sandwiches. One of my favorite recipes to make for a party are cucumber sandwiches. These are actually a favorite of my daughter as well. They are super easy to make.
The sandwiches are made with rye bread, ranch dressing and thinly sliced cucumbers. Spread the ranch onto the rye bread slices, add cucumber slices and close. Then slice the sandwiches into four strips (don't forget to de-crust). Easy peasy and super delish!!
We also served chicken salad sandwiches. For this, we used wheat bread. Boil a whole chicken, remove the chicken from the bone and shred. Then mix the chicken with mayo, very finely sliced celery and onion and serve also in small strips.
Yummy and simple!
Here is another shot of the Wild Things cake toppers from The Lil Details. As I mentioned before, here are some flowers paired with printable Wild Things signs. Aren't they sweet??
Cookies
Have I mentioned my love for custom cookies? Well, these Wild Things cookies from Little Prince Cookies are adorable and delicious. I loved the details on the cookies and the cute little glittery crowns. So much fun!!! Incorporating the words onto the silhouette was one of my favorite details.
Along with the sweets and the sandwiches, we served fruits and veggies in plastic cocktail cups. Serving these foods in pre-portioned cups instead of on trays makes it so much easier for people to grab and mingle.
Also by placing the dips in the bottom of the cups, it helps to prevent the spilling that sometimes happens with the self serve dips.
To serve the food, I used a set of wood serving trays. I love having naked wood trays. They honestly work well with so many different themes and they are so versatile. I have used these trays for a beach party, mermaid party and many others!! They are my favorite!!!
Here are the cupcakes again with the various colored cupcake liners. The colors help to make them really pop!!
Welcome Sign and Mini Cookies
For the welcome sign, I covered a foam wreath with burlap ribbon and attached the printable welcome sign. Foam wreathes are prefect for hanging from front doors with the welcome sign attached.
It's a great way to set the tone for your party from the very first moment. I also found cute little mini crown cookies from Stephanie J's Creations.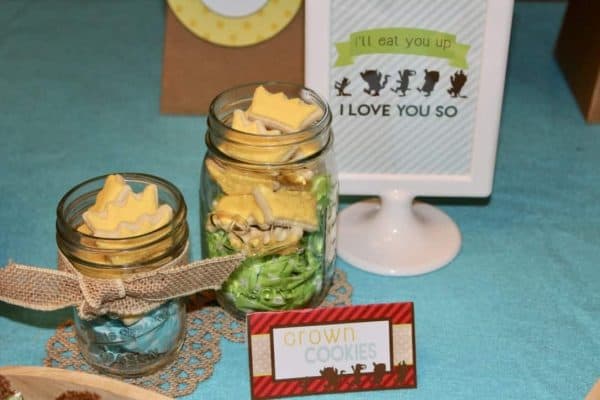 The mini cookies were placed in mason jars as a fun little extra sweet option. Mini cookies are just so irresistibly cute!!
This was such a fun party to help throw together. Yes, I helped with my own shower…I'm just frankly, far too much of a control freak to not!!! I loved celebrating my new little man.
A Where the Wild Things Are Baby Shower is just such a fun way to celebrate little boys and their precocious, busy, rough and tumble ways. Every boy should be a little rowdy!!
Looking for Where the Wild Things Birthday Party Ideas? Be sure to also check out all of our Baby Shower Ideas and Boy Birthday Party ideas!
Here are some helpful links for styling a Where the Wild Things Are Party:
If you love these baby shower ideas, please pin this image to your Baby Shower Pinterest Board:
Conclusion for a Where the Wild Things Are Baby Shower:
If you love classic children's books and want to celebrate your new baby with a unique baby shower theme, you must check out these Wild Things Baby shower ideas. From Max and Wild Things cake toppers to fu and festive book quotes, this Where the Wild Things Are baby shower is full of fun ideas your mama to be will love!
Want to throw a Wild Things Baby Shower?
The Printable Wild Things Baby Shower Decorations are available for purchase in my shop:
RELATED POSTS FOR Wild Things Baby Shower:
Thank you for reading our Wild One Baby Shower Ideas!