Fun ideas for a balloon themed baby shower!
Balloon Baby Shower: She's About to POP! Today I'm sharing a Balloon Baby Shower styled for a sweet mama! Celebrate a new baby by focusing on that cute expanding belly with a balloon theme. "She's About to Pop" is a fun play on words that will make a playful and fun baby shower experience.
Ok…so ever see a pregnant lady and think "wow, she's about to pop!"? Well, that was my inspiration for this Balloon themed party.
I thought to myself…self, why not play up the belly! And what better to pop than balloons?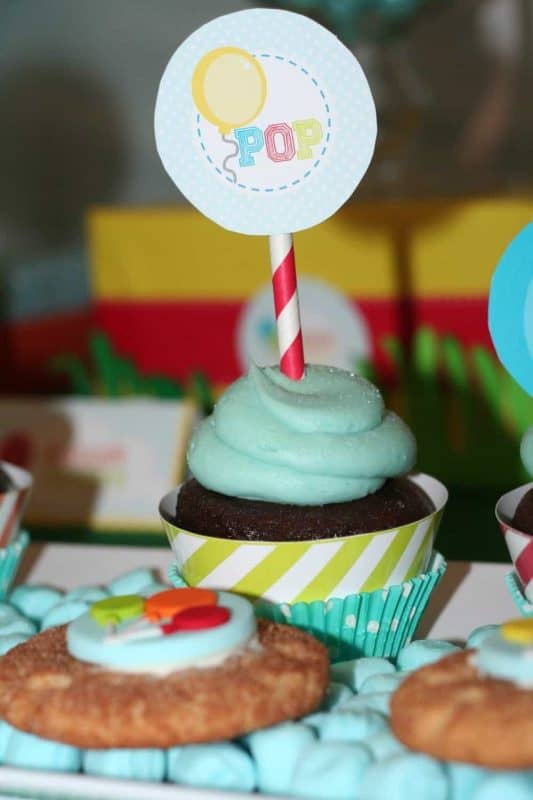 Balloons are awesome, right? They are cute, they float, every child EVERYWHERE is obsessed with them as soon as they see them.
This baby shower was for a friend of mine and her new baby boy (who is absolutely perfect!) I wanted the boyish charm to play through the design, while still having a bright feel.
We went with a light blue polka dot sky and bright red and lime and blue and yellow and orange balloons. Everything was accented with bold stripes. It was seriously fun to plan! Check it out…
Balloon Baby Shower Decorations
For the Table, I made white puffy clouds out of fleece and hung them over the table to give the sky a little wavy 3-D feel. The clouds were super easy to make.
Check out the cloud backdrop tutorial at the bottom of this post to make these yourself!
I loved the contrast between the light blue dots and the bright stripes, so I used striped ribbon, colorful striped straws and wrapping paper to make the colors pop.
This worked out perfectly with the colors and patterns in the Balloon Baby Shower printables (available at the bottom of this post).
Balloon Baby Shower Food
We had a super yummy dessert table. For the treats, there was snickerdoodles with adorable fondant balloons from Edible Designs by Letty, Yummy chocolate and vanilla cupcakes, chocolate cake and amazingly yummy balloon shaped cakepops from Nikki's Cakepops.
We also had coffee, lemonade, and a bunch of healthy treats and dips.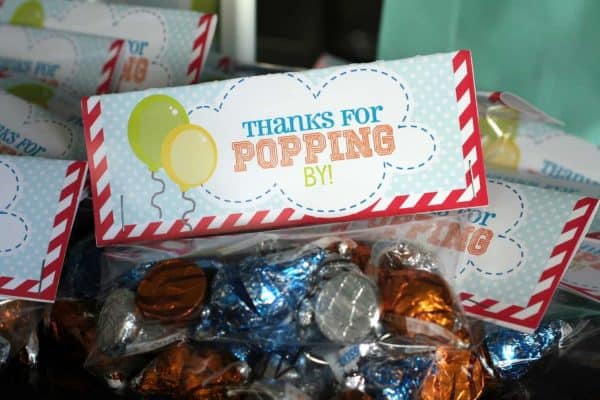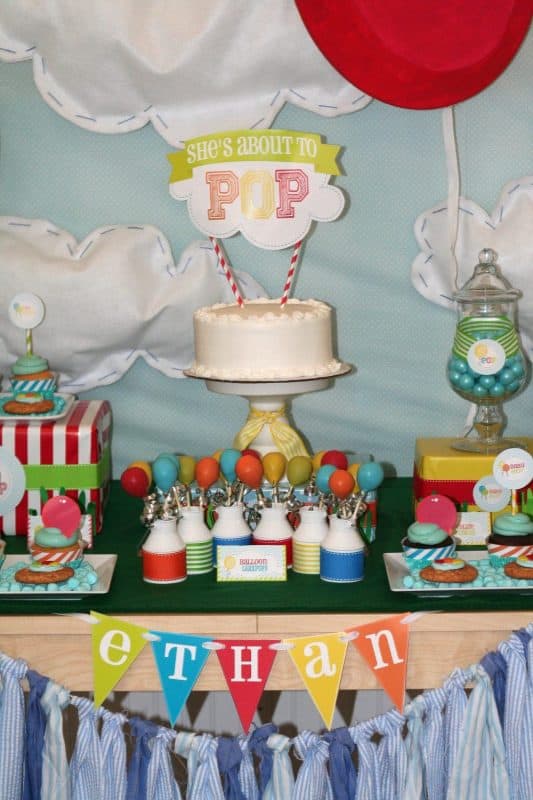 Here is my cutie pie eating one of the super yummy balloon cake pops. I seriously think she ate about 5 of them..they were that good!!!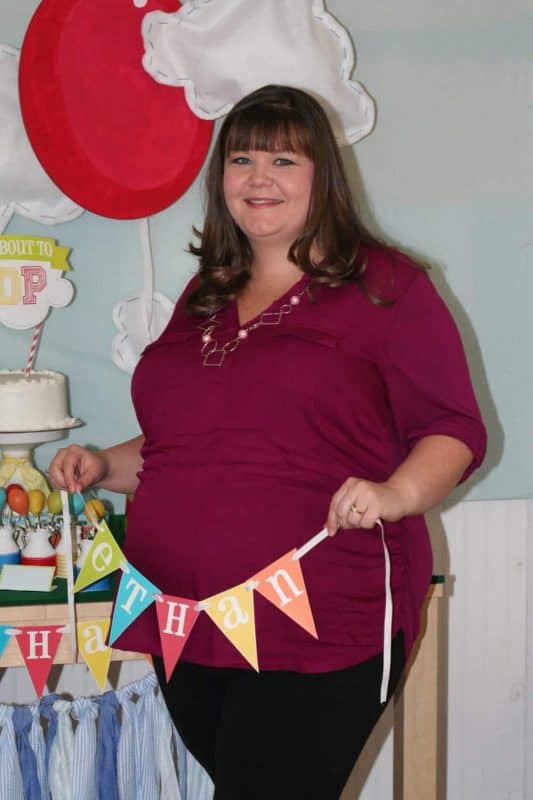 Balloon Baby Shower Printables
Wanna throw a Balloon Baby Shower?
The Printable Balloon Baby Shower Collection is available for purchase in my shop:
Here are some helpful links for throwing a balloon themed party:
How to make DIY Clouds for Baby Shower
Balloon Baby Shower: DIY Cloud Tutorial. Today I'm sharing a tutorial on how to make the cloud and balloon backdrop from my Balloon Baby Shower.
This backdrop was so super easy to make and turned out to be one of my favorite designs! When I set out to make this particular table, I really wanted the clouds to pop…Literally! So I made them three dimensional.
Here's how to do it…
Materials:
2 yards of white fleece
Sharpie marker
Blue Floss thread
large sewing needle
stuffing fiber
scissors
clear fishing wire
oval shaped canvas (for balloons)
ribbon (for balloons)
paint (for balloons)
paint brush (for balloons)
Step 1:
Lay the white fleece out of the ground or a large table. Make sure the fleece is folded so that it has two layers. Use your sharpie to draw out clouds of various shapes and sizes on the top layer of fleece.
Step 2:
Cut out the fleece clouds through both layers of fleece so that you get two identical pieces for each cloud.
Step 3:
Using the needle and floss, loosely sew the two pieces together until there is only a small section left that you can fit your hand into. Make sure the the edge you drew on is turned wither inside or to the back of the cloud.
Step 4:
Fill the cloud loosely with the stuffing fiber and finish the sewing around the additional edge.
Step 5:
hang the cloud from the ceiling using fishing wire.
To add balloons:
Draw an off centered oval on the oval shaped canvas. Using the darker color paint, paint outside the oval you drew. mix your paint with a little white paint to make the center oval.
Add a few dots to the corner with white to complete the balloon. Tie a long piece of ribbon for the tail to the bottom of the balloon and hang amongst the clouds with fishing wire.

Easy peasy, right!! And look how cute it came together.

Conclusion for a Balloon Baby Shower:
Celebrating a mama to be and her expanding tummy can be playful and fun with a balloon themed baby shower. These "Ready to Pop" ideas are perfect for a gender neutral or boy shower with playful clouds and fun balloons.
If you love these ideas, please pin this image to your baby shower Pinterest board:
RELATED POSTS FOR She's About to Pop BABY SHOWER:
THANK YOU FOR READING OUR Balloon IDEAS FOR A BABY SHOWER!