Baby Sprinkle Ideas for a Second Baby!
Baby Shower: DIY Cupcake Bar and Baby Sprinkle. I love the idea of a Baby Sprinkle! Especially if the Baby Sprinkle has ACTUAL Sprinkles! This baby shower is a fun and colorful baby sprinkle that is as much fun for mom as it is adorable.
Looking for more baby shower ideas? Check out this Sugar and Spice baby shower, this Balloon baby shower, this Where the Wild Things Are baby shower and this Garden baby shower.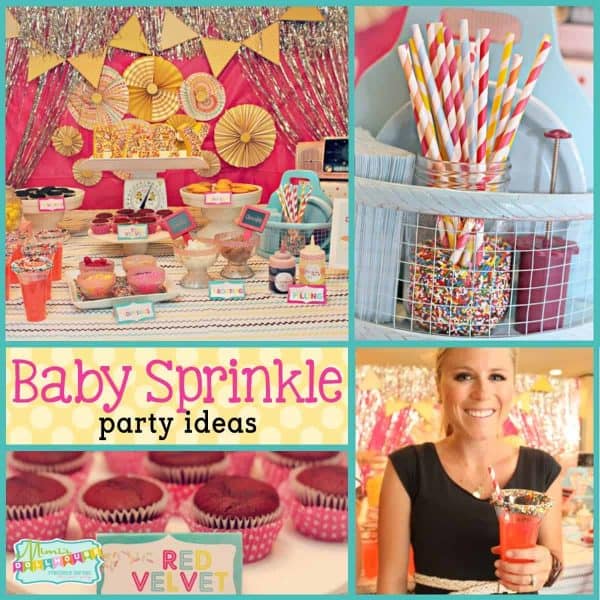 So it used to be the case that once you had a baby…showers were no more. (No I am not talking about ACTUAL showers, although some days with a new baby those are hard to manage too!
I mean Baby Showers…)
That is not the case anymore.
Throwing a BABY SPRINKLE?
☑️ This
Sprinkle Party Kit
is the perfect set to get your party planning headed in the right direction!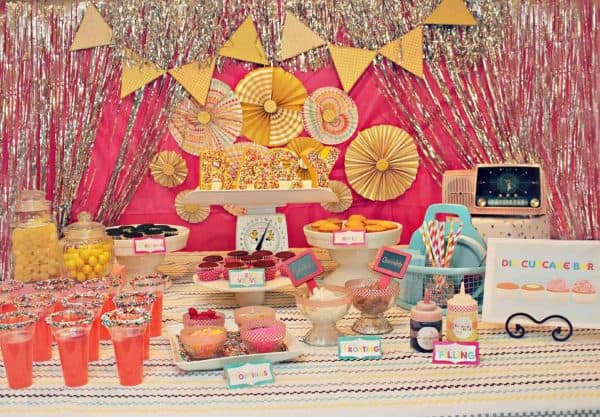 I really love the idea of a Baby Sprinkle, or small shower for a non-first time mommy. A little way to say you care usually minus the gifts:)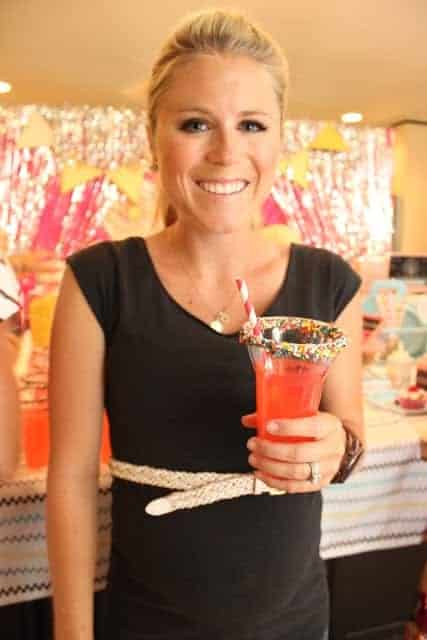 I will always show up with a pack of diapers though…I don't care how many kids you have, you ALWAYS need diapers!
With gifts, without gifts…I say, go for it and celebrate your little bundle of joy, because they are definitely worth celebrating!! You know that's right!
Check out this cute idea for a Sprinkle styled by Bridget Parry. A DIY Cupcake Bar. I tell you, that Bridget is one clever lady!
Want to recreate these gorgeous letters? You can glue sprinkles onto painted wood or craft letters to make them look super sprinkle-y and fun!
This party also uses Mimi's Dollhouse Bright Sprinkle Printables (available at the bottom of this post).
Gorgeous, right? I love the colors! So bright and cheery…and oh so yummy looking. Somebody bring me a cupcake, stat!
How to set up a Cupcake Themed Sprinkle Bar:
Having a fun cupcake decorating bay shower is a cute way to celebrate a baby. Not only is it a great play on words theme (check out these clever baby shower themes too), but delicious cupcakes are ALWAYS a great idea!
What you need:
Cupcakes
Frosting
Filling
Setting up a cupcake bar is actually pretty simple. You will want to start with your basic cupcakes. I would recommend at least two flavors (chocolate and classic white or yellow cake), but you can also get creative and make flavored cupcakes or add various colors to the mix.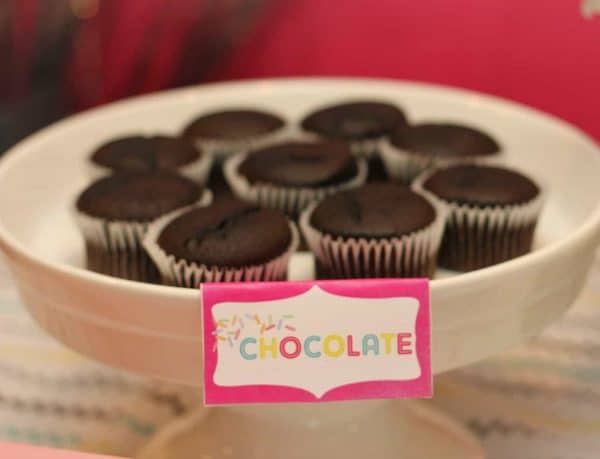 You will want to have a few cupcake punches available to pull out the center of the cupcake. This then means cupcakes can be filled with creams or jellies or even candies. This is a great place to let some creativity shine.
Pick a variety of fillers for your guests to play with and explore.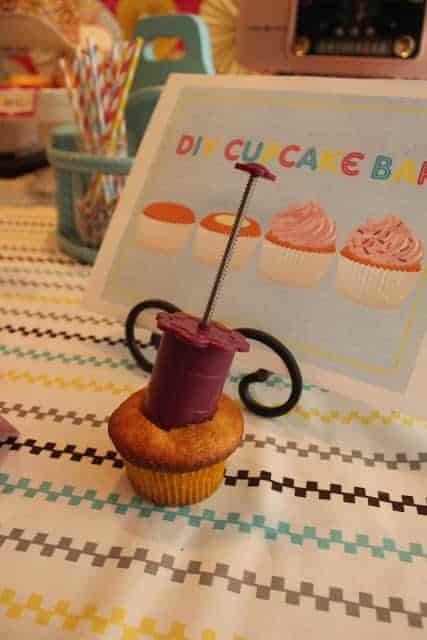 Icing bottles make a great way to fill cupcakes with your yummy fillings without making a big mess! More options will create a better cupcake bar, so don't be shy with the flavors!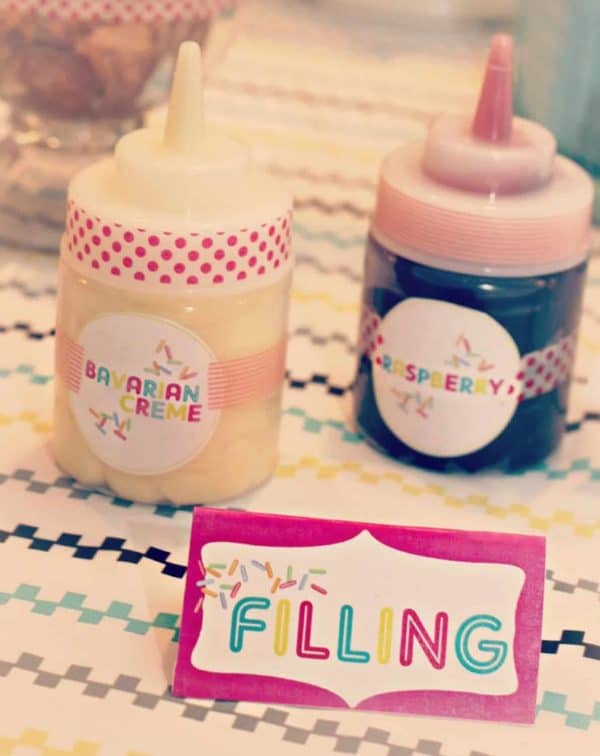 You can also jazz up plain bottles and containers with cute washi tape wrapped around edges.

You can also save time by grabbing some icing pouches in various colors. These take less set up and just get thrown away after the party, which of course makes cleanup nice.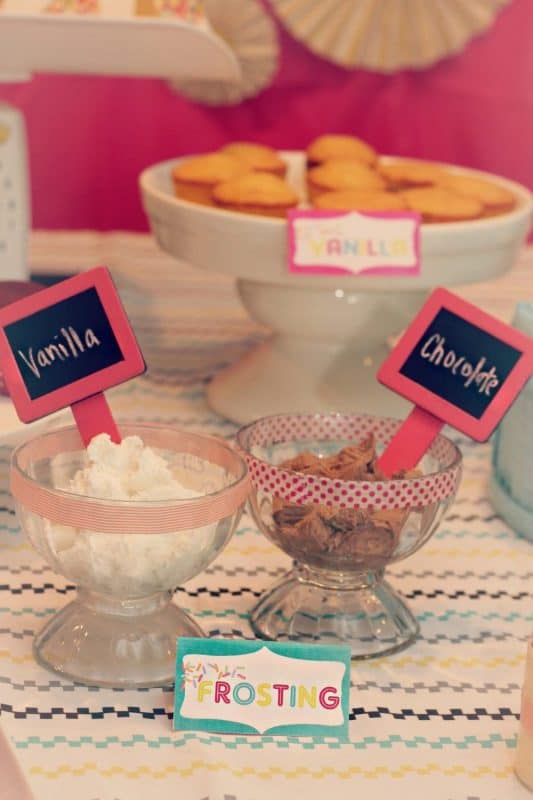 The coolest thing about this idea, is that you only have to do half the work!!! Bake the cupcakes and then let people frost them on their own! Winning!!
These punch glasses are given a little pizzazz by dipping the edge into white frosting and then into sprinkles. This is a super easy and totally adorable way to jazz up your drinks.
Looking for fun and easy favors? Send home a cute sugar cookie or candy in little paper bags with fun tags.
Thanks, for sharing this party with us, Bridget. For other Baby Showers styled by Bridget, check out this Garden Shower and Rock-a-bye Baby Shower. Too cute, right?
Here are some helpful links for throwing a DIY Cupcake Bar
Baby Sprinkle Party Supplies
Grabbing easy to use supplies and tableware helps to create a gorgeous party without the stress of tracking down multiple items for all over. Here are some great options:
Sprinkles Party Supplies from Target
Yum Platter from Party City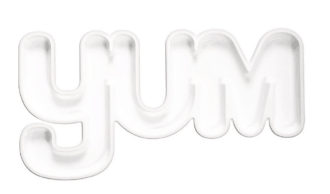 Sprinkle Baby Tableware from Amazon
I also highly recommend grabbing your sprinkles from Sweets & Treats! They have tons of gorgeous mixes that come in different color schemes and are varieties to match any vision you have in mind.
Baby Shower Sprinkle Printables
The Printable Bright Sprinkle Baby Shower Collection is available for purchase in the shop!!!
If you love these ideas, please pin this image to your baby shower Pinterest board:
Conclusion for a Cupcake Sprinkle Baby Shower:
Planning a baby sprinkle is a great way to celebrate a new baby. If you want a clever theme for a baby shower, you will love these cupcake bar ideas that are absolutely adorable. This is a fun and easy to plan theme that is particularly awesome for a second baby!
RELATED POSTS FOR Sprinkle themed BABY SHOWER:
THANK YOU FOR READING OUR Baby Sprinkle Theme FOR A BABY SHOWER!