Ideas for a Bow Tie Baby Shower
Are you celebrating the birth of a dapper little man? Planning a Bowtie Baby shower is a great way to have a fun and clever baby shower for a little boy. These ideas are great for dressing up your baby shower like you would dress up your little baby boy!
There is something that is just so sweet about a little man with a little bowtie. This is probably why this theme is so popular.
Throwing a BOWTIE BABY SHOWER?
☑️ This
Blue Baby Shower Kit
is the perfect set to get your party planning headed in the right direction!
Putting together a bowtie themed baby shower is quite simple with some fun and clever ideas.
Bowtie Baby Shower Ideas
There are so many fun ideas you can use to throw a little dapper gentlemen's baby shower.
Adding bowties to centerpieces and flower arrangements are easy ways to add some themed decorations throughout.
Here are some more awesome ideas for planning the perfect baby shower for a boy:
Bowtie Baby Shower Desserts
First up are the adorable and delicious desserts. Incorporating cute bowties in the food is such a fun way to keep your food on theme.
Bowtie Cookies from Cookie Deaux Creations
These adorable little cookies include onesie cookies and mustache cookies as well. So much fun!
Bowtie Macarons from Diamonds for Dessert
These sophisticated and adorable macarons are so much fun for a baby shower.
Bowtie Cookie Cutter from Holly Fox
Do you love baking cookies? Grab these sweet little bowtie cookie cutters and bake your own adorable cookies.
DIY Bowtie Cake from the Cake Blog
This simple white layer cake is made fantastically adorable with the addition of fun bowties. This is a great way to dress up a simple white cake.
Handmade Cupcake Toppers from Glue Dots
You can make some adorable cupcake toppers to turn ordinary cupcakes into bowtie cupcakes!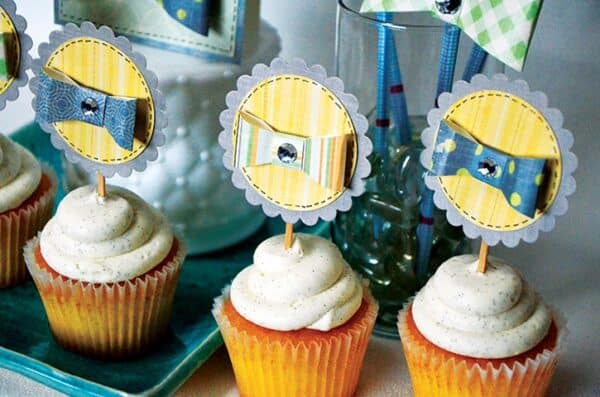 Bowtie Cookies from Timeless Treats
Here are some more fantastic bowtie themed cookies. I love the script cookies also. These are perfect for a boy's baby shower.
Bowtie Baby Shower Decorations
Dressing up your bowtie themed shower is a fun way to give the party some real personality. Here are some adorable ideas for decorating your shower:
Bowtie Banner from Kara's Party Ideas
This cute bowtie banner is perfect for photos or as a backdrop to a dessert table.
Dapper Bowtie Baby Shower from Oh Happie Days
This giant bowtie backdrop is super adorable. Such a fun baby shower theme with adorable ideas!
Bowtie It's a Boy Banner from Fresh Lemon Blossoms
Here is a simple bowtie themed banner that would be great for decorating a baby shower!
Bowtie Place Settings from Meaningful Mama
These clever little place settings are such a fun and easy way to take normal functional items from a party and make them fun. I especially love how the napkin IS the bowtie!
Modern Little Man Party from Kara's Party Ideas
Here is a super sweet bowtie party idea that would great for a baby shower design.
Bowtie Party Supplies
Beside having your party decked out with adorable decor and full of amazing food, there are some party supplies that will make your planning so much easier.
From favors to invites, we have some of the best bowtie themed options to get your creative juices flowing.
Bowtie Onesies Favors from Everyday is an Occasion
Here is a cute DIY favor idea that can be filled with fun candy for a sweet treat.
Little Man Bowtie Invitations from Sunshine Printables
Here is an adorable printable invitation option we know you will love.
DIY Bowtie Favors from My Crowned Creations
Simple favors with adorable favor tags are always great options.
Bowtie Candy Bags from Target
Grab some adorable tie themed candy bags for easy favor bags. These are simple and fun!
Bowtie Invitations from Dana Lynn Design
Here is another GORGEOUS invitation option that shows your style from the beginning.
Bowtie Confetti Poppers from Kristin Murphy
Celebrate in style with these bowtie themed confetti poppers. Adorable, right!!
Bowtie Invitations from Nice People Stamp
Want invitations that are super handmade. These fun options will be a hit for your baby shower.
Bowtie Diaper Raffle Tickets from Invited
Don't forget to give your guests a little hint about diaper with a printable diaper raffle card!
Bow tie Party Tableware
Once your theme is set, grab a tableware set to make serving up food quick and easy.
Blue Baby Shower Tableware from Oriental Trading
Bowtie Baby Shower Printables
Wanna throw a Ties and Bowties Baby Shower?
The Printable Ties and Bowties Baby Shower Collection is available for purchase in my shop:
Bowtie Baby shower
Baby Shower: Ties and Bowties, Oh My! Looking for a fun baby shower theme for a sweet little man? I'm sharing a sweet little baby boy shower today.
Baby showers are super fun. I love all the sweet, soft frilly girl things for baby girls and all the masculine little fancy boy things for little boys.
One of my favorite boy baby shower themes is ties and bowties. It's simple and oh so boyish, but still can be cutesy for the mama-to-be!!
The shower I have to share today was styled by Tiersha from Parties by Tiersha. Check out the cuteness…
I love how she incorporated the maternity picture into the table. A little tip for using photos as decorations: Sometimes you have the perfect picture but the colors are oh so wrong.
Simple fix…print the picture in black and white and it instantly matches instead of clashes with your decor. You can convert a photo to black white with most free photo software and at most printing places (online or in person.)
Having your guests address their own envelopes is a great idea to cut down on the turnaround time and workload of the guest of honor…'cause let's face it…she's about to be a new mom and babies take time:)
I love how she used the mini banner on the photo like this as well. Adorable! This printable baby shower package also includes diaper raffle tickets.
Diaper raffles are great ways to build up that oh so important stash of diapers. I remember my friends and family that gave me diapers before my sweet Aubrey was born.
It was always those moments when you realized your baby was too big for the newborn diapers and you already had a package of size 1's to tide you over until shopping day that you were most grateful for the diaper raffle!! Winning!!!
Conclusion for Bowtie themed baby shower ideas:
Throwing a bowtie themed party is a great way to celebrate a new baby boy. These adorable ideas are fun and simple. Get inspired to plan an epic dapper little man baby shower!
Here are some helpful links for planning a bowtie baby shower:
If you love these ideas, please pin this image to your baby shower Pinterest Board:
Related posts for Bow Tie Baby Shower Theme:
Thank you for reading our baby shower with bowties ideas!