Ideas for a Pink and Gold Baby Shower with a Sugar and Spice Theme
Sugar and Spice Baby Shower: it's what Charlee Grace is made of… Today I'm sharing a sweet and girly baby shower I recently styled. This shower is full of fun and girly ideas with modern colors and a fun theme.
Sugar and Spice and everything nice…that's what little girls are made of…
I recently styled a fun and modern baby shower for my dear friend Ronni. Already the mama of three adorable little boys, we were all super excited to find out this little bundle was gonna be PINK!
Throwing a SUGAR & SPICE BABY SHOWER?
This fun baby shower has lots of glittery and gold accents. It was so girly and fun to plan.
So of course to celebrate the arrival of this little princess, we knew we had to do something glamourous.
Since Ronni is very hip and trendy, I went with a modern, clean style with bold black and white and glittery gold…and of course a few gorgeous coral pinks!!
Such a blast. Check it out…
Sugar and Spice Decorations
Decorating for this shower was so much fun with the pretty gold and pink colors. We used balloons to accent the decor and fun gold bags with pink tissue paper made pretty centerpieces.
I made garland out of tissue paper. This was super easy to do and very economical. Ronni's mother-in-law made this cute wooden name to match little Charlee Grace's nursery. Adorable.
Backdrop
For the backdrop, my wonderful husband painted the back to match the broken chevron pattern I used in the Sugar and Spice printable collection. It turned out wonderfully!!
We used painters tape to tape out the chevron pattern and painted each chevron to match the pattern.
The table skirt was a fun ruffled pink that we accented with black ribbon.
This simple diy table skirt was super simple to make.
Beautiful pink and white roses were placed around the party to bring some sweet femininity to the design.
For the welcome wreath, I tied strips of fabric around a foam wreath and accented with the welcome sign and some fun gold leaves.
Sugar and Spice Menu Ideas
Yummy food is always an important part of a baby shower.
Cupcakes
The cupcakes were yummy chocolate with pretty pink buttercream frosting.
Dressing the cupcakes up was super easy. I used the cupcake wraps from the printables (which you can buy at the bottom of this post. to give the cupcakes some color.
We also added cupcake toppers to fun colored paper straws to decorate the top of the cupcakes.
Cannoli Cups
We had fun and delicious cannoli cups. you can recreate this with this recipe.
Peanut Brittle
Delicious peanut brittle was another dessert option.
You can make any food match your theme with the right display. Here we put a black plate on a white cake stand with pretty ribbon. Easy and simple.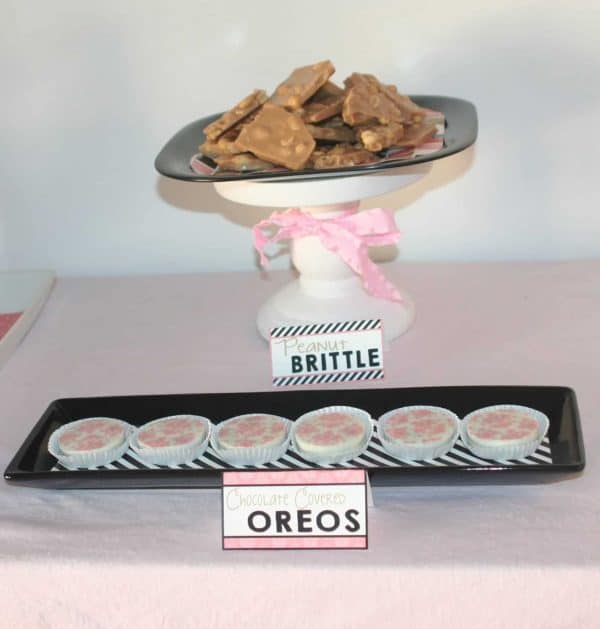 Chocolate Covered Oreos
The cute chocolate covered Oreos were made by Sweeties by Kim. They were beautiful and so yummy.
Cake Pops
The cake pops were made by the incredibly talented Nikki from Nikki's Cake Pops. They tasted as good as the looked!!
The little flower details are definitely my favorite. So gorgeous.
Oreo Truffles
Easy Oreo Truffles were put on black plates with matching paper underneath for color. You can make this recipe for Oreo Truffles.
Strawberry Lemonade Punch
For the beverages, we had tea and water, but we also served this amazingly yummy Strawberry Lemonade Punch. This is one of my most requested recipes for parties. It's so easy and oh so good!
Sugar and Spice Baby Shower Ideas
The party favors were cute little nail polish bottles and emory boards (some of Ronni's favorite things!!)
For centerpieces, I found vases at the dollar store (they were pretty hideous when I found them too) and spray painted them first with gold spray paint and then with glittery spray paint.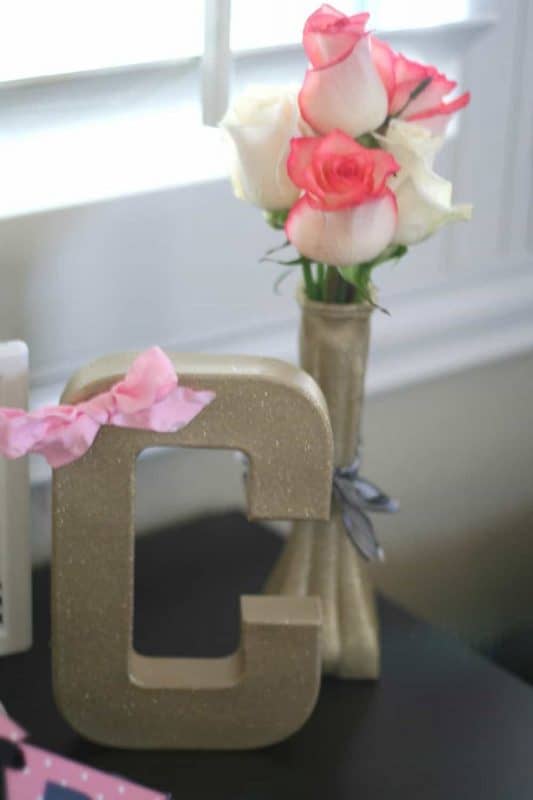 The effect was wonderful and so easy and cheap to do. We filled the vases with pretty coral and white roses.
We also had wishes for baby that the mama to be's friends and family could fill out for her to read.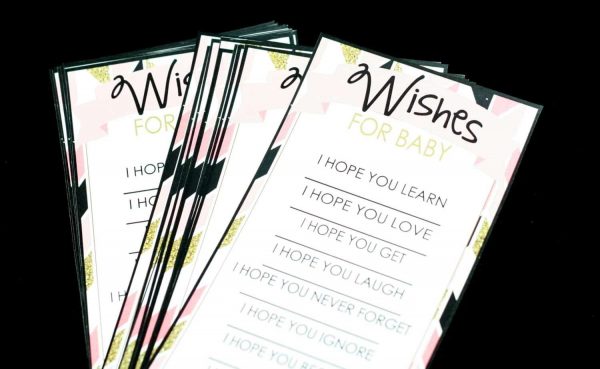 Here is the super cute mama-to-be. Congratulations Ronni. We love you and are so excited to meet baby Charlee Grace!
Sugar and Spice Printables
Wanna throw a Sugar and Spice Baby Shower?
The Sugar and Spice Baby Shower Printable Collection is available for purchase in my shop:
Sugar and Spice Party Supplies
Throwing a party is so much easier when you have the right supplies. These decorations and tableware sets will help save you time and money as you prep your bay shower.
Baby Girl Garland from Sweet Lulu
Modern Pink and Gold Decor and Tableware from Amazon
Pink and Gold Decorations and Party ware from Oriental Trading
Gold foil Name Badges from Target
Rose Gold Baby Shower Banner from Target
Here are some helpful links for throwing a sugar and spice baby shower:
Conclusion for Sugar and Spice Baby shower Theme Ideas:
Planning a girls baby shower is so much fun with a sugar and spice and everything nice theme. This fun pink, black and gold design is playful and feminine. It's great for a modern mama to be!
If you love these ideas, please pin this image to your baby shower Pinterest board:
RELATED POSTS FOR Sugar and Spice Themed BABY SHOWER:
THANK YOU FOR READING OUR Sugar and Spice IDEAS FOR A BABY SHOWER!