Sugar and Spice Baby Shower: it's what Charlee Grace is made of… Today I'm sharing a sweet and girly baby shower I recently styled. Be sure to check out all of my girly baby shower ideas and inspiration.
Sugar and Spice and everything nice…that's what little girls are made of…
I recently styled a fun and modern baby shower for my dear friend Ronni. Already the mama of three adorable little boys, we were all super excited to find out this little bundle was gonna be PINK! So of course to celebrate the arrival of this little princess, we knew we had to do something glamourous. Since Ronni is very hip and trendy, I went with a modern, clean style with bold black and white and glittery gold…and of course a few gorgeous coral pinks!! Such a blast. Check it out…
The cupcakes were yummy chocolate with pretty pink buttercream frosting.
I made garland out of tissue paper (tutorial to come). This was super easy to do and very economical. Ronni's mother-in-law made this cute wooden name to match little Charlee Grace's nursery. Adorable. She also provided all the yummy appetizers for the party.
For the backdrop, my wonderful husband painted the back to match the broken chevron pattern I used in the Sugar and Spice printable collection. It turned out wonderfully!!
My co-host Grace made some wonderful cannoli cups and orange chocolate chip scones. We also had oreo truffles and peanut brittle provided by my fabulous baker friend, Stephanie.
The party favors were cute little nail polish bottles and emory boards (some of Ronni's favorite things!!) For centerpieces, I found vases at the dollar store (they were pretty hideous when I found them too) and spray painted them first with gold spray paint and then with glittery spray paint. The effect was wonderful and so easy and cheap to do. We filled the vases with pretty coral and white roses.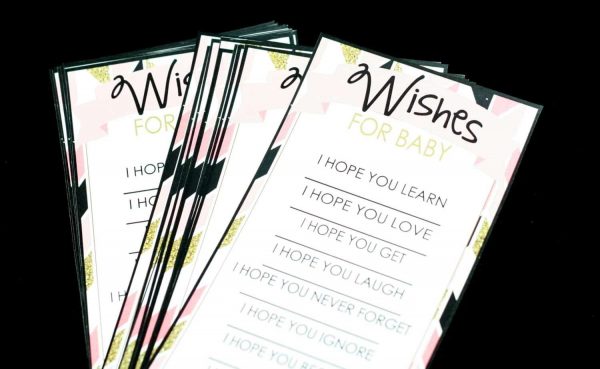 The cute chocolate covered oreos were made by Sweeties by Kim. The cake pops were made by the incredibly talented Nikki from Nikki's Cake Pops. They tasted as good as the looked!!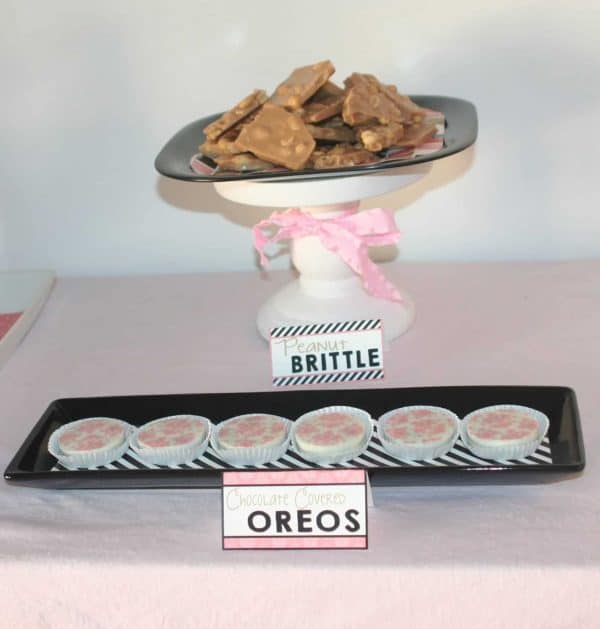 Here is the super cute mama-to-be. Congratulations Ronni. We love you and are so excited to meet baby Charlee Grace!
Vendors:
Printables and Party Styling: Mimi's Dollhouse
Cake Pops: Nikki's Cake Pops
Chocolate Covered Oreos: Sweeties by Kim
Photography: Rachel K Photography
Wanna throw a Sugar and Spice Baby Shower?
The Sugar and Spice Baby Shower Printable Collection is available for purchase in my shop: