Star Wars Party Games Ideas and more!
The force in strong with this party! Looking for Star Wars party ideas to throw a fun Jedi Training Academy Birthday? This simple and budget friendly party is out of this world. Star Wars has never looked so sleek! Ready to channel your inner Jedi Master?
Bonus…we have some Free Printable Photo Props available at the end of this post you won't want to miss!
One of the most popular and asked for party themes of the last 40 years is definitely Star Wars. With so many iconic images and characters…it's a fantastic party theme for any little Sci-Fi lover!
Throwing a STAR WARS THEMED PARTY?
☑️ This
Star Wars Party Kit
is the perfect set to get your party planning headed in the right direction!
Throwing an amazing party that is perfectly on point, honestly does not have to be a crazy expensive endeavor. This party I have to share today is AMAZING and full of budget-friendly ideas you can easily recreate at home!
Star Wars Party Ideas
Today I am sharing a super awesome Star Wars Party. This party was styled by Bridget Parry using my Star Wars printables (available for purchase at the bottom of this post).
It is seriously one of my favorite parties ever!! I mean not only is it really clever and the colors are awesome…but its STAR WARS!!! (And I love me some Star Wars!)
Check out all the cute details and the star wars themed birthday party ideas…
Here is the super adorable, yet simple dessert table. With fun kid friendly treats and Star Wars toys, it's perfectly styled for party perfection!
What a little cutie out delivering his invitations:) This is one of my favorite party ideas. Bridget had her little guy dress up like Darth Vader and hand deliver his party invites.
How excited would your kids be to open the door to this cute little guy with a special invite to a Jedi Training Party?
Jedi Training Birthday Party
Setting up a Jedi Training Academy for a Star Wars party is simply the coolest way to have a great time! What little guy or gal wouldn't want to learn how to be a Jedi? With simple games and fun activities, you can take your party guests from Padawan to Jedi Master!
Ready to get training?
How to make Jedi Training Outfits
First step…creating easy and awesome themed training outfits. This DIY is so simple, it almost doesn't seem fair!
Simply grab tan and brown fabric.
Cut the fabric into two sizes. A larger piece 2'x 5′ (or larger depending on the age of the kids) for the body and a long thin strip for the belt.
Fold the larger piece in half and cut a half circle in the crease to make a neck hole.
Place the body over the child's head and tie the belt around the waist
Simple and ready for training!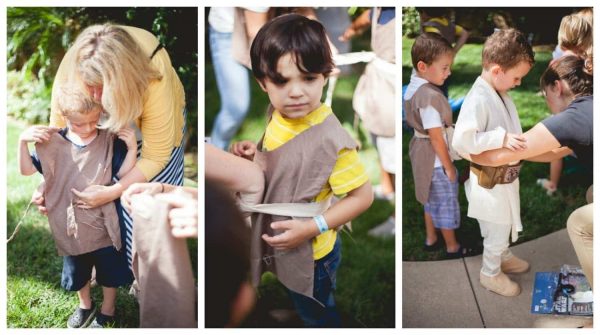 Jedi Training Certificates
The little Jedis all received certificated of Jedi Training Completion. The printable package includes fun printable Jedi Training certificates that can be given out to the little Padawans once they have completed their training.
This is a fun way to say "great job" and compliments party favors!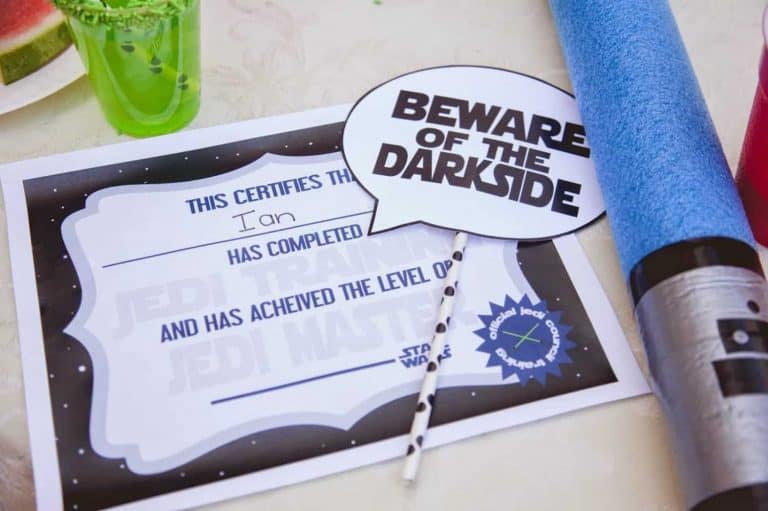 You can download these certificates for FREE at the bottom of this post!
Star Wars Party Games
Setting up a Star Wars Training Academy is honestly as easy as creating a few fun training inspired games. These fun games will keep your party guests entertained and allow them to learn how to be a Jedi in record time!
Light Saber Training
In order to train a Jedi, you need light sabers. These fun light sabers were made by cutting pool noodles in half and wrapping duct and electrical tape around the end. So clever and so easy!
The kids look like they had so much fun doing Jedi training. Once they went through the steps of learning how to yield their light sabers, they practiced sparring with each other.
To prove their skills, they were able to fight Darth Vader himself. You can grab an adult sized Darth Vader costume here.
Fighting Darth Vader is definitely any little Star Wars fan's dream come true!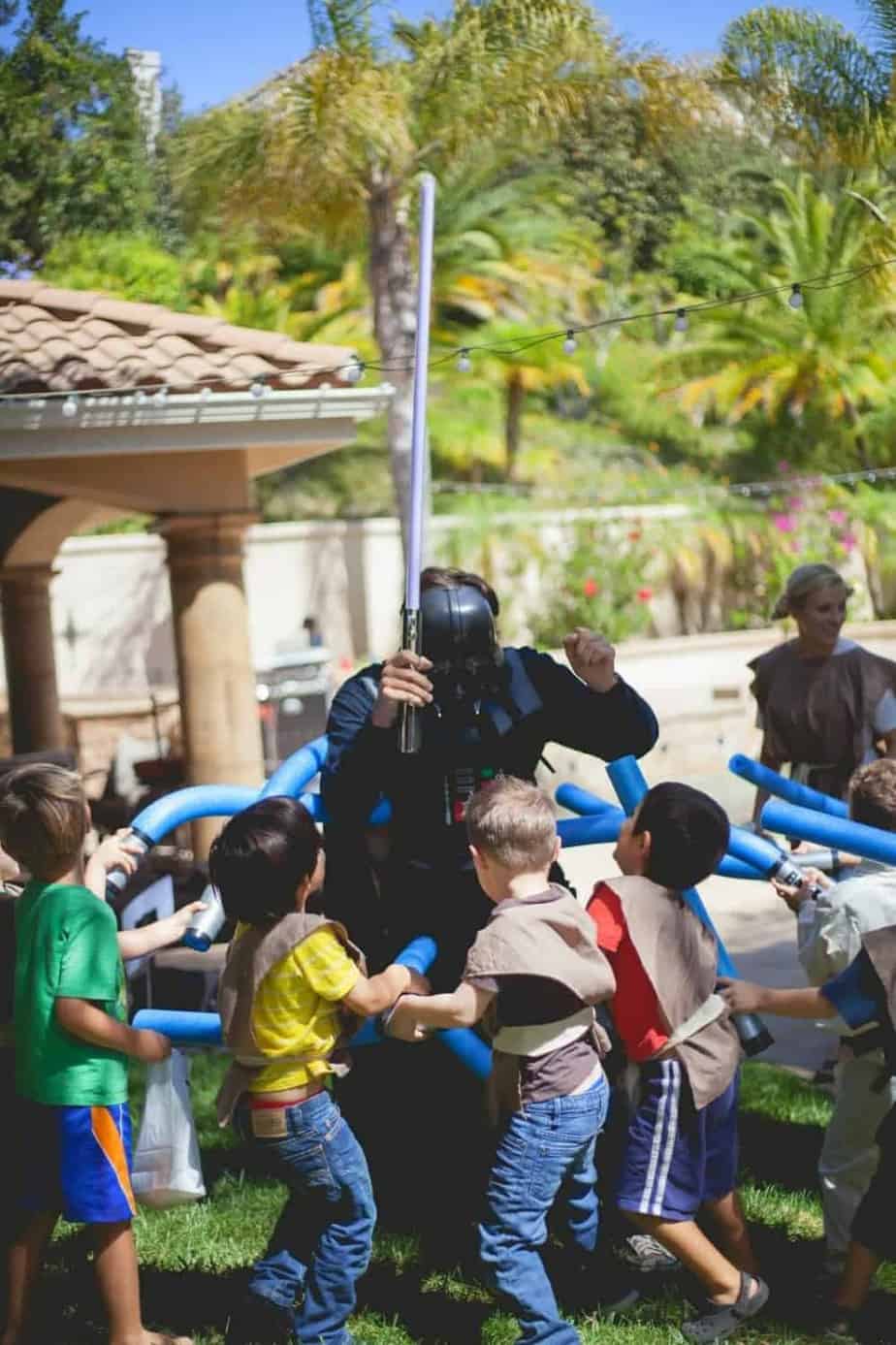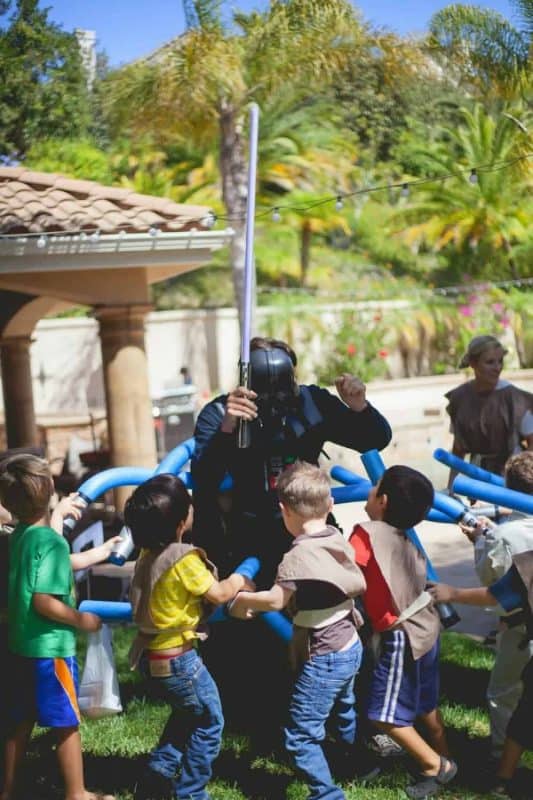 Build your own Fighter Ship
Each kiddo was given a mini ship lego set. They built their own ships together so they could fight galactic battles! These lego sets were also party favors the kids could take home afterward!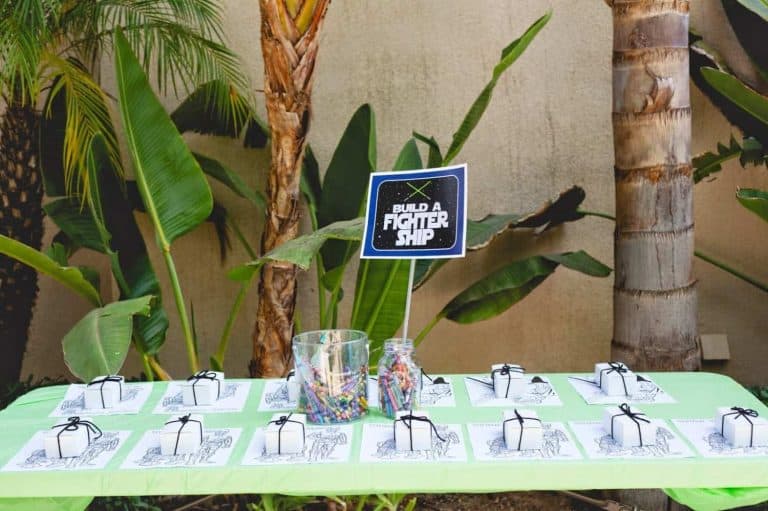 Once the ships were done, they were able to color pictures of everyone's favorite droids!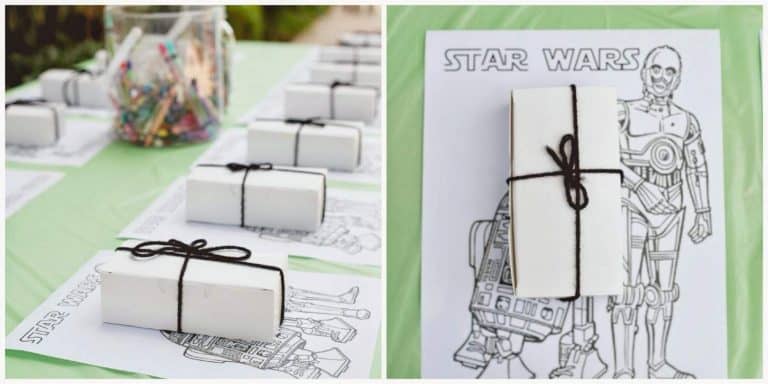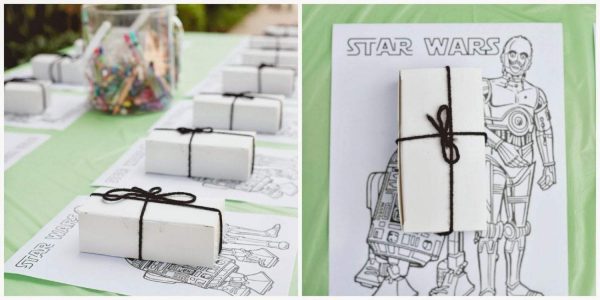 It looks like they had a blast putting together these little star wars Lego sets too.
Jedi Training Obstacle Course
In order to get Lightsaber ready, a simple Jedi themed obstacle course will help them increase their skills (and of course, burn some energy!!) Isn't this little Leia adorable?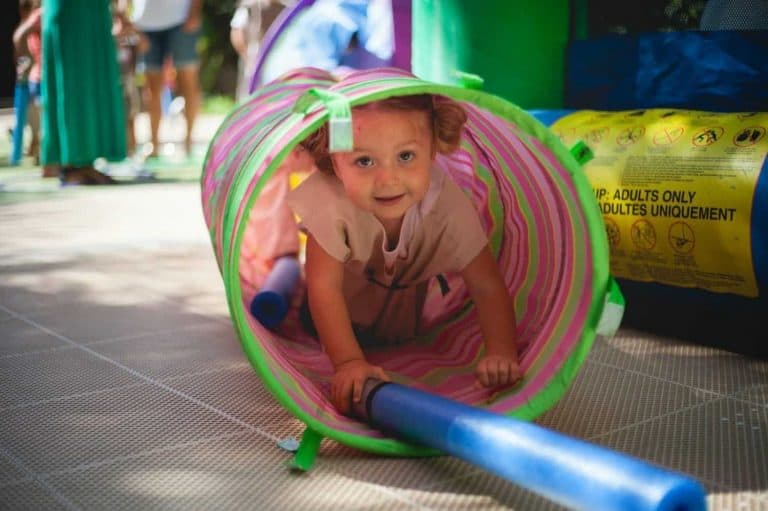 Jumping through hula hoops helps with dexterity and of course, it's super fun!!
Star Wars Piñata
A fun way to also beat up Darth Vader with lightsaber skills is to practice on a Darth Vader pinata! Fill with candy or Star Wars themed trinkets for a fun and simple party game.
For treat collection bags, simple white paper bags were decorated to look like Storm Troopers! Fun and super budget-friendly.
Looks like they had a great time!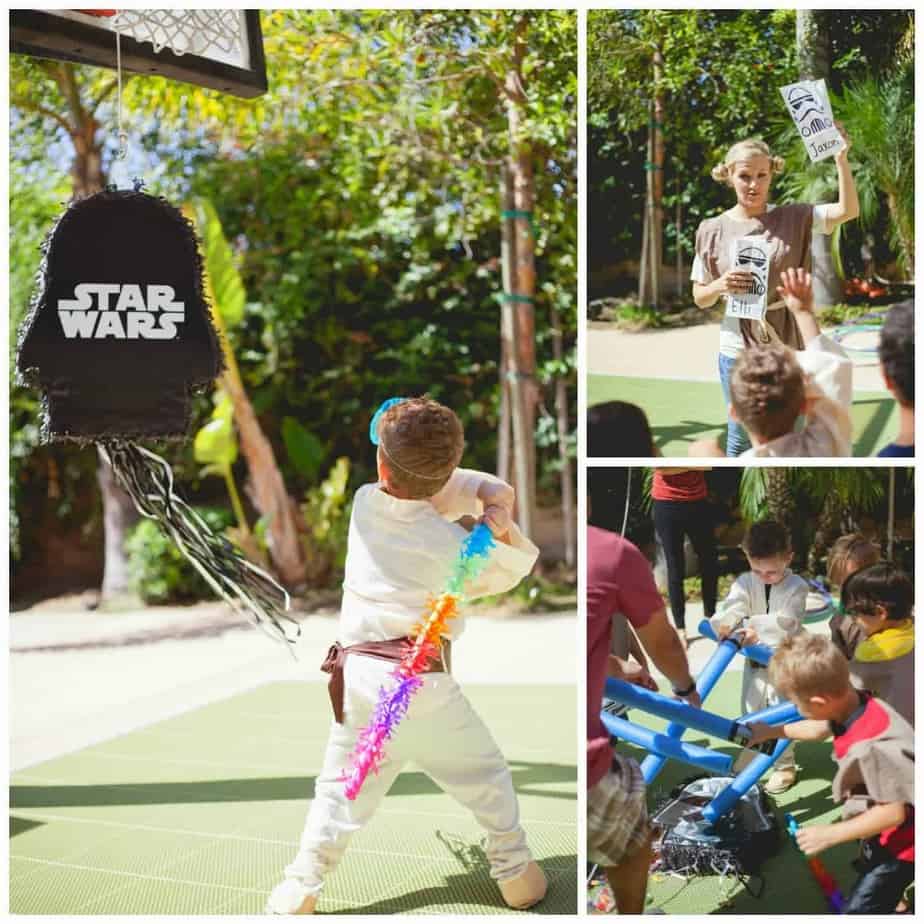 Fight the Storm Troopers
This party game idea would be a fun way to turn a simple bounce house into a Star Wars bonanza. Blow up simple white balloons and decorate with storm trooper faces. The kids can attack those pesky troopers to their heart's content!
Intergalactic Photo Booth
Set up an easy photo booth where your party guests can take fun photos. These cute photo props I made are available for free download at the bottom of this post!
Find the Astroids
Think Easter egg hunt meets Star Wars with this fun scavenger style party game. Using small rolled foil or asteroid themed balls, hide them around and let the little Jedis in training find them for a fun contest!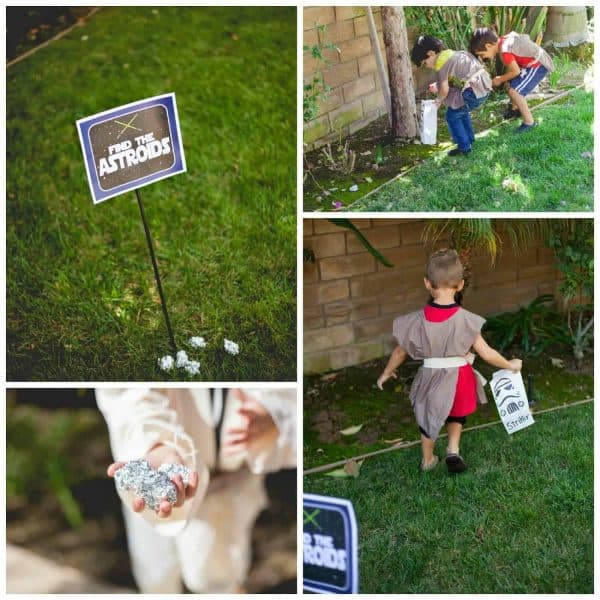 Simple Food for a Star Wars Party
Setting up a Star Wars party menu doesn't have to be crazy complicated. These simple party foods are all super kid friendly and perfectly on theme. Check it out:
Yoda Soda
Dress up a simple drink with some Yoda themed green. Whether you want to serve actual green soda, or just put a little green food coloring into some caffeine free lemon-lime soda, you can give your little green beverage an upgrade by rolling the rim in green frosting and green sprinkles.
Add a cute black and white straw for a little extra wow!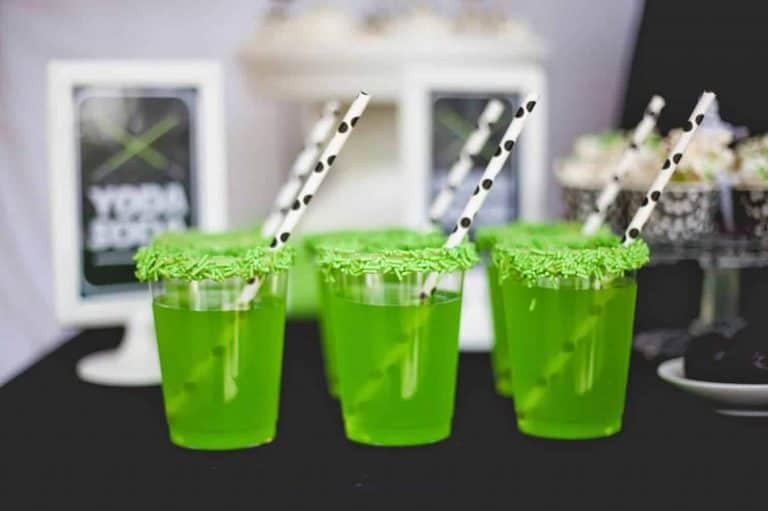 I love the Yoda soda…what kid wouldn't want to drink these? Adorable, right??
Star Wars Cupcakes
To dress up simple homemade or store bought cupcakes, add some small Star Wars toys or you can grab these printable character toppers!
Simple treats never looked so good!! Love these!
Fruit Light Sabers
By rolling card stock into a cylinder and covering with foil and black electrical tape, you can turn ordinary fruit skewers into little lightsabers. Super fun, right?
Star Wars Cake
This simple homemade layer cake is made evern more amazing with a cake topper from Cake Freak. I love this cake topper. Adorable, and the black gum-balls at the bottom of the cake gives it such a cute effect.
This is a simple way to turn a simple cake into a masterpiece!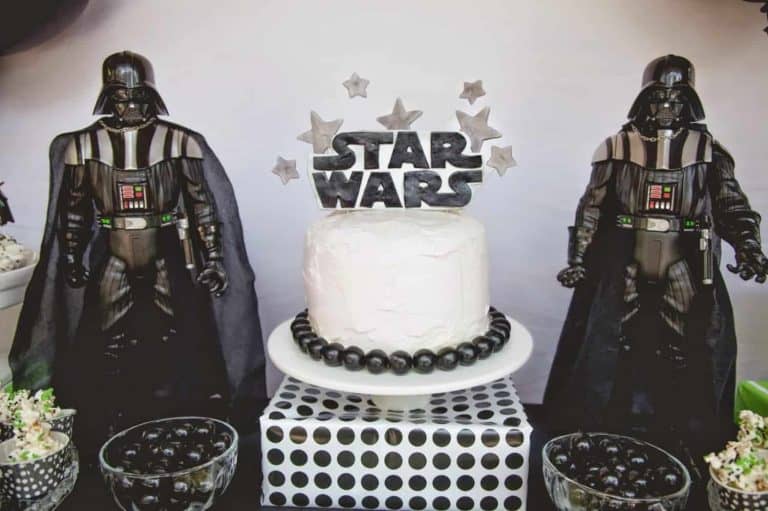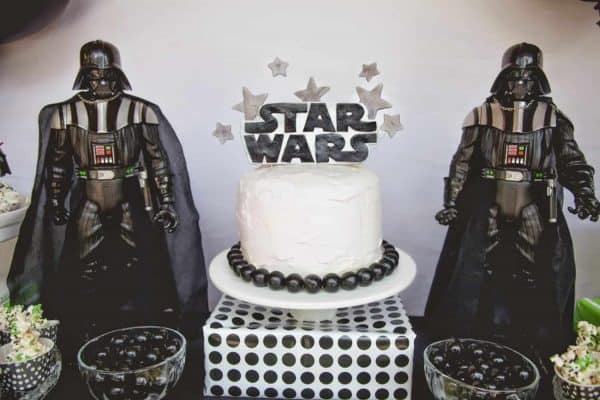 Luke Sky-WATER
If you have a simple water dispenser, you have one of the most creative Star Wars drink ideas…Luke Sky-Water. Trust me…this will be what EVERYONE is talking about!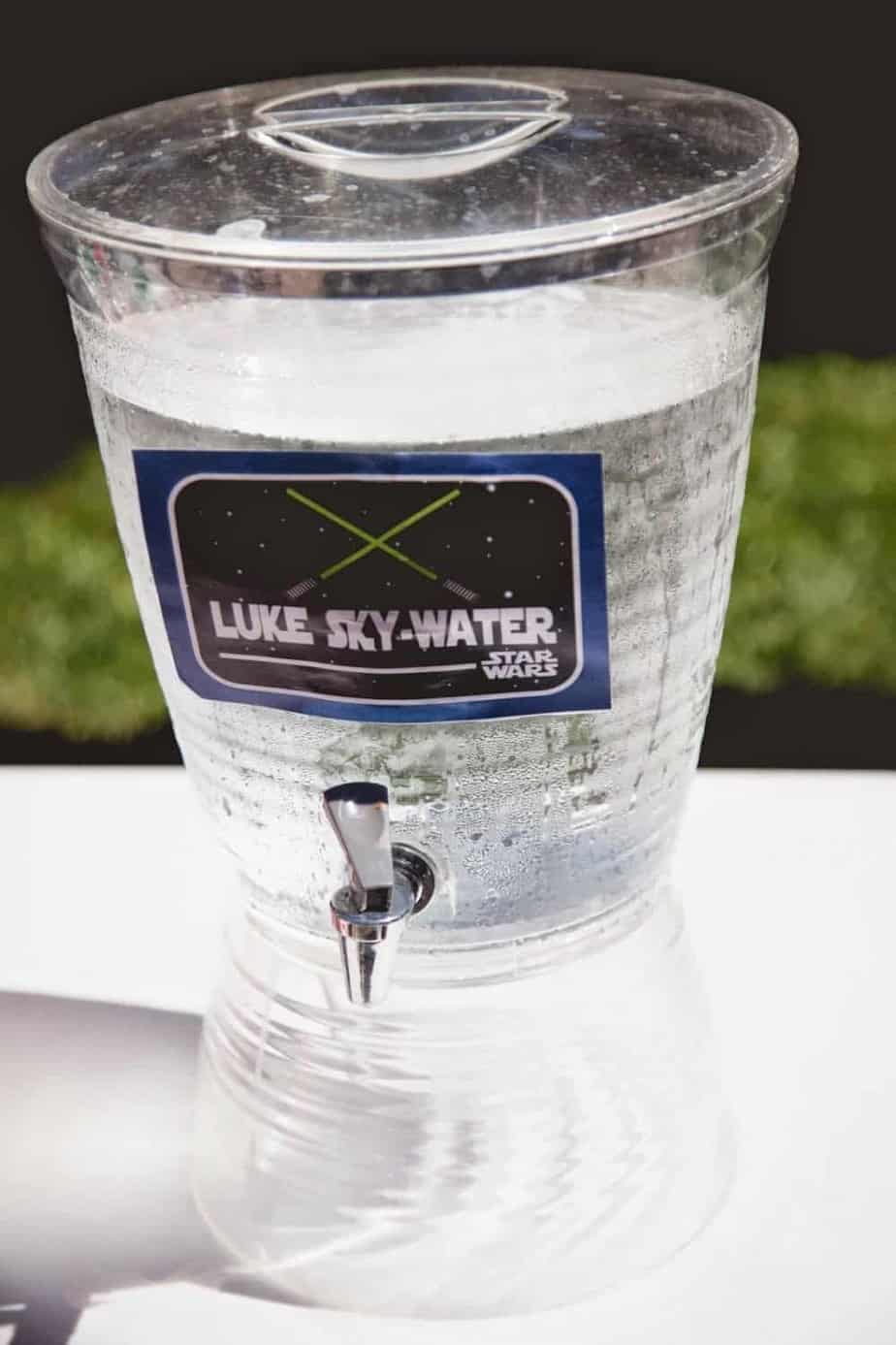 Wookiee Cookies
No Star Wars party would be complete without some Wookiee Cookies. Be sure to check out all of our Chewbacca inspired party ideas and treats!
Princess "Lays"
Simple chips can become a fun play on words. Serve up some Princess Lays for your party!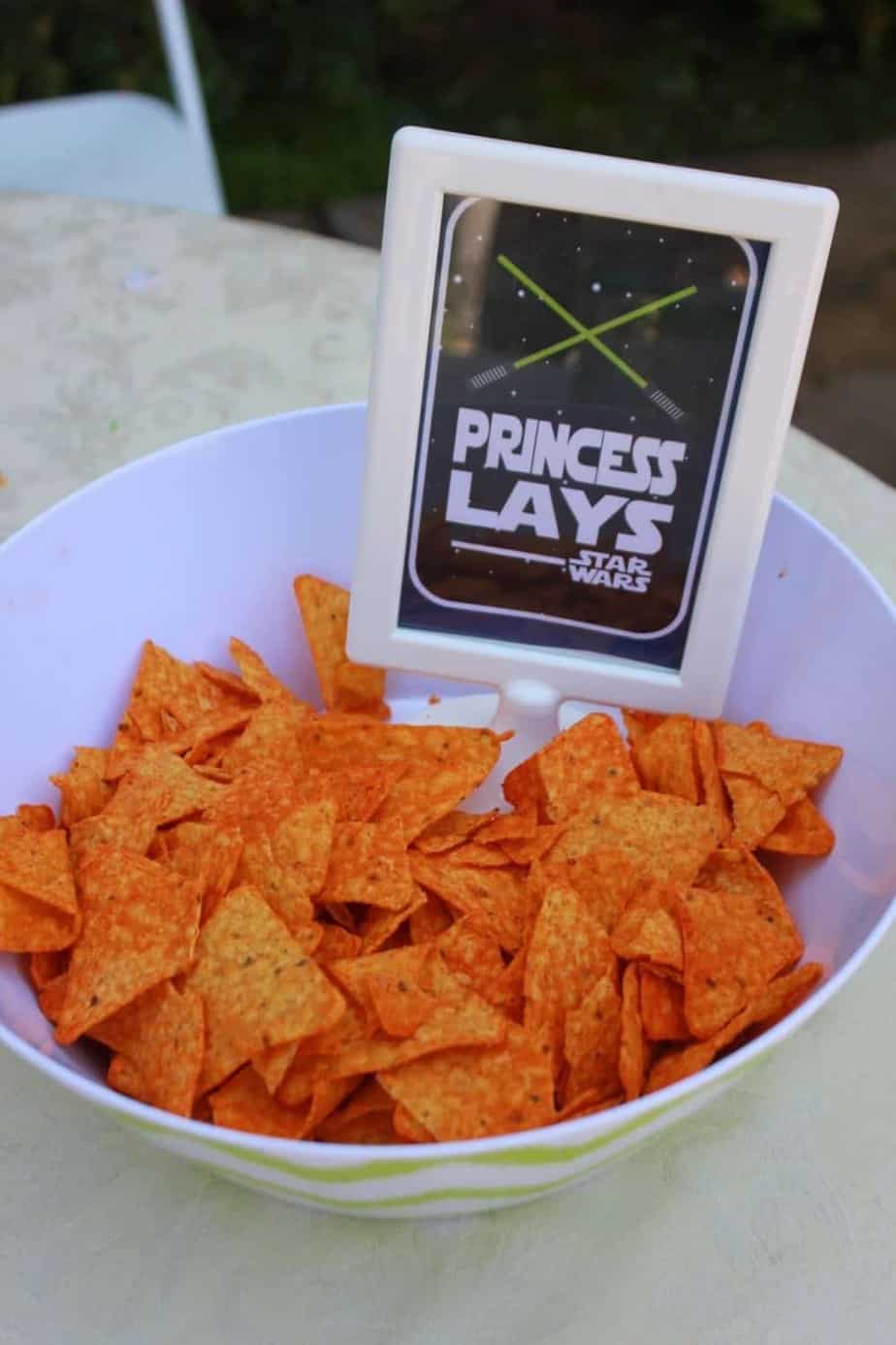 Padawan Popcorn
Another easy win…simple popcorn is now Padawan popcorn. Fill some cute nut cups with popcorn so it's easy to serve and cute to see!
I also love how Bridget incorporated some of Jaxon's toys into the decor. That's the best part about making a party theme that your kids are crazy about…they probably already have a bunch of stuff you can use laying about!!
Saves time and money. Winning!
Free Printable Star Wars Photo Props
Here are the fun photo props to match that make great photo ops for the kiddos!!
Download the FREE Star Wars Photo Props here!
Download the FREE Jedi Training Certificate here!
Star Wars Party Supplies
Still looking for some Star Wars party help? These tableware sets will help keep your food on theme and save you time looking for for matching items:
Star Wars Party Supplies from Amazon
Star Wars Tableware from Oriental Trading

Space Tableware from Daydream Society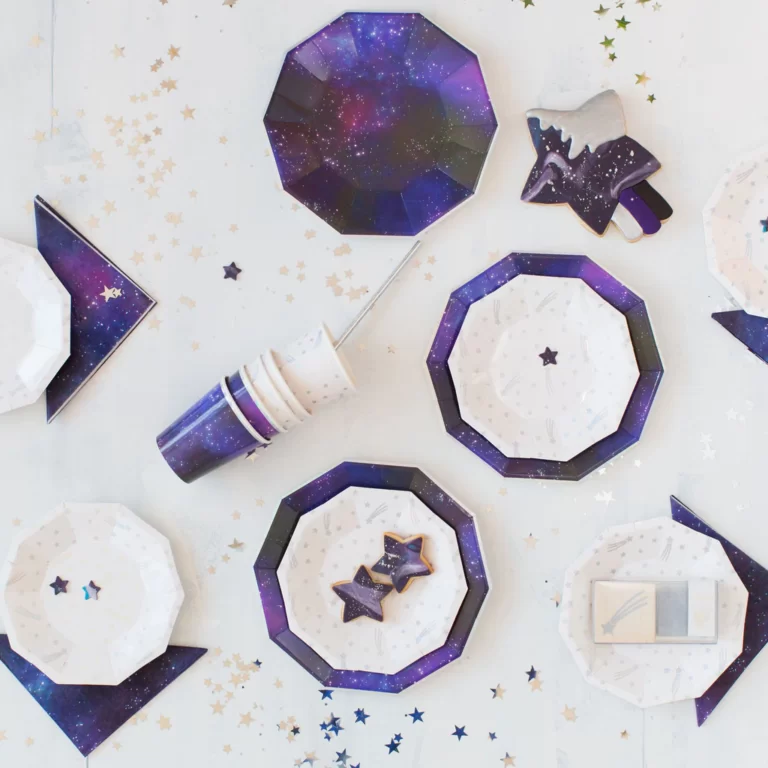 Here are some helpful links for Star Wars Party Ideas:
Wanna throw a Star Wars Party?
The Printable Star Wars Party Collection is available for purchase in my shop:
Conclusion for Star Wars Party Games:
Super out of this world ideas for a Star Wars party are as easy as reading this post! Seriously though, if you are looking for a fun way to celebrate a birthday for a little Star Wars fanatic, these simple, budget-friendly, yet amazing ideas are just what you need.
From decorations to food ideas, we have it all. Also, these games are sure to be a hit!
If you love these Star Wars party ideas and games, please pin this image to your birthday Pinterest board:
Related posts for Star Wars Birthday Party ideas:
Thank you for reading our Star Wars Themed Party Ideas!