Ideas for a Superhero Birthday Bash that are Unforgettable!
Throwing a party for a little one who loves superheroes? These Superhero Birthday party ideas are perfect! Does your little man love to put on masks and capes and save the world? We're talking about Super Hero party ideas today!!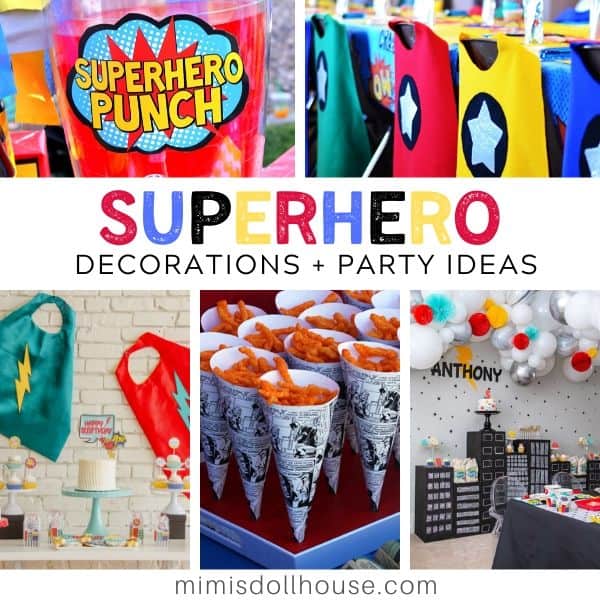 So by now you've probably figured out I'm a geek. I love me some sci-fi/fantasy. I have Star Wars decor in my house and my dogs' names come from Star Trek. Yep…that's me:)
What you probably don't know though, is that I am also a comic nerd. (seriously, the first step is admitting it, right!)
Throwing a SUPERHERO PARTY?
☑️ This Superhero Party Kit is the perfect set to get your party planning headed in the right direction!
I love Superheroes (especially Captain America…you know that's right!!)
Every year I try to convince my daughter's to let me throw them a "girly" Captain America party. She finally got the bug and a few years ago, we styled this amazing Girly Superhero Party in pink and teal!
It was love!!
While I'm dreaming away about my super hero party, here are so fun ideas to help you throw yours…
Superhero Birthday Decorations
Ready for some of the most amazing Superhero Parties and ideas you've ever seen? Whether you love Avengers or Justice League…these ideas are SURE to impress and inspire!
Simple + Modern Superhero Party from Mint Event Design
Simple bright colors and fun pop art designs. What is not to love? The teal, red and yellow really pop with the white! This party uses the adorable party ware from Daydream Society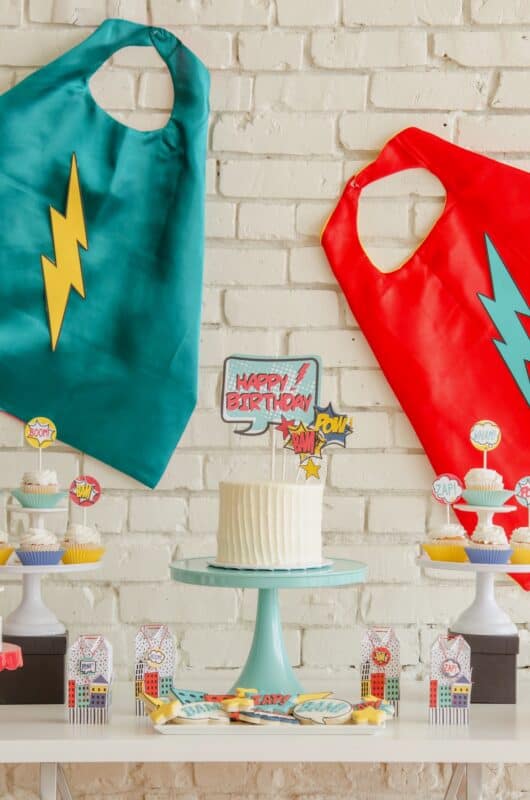 Superhero Cityscape + Balloon Backdrop from I Heart the Details
Another gorgeous black and white pop art style superhero spread with bright color accents. This party is also made to match the fantastic Daydream Society Superhero Tableware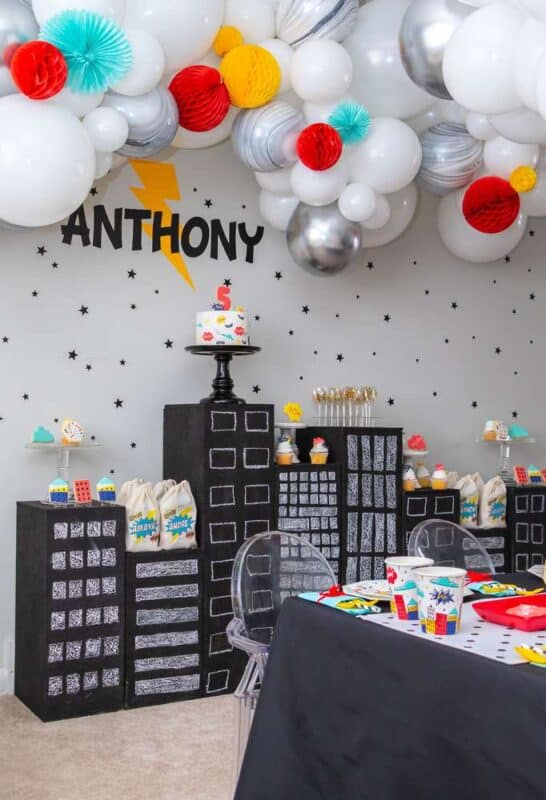 DIY Teen Birthday Cityscape Table from Less than Perfect Life of Bliss
This is such a great theme for a teenager (or even a tween-ager). The simple black covered boxes with yellow windows make the perfect cityscape design.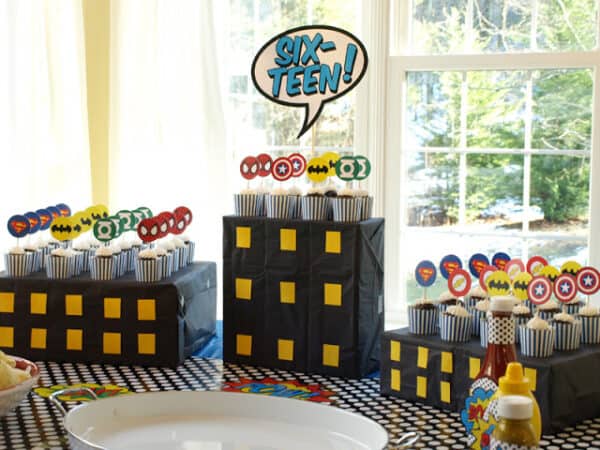 Vintage Pop Art Style Superhero Party on HWTM
The comic print, black and white dots are such a fun back drop for superhero birthday. The white, red, and blue buildings are a nice touch too.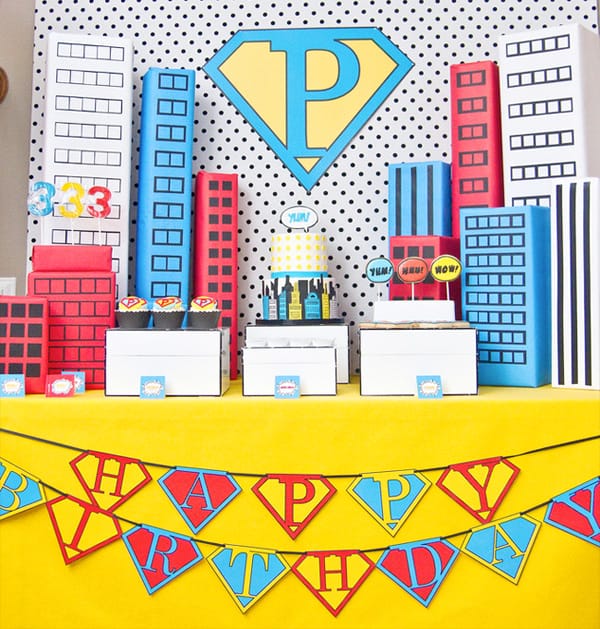 Super Kid-Friendly Table from Kara's Party Ideas
This table set up is simple, yet perfect for entertaining little kids. Bring colors and so chalkboard superhero decorations for the win!
Superhero Photo Booth on Spaceships and Laserbeams
Here is a fun and super creative photo booth idea for your next party! I love how simple this is to make as well!
Superhero Foam Board Cityscape from Mimi's Dollhouse
Another twist on the cityscape backdrop. This one was made using black foam board. We cut it to the shapes of the buildings and used white card stock to make the building windows. Easy peasy!
Superhero Supplies + Ideas
Now that you have all the decorations ironed out…let's talk about those little extra details you can include to really make your party EXTRAORDINARY! Check them out…
Comic Book Cones from Life Frosting
This is a simple and AMAZING way to serve foods like chips or popcorn. Adorable, functional and inexpensive!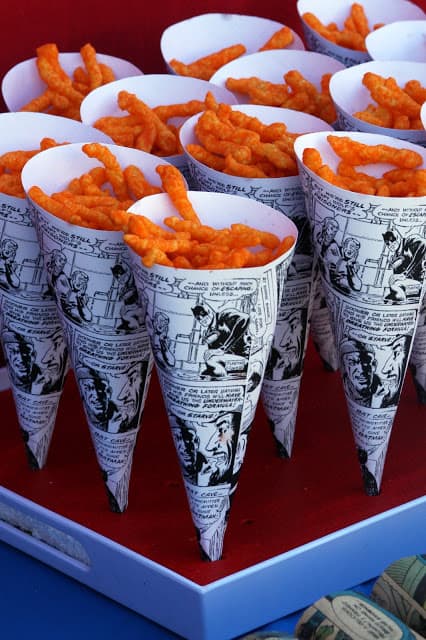 Superhero Capes from Project Nursery
Give each kid their own superhero cape. These can easily be made without sewing. Hot glue and felt is all you need to turn a piece of fabric into a super cape!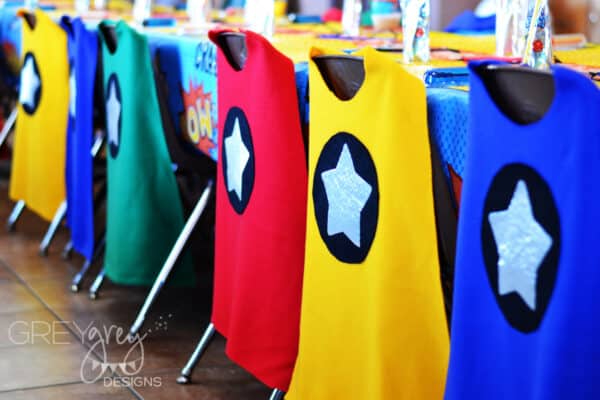 Superhero Punch Signs from Krown Kreations
Dress up any beverage with an easy printable sign! I promise it makes all the kids want the drink EVEN MORE!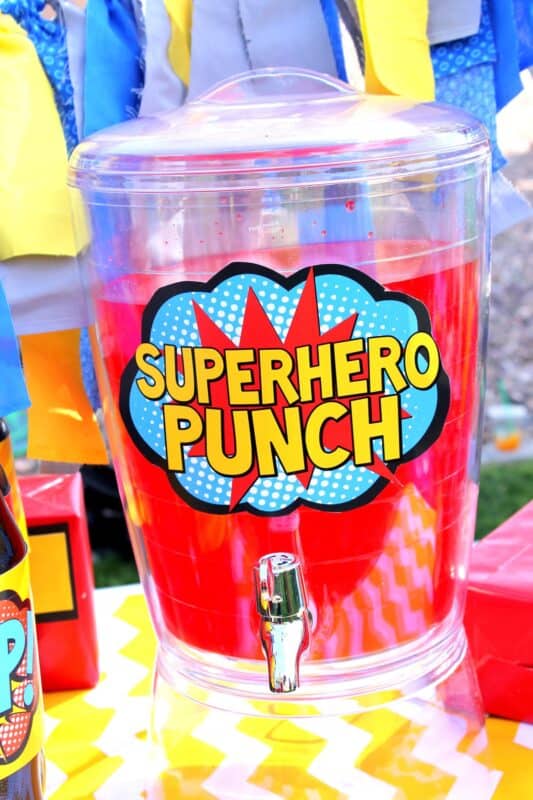 Super Hero Mask Tutorial by Handmade Frenzy
What's a super hero party without some super hero masks? This easy tutorial will help you make some cute masks for your little villains and heroes!

Superhero Party Tableware
There are tons of different options for Superhero Tableware. Some including specific heroes, and some the more generic superhero style! Here are a couple of my favorites that I am sure you will love!
Firstly, this set from Daydream Society:
Secondly this Comic Book Superhero Party Set from
Oriental Trading
Third, these superhero plates (and all the coordinating goodies) from Meri Meri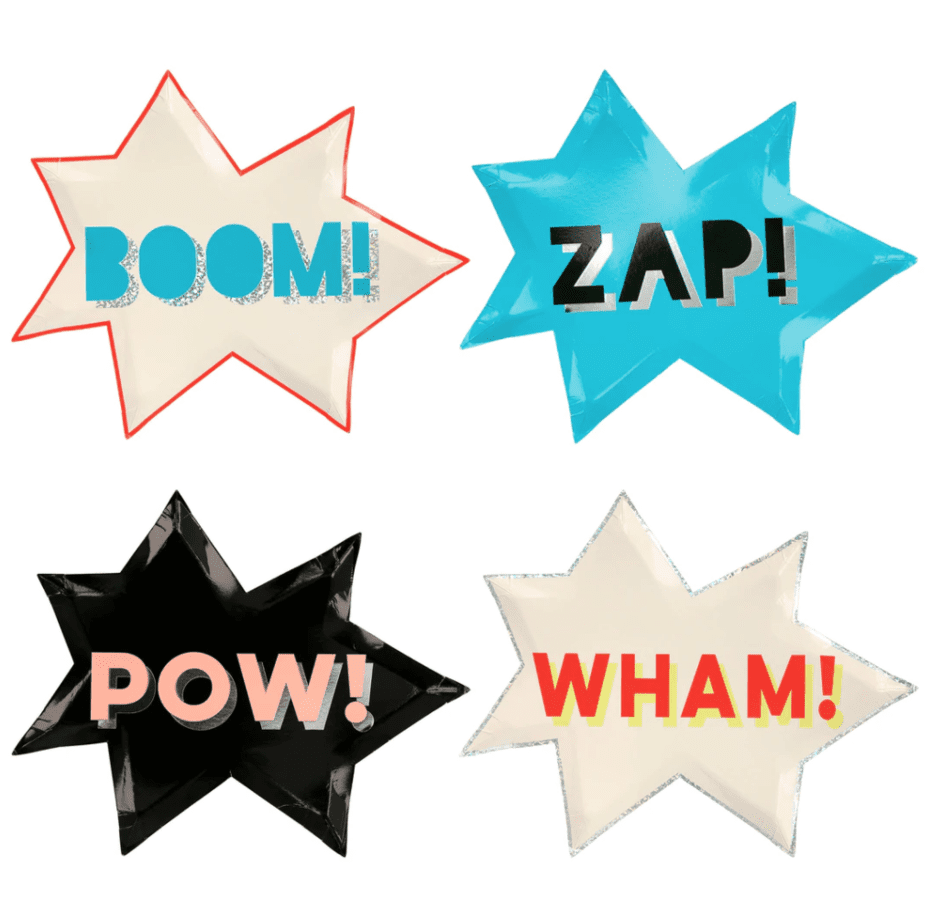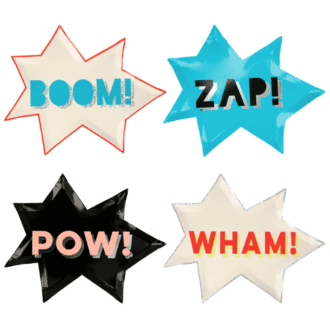 Conclusion for Superhero Parties:
You can't go wrong with these amazing Superhero Party Ideas. Whether you are celebrating with your favorite superhero, superhero crew or just your love for all things superhero, these fantastic ideas will keep your party guests happy and ready to party. Don't stress about decor or party ware…try out these ideas instead!
Here are some helpful links for throwing a Superhero Party:
If you love these Superhero Birthday Ideas, please pin this image to your Birthday Pinterest Board: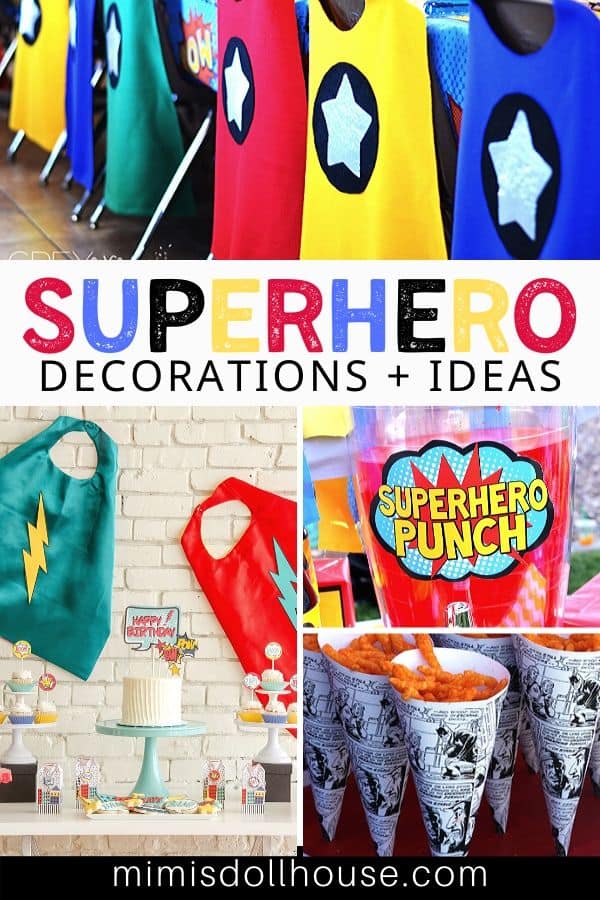 Wanna throw a Super hero Party?
The Printable Superhero Party Collection is available for purchase in my shop.
RELATED POSTS FOR SUPERHERO PARTIES:
THANK YOU FOR READING ABOUT OUR SUPERHERO PARTY!