Amazing Superhero party ideas for girls!
It's a Girl Superhero Birthday Party… Do you have a girl who LOVES superheroes? Celebrate her birthday superhero style. Today I'm sharing my daughter's 9th girly superhero birthday party!!
Looking for Superhero Party dessert ideas? Be sure to also check out this Spiderman Party, super hero party, and these ideas for a superhero party.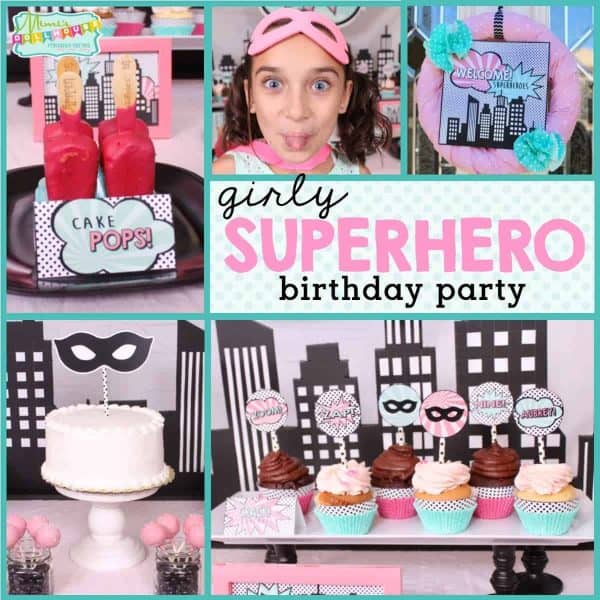 I freely admit it…we are an uber geeky house. We love all things comic book, sci-fi, fantasy and RPG related. If it has a place in nerdom…it probably has a place in our house.
Throwing a PINK SUPERHERO PARTY?
☑️ This Superhero Party Kit is the perfect set to get your party planning headed in the right direction!
Glad I got that off my chest:) Knowing that we live in this world of awesomeness…it isn't much surprise that my oldest daughter chose Girly Superheroes for her birthday party theme.
We went back and forth on what kind of girly superhero party she wanted. We talked about a wonder woman party and a batgirl party.
In the end…she decided she couldn't choose her favorite superhero, so she wanted a chic superhero party with girly colors.
Best. Decision. Ever.
Girl Superhero Party
I am so happy with the way this party turned out. The colors were perfection and the desserts were a blast to make!! Hope you love it too!!
For the welcome wreath, I covered a 10 inch foam wreath with pink polka dot fabric and added the superhero welcome sign from the printable package. I accessorized with a couple flowers made from teal colored cupcake wrappers.
Superhero Desserts for a Girl Party
Desserts are definitely my favorite aspect of planning a Girl Superhero Birthday Party. And not just because they are delicious to eat.
I love being creative with desserts and coming up with fun names and little extras to make them extra special and amazing!!!
For the girly superhero party dessert table, we had cake pop bars (these I found at our local grocery store and they were strawberry shortcake flavored.
The fit the theme perfectly…I'm now on a mission to learn to make these in different colors and designs for ALL my parties!!
Something very similar can be made using this cake pop/ice cream mold. Look for a tutorial to come!!
We also had delicious cupcakes….vanilla cupcakes with strawberry frosting for the birthday girl (since she's not really a chocolate fan) and chocolate with chocolate mint frosting for the rest of us choco-holics!!
I placed the cupcakes in the black and white cupcake wrappers from the superhero printables and placed them into adorable teal and pink cupcake liners. Then of course, a little BAM, POP, ZOOM on top:)
We also had adorable Superhero Cookies, yummy pink cake pops and DIY Superhero Rice Krispies.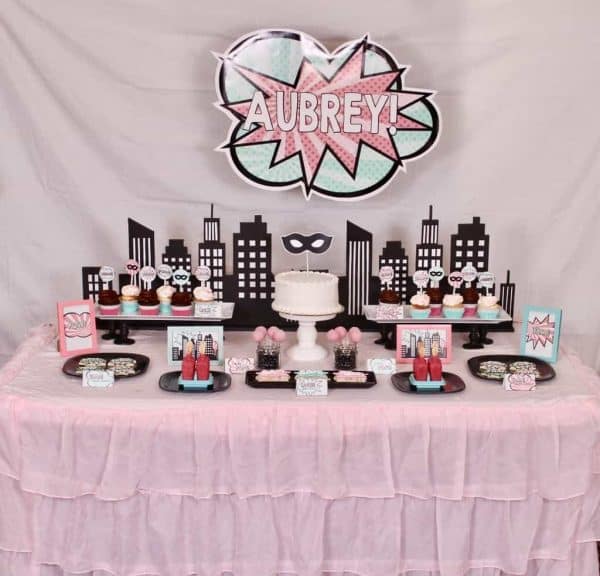 Superhero Dessert Table
For the dessert table, we made a city scape from black foam boards to really bring the superhero decorations to life. I printed a large sign for the backdrop and used fun colored picture frames to accent the super hero printables.
For the pink ruffled table skirt, I used my favorite shower curtain table skirt tutorial and this gorgeous pink ruffled shower curtain. Easy and adorable…my favorite kind of DIY!!
Superhero Cookies
I love splurging on beautiful cookies. These superhero cookies were made in custom colors by Baking in Heels. They were perfect on the table and oh so delicious.
There are so many amazingly talented cookie decorators out there…sometimes I love just searching through the options. Check out all these amazing superhero cookie ideas!!!
Need more ideas for a Girl Superhero Birthday Party? Even simple things like water bottles can be superhero chic with some printable superhero water bottle labels!!!
I love making simple party things beautiful, don't you??
Speaking of beautiful…here is another view of the gorgeous cookies.
Aubrey loves Rice Krispies treats. Since she special requested some for this party, I thought it was a great time to make some DIY Superhero Rice Krispies to share.
Using this awesome cookie cutter and the tutorial link above…fondant rice krispies have never been so cute!!
A party staple at my house is definitely my party lemonade. Check out this super easy lemonade recipe for a guaranteed party drink favorite!!! I get asked for this lemonade ALL. THE. TIME!!! It's the yummiest!
Superhero Party Cake
The cake topper for this party was super duper simple. I love dressing up simple cakes…with a vanilla cake and white buttercream frosting, we just needed a little POP to make the cake special.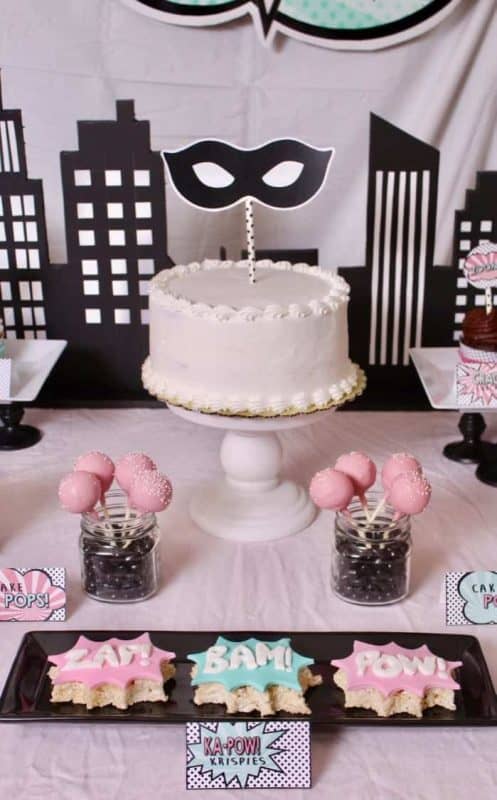 I used the mask cake topper from the printable superhero decorations and glued it to the top of a white and black polka dot straw…easy peasy and perfect for a chic little girly superhero cake, right!?!
Don't you just want to eat that delicious looking cupcake? I love mixing soft colors with bright polka dots and prints!!! Now I want to throw this superhero party all over again!!!

Girl Superheroes Party Favors
The party favors were also super easy to DIY. I used clear gumball tubes and filled them with teal and pink jelly beans. I used fun washi tape to attach the favor tags from the superhero printables.
Easy, yummy and best of all…it completely matches the party. I'm big on matching!!
We also served several healthy SUPER snacks and finger sandwiches. Above is my beautiful super-girl with her mini banner!! I love using parties as an excuse to get great pictures of my kiddos too!!
DIY Superhero Capes and Masks
For the kids to wear at this girly superhero birthday party, we bought fun superhero masks for the kids to wear and I made them custom capes as well!! I'll have a tutorial coming soon for these fun custom superhero capes!!
One of the things I love about throwing themed parties for my kids, is seeing their unique personalities shine through in the photos.
Here is one of my favorite shots from the whole party…Aubrey being Aubrey.
Happy Birthday to my sweet little superhero!!!
Looking for Superhero Party dessert ideas? Be sure to also check out this Spiderman Party, super hero party, and these ideas for a superhero party.
Looking for some cute and simple Girly superhero tableware options? Check these out:
Girly Superhero Partyware from Oriental Trading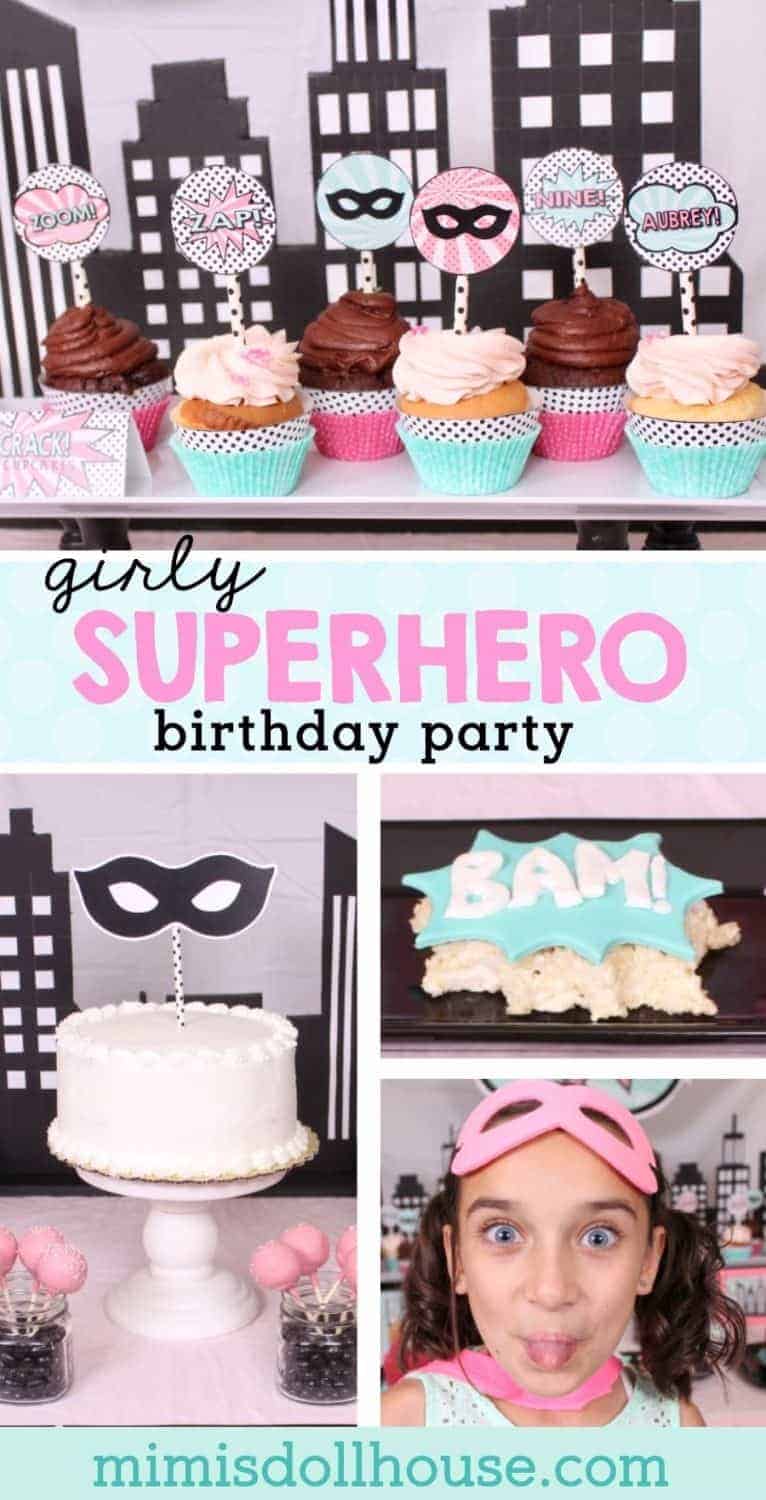 Here are some helpful links for throwing a girly superhero birthday party:
Want to plan a girly superhero birthday party?
The Girly Superhero Party Decorations are available for purchase in my shop in pink/mint and red/blue:
Related posts for Superhero Parties:
Thank you for reading about our Superhero Birthday Party for Girls!