Amazing Spiderman Party that any superhero will love!
Celebrate with a Vintage Spiderman Birthday Party. Calling all superheroes to this Amazing Spiderman Birthday Party! Spin webs of fun with these festive party ideas that will take your party from ordinary to super faster than swinging from building to building on a web!
This party is fabulous and on budget! Now that's super!
"Spiderman, Spiderman,
Does whatever a spider can
Spins a web, any size,
Catches thieves just like flies
Look Out!
Here comes the Spiderman."
-Spiderman Theme Song
I have a super adorable Spiderman Party to share today. The Superhero Party Printables are fun and vintage style, incorporating the old school comic book feel with bright red and blue.
Throwing a SPIDERMAN THEMED PARTY?
☑️ This
Spiderman Party Kit
is the perfect set to get your party planning headed in the right direction!
I used black and white dots and the action bubbles to give this Spiderman Party Package a little "wham, pop, zap"!
This party was styled by my adorable friend, Bridget Parry for her nephew Brock.
Related: DIY Spider-Man Cookies
Bridget used the birthday boy's favorite foods, some Spiderman toys and accessories from the party store, my Spiderman Printables, and her super creative head to put together a great party on a budget!
Fun Spiderman Food Ideas
Looking for some fun Spiderman inspired food ideas? This party is full of them. Firstly, we have these adorable Oreos, dubbed MJ's Oreo Pops.
You can recreate these by taking Oreos and adding some red decorating gel in a swirly pattern. Super simple and extremely economical.
This Spiderman cupcake tower is perfect for displaying the cupcake… The cupcakes were topped with the printable toppers as well as some Spiderman rings.
I mean who wouldn't want to partake in some comic book cupcakes? This is a great way to dress up some simple homemade or store bought cupcakes. Party food does NOT have to break the bank to be amazing!
I love these spiderweb cookies…what a cute idea…and super easy. A little white frosting and some black squeeze icing…and presto "Amazing Cookies"…
All it takes is a cute tray and a fun sign to take ordinary chips and turn them into a fun themed food that will complement your party!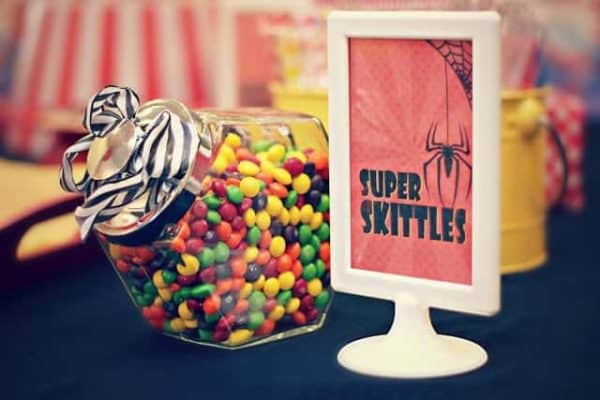 Super skittles, anyone? Play up the birthday kiddos favorite candy with a fun dish and a clever sign!
Peter Parker Pizza for a great main dish. Pizza can be super inexpensive and it is one of those wonderful foods that kids LOVE.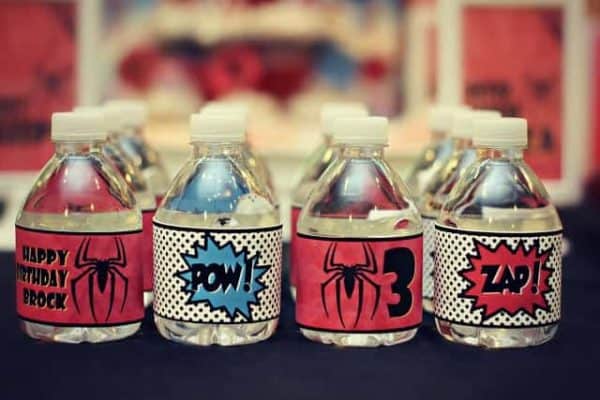 If you need an easy party favor ideas, why not fill Spiderman cellophane bags with candy and Spiderman themed favors for an easy gift bag?
Here's the fun table… I love how simple the backdrop is. You can accomplish this with either large boxes or picture frames and wrapping paper.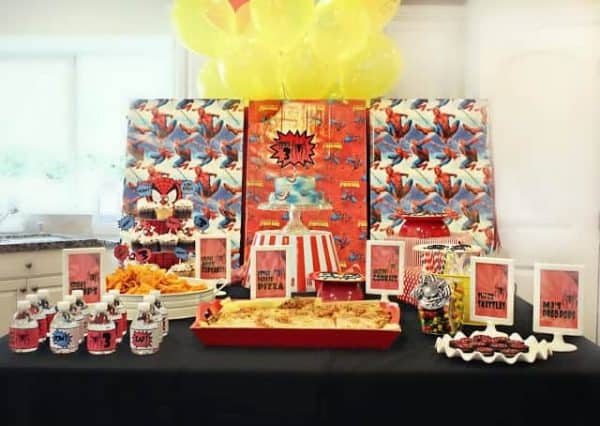 Sometimes the most simple set-up really ends up being one of the best. Lower the stress and party with a simple, yet on point party!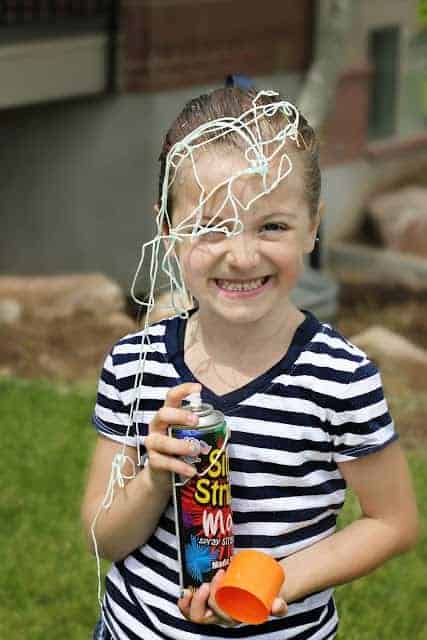 Looking for a fun game or activity for your Spiderman party? The kids also practiced there Spidey skills making webs with silly string!!! Super-fun.
Spiderman Decorations + Tableware
Need some simple and ready to go ideas?
Check out this fun party tableware package from Oriental Trading
Here are also some awesome balloon decorations from Amazon. So many fantastic options!
Here are some helpful links for throwing a Spiderman party:
If you love this party, pin this image to your birthday party Pinterest board:
The Printable Spiderman Party Decorations Package is available for purchase in my shop:
Related posts for Spiderman Party Ideas:
Thank you for reading our budget friendly Spiderman birthday ideas!