How to Set up a Cocoa Bar: Hot Cocoa Recipe.
If you are throwing a Winter themed party…a hot cocoa bar is a must! This yummy Hot Cocoa Recipe is perfect for a DIY Cocoa bar!!! This is a great idea for any winter themed party!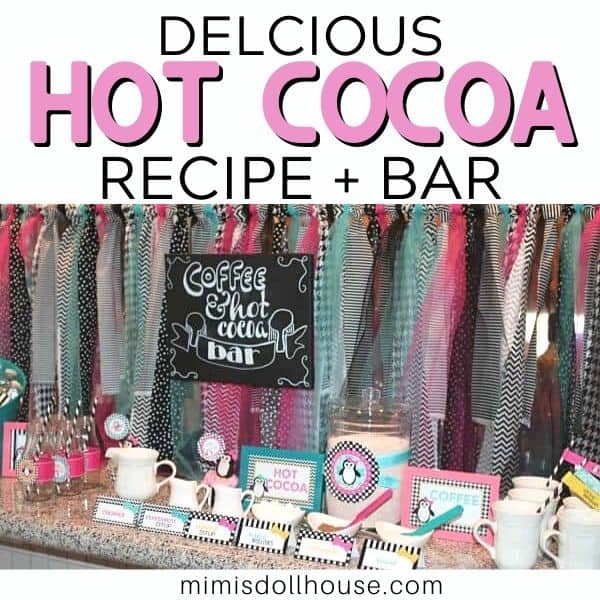 Want an Easy Hot Cocoa Recipe? Of course you do!!
How to Set Up a Hot Cocoa Bar:
I LOVE coffee and hot cocoa. I have a bit of an addiction:) I drink way, way way too much of the stuff. I'm a big fan of dark roast coffee with a nice bold flavor…and now I want a cup!!!
In planning my little 2 yr. old's 2nd
penguin birthday party
, I wanted to include a little treat for the grown-ups and give myself a little jolt of caffeine. So I decided to include a coffee and hot cocoa bar.
For the bar itself, I cut long strips of fabric and tied them onto a piece of PVC pipe that we hung from the ceiling with little hooks and fishing wire.
It was super easy and put a nice break between the bar and the kitchen area.
I used a
homemade chalk board
to make a "Coffee & Hot Cocoa" sign to let guests know where the yummy stuff was at.
The cute little straws ans flags helped to access the coffee mugs and pull the design together. The hot cocoa mix was put into a large glass jar for easy access and looked super cute with one of the 4″ circles attached to it. I also wrapped a little ribbon around the jar and secured with some hot glue to accent the 4″ circle.
I lined up all the add-ins for the coffee and cocoa. My personal favorite was the pumpkin syrup…I'm a sucker for pumpkin lattes!!
Delicious Hot Cocoa Recipe
The Hot Cocoa mix is super easy to make and store and also works great as an add-in to coffee.
Here is the Hot Cocoa Recipe:
16 oz instant chocolate mix
8 qt box powered milk
2 cups powered sugar
16 oz instant non-dairy creamer
Mix all together. Use 1/2 cup mix to one cup of hot water.
Here are some helpful links for setting up a hot cocoa bar:


Conclusion for Hot Cocoa Bar:
These ideas are perfect for designing the best hot chocolate bar ever. Of course, the delicious hot cocoa recipe doesn't hurt. A hot cocoa bar is such an amazing option for a winter party.
If you love these ideas, please pin this image to your party Pinterest Board:
Related posts for TITLE KEY PHRASE:
Thank you for reading our Hot Cocoa Recipe!